Print This Post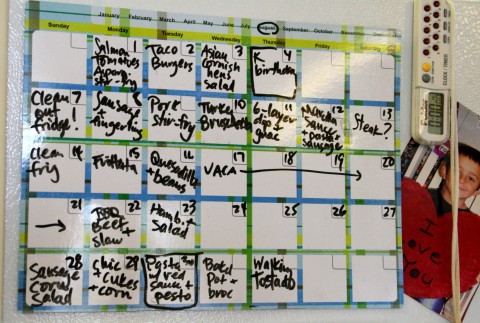 I have gone through various incarnations of how to plan meals.
Some have been more complicated than this, but lately, this simple white board from Staples has done the trick.
I think I paid $2 for it, and it is gridded to be a calendar.
I find that my family likes to see what's coming up on the menu.
It also keeps me on track. And should I change my mind or not be feeling the love for what I have planned that night, I can simply erase and move that dinner to a new night.
How do you keep track of your weekly/monthly meals? What system do you use?
From Heather Schott of CelticMommy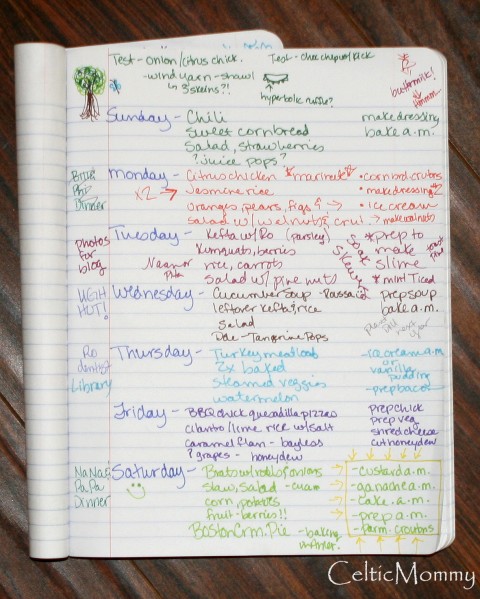 Heather has a fabulously personalized and utterly charming system. Let's listen as she explains:
"Okay, don't laugh too hard, but here is a week… my shorthand and lunacy might be apparent, lol!
This is a composition notebook size. I have zillions of these notebooks for all kinds of things that sit in my purse/car/everywhere. I love Sharpies, can you tell?
Sometimes you might see the name of a cookbook or author w/page number – this makes it easier to find in my library. (I sit with piles of cookbooks making weekly menus on Sundays.)
You'll see my happenings to be aware of on the left margin… people coming over, appts., farmer's market. You'll see my prep to do in a.m. on the right side… I bake our bread and things 2-3x a week usually and ice cream as I run out.
Sometimes I'll do double duty… rice made is almost always doubled for ease next day. Salad I make every other day-ish. Dressing is made whenever I run out.
What else? Oh, you'll see things like marinades, blog ideas/recipe testing… some crochet stuff too, lol!
This is almost exclusively for dinner. Leftovers (other than rice/salad) are what I eat next day mostly.
Oh, and this is totally subject to change, obviously! I don't change much as I shop usually Sundays/Mondays and my shopping lists are on the next pages with what I need vs. what's in the house so I don't over purchase.
Some of it is silly, but… oh well! :-)"
From Elisa Garza of Tercets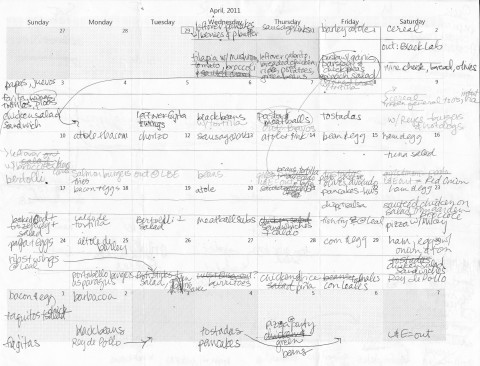 Elisa, who blogs about her life as mother, teacher, and writer, explains her system:
"My planning calendars tend to be messy, and since we are a bilingual family, this one has some Spanish.  I plan meals by the week, but using a monthly calendar helps me see what I've cooked recently, or even the previous month, since I print two blank months back to back on one page.  I can also keep track of how often we eat out.
While I was thinking about all this, I realized that using a 12-month wall or booklet calendar would be ideal for organizing a longer record of meal plans.  The only drawback would be that I sometimes carry the page with me to the supermarket instead of making a separate list.  I probably wouldn't want to carry something bigger.
You can see that I move the meals around if our schedule changes or I don't have as much cooking time on a particular day.  This calendar includes some breakfasts and lunches, but most of the time I focus on planning dinner.  Lunch is often leftovers and we have a set breakfast menu that is the same every week; only exceptions are noted in the meal plan.  I like Heather's idea of listing morning preps, but I would need more space for that!"