Recipe: Fresh Tuna Summer Salad
Summary: Add summery fruits,  vegetables and herbs to create your own Fresh Tuna Summer Salad, starring pan-seared albacore, peaches, tomatoes, sugar-snap peas, and a dressing with a wasabi kick.
Ingredients
1 tablespoon Wasabi mayonnaise (I used Trader Joe's jarred version)
1 tablespoon regular or light mayonnaise
1 tablespoon olive oil
A pinch of sea salt
1/2 pound fresh albacore or ahi tuna (wild caught preferred)
20 sugar snap peas, cap removed and pods sliced
2 tomatoes, cut in half and seeds removed
2 ripe peaches, skin and pit removed, chopped
2 tablespoons finely chopped pickled ginger
1 tablespoon fresh chopped chives
15-20 basil leaves, finely chopped into a chiffonade
Instructions
In a large salad bowl, stir together the two mayos, olive oil and salt. Set aside.
Heat a skillet, film it with a tiny bit of oil, and pan sear the fish on both side, until it is cooked on the outside but slightly raw in the very center. Remove fish from pan and set aside on a plate to cool.
Into the bowl, add the peas, tomatoes, peaches, ginger, chives and basil. Stir to combine with dressing.
When fish is cool, chop it and add to the salad, along with any accumulated juices on the plate. Stir gently to combine.
Garnish with whatever you have on hand that is cute – a tiny sprig of basil, a cherry tomato or two, a couple of long chives – just something to give it additional interest.
Serves 2.
Preparation time: 15 minute(s)
Cooking time: 5 minute(s)
Diet type: Pescatarian
Number of servings (yield): 2
Culinary tradition: USA (General)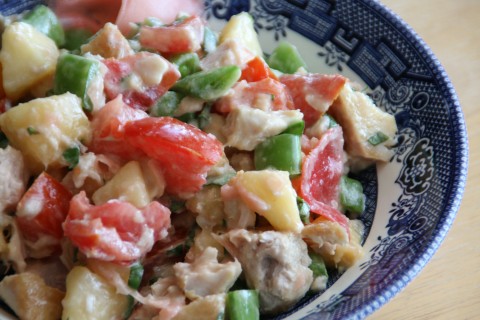 [1]