Print This Post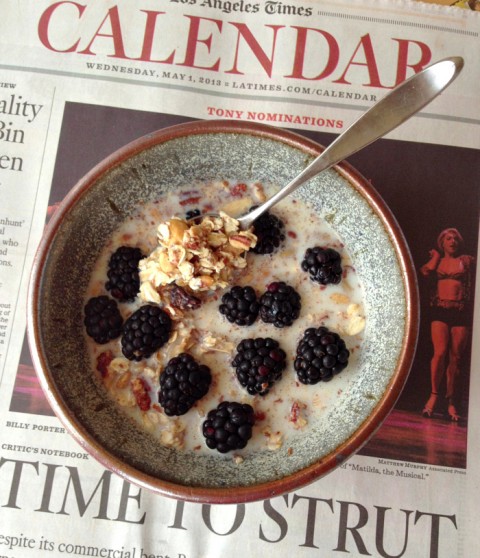 May I admit that I don't have the breakfast cereal thing figured out yet?
We eat far too much commercially made cereal. It's easy, my kids and husband love it, and sometimes you just need to do what works to get everyone out the door to school and work.
But I am always seeking a healthier alternative, and at least for myself, I think I found it.
This mix of oats, nuts, seeds and dried fruit gives me the chew I need in the morning, and sticks with me until lunchtime. I can't say the same for commercial cereal. When I eat that, I often get a sugar low by 10 a.m.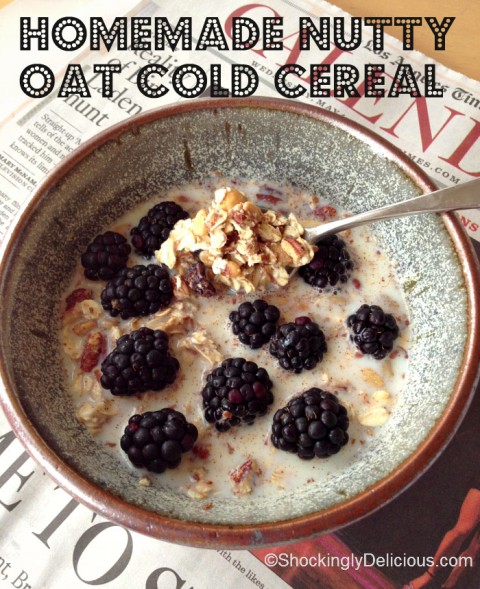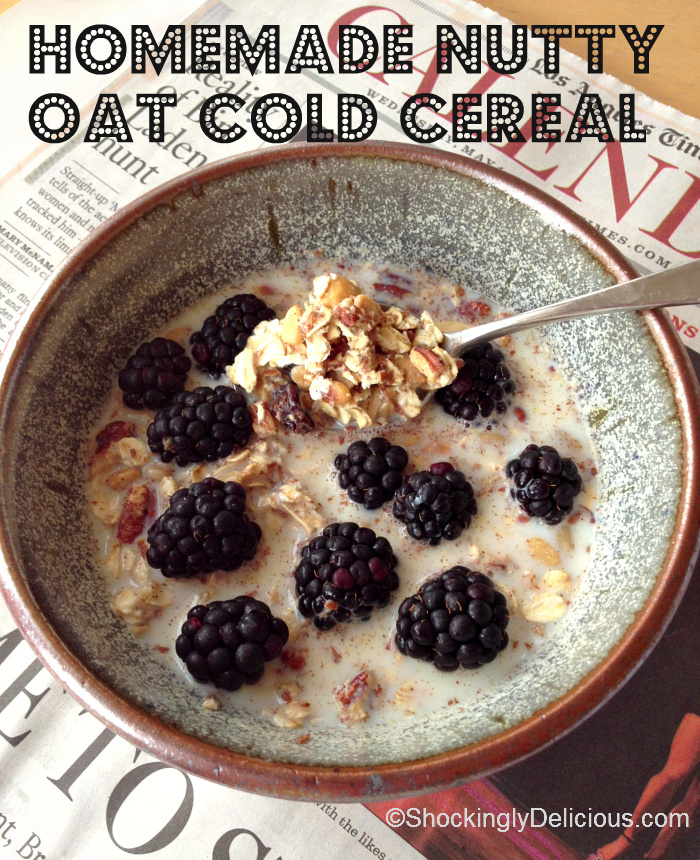 When I added a pinch of coconut and some blackberries to the top for garnish, I found I didn't need to add any additional sugar, because between the fruit and the toasty nuts, it did the trick. That's a plus!
And did you know that blackberries are the most nutritionally dense fruit in the U.S.? Yet one more reason to work them into your diet.
Recipe: Homemade Nutty Oat Cold Cereal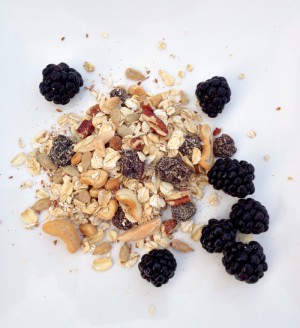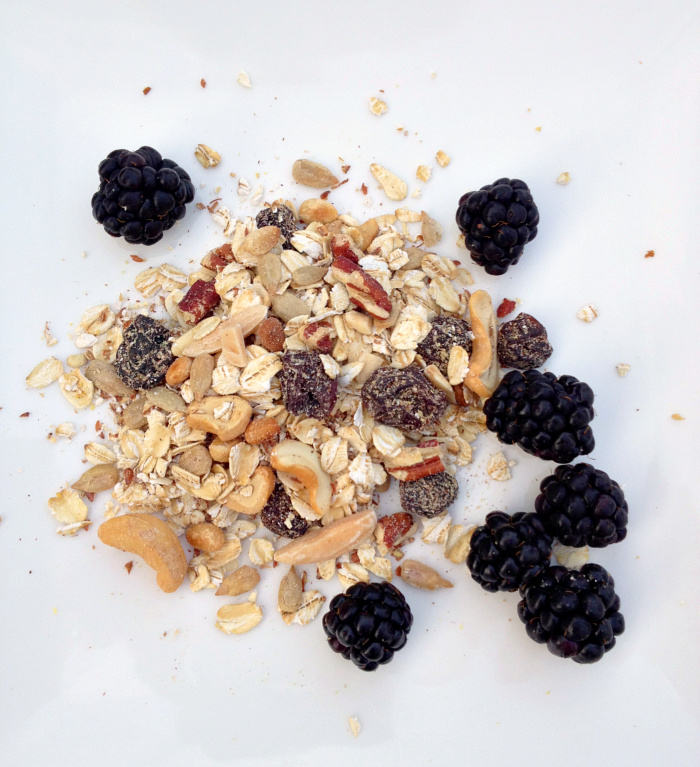 Summary: You can call it muesli or raw granola, but I call it simply delicious, with a perfect balance of oats, nuts and seeds and dried fruit to power you through the whole morning.
Ingredients
2 cups rolled oats
1 ¼ cups mixed chopped, toasted nuts and seeds (I used pecans, cashews, sunflower seeds and slivered almonds. I don't recommend peanuts because they overpower.)
2 tablespoons toasted pine nuts (I call these out separately because I don't want you to overpower it with them)
2 tablespoons ground flax seeds
1/2 cup raisins (or other chopped dried fruit)
1/2 teaspoon cinnamon
Milk (or your choice of nondairy milk), for serving
Shredded coconut (optional) (I used sweetened coconut)
Fresh berries or sliced bananas for the top (I used Driscoll's blackberries)
Instructions
Combine the oats, nuts and seeds, flax, raisins and cinnamon in a large bowl. Pour into an airtight container and store in the pantry for up a month, or in the fridge for several months.
To serve, pour some cereal mix in a bowl, top with a pinch of coconut if you like it, and pour milk over. Allow milk to absorb for 2-3 minutes before eating; oats will absorb some of the milk and soften a bit.
Makes 6+ servings
Coconut notes
I find that coconut is a polarizing food. Some love it (me!); some hate it (my daughter and sister-in-law). To save the day, allow each person to add their own coconut if they wish. I found that when I used sweetened coconut, I didn't have to add any sugar or extra sweetener to the cereal.
Source
Slightly adapted and wholly inspired by Mark Bittman's Homemade Cold Cereal from his new book "VB6: Eat Vegan Before 6 to Lose Weight and Restore Your Health for Good."
Preparation time: 5 minutes
Diet type: Vegetarian
Number of servings (yield): 6
Driscoll's provided the berries for recipe development.