Print This Post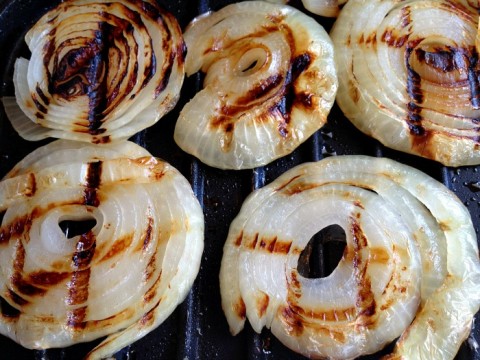 The appliance in the corner – that dusty, forlorn, possibly forgotten grill — can be put to good use.
Fire up that George Foreman, and let's grill some onions!
I feel safe in calling out that brand, because with more than 100 million George Foreman grills sold since its introduction in 1994, it's likely you have one. Or your neighbor has one and you are borrowing it.
I happen to have two of them, sort of by accident. One was given to me years ago by a fellow member of an online group in L.A. (thank you!), and the other one, a personal size, I purchased for $1 at a local thrift store. My son had come home with tales of making quesadillas on a friend's George Foreman, and I wanted to encourage him in the kitchen, so we were lucky to find the perfect single-serving-size grill at the thrift store. I recommend the thrift store route if you have one near you.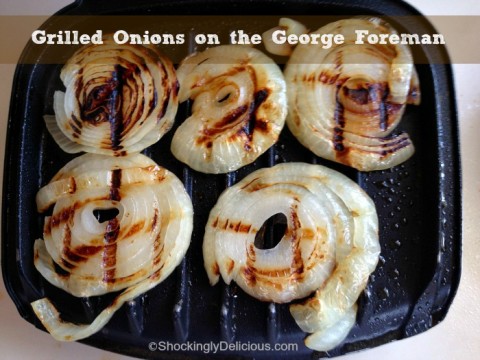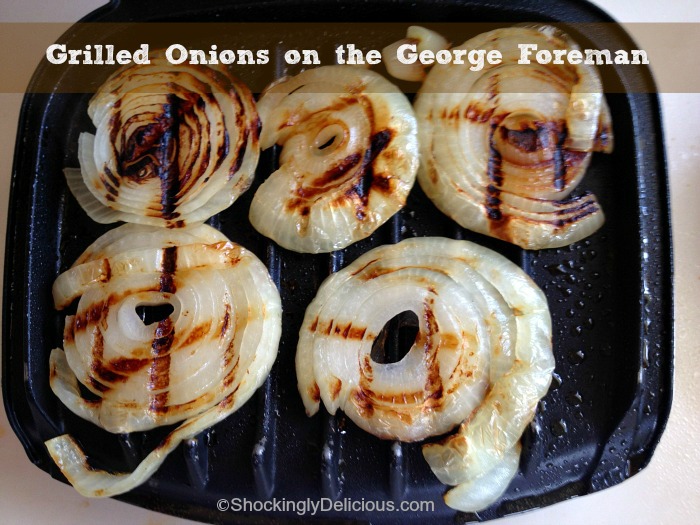 Anyway, plug it in and let's grill some onions the easy way. You may never go back to your big backyard grill again for such a simple task.
Recipe: Grilled Onions on the George Foreman
Summary: Grilling onion slices on the George Foreman grill makes it fast and easy to have grilled onions for anything you need.
Ingredients
1-2 onions (depending on size of grill)
Non-stick cooking spray or olive oil
Instructions
Heat grill. Spray grill (or onions!) with non-stick cooking spray, or brush with olive oil. Lay onion rounds on the grill, close it, and grill for 10-15 minutes. Check at the halfway point, and turn rings over with a spatula if you want to fiddle with them. Or don't, if you don't. It won't matter.
Either remove onion rings to a plate to let cool, or unplug grill and let them cool off in the grill. It will be fine either way.
When cool, either use as is, perhaps on hamburgers or some veggie burger, or chop and use in a recipe that would benefit from grilled onions. That would include pico de gallo, any guacamole, or many other things!
Preparation time: 5 minutes
Cooking time: 15 minutes
Diet type: Vegetarian
Diet tags: Low calorie, Reduced fat, Gluten free
Number of servings (yield): 4
Culinary tradition: USA (General)
My rating 5 stars:  ★★★★★