Print This Post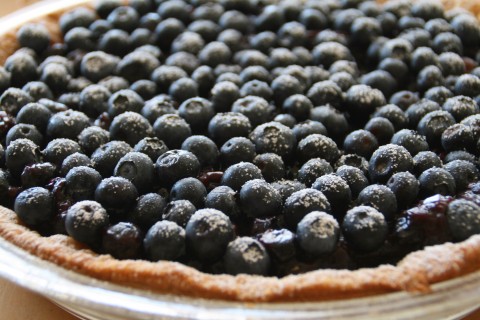 I am floating on a fluffy whipped cream cloud right now, because Southern California chef and charming radio foodie personality Evan Kleiman called my Fresh Blueberry Pie "a genius pie" on TV!
Genius!
Pie!
In the same breath!
She also called it "soooooo delicious," "easy to make," and "so pretty."
I'll take it, all of it!
Let's back up though, for the full story.
She was to be a guest on a segment on KNBC Channel 4, to tout her upcoming pie contest, and she baked and schlepped three pies to accompany her to the interview.  One of the three was my Fresh Blueberry Pie, which has a blind-baked (pre-baked) crust into which you pile a fresh blueberry filling that you have made on the stovetop. No oven baking of this pie!
I won't bore you with the details…wait, yes I will!
It has vanilla and cinnamon and lemon and sugar and it's just a wonderful pie, with some cooked berries that act as "glue," and some fresh berries that retain a snap when you bite into them.
They started the TV discussion with my pie, which, I must say, she made look very delectable (as a professional chef would!). But hey, it's so easy, YOU or I can make it look this good in our home kitchens, too, I guarantee. Trust me…this is not a tricky pie.
Can I just repeat the genius part?
This is a "genius pie!"
Right now, before fresh blueberries disappear from the produce shelves, make this genius pie.
I'll wait while you walk over to your shopping list taped to the refrigerator and write "fresh blueberries" on it.
Then come back here and tell me how you like it.
And since my pie recipe = genius, then I = genius. (If A=C and B=C, then A=C, right?) So if you want to talk to me, from now on, I will answer to "genius."  Or maybe Genie for short.
Jes' sayin'
So, from the pie lady of Malibu (moi!) to the pie lady of Southern California (Evan!), thank you to the darling Evan Kleiman for making my Fresh Blueberry Pie, for talking it up on KNBC, and for being a font of interesting food talk on Saturday mornings from 11-noon on KCRW on her show called "Good Food."  If you haven't listened to her show, you need to. Calendar it if you must.
Now go make the pie. And report back.
(If you haven't clicked on the video yet, do it. Evan, who is also the owner of Angeli Caffe on Melrose, is funny and sweet and charming and a wonderful bantering TV guest. She oughta have her own show. Jes' sayin')