Print This Post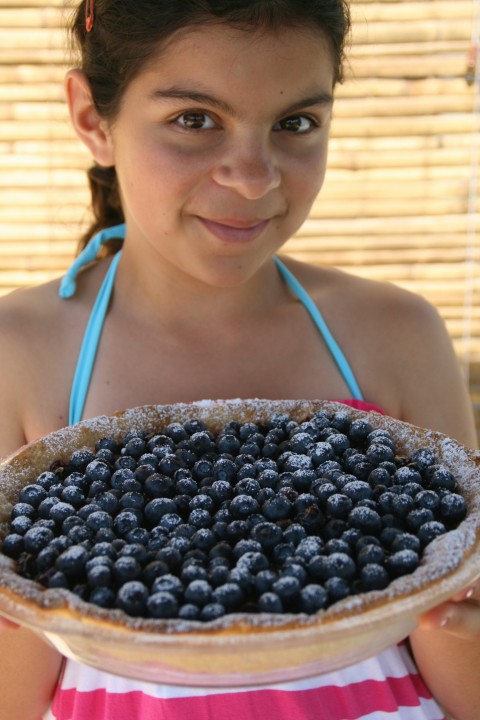 This weekend, stop at the super or farmer's market and buy four pint boxes of fresh blueberries. They are abundant and relatively cheap now. Once you get them home, whip up the freshest, most delicious blueberry pie possible, using a method  shared by Camille Lesko, my former sister-in-law, who got it from Donna Lesko Weiss, her sister, who got it from her mother-in-law. These girls know how to bake pies, and I have been so lucky to be able to share their delicious creations over the years!
I really do think the best recipes are those handed from one good home cook to another, with each adding her own special tweak to the process. Isn't that the way great recipes are developed? I have tweaked this one just a bit, and by now have made it so many times, it is now one of my signature summer pies.
Most of the berries are used fresh and uncooked in this pie, so it retains a just-picked flavor. It also doesn't fall apart like many baked blueberry pies. What's more, it boasts a subtle perfumed flavor note that no one will likely guess.
Everyone who eats a piece wants the recipe, and proclaims it the best blueberry pie they ever ate.
Methinks they're right.
Update: This pie was featured on chef Evan Kleiman's KCRW "Good Food" blog on Aug. 10, 2010! And even more, Evan baked this pie and brought it to an interview at KNBC Channel 4 in Los Angeles, and declared it "a genius pie! So delicious…easy to make and so pretty." See the video.
Dorothy's Fresh Blueberry Pie
This is best made with fresh, not frozen, blueberries.
3/4 cup sugar
2 1/2 tablespoons cornstarch
1/4 teaspoon salt
1/4 teaspoon cinnamon
2/3 cup water
5 cups fresh blueberries, divided use (see bold/underline in recipe)
1 teaspoon vanilla extract
2 tablespoons butter (not margarine)
2 teaspoons freshly squeezed lemon juice
1 teaspoon finely grated lemon zest (yellow only, not white part)
10-inch pie crust, blind baked and cooled
In a medium saucepan, combine sugar, cornstarch, salt and cinnamon. Blend in water and 1 1/2 cups blueberries. Bring to a boil, stirring and smashing half the berries deliberately (use a potato masher a few swipes if you like). Boil, stirring constantly, until mixture is very thick, a minute or so. Remove from heat and stir in vanilla extract, butter, lemon juice and lemon zest. Cool. (See note below.)
Fold in 2 1/2 cups blueberries, coating them well. Scoop into cooled baked pie shell. Arrange remaining 1 cup of fresh berries over top. Cover with plastic wrap and chill at least 2 hours, or overnight if needed.
Serve plain, or with whipped cream, vanilla ice cream or frozen yogurt. To serve, remove pie from refrigerator and allow to come to room temperature. Sift powdered sugar over top for pretty.
Serves 8.
Note on cooling the filling:
A quick way to cool the filling before adding the rest of the blueberries is to fill a large salad-type bowl with ice and water. Partially submerge the pan with the cooked blueberries in this cold bath, stirring every once in awhile, and in 5 or so minutes it will be sufficiently cooled to continue with your recipe. You can also just set the pan on an unused burner while it cools off, but the cold water bath is much faster and lets you get your pie in the refrigerator more quickly if time is important.
Source:
Thanks to Camille Lesko and Donna Lesko Weiss for sharing their recipe so many years ago. They are seriously great cooks. If you get invited to their homes for a meal, the answer is always, "Yes!"  And if they bring something to a potluck, head over to that dish first. Just sayin.'