Print This Post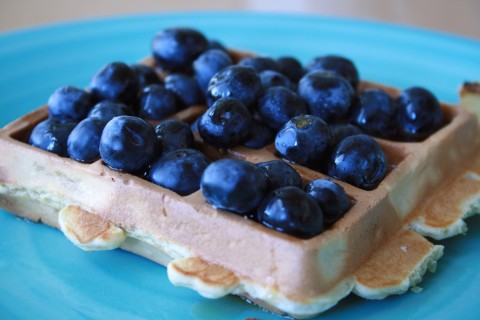 My neighborhood kid friends Josh and Gabe stopped by to regale me with their recent trip to Seattle, and especially to entice me with a report of having gone to the best doughnut shop in the country –
Top Pot Doughnuts
.
Eager reports of delicious doughnuts filled the air – one stuffed with lemon curd (yessss! brilliant!), one called a "feather boa" that is a cake doughnut iced and sprinkled with coconut shavings, apple fritters, crullers, old-fashioneds…I could practically taste them as the descriptions came out. In their two-day trip to Seattle, the boys went to Top Pot three times. It was that good. They said it made Krispy Kreme look like dog poo. Well then!
But when the boys mentioned Maple Bacon Doughnuts, my eyes rolled back in my head. Now THAT, my friends, is genius. Think about it…a maple bacon doughnut with a cup of tea or coffee…breakfast of champions!
I dreamed about that combo all night, and when I awoke, I recalled that I had made Maple Bacon Waffles a few years ago, and they were, well, shockinglydelicious. I'm not much of a fryer at home (messy! smelly!) but waffles – now that's more my style.
So in honor of the temple of doughy goodness Top Pot, Josh and Gabe, we have Maple Bacon Waffles for breakfast.
Maple Bacon Waffles
Cook the bacon in the oven (my favorite way), or the regular way in a frying pan. Suit yourself.
2 cups all-purpose flour (about 9 ounces)
1 tablespoon baking powder
1/2 teaspoon salt
1 1/4 cups milk
3 tablespoons maple syrup
2 tablespoons butter, melted
3 large eggs
1 teaspoon vanilla extract
1/4 teaspoon maple extract (optional)
3-4 bacon slices, cooked and finely chopped
Garnish: Maple syrup, blueberries or other fresh fruit
Heat waffle iron.
Place flour, baking powder and salt in a medium bowl; stir with a whisk. In a 2-cup measuring cup, add milk, syrup, butter, eggs and extracts and whisk with a fork until combined. Pour liquid into flour mixture, add chopped bacon, and stir by hand just until moist.
Mist waffle iron with cooking spray. Spoon about 1/4-1/3 cup batter per waffle onto hot waffle iron (amount depends on size of iron). Cook 3-5 minutes or until steaming stops; repeat procedure with remaining batter. Serve waffles drizzled with maple syrup and topped with blueberries or other fresh fruit if you like. You can also eat them without syrup, because they are lightly sweet by themselves.
Serves 4-5.