Print This Post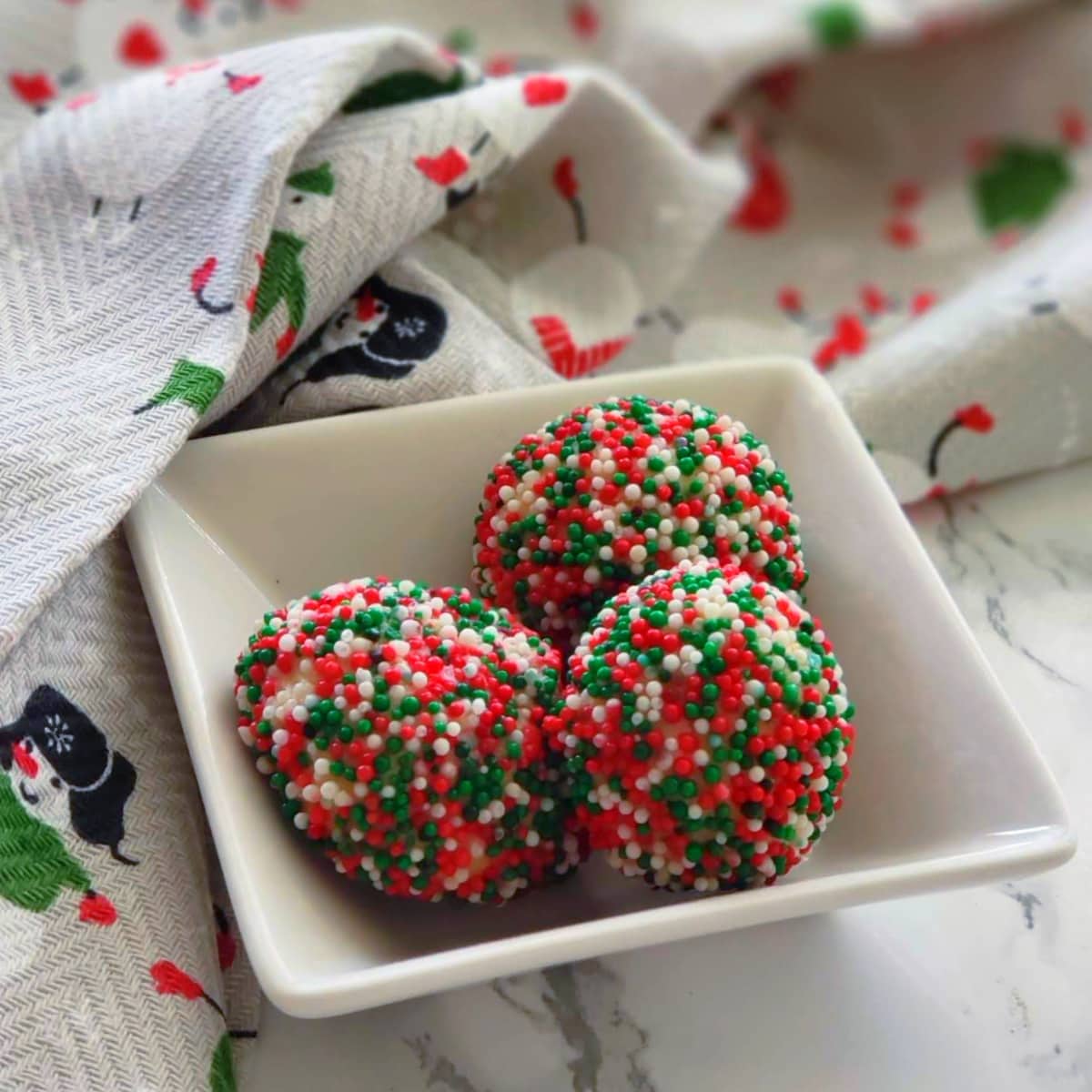 Cream Cheese Sprinkle Cookies are a classic rich, shortbread-like cookie that's perfect for Christmas cookie platters or cookie exchanges. Everyone loves sprinkles!
The holidays cannot have enough sprinkles, amIright?
I'm getting my share with these easy Christmas Cream Cheese Sprinkle Cookies. My mother gave me the recipe in the 1970s, and I've loved it ever since. I'm sure many families have this recipe or a version of it. You cannot go wrong with these on your cookie platter, and every time I have given these away in a cookie exchange, the recipient wants the recipe! Luckily, I doesn't get much easier.
The trick with them is you use cream cheese along with the butter, which keeps them moist and tender, and makes them wonderfully rich.
Want to make them? They're so easy, with just a few ingredients. Let's get these in the oven for you right now.
How to make Cream Cheese Sprinkle Cookies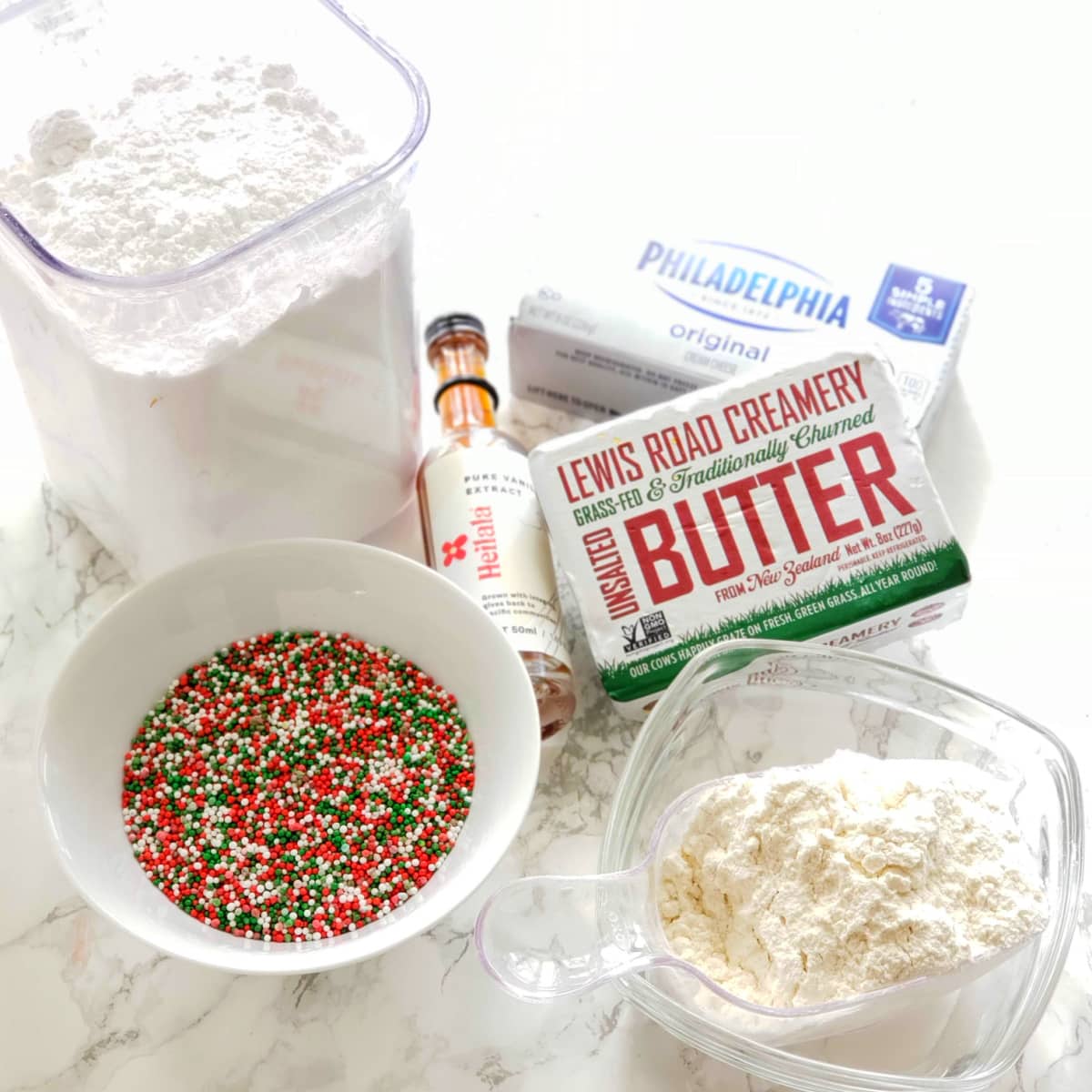 First, as always, gather your ingredients. I'm using 2 brands you might not be familiar with, but I love them and they're both from New Zealand. Heilala Vanilla is the finest quality in the world (to my taste anyway!), and Lewis Road Butter is top-notch, as well — grass-fed cows, high quality, utterly (udderly?) delish! As always, though, use whatever brands you are comfortable with. I just want to introduce you to these 2 brands in case you see them in the store.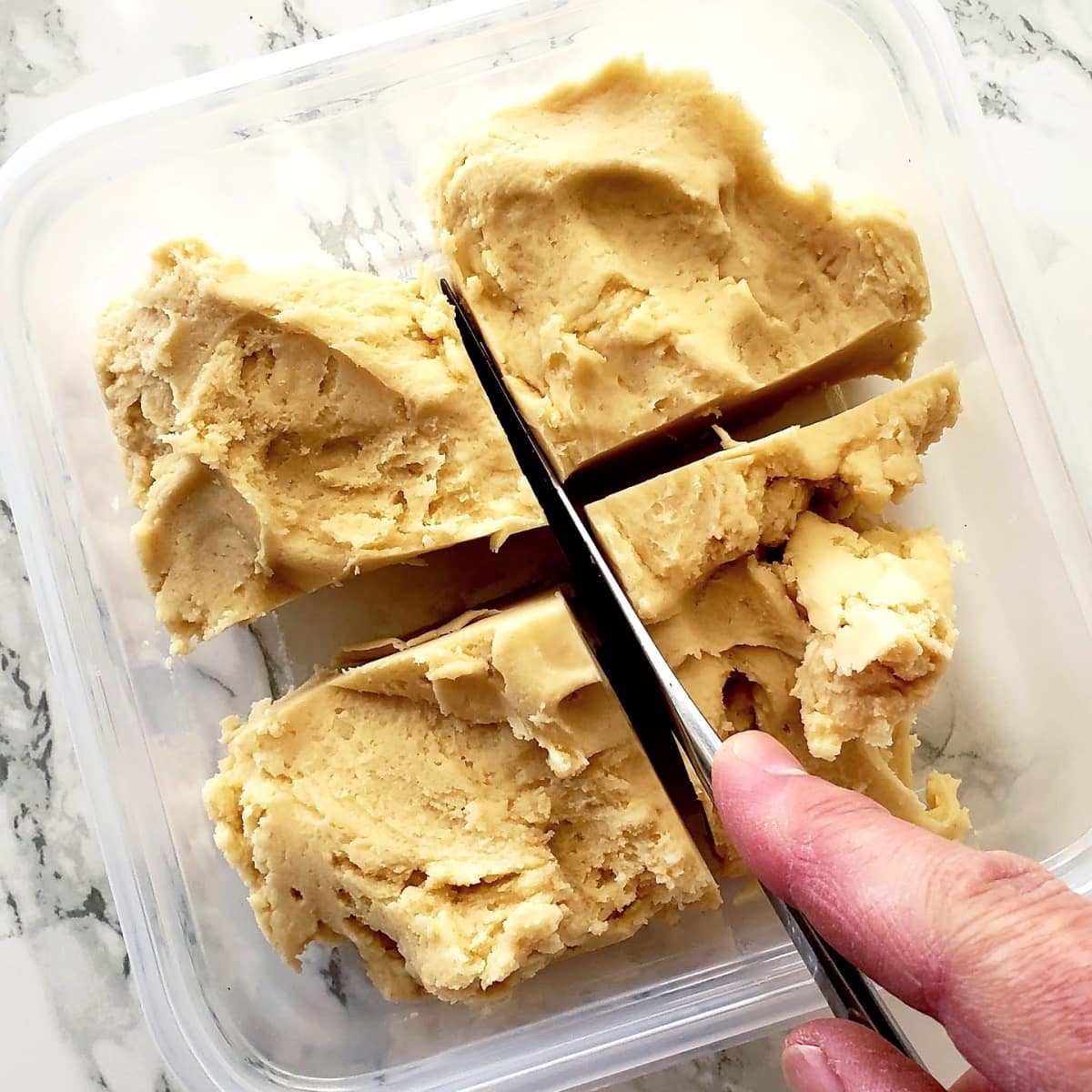 Mix the dough; it will be thick! I like to put it in a small container and refrigerate it for 30-60 minutes or so (even overnight if you like), so I can take it out and cut it into 4 even pieces. That way when I go to roll it, I get 6 balls out of each 1/4 of the dough. Follow my math? But if you don't have time to chill it, that's perfectly fine, it will still be great. A chilled dough just makes it a tad easier to roll into balls.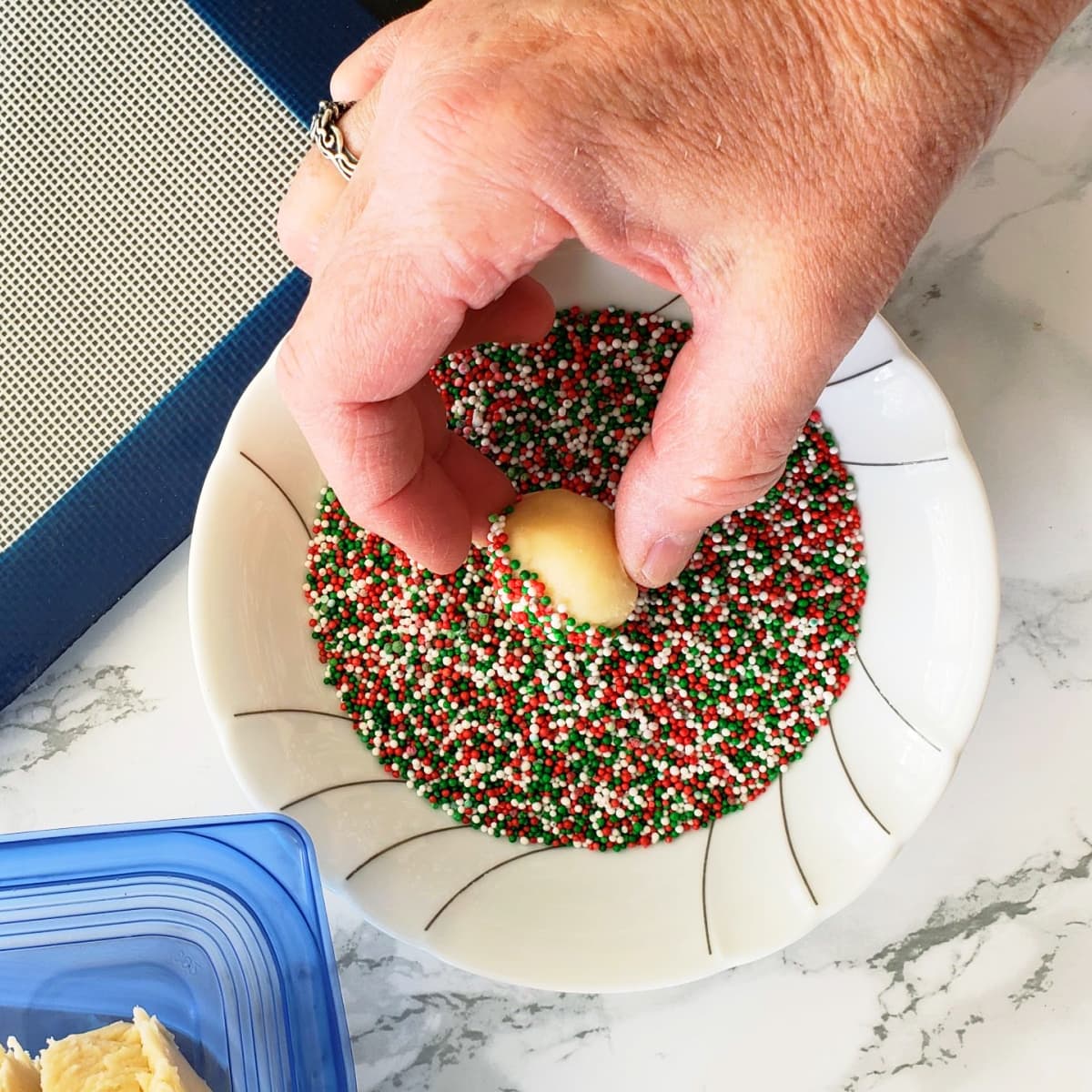 Then roll the dough into little balls using your hands.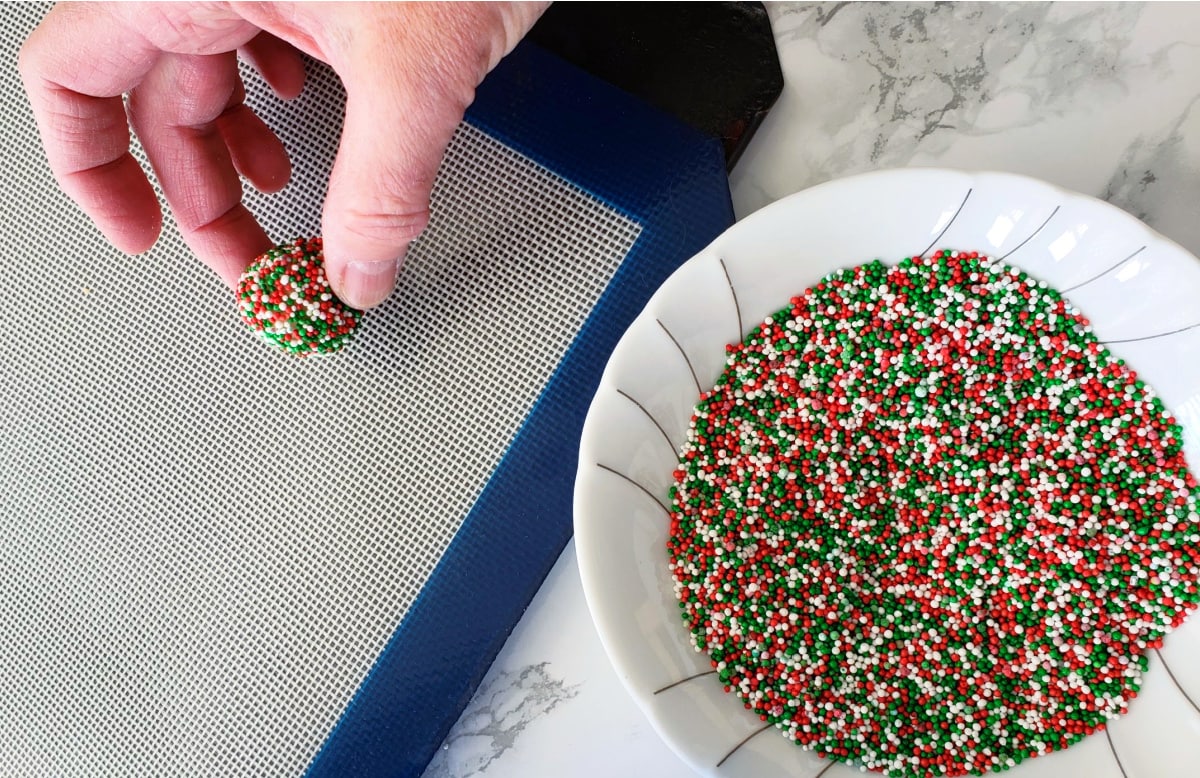 Roll the dough balls into the nonpareils or sprinkles. I'm using Christmasy colors here, but you can switch it up and use whatever colors you like. Consider what other colors you might use for various holidays (Valentine's Day, Easter, July 4th, Thanksgiving, etc.)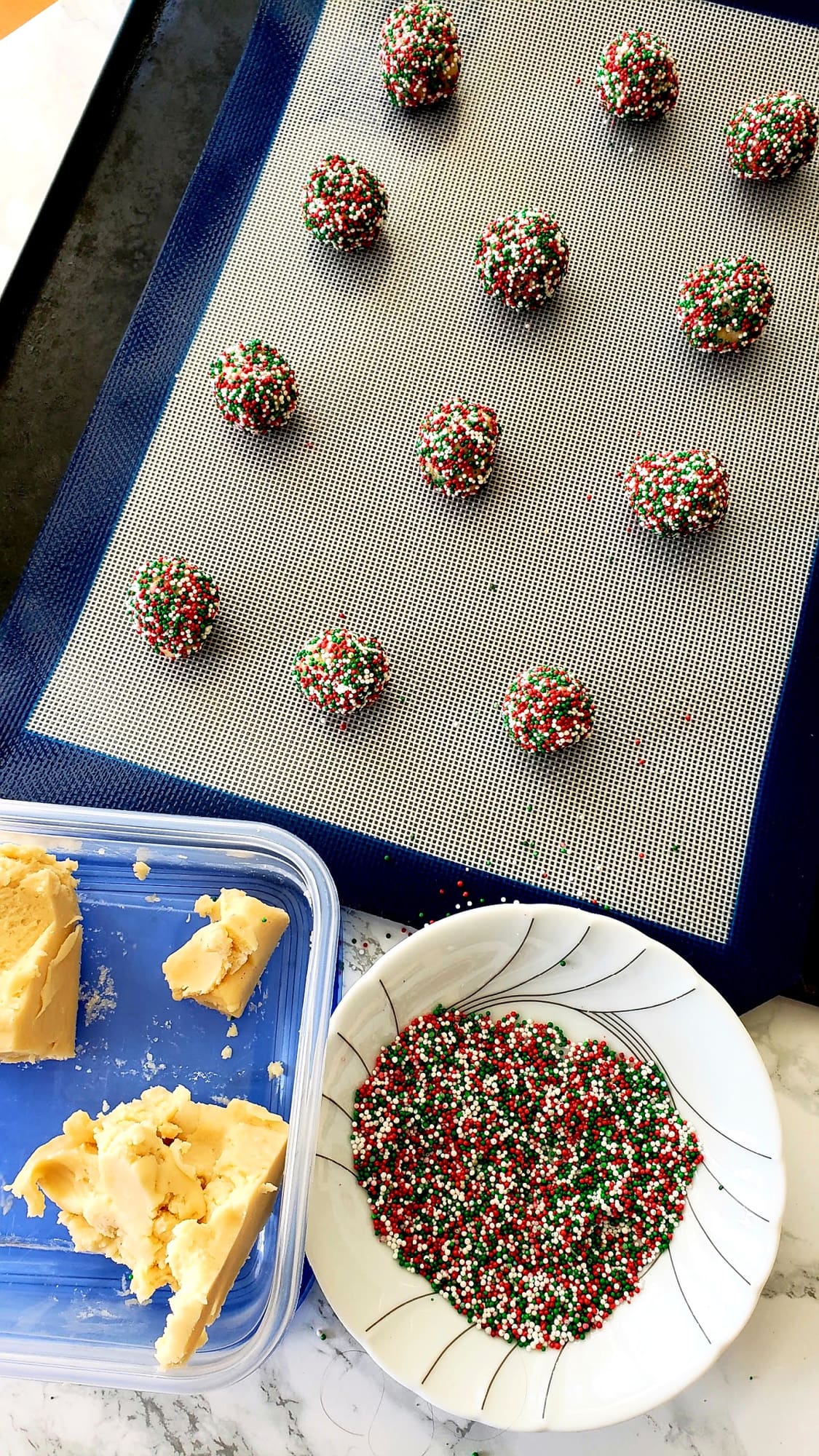 Put the balls on a baking sheet lined with a silicone mat or parchment, and bake these babies! They stay round because they don't have any leavener (leaveners are egg or baking powder or baking soda or yeast) so they don't puff up out of shape. (I learned what leaveners were in Jr. High home economics, back in the day. Pretty good memory, eh?). So you can put these pretty close to each other on the baking sheet if you like because they won't flatten out and spread into each other's space.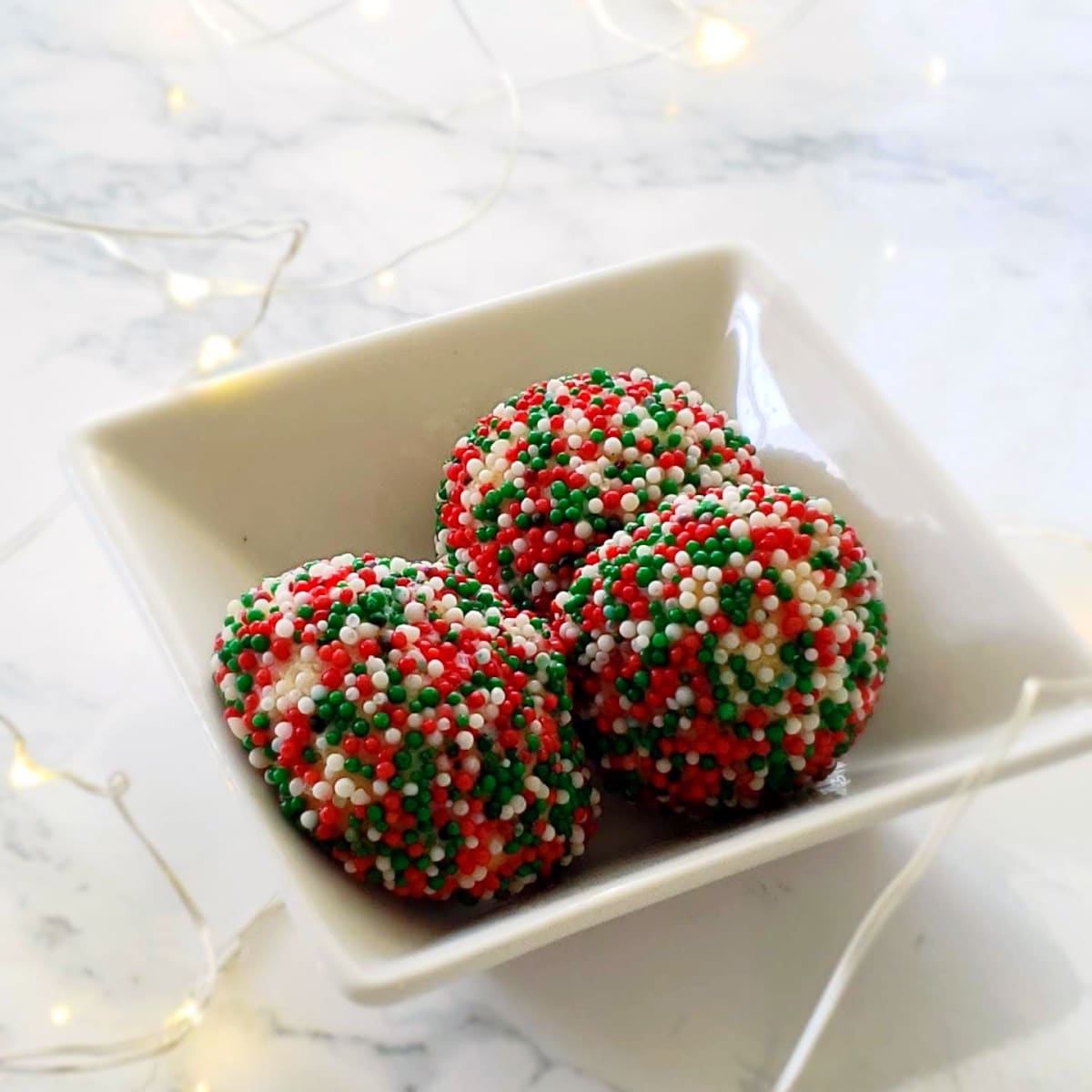 Cool them and they're ready for prime time! They're going to rock your holiday get-togethers and cookie exchanges. Print the recipe out so everyone can make them.
Cream Cheese Sprinkle Cookies
Cream Cheese Sprinkle Cookies are a classic rich, shortbread-like cookie that's perfect for Christmas cookie platters or cookie exchanges. Everyone loves sprinkles!
Ingredients
1 stick unsalted butter (= 8 tablespoons or 4 ounces or 1/2 cup) at room temperature
2 ounces cream cheese
1/2 cup powdered sugar,
1 1/2 teaspoons vanilla extract
1/4 teaspoon salt
1 1/8 cups all purpose flour
1/3 cup (about) nonpareils or sprinkles
Directions
Turn oven on to 350F degrees. Put a silicone mat or parchment paper on a baking sheet or cookie sheet and set it aside.
With an electric mixer, blend butter and cream cheese. Add sugar, vanilla, salt and flour and blend on low until combined. Dough will be thick. Chill in refrigerator for 30-60 minutes if you have time; this will make it easier to portion and roll, but if you don't have time to chill it, that's OK.
Using your hands, roll dough into 24 little balls. Pour sprinkles into a wide, flat bowl, and roll dough balls in sprinkles until they're thoroughly covered. Set balls on prepared cookie sheet and bake for 20 minutes.
Remove from oven, cool and enjoy the heck out of them! If you need to store them, do it in a covered container. You may refrigerate or freeze them for longer storage.
Makes 24 cookies.
TRICK: you can change up the sprinkle colors and make these Valentine's Day cookies, or Easter cookies, or Halloween cookies, etc. Just don't forget the cream cheese in the dough, because it makes all the difference.
A NOTE ABOUT SPRINKLES: get nonpareils (tiny little balls), or sprinkles (sometimes called hundreds-and-thousands in England, Australia, New Zealand, etc.). DO NOT get the sugar candy-shaped sprinkles and large shiny sugar balls that you would use to decorate cupcake icing; these will dissolve in the oven. (Ask me how I know!)
Notes
Recipe source: Helen Reinhold heritage recipe.
https://www.shockinglydelicious.com/cream-cheese-sprinkle-cookies/
Copyright Dorothy Reinhold | ShockinglyDelicious.com. All rights reserved.
Pin the image below for Cream Cheese Sprinkle Cookies to your Pinterest board to save this recipe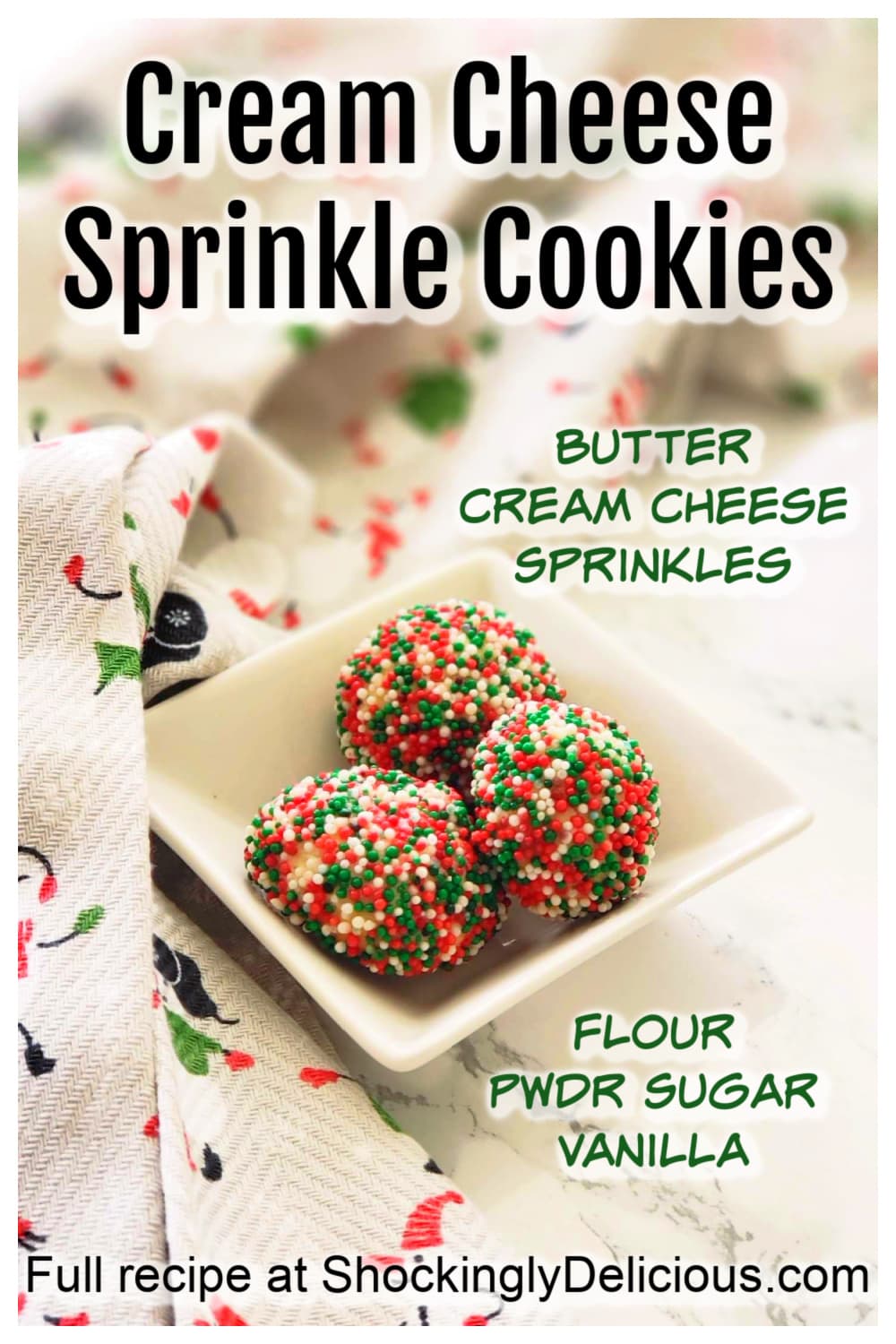 Want more Shockingly Delicious cookies?
Thanks for visiting…are you hungry for more? Follow Shockingly Delicious on…
FACEBOOK | PINTEREST | INSTAGRAM | TWITTER
…for all the latest recipes, ideas and updates!
This post may contain affiliate/referral links. It is a way for this site to earn advertising fees (at no cost to you) by advertising or linking to certain products and/or services that I approve and prefer. Thank you for using my affiliate link to shop, so I can continue to bring you shockingly delicious recipes!