Print This Post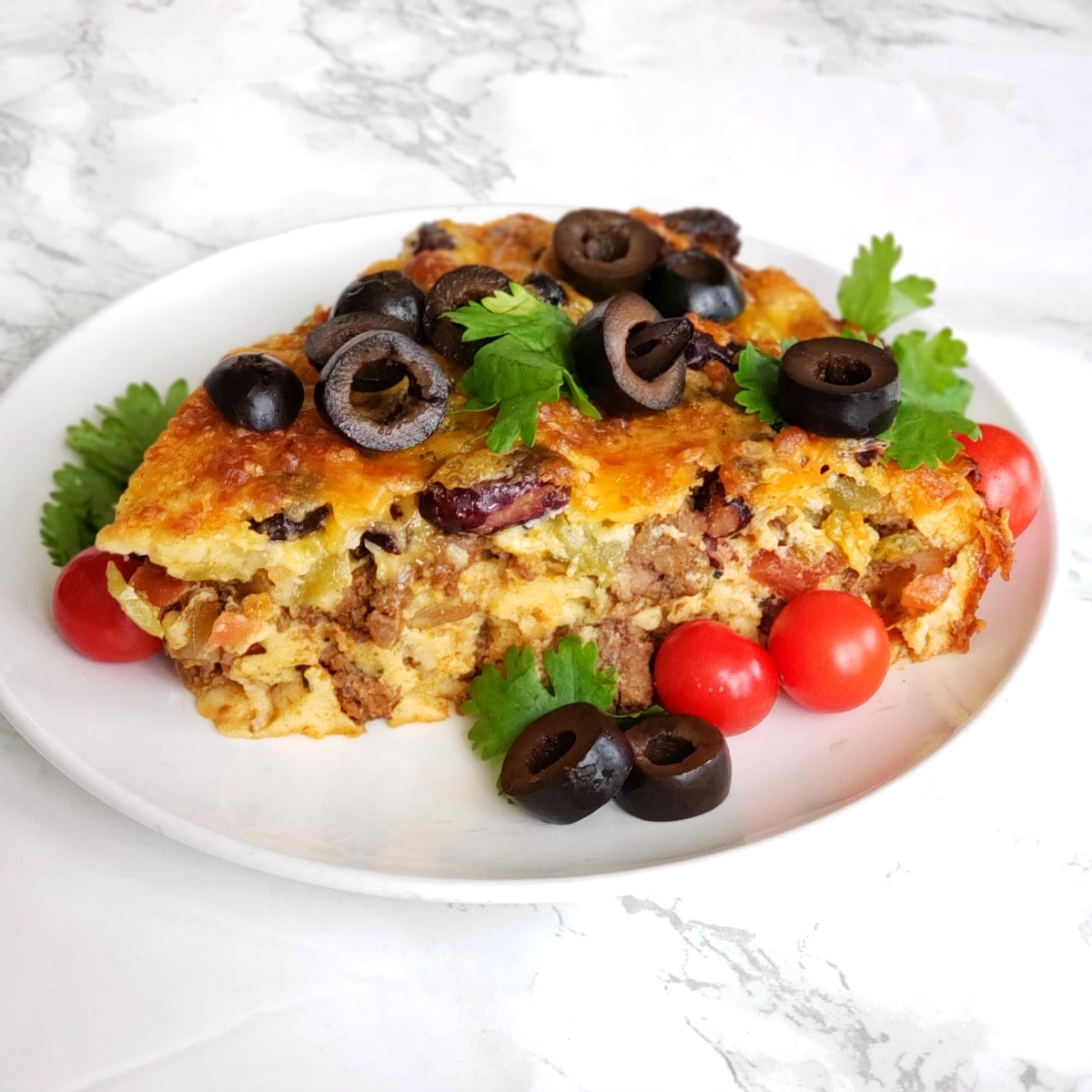 Chili Impossible Pie is a chili and cheese crustless savory pie that works well for lunch or dinner. If you love a bowl of chili, you'll love this pie!
It's Chili Cookoff time, and instead of a bowl o' red, I'd like you to try my Chili Impossible Pie. It's a bit of a cross between a bowl of chili and quiche, but less of the eggy-creamy aspect of quiche. Let's say it's a bowl of chili in pie wedge form!
How to make Chili Impossible Pie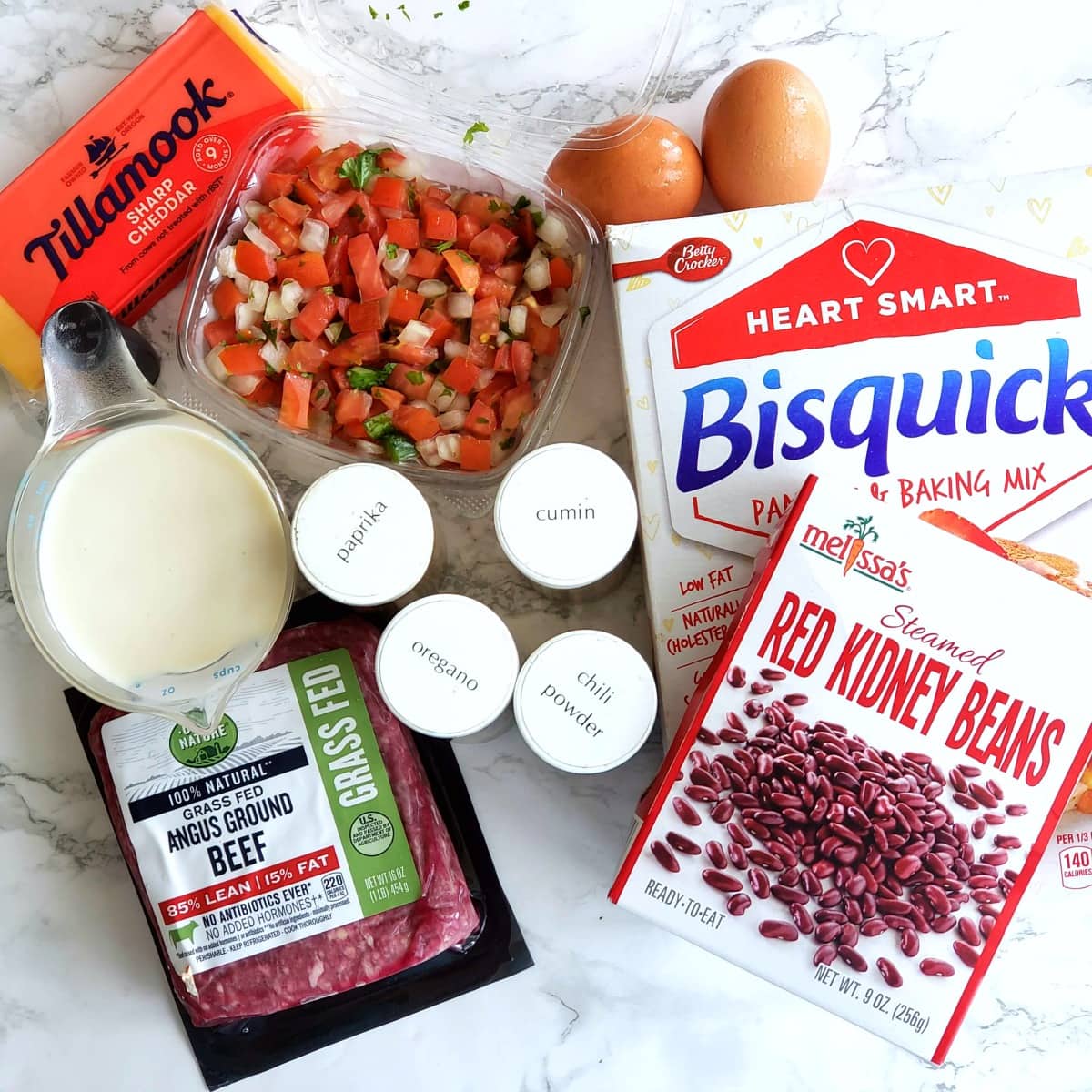 It's very easy! First, gather your ingredients. Note that I am using 85/15 ground beef (I don't want to have to drain the fat), prepared pico de gallo (a mix of chopped fresh tomatoes, onions, cilantro and jalapeno that you can find in the grocery store near the fresh salsas and guacs in the refrigerator case), steamed kidney beans from Melissa's Produce (super handy to have them around), and Heart Smart Bisquick. Use whatever brands you prefer.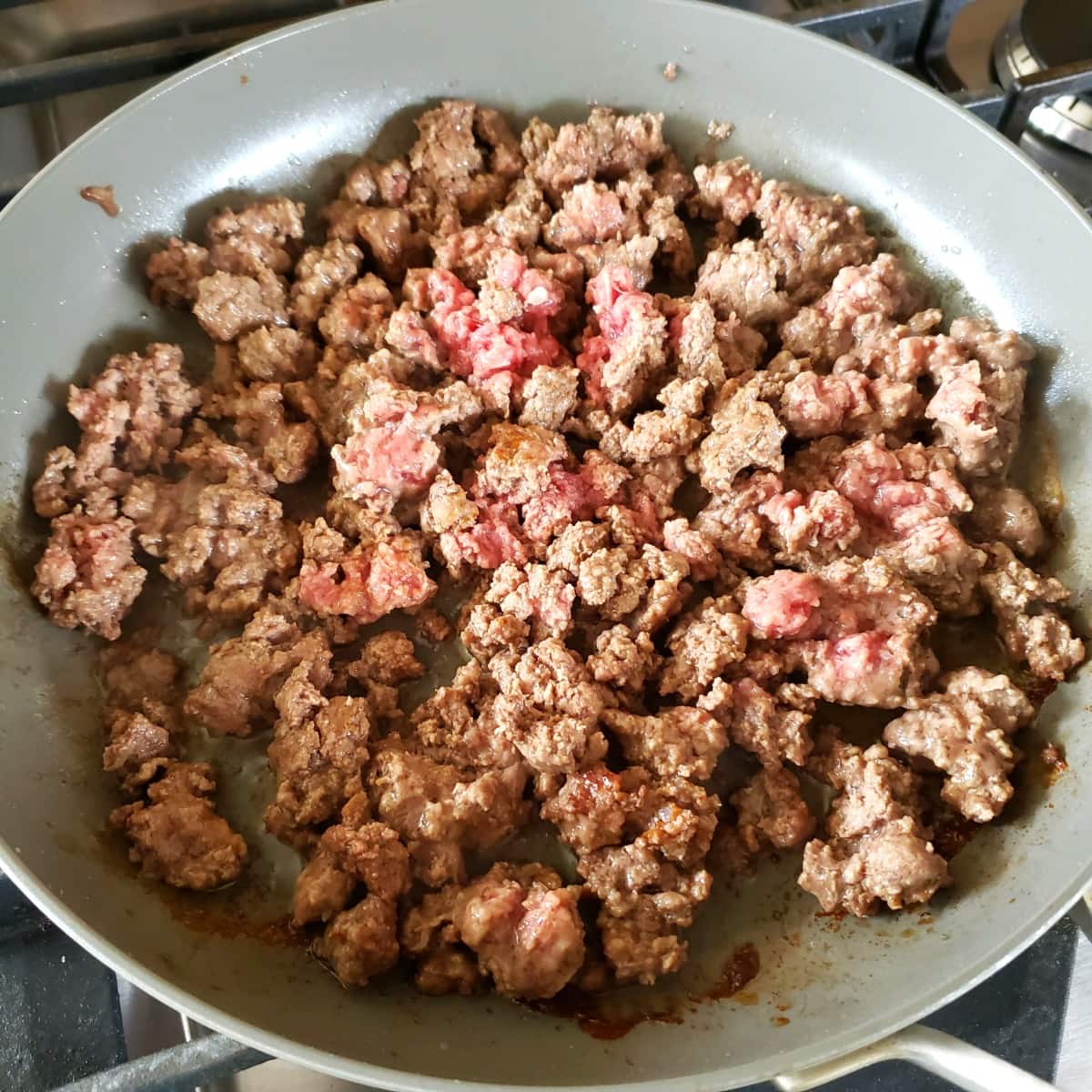 Saute the ground beef in a non-stick skillet, until it is done.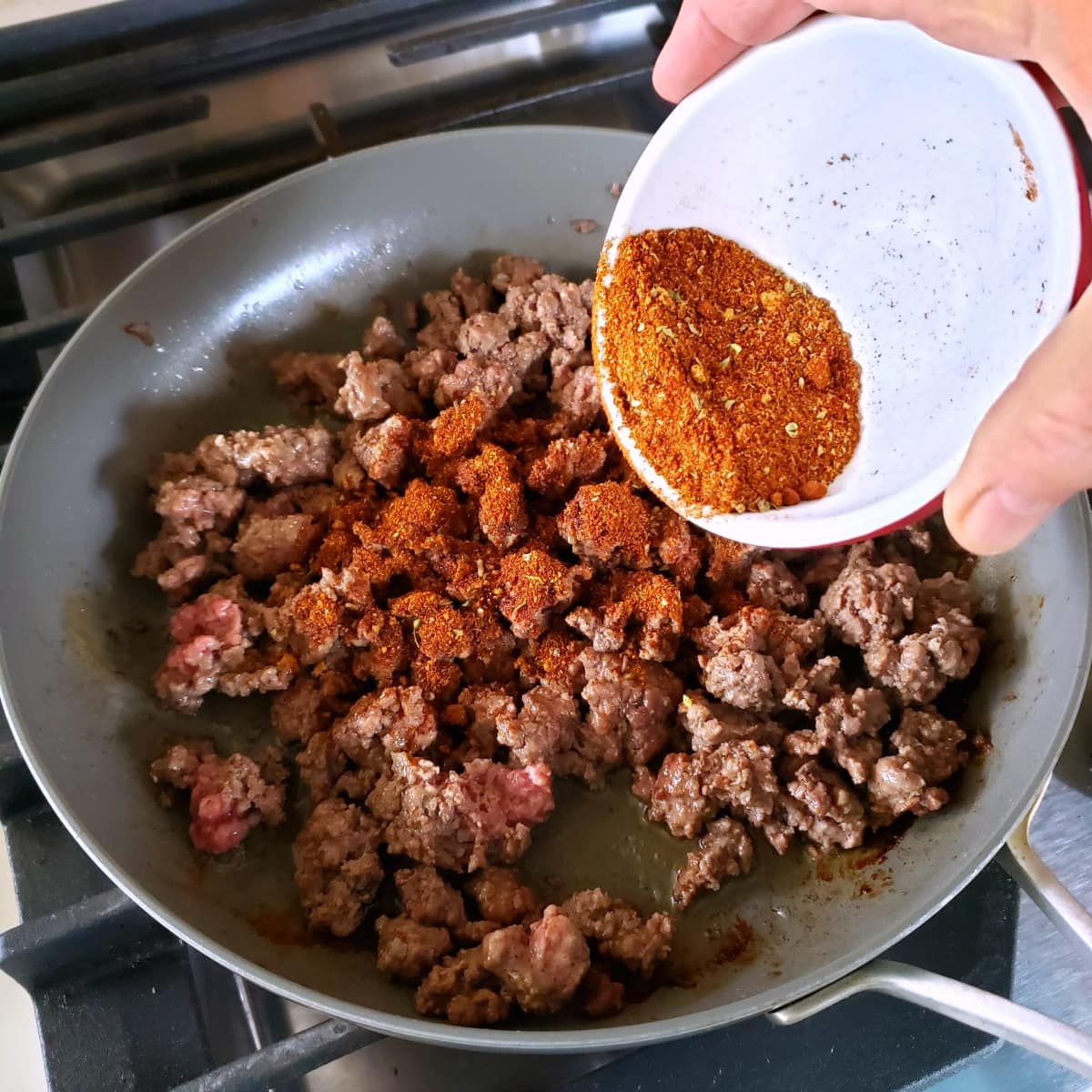 Add the spices. Although I am using individual spices (mostly so I have control over the salt, and because I have a well-stocked spice cabinet), you may certainly use a commercial packet of taco seasoning if that's what you have and like to use.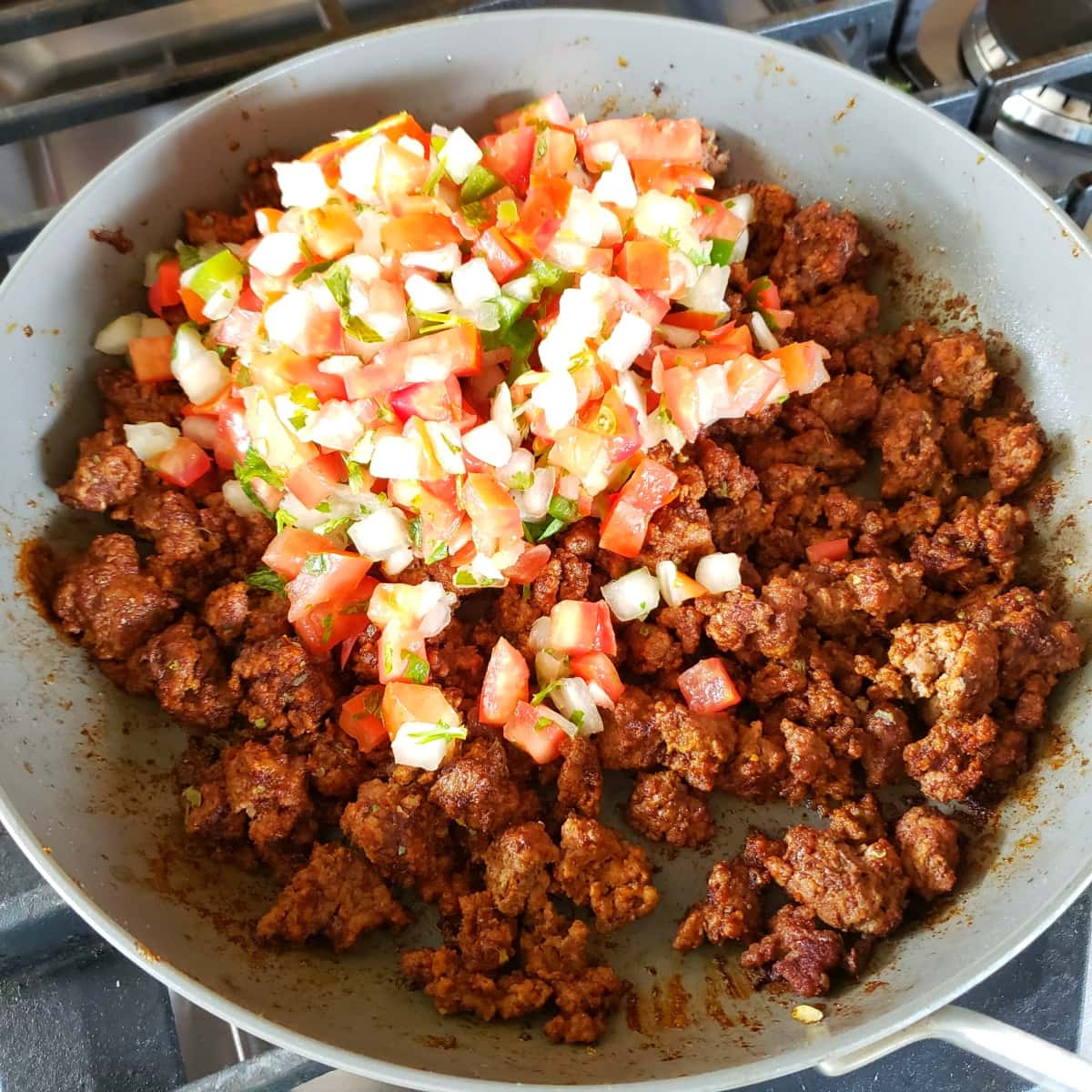 Stir in the pico de gallo.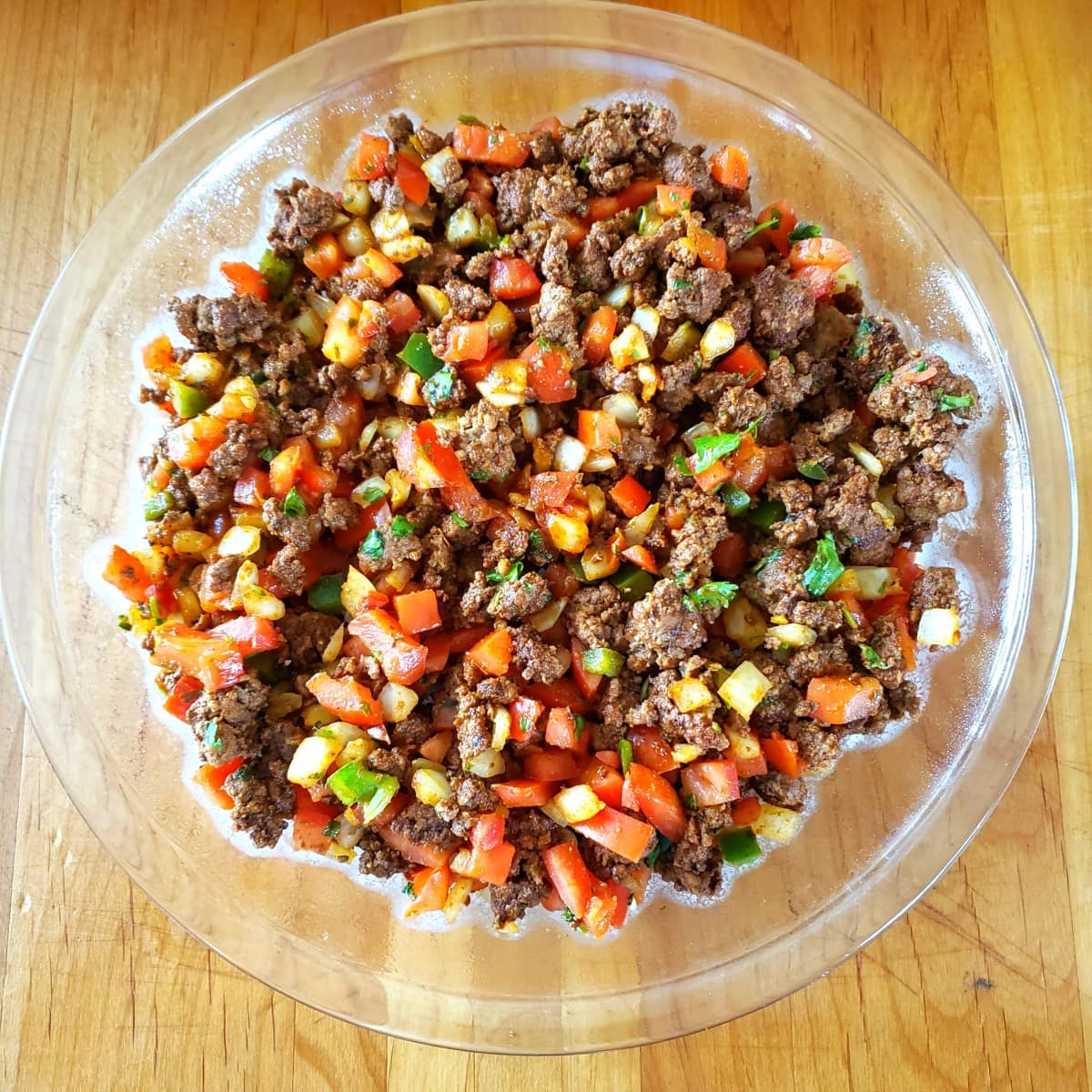 Pour into the prepared pie dish. I'm using a 10-inch glass pie dish because I was afraid it might overflow a 9-inch pie dish. However, you could also easily use a 9-inch square baking dish instead of a pie dish. In that case, you'll cut squares or rectangles of the finished pie instead of wedges.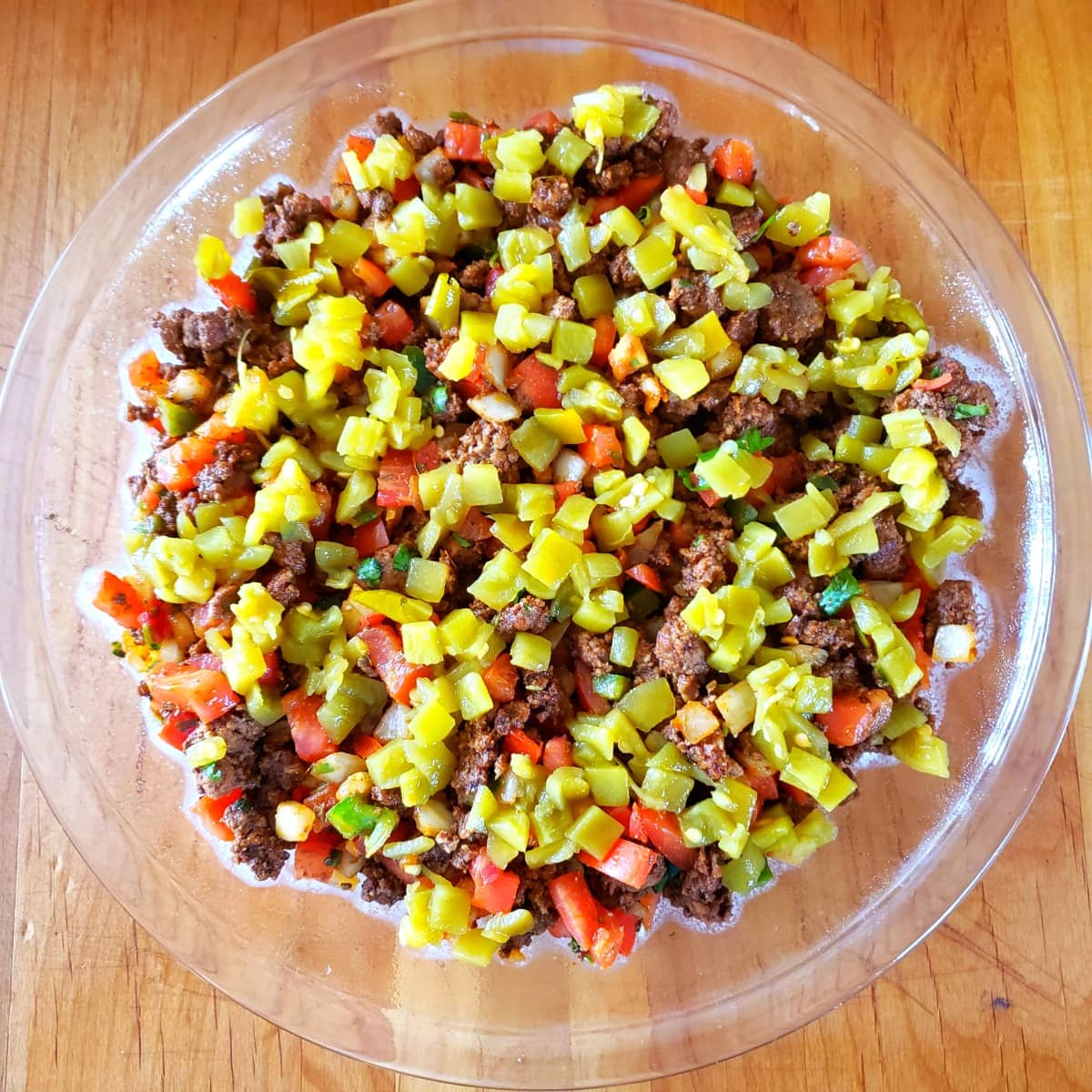 Scatter green chiles on top.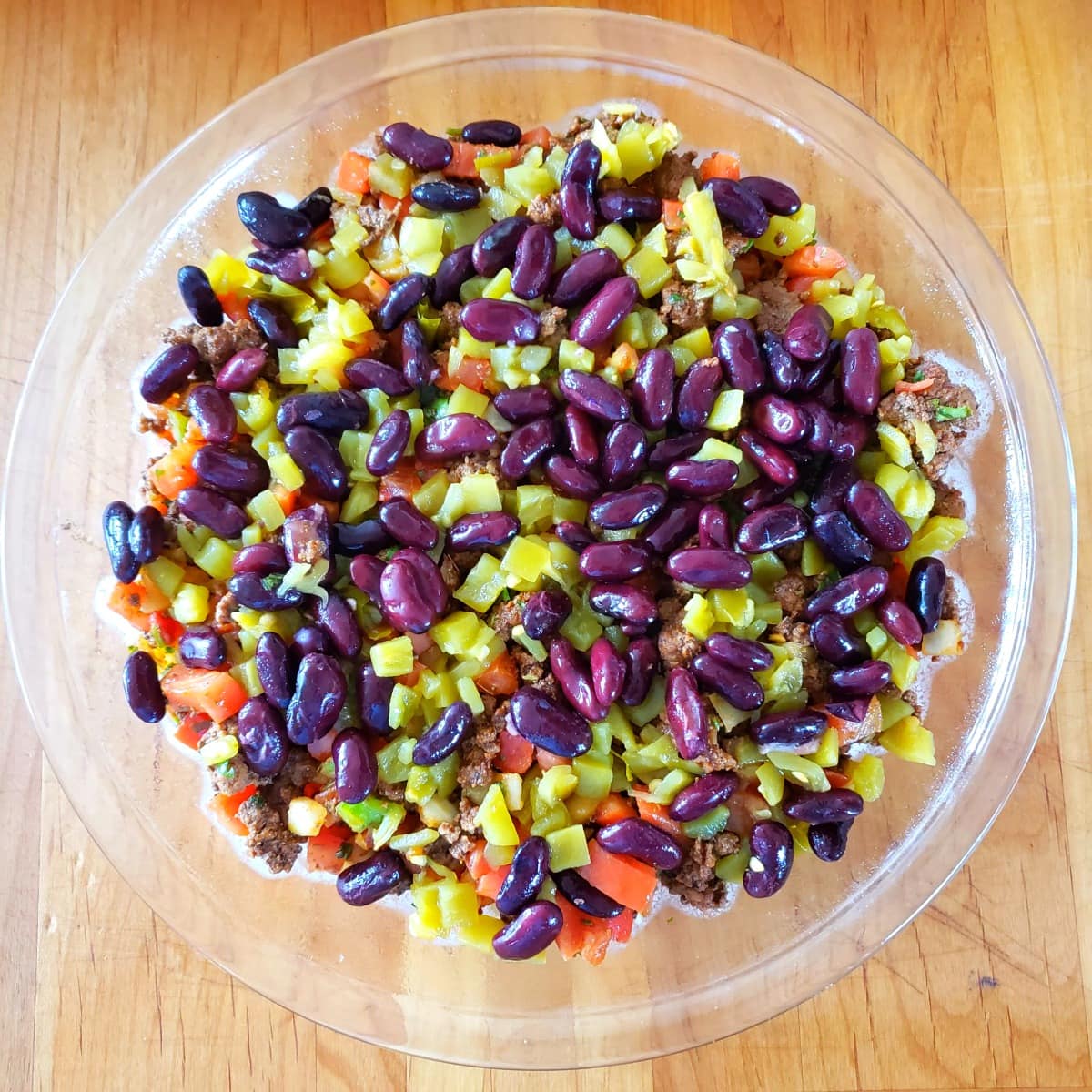 Scatter kidney beans on top. If you don't have or don't like kidney beans, use pinto beans or black-eyed peas or whatever bean you like in your chili. (Or none!)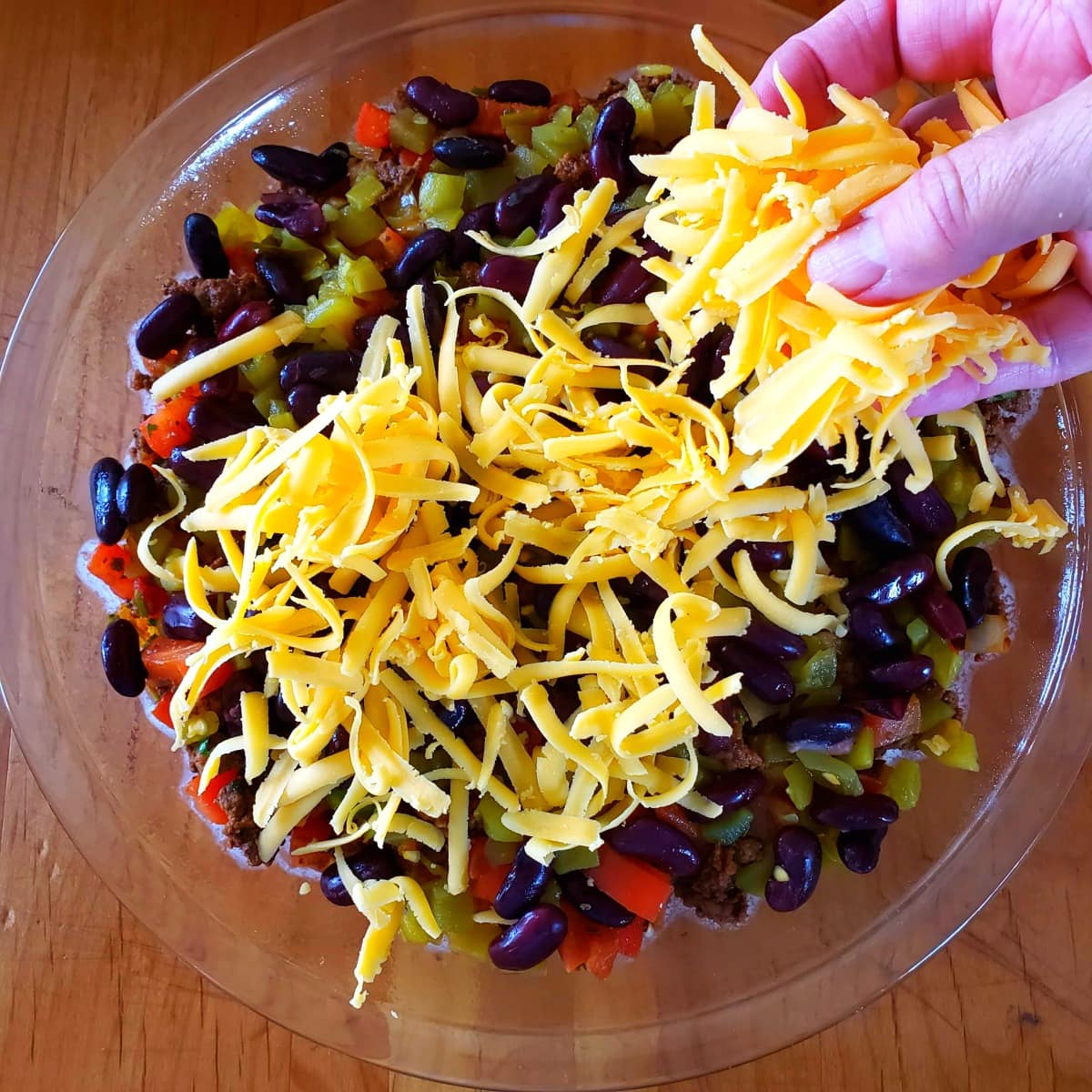 Top with cheese.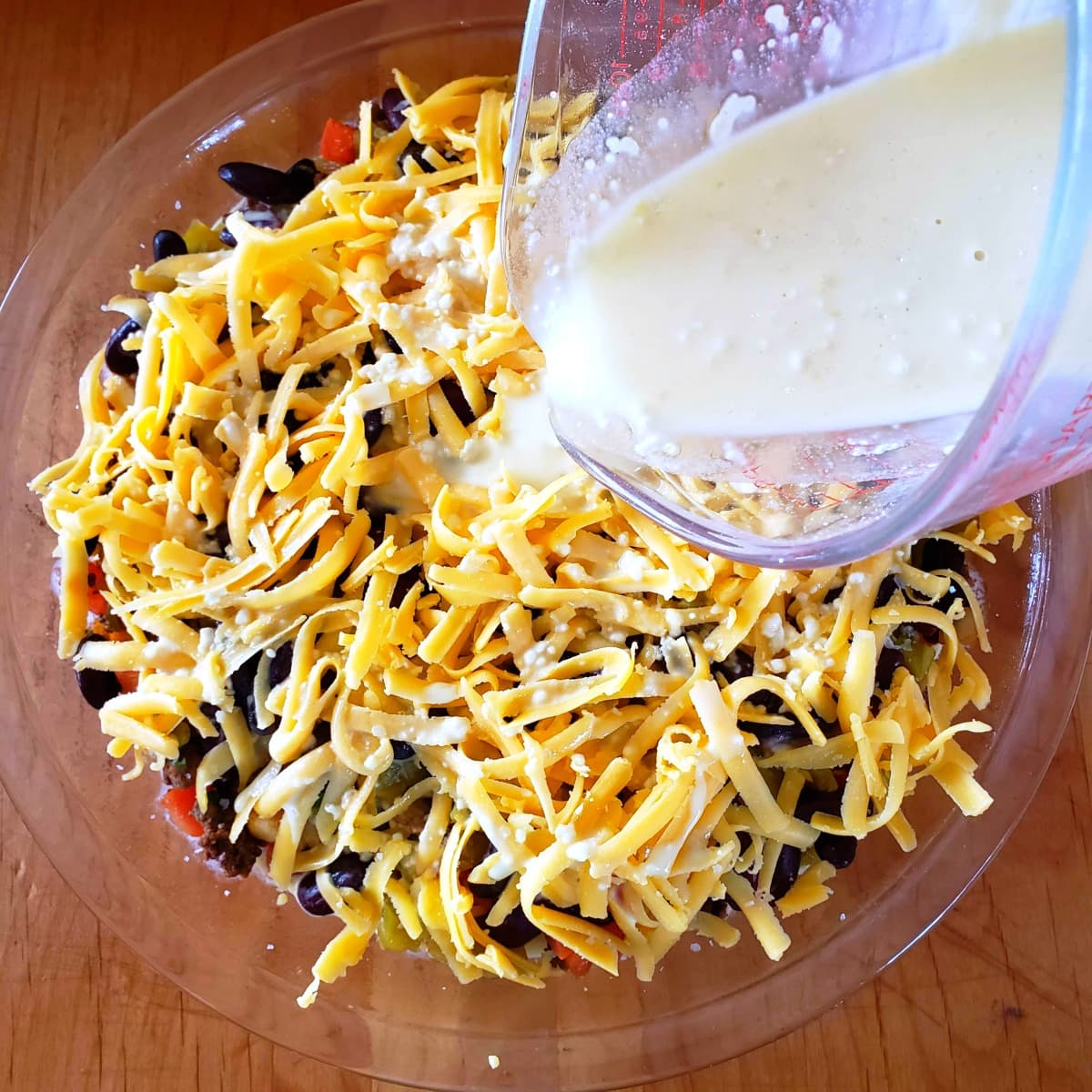 Finally, pour batter over top.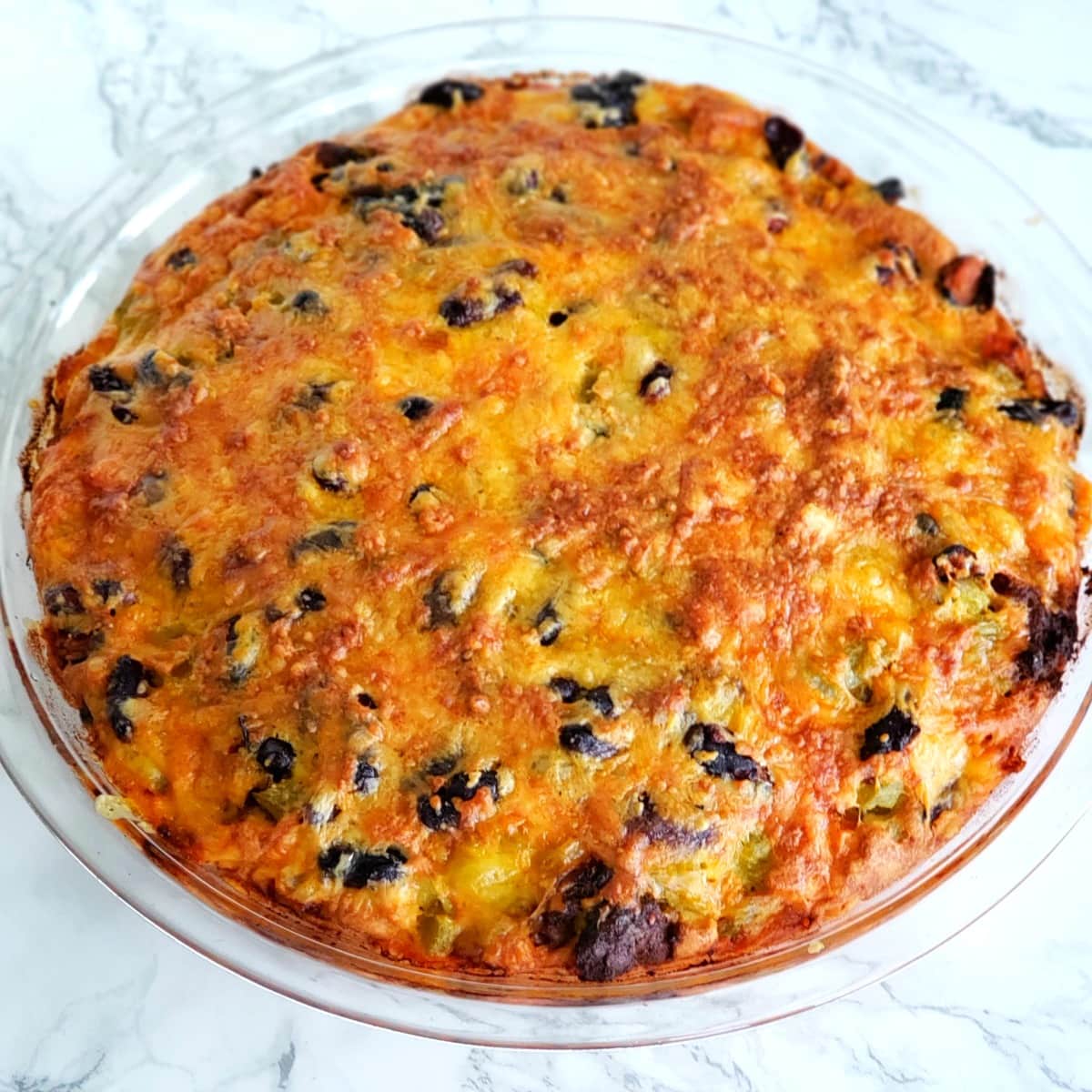 Bake for half an hour, and voila!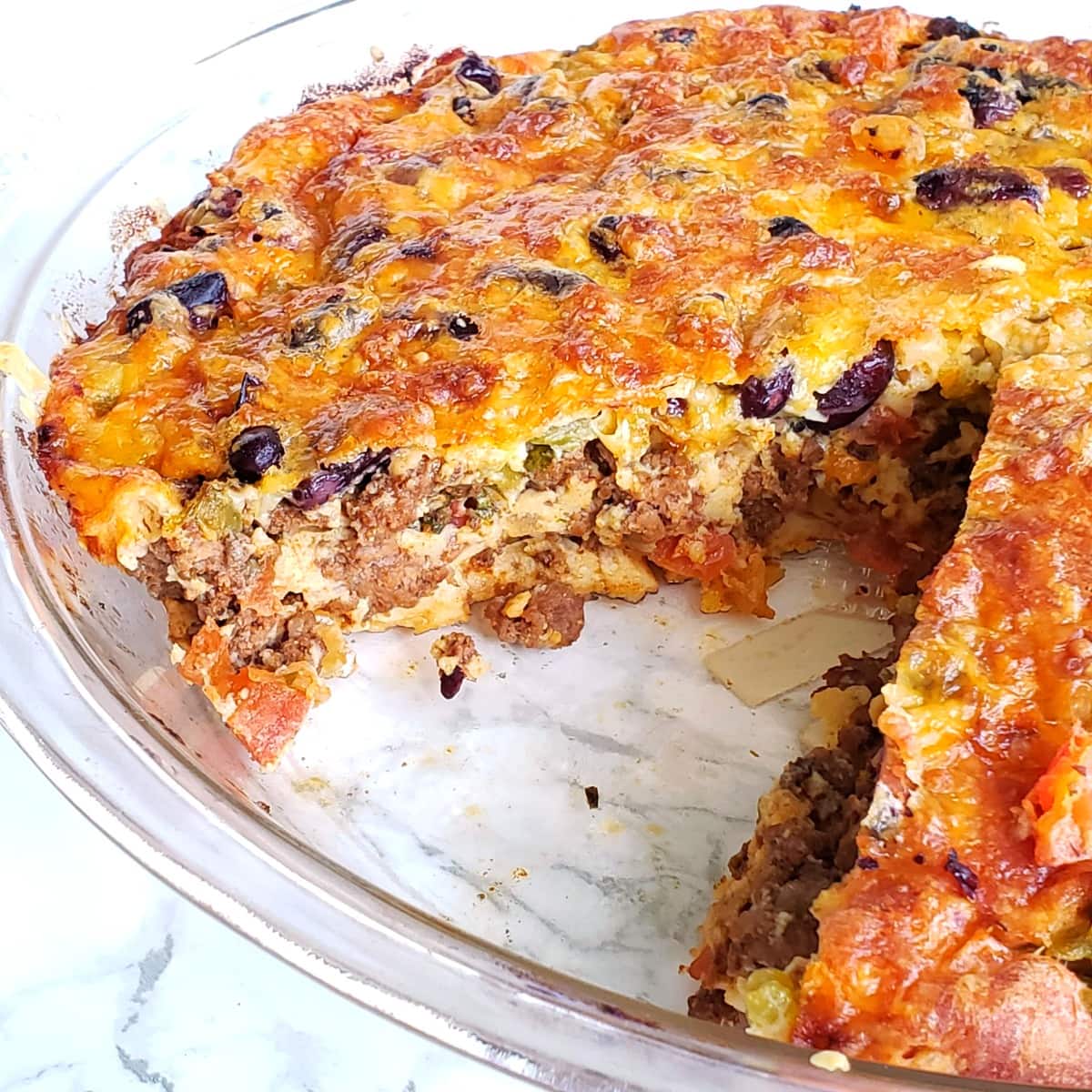 If you're serving as a main dish, I recommend cutting into 6ths. If it's for lunch or you have other substantial things on the plate, you could probably get away with cutting it into 8ths.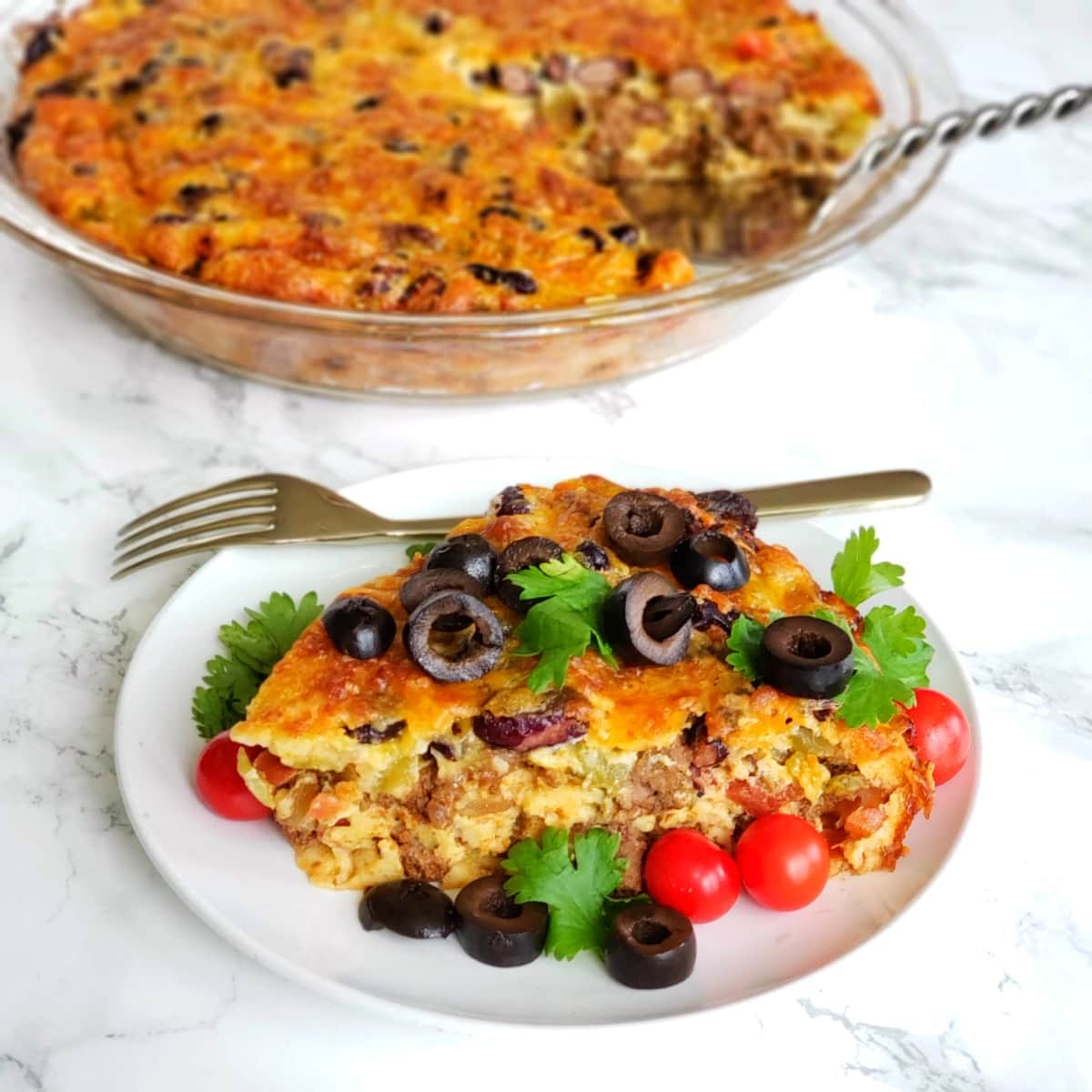 Serve topped with garnishes such as chopped ripe black olives and cilantro leaves. Olives can be polarizing, so I like to serve them as a garnish instead of adding them into the pie. Same with cilantro.
Chili Impossible Pie is a chili and cheese crustless savory pie that works well for lunch or dinner. If you love a bowl of chili, you'll love this pie!
Ingredients
1 pound lean ground beef (I used 85/15)
1 tablespoon chili powder
1 1/2 teaspoons paprika
1 teaspoon ground cumin
1/2 teaspoon garlic powder
1/2 teaspoon onion powder
1/2 teaspoon dried oregano leaves
Sprinkle of ground cayenne pepper
Pinch of salt
10-14 ounces prepared pico de gallo
1 (3.5-4-ounce) can diced green chiles
4 ounces of cooked kidney beans (about 3/4 cup or so -- eyeball it)
1 cup (4 ounces) shredded sharp Cheddar cheese
1 cup milk
2 eggs
1/2 cup baking mix (I use Heart Smart Bisquick; use what you have)
.

Garnish:

chopped cilantro, sliced ripe black olives, salsa, sour cream
Directions
Heat oven to 400F degrees. Lightly spray a 10-inch pie dish or a 9-inch square baking dish with nonstick spray and set aside.
Heat a nonstick skillet and add the beef. Cook, stirring every once in awhile and separating the beef, until there is no pink left, about 7 minutes. Stir in all the herbs and spices (chili powder through salt) and continue cooking for another minute or 2. It will begin to smell like chili! Turn heat off and stir in pico de gallo.
Scrape meat and tomato mixture into the prepared pie dish or baking pan. Scatter green chiles and beans over top. In a 4 cup measuring cup, measure the milk. Add the eggs and baking mix, and stir or whisk until blended. Pour evenly over everything in the pie dish.
Bake 30-35 minutes. If you insert a knife into the center of the pie, it should come out clean. Pie will puff up slightly. Remove from oven and allow to cool for 10-15 minutes; pie will deflate slightly.
Cut into wedges and serve, garnishing with your choice of ingredients.
Serves 6 as a main dish.
Notes
Recipe source: Dorothy Reinhold | Shockingly Delicious
https://www.shockinglydelicious.com/chili-impossible-pie/
Copyright Dorothy Reinhold | ShockinglyDelicious.com. All rights reserved.
Pin the image below for Chili Impossible Pie to your Pinterest board to save this recipe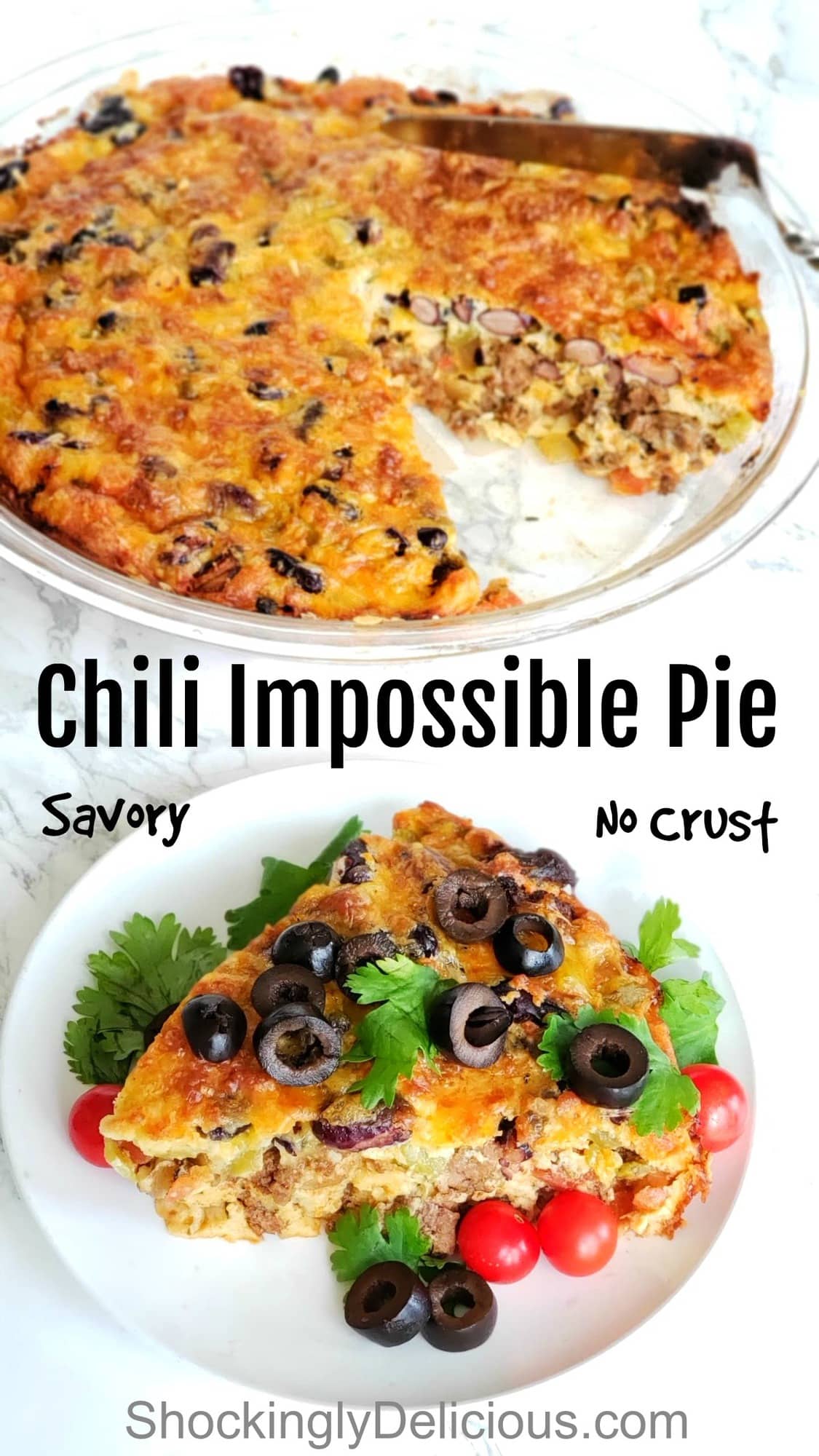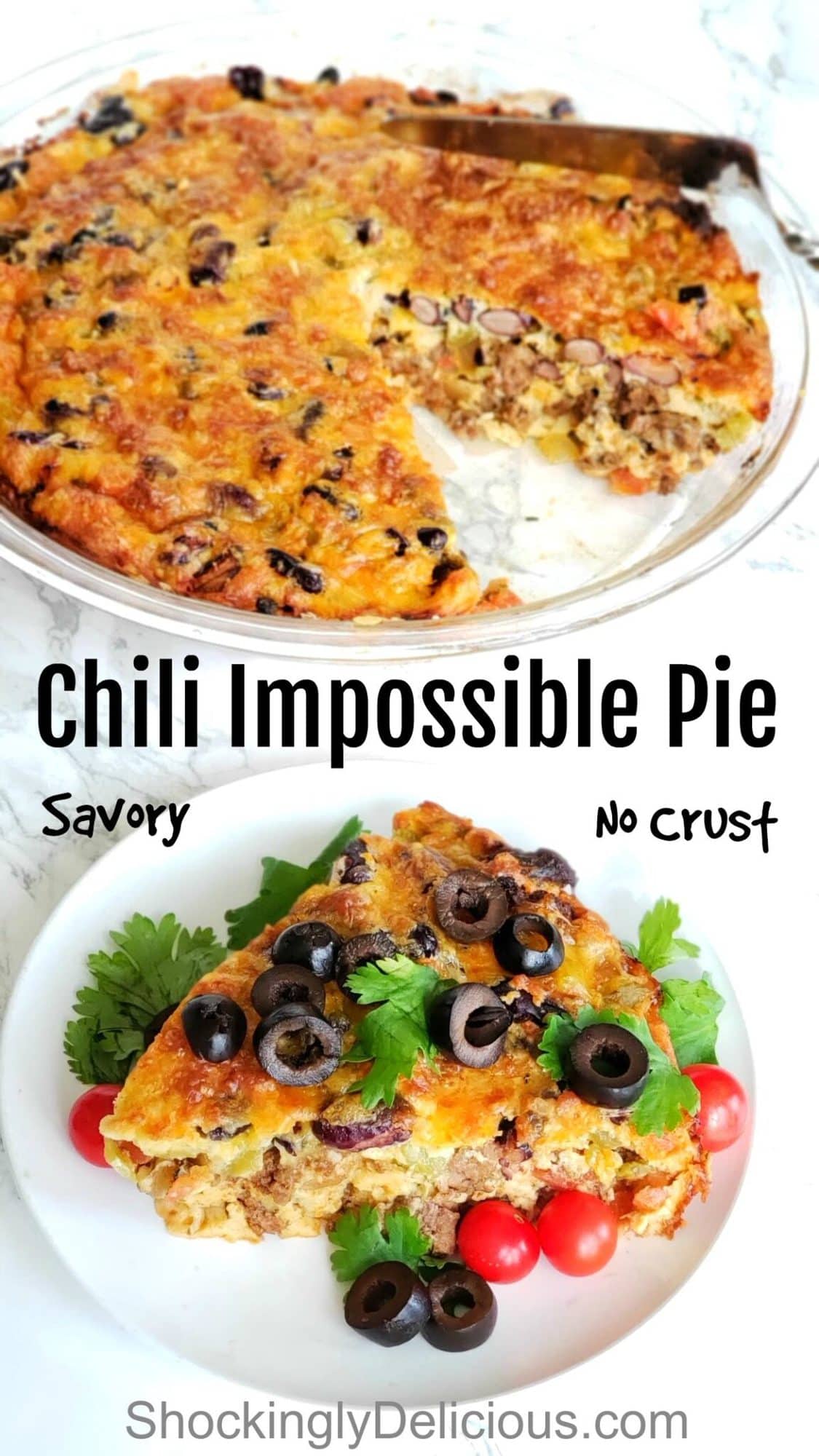 All the Shockingly Delicious Impossible Pies
Chili Impossible Pie
Impossible Quesadilla Pie
Impossible Lasagna Pie
Spinach Feta Greek Impossible Pie
Mac 'n' Cheese Impossible Pie
Impossible Cherry-Almond Pie (dessert)
Impossible Pumpkin Pie (dessert)
Impossible Chocolate Pie (dessert)
Thanks for visiting…are you hungry for more? Follow Shockingly Delicious on…
FACEBOOK | PINTEREST | INSTAGRAM | TWITTER
…for all the latest recipes, ideas and updates!
This post may contain affiliate/referral links. It is a way for this site to earn advertising fees (at no cost to you) by advertising or linking to certain products and/or services that I approve and prefer.