Print This Post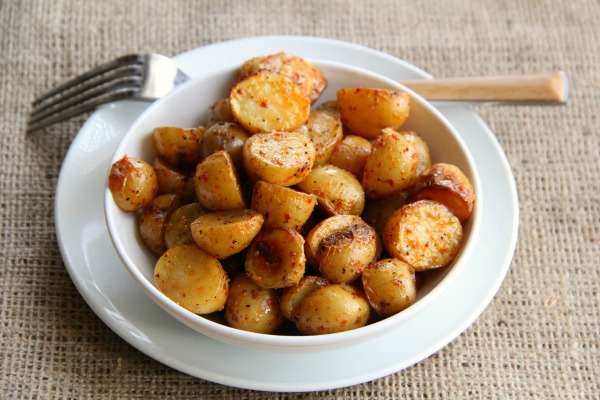 Chile-Roasted Potatoes are simple to make, and have enough of a kick to spark Cinco de Mayo or any other dinner.
Let's celebrate Cinco de Mayo by branching out from overdrinking, shall we?
Sure, we love our Vanilla Margarita, our Basil Margarita, our Hatch Chile Margarita, even our improbably delicious Kale Margarita!
But yegads, a girl needs some actual food in her life, eh?
Bring on the spuds, and spike 'em with just the right amount of chiles. We're using Dutch yellow potatoes, which are from Idaho (so they are naturally superior), and the baby version because they cook very quickly and you use them skin and all. Dried de arbol chile peppers are 15,000-25,000 on the Scoville heat scale, so they're similar to a fresh Serrano, heat-wise.
How to make Chile-Roasted Potatoes
1. Wash, dry and halve baby Dutch yellow potatoes. You don't need to peel them because their skin is very tender.
2. Toss in a mixing bowl with oil, ground chile peppers, rosemary, salt and pepper.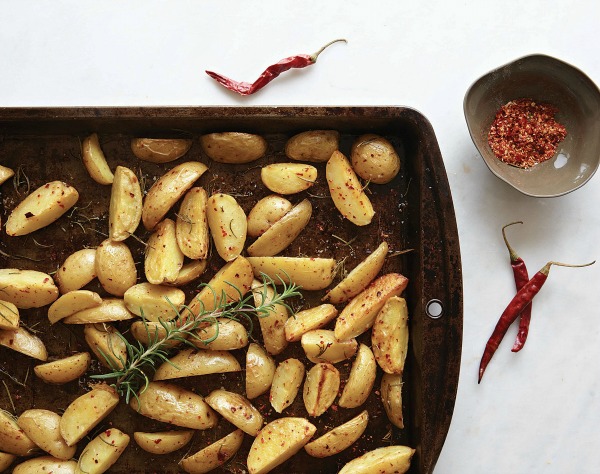 3. Spread out on a baking sheet and roast for 20 minutes or so. Enjoy!
How do we use Chile-Roasted Potatoes?
1. Use them as a side dish with virtually any dinner, especially roasted meats, poultry or fish.
2. Use them as a stuffing for a breakfast burrito (with scrambled eggs), or a lunch or dinner burrito (with pinto beans and cheese).
3. Use them alongside your scrambled or fried eggs for breakfast or brunch.
We can stand the heat, and we're happy to be in the kitchen for Cinco de Mayo.
Chile-Roasted Dutch Yellow Potatoes
Chile-Roasted Dutch Yellow Potatoes: Potatoes roasted with chile give enough of a Cinco de Mayo kick that you just might need a margarita.
Ingredients
1 1/2 pounds baby Dutch yellow potatoes, halved
2 tablespoons extra-virgin olive oil
4 dried de arbol chile peppers, stems and seeds removed, ground
2 sprigs fresh rosemary, stems removed
1 teaspoon kosher salt
1 teaspoon freshly ground black pepper
Directions
Heat oven to 425°F. Line a baking sheet with foil or parchment (for easy cleanup).
In a bowl, combine all ingredients; toss together.
Arrange in a single layer on a foil-lined baking sheet; bake until fork tender, stirring halfway through, about 15-18 minutes. Gently toss together. Garnish with additional rosemary sprigs, if desired.
Serves 6
Notes
https://www.shockinglydelicious.com/chile-roasted-dutch-yellow-potatoes-papas-y-chiles-for-cinco-de-mayo/
Copyright Dorothy Reinhold | ShockinglyDelicious.com. All rights reserved.
Pin the image below to your Pinterest board to save this recipe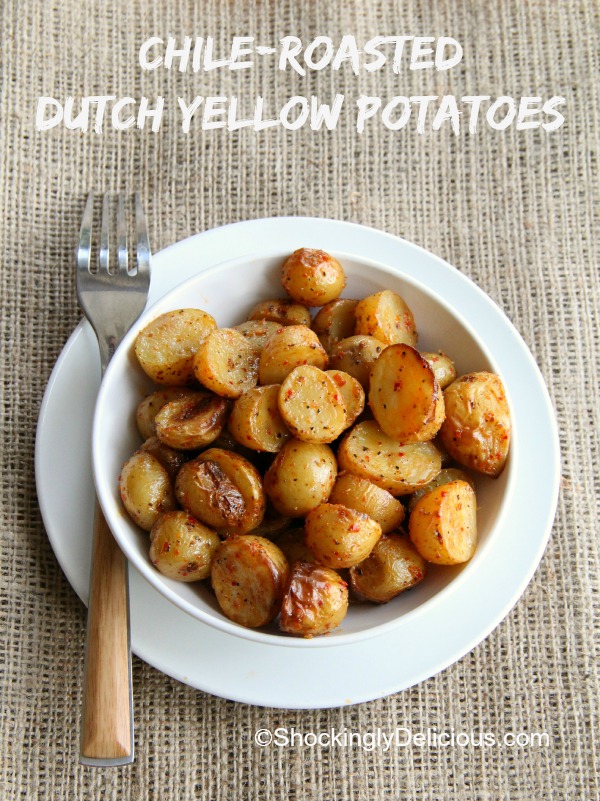 Other Cinco de Mayo recipes you might like from my blogging friends:
Thanks for visiting…are you hungry for more? Follow Shockingly Delicious on…
FACEBOOK | PINTEREST | INSTAGRAM | TWITTER
…for all the latest recipes, ideas and updates!
This post was previously published May 4, 2014 and has been refreshed and republished today.
This post may contain affiliate/referral links. It is a way for this site to earn advertising fees (at no cost to you) by advertising or linking to certain products and/or services that I approve and prefer.