Print This Post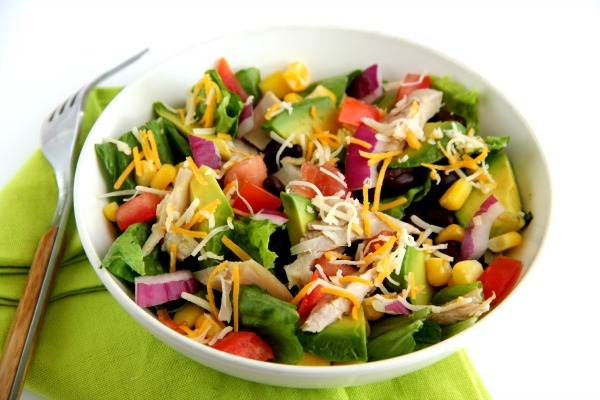 Mexican Chicken Salad: A satisfying, easy "big salad" dinner entrée full of chopped vegetables, chicken, black beans and topped off with Mexican cheese blend.
Remember the classic "Big Salad" episode from Seinfeld, circa 1994?
Elaine asks George to buy a "big salad" for her, to go. George and Jerry volley back and forth about what's in a big salad, anyway ("Big lettuce, big carrots, tomatoes like volleyballs," Jerry says; hilarity and eyeball rolling ensues), and then there's a whole usual misunderstanding between George and the world his girlfriend over who gets credit for providing Elaine said big salad. George obsesses, as usual, because he wants everyone to understand he is generous. He is! Really, he is!
Sounds mundane when I write it out like that, but it was hilarious! And ever since then, a Big Salad has been part of the culinary lexicon. To me, Big Salad = entrée dinner salad.
A Big Salad is often what's for dinner at mi casa, and we like to throw it together out of whatever is hanging around the refrigerator.
Ingredients and shortcuts to make a Mexican Chicken Salad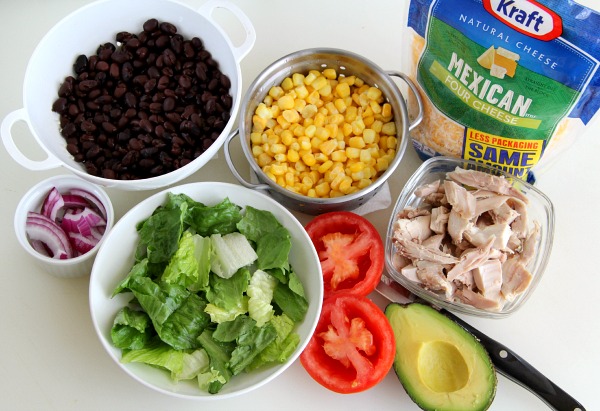 1. Rotisserie chicken from the grocery store. Or grilled chicken from your backyard grill. Whatever you have that's already cooked.
2. Shredded packaged cheese. I like a Mexican-style or Mexican-blend cheese, which often has a blend of several cheeses (Monterey Jack, Cheddar, Asadero, Queso Quesadilla cheeses).
3. Canned black beans, frozen corn, bottled vinaigrette. Of course, you can make any of these elements from scratch, but you can't beat the convenience of having them already on hand to make a healthy, fast dinner. I find that I am much more likely to eat a salad if the components are already ready and waiting for me.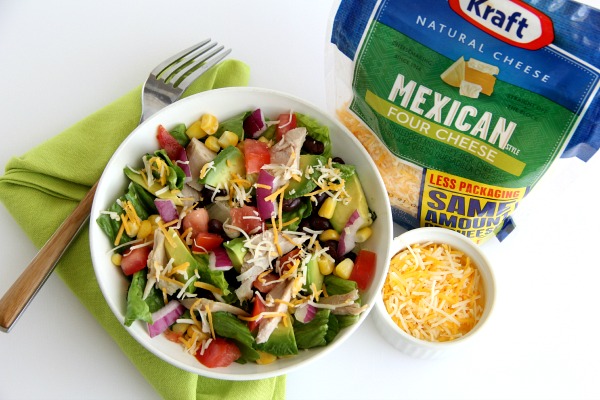 4. Romaine lettuce, avocado, tomato, fresh cilantro if you like it (yes please!).

My Big Salad was a hit at dinner, with kids and my husband.
Elaine would approve.
Chopped Mexican Chicken Salad – a Big Salad for Elaine
Mexican Chicken Salad: A satisfying, easy "big salad" dinner entrée full of chopped vegetables, chicken, black beans and topped off with Mexican cheese blend.
Ingredients
1 1/2-2 cups cooked chicken (such as from a rotisserie chicken)
1 package (10-12 ounces) torn romaine lettuce (more if you like)
1/2 cup frozen corn, thawed
1 (15-ounce) can black beans, rinsed and drained
1/2 cup thinly sliced red onion
1 avocado, peeled, seeded and diced
1 large tomato, seeded and chopped (use 2 if you like a salad stuffed with tomatoes)
1/2 cup Mexican Style Finely Shredded Four Cheese blend
1/4 cup Zesty Lime Vinaigrette Dressing
Garnish: Offer chopped fresh cilantro at the table, and hot sauce or salsa for those who like a spicier salad
Directions
Add chicken, lettuce, corn, black beans and onion to a large salad bowl. Toss gently to combine.
Portion into 4 wide flat bowls, or onto large plates.
Sprinkle each salad with avocado and tomato (these are more fragile and are damaged by tossing).
Sprinkle with cheese. Drizzle each salad with about 1 tablespoon dressing (more if you like).
Serves 4.
Notes
Recipe source: Lightly adapted from Grilled Chopped Chicken Salad on the KRAFT website.
https://www.shockinglydelicious.com/chopped-mexican-chicken-salad-a-big-salad-for-elaine/
Copyright Dorothy Reinhold | ShockinglyDelicious.com. All rights reserved.
Pin the image below to your Pinterest board to save this recipe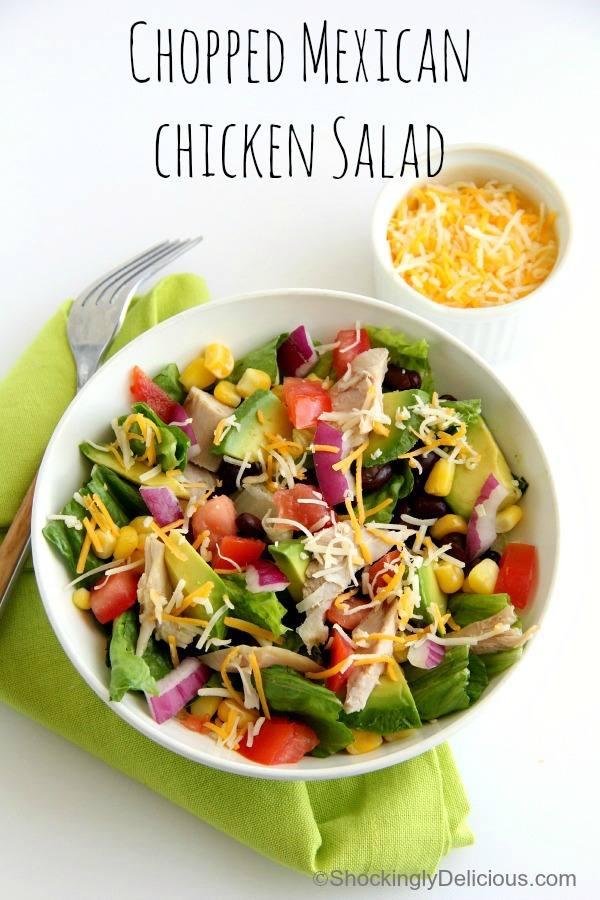 If you like a "big salad," also try these: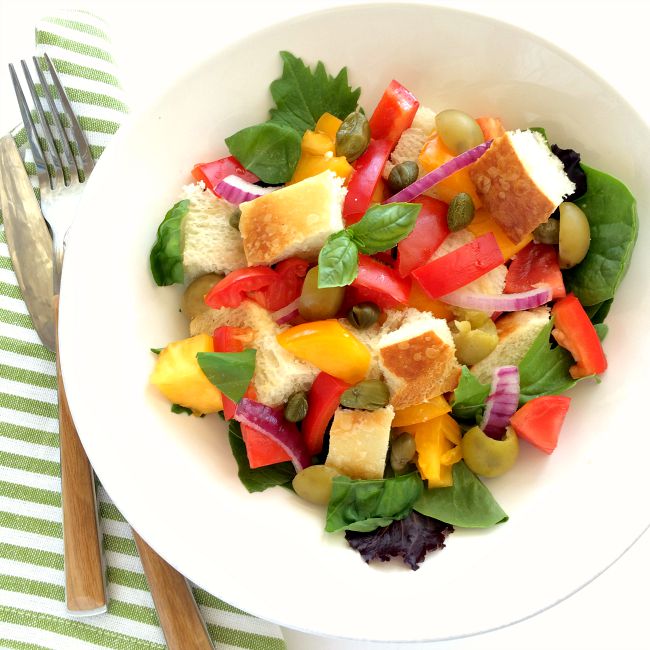 1. Tuscan Panzanella Salad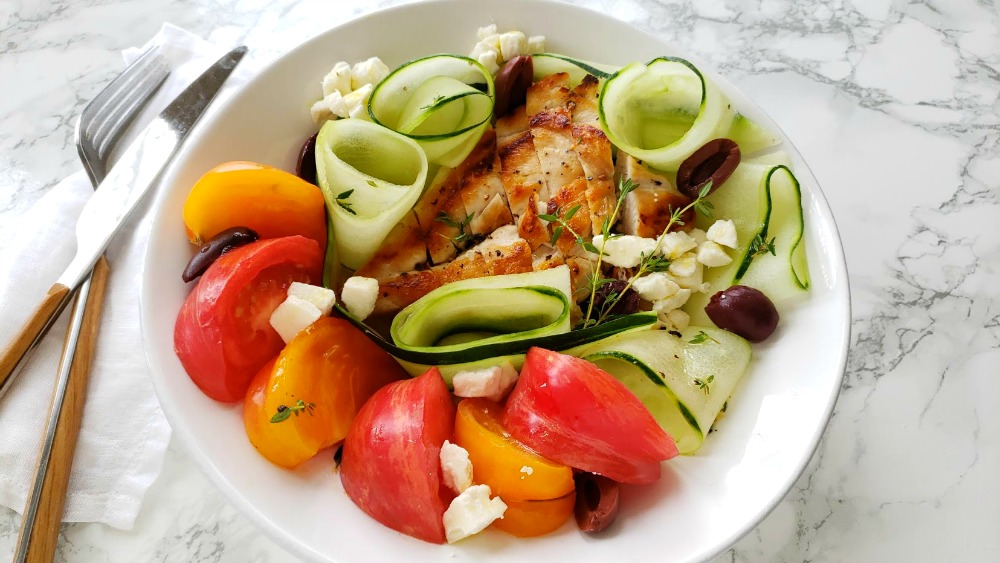 2. Easy Weeknight Chicken, Tomato and Cucumber Dinner Salad
Thanks for visiting…are you hungry for more? Follow Shockingly Delicious on…
FACEBOOK | PINTEREST | INSTAGRAM | TWITTER
…for all the latest recipes, ideas and updates!
This post was originally published June 2, 2014 and has been refreshed and republished today.
This post may contain affiliate/referral links. It is a way for this site to earn advertising fees (at no cost to you) by advertising or linking to certain products and/or services that I approve and prefer.