Print This Post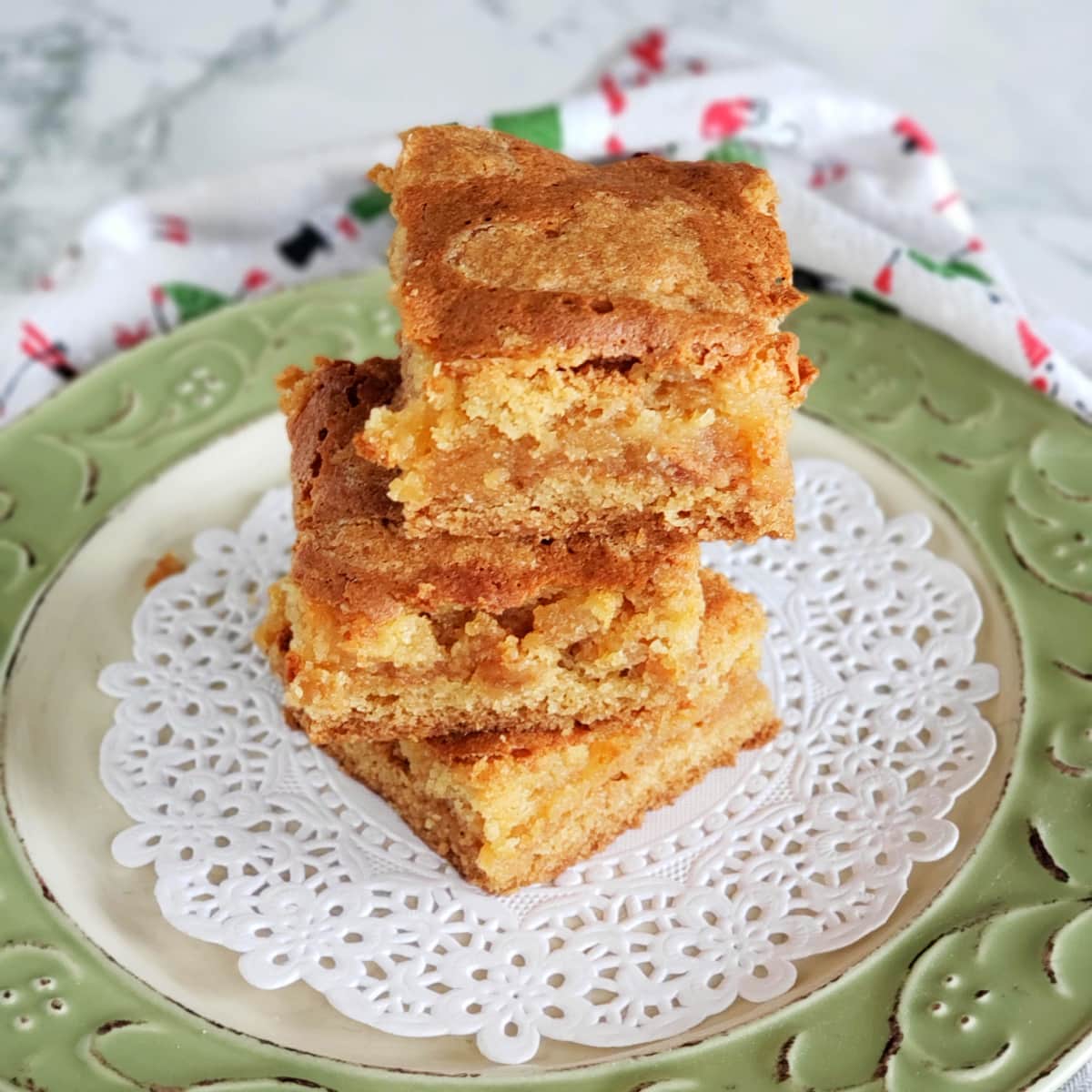 Almond Paste Squares are for the almond lovers in your tribe — chewy edges, tender moist crumb, with an intoxicating almond filling. Perfect for a holiday cookie tray!
There's an Italian tradition of having a cookie tray at your wedding. The bride and groom, as one of their first acts of togetherness, walk the tray around to all the tables after the meal, giving all the guests a chance to chat with them as well as get a sweet treat. My Italian mother insisted on a cookie tray at my wedding, and I had not been to too many weddings up to that time, so it was a new idea for me.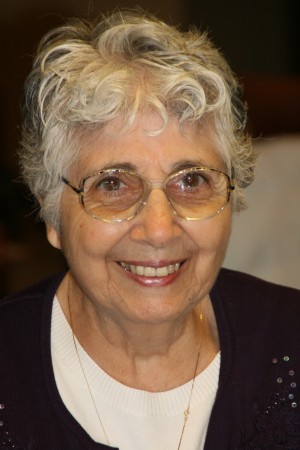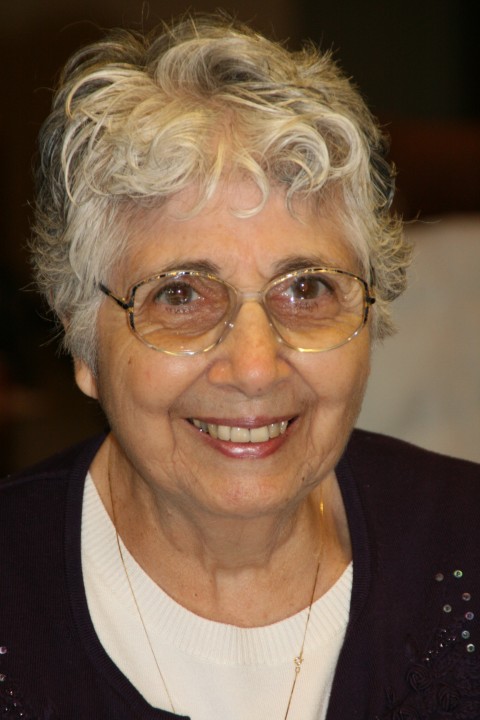 My new husband and I did enjoy walking this tray around to our guests. My mother (pictured to the left) and her sister had baked for days ahead of time, and even secured a couple of batches of mandelbrot from my new mother-in-law. The tray was piled high, and even though we had a wedding cake, I don't think many cookies made it home as leftovers!
One of the featured cookies my mom made was Almond Paste Squares, a shockingly delicious chewy, tender bar cookie that smells intoxicating and tastes fully almond. Since I am CEO of the Almond Lovers' Society (a group entirely manufactured and justified in my mind), these are right up my alley. I could eat almond anything, anytime, anywhere, anyhow.
How to make Almond Paste Squares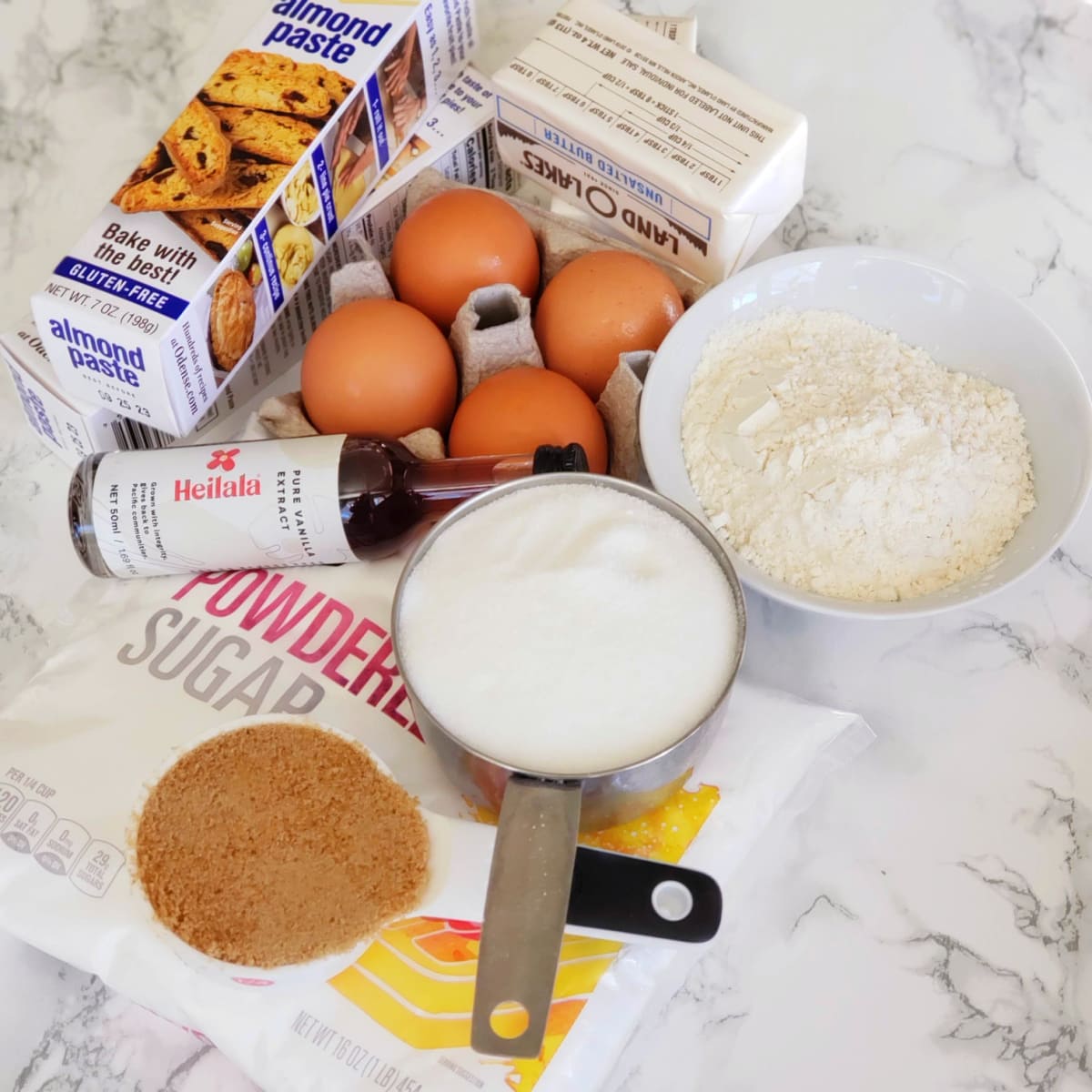 First, as always, gather your ingredients. For this cookie, you will need:
Butter (I use unsalted, but you can use salted)
Powdered sugar
Brown sugar
Granulated sugar
Eggs (I use large eggs)
Almond paste (NOT marzipan; I have used Odense brand here because I can get it from my grocery store, but feel free to use any brand you prefer)
Vanilla extract (My favorite is Heilala vanilla extract, from New Zealand. Use what you have on hand!)
All purpose flour (My go-to flour is unbleached King Arthur all purpose. Use what you like.)
Baking soda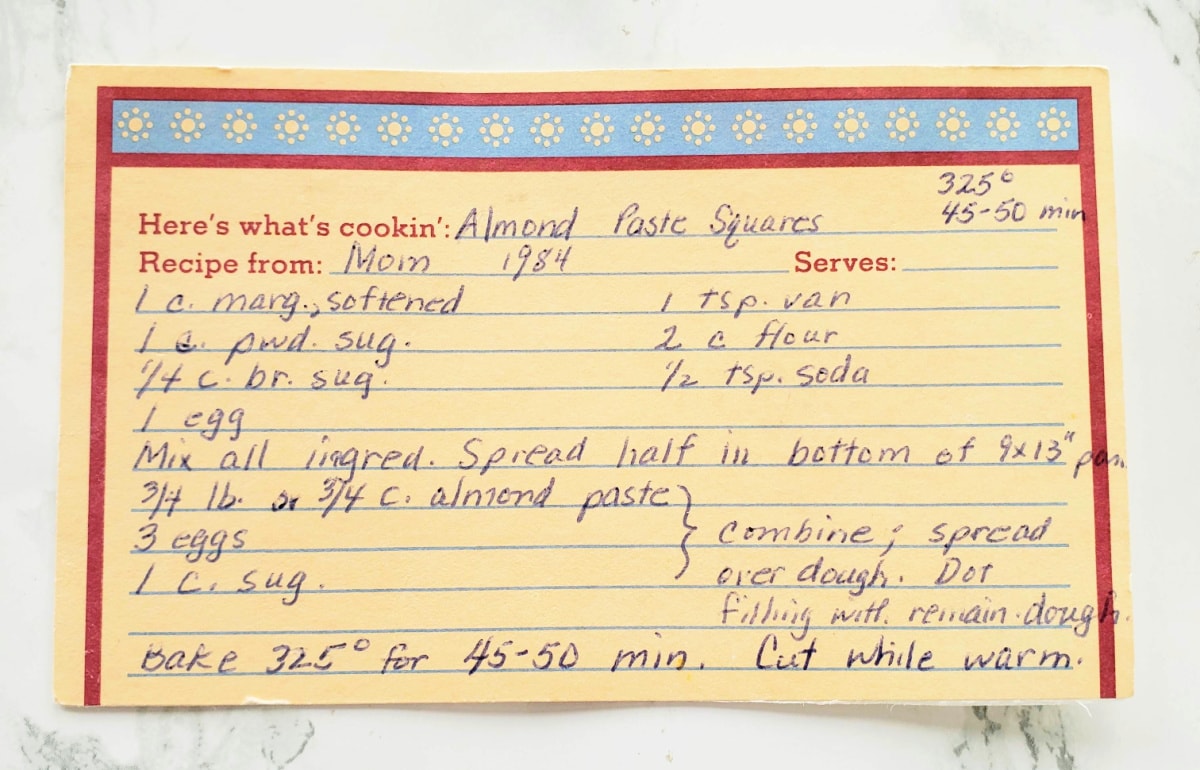 This is my mother's hand-written recipe card from back in the day. Isn't it charming? You can see she calls for margarine, but I think that was due to a cost concern, and after that time, she more routinely used butter, which is what I do. Also, she calls for 3/4 pound OR 3/4 cup almond paste. Honestly, 3/4 pound aka 12 ounces is the right amount. I really like to see the handwriting on recipe cards. It helps you feel close to the person who wrote it. My mother was a school teacher…you can tell from her precise printing, right?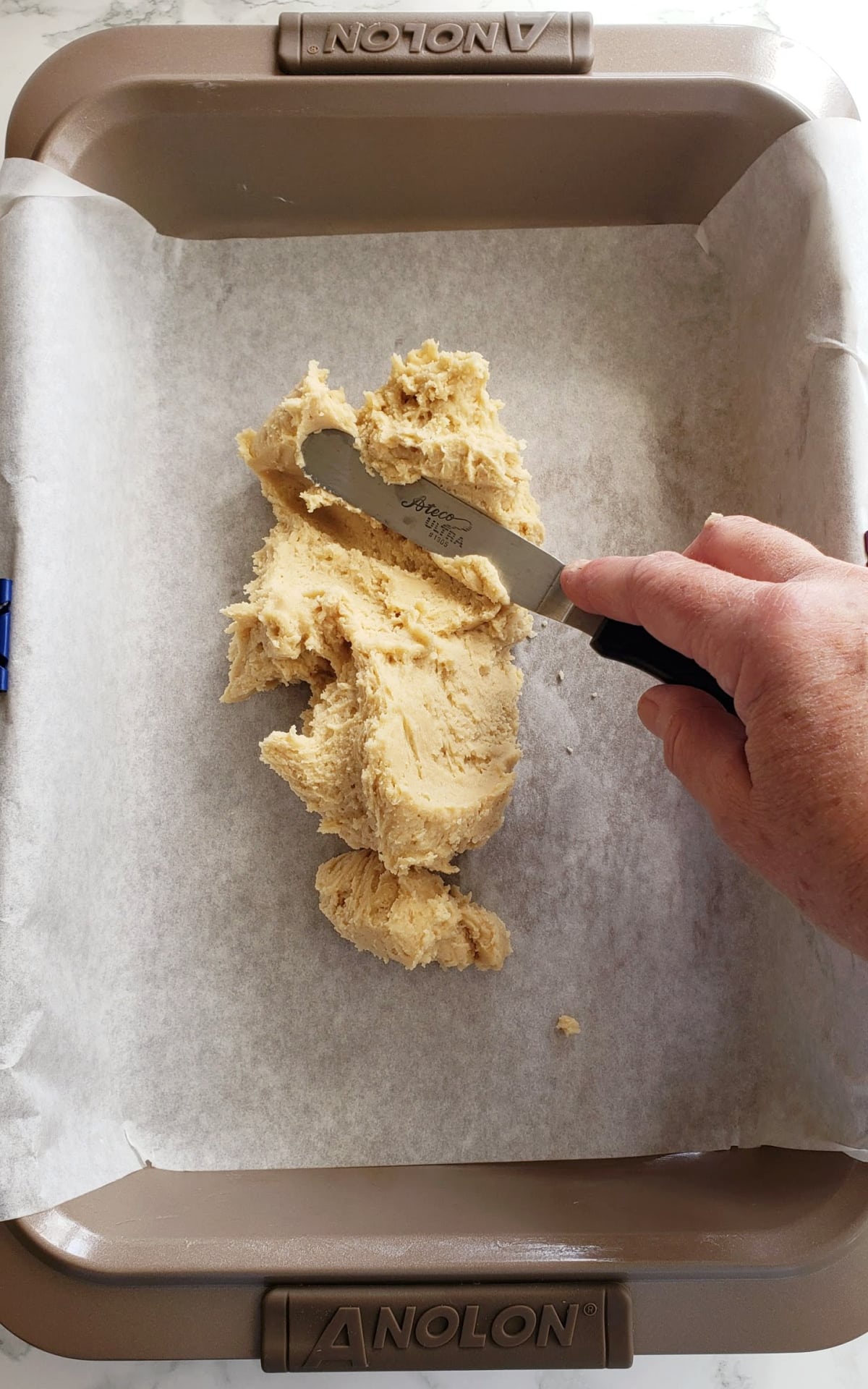 First, mix the crust using a stand mixer, and put half of it in the prepared pan.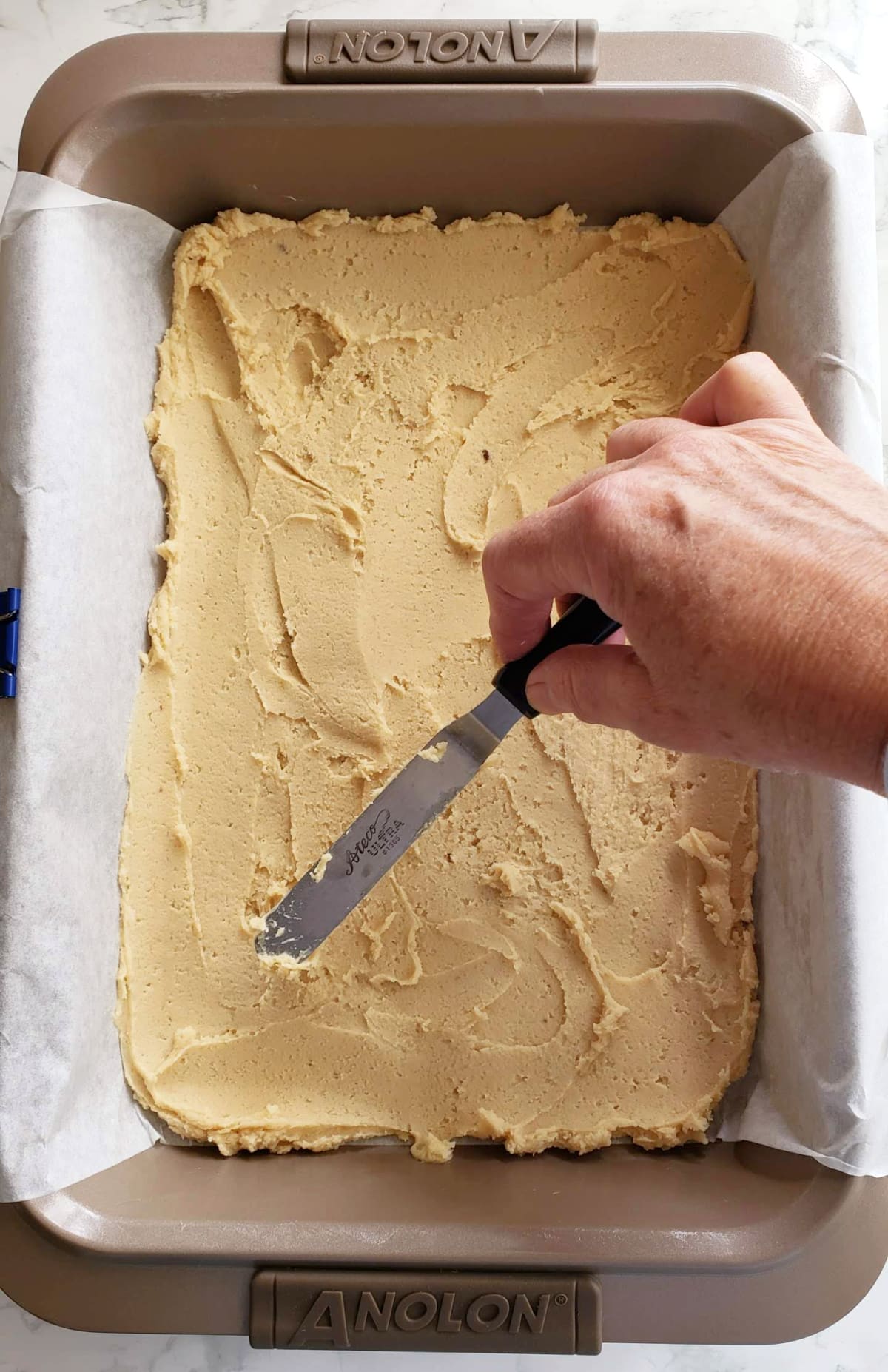 Use a small offset spatula to spread it out evenly.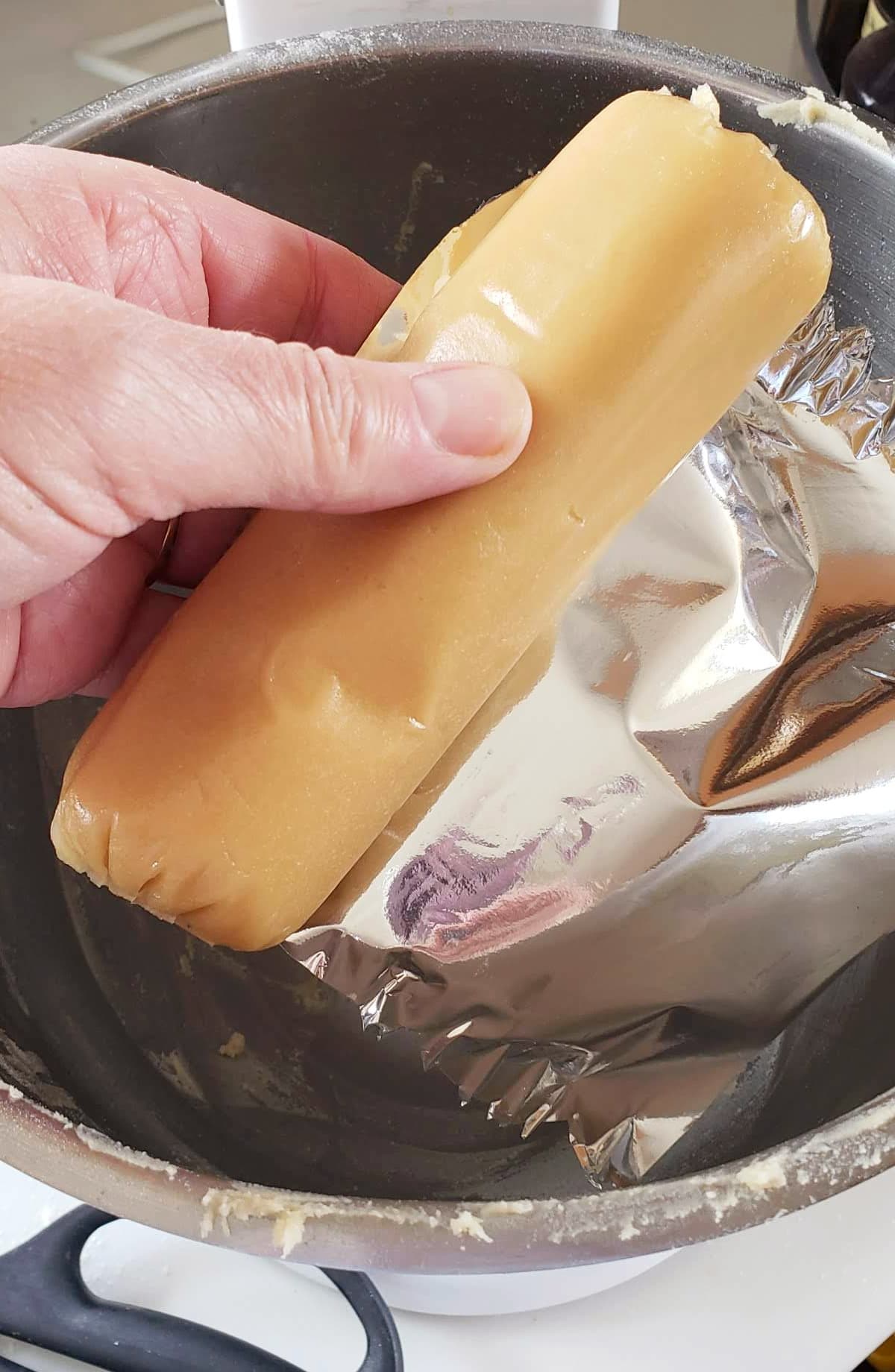 Now mix the almond filling. Using your hands, chunk up the almond paste into the mixer bowl. (Don't bother cleaning the bowl before this…it's fine!)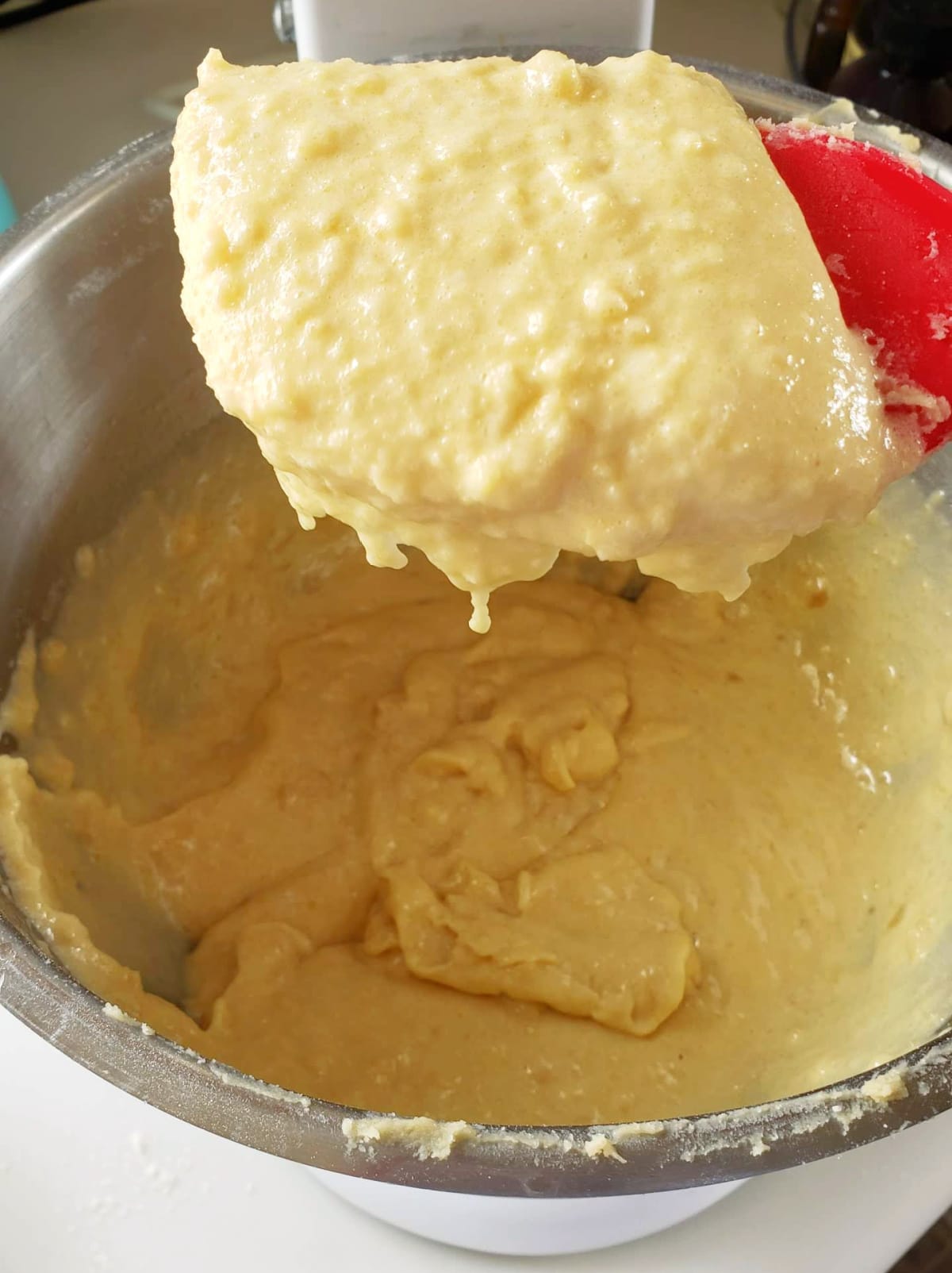 I used the stand mixer, started it on low, and eventually moved to a high speed to get it relatively smooth.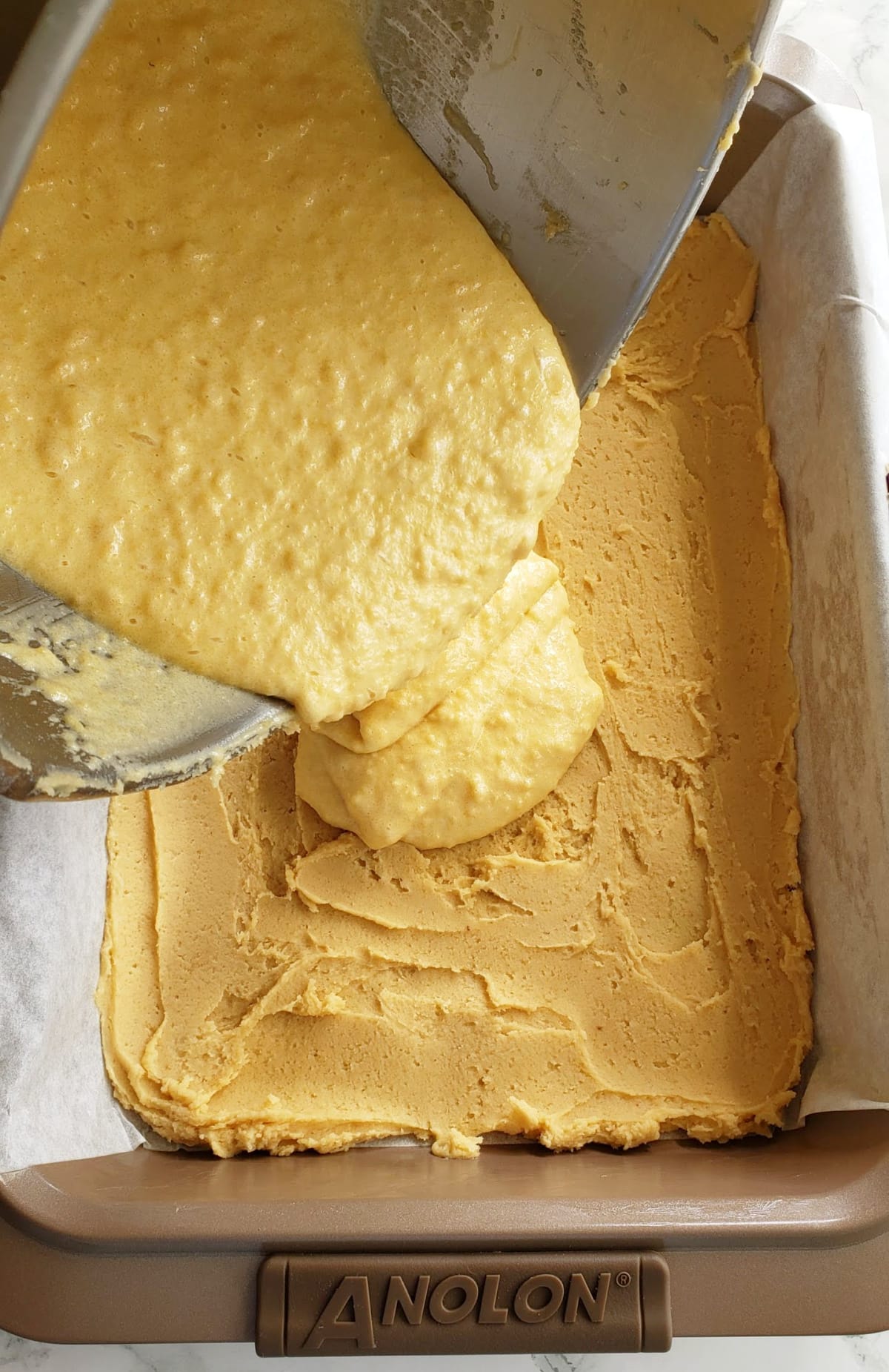 Pour filling over the dough in the pan.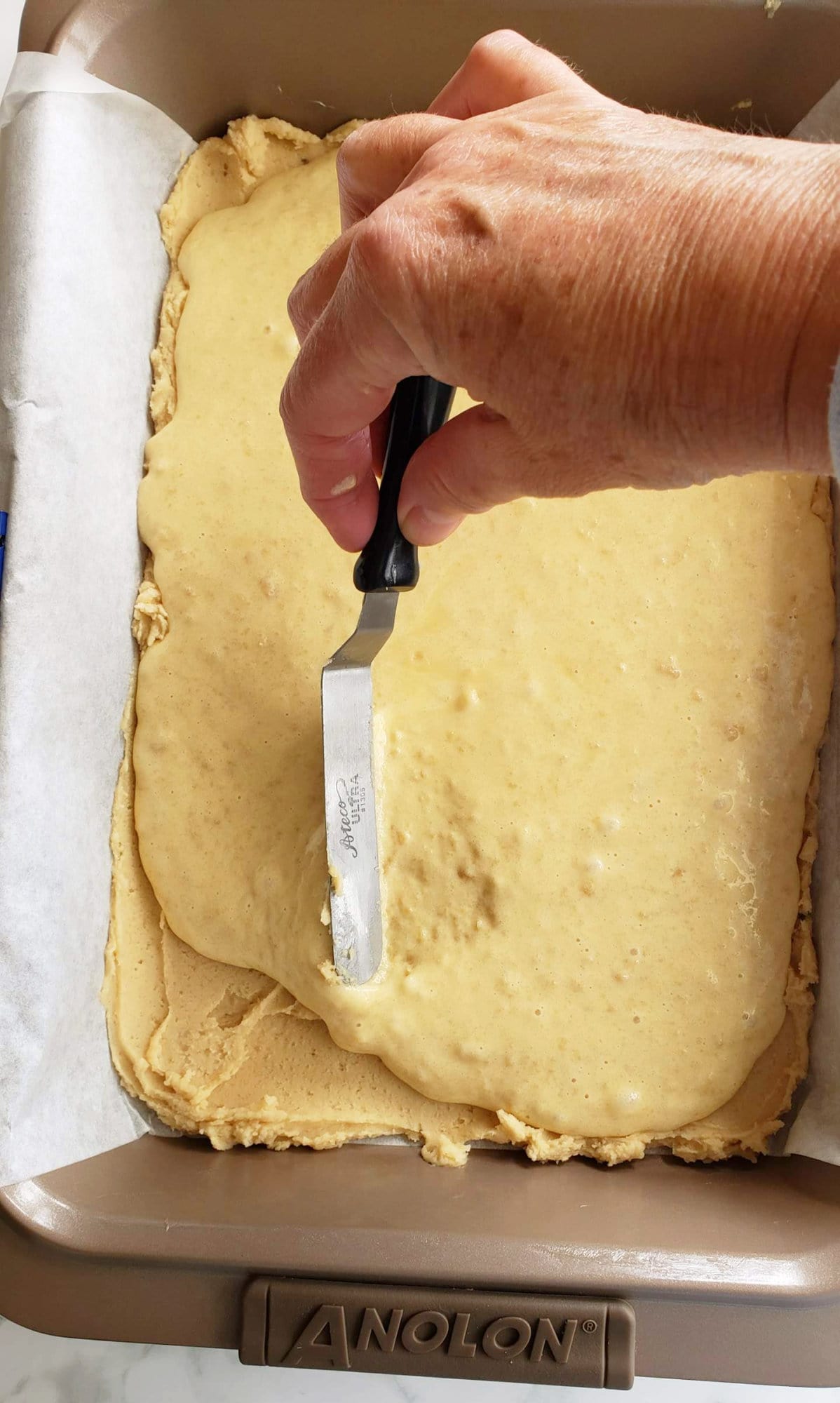 Spread it evenly using an offset spatula.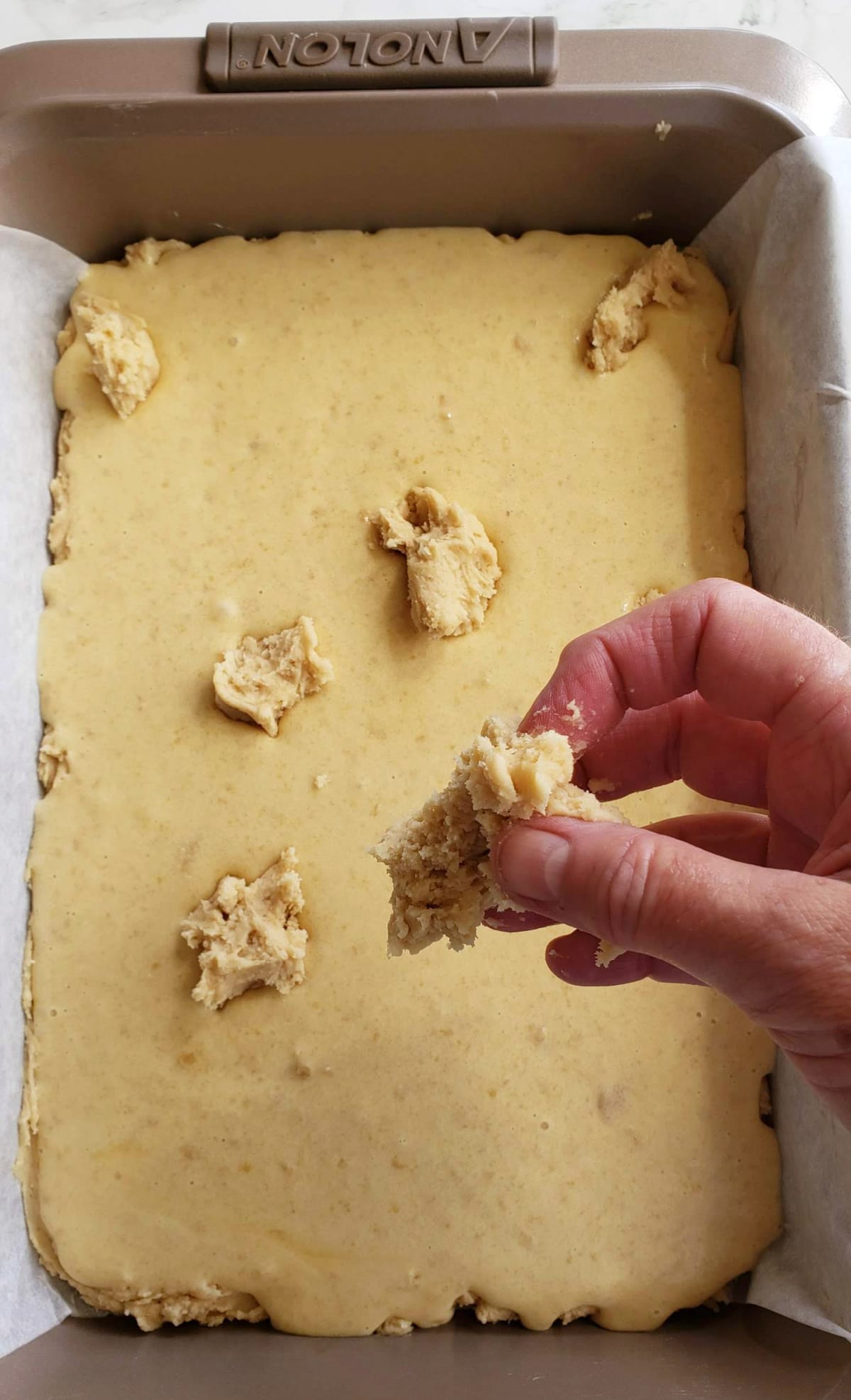 Use the rest of the reserved crust and dot it over the top of the filling, using your hands.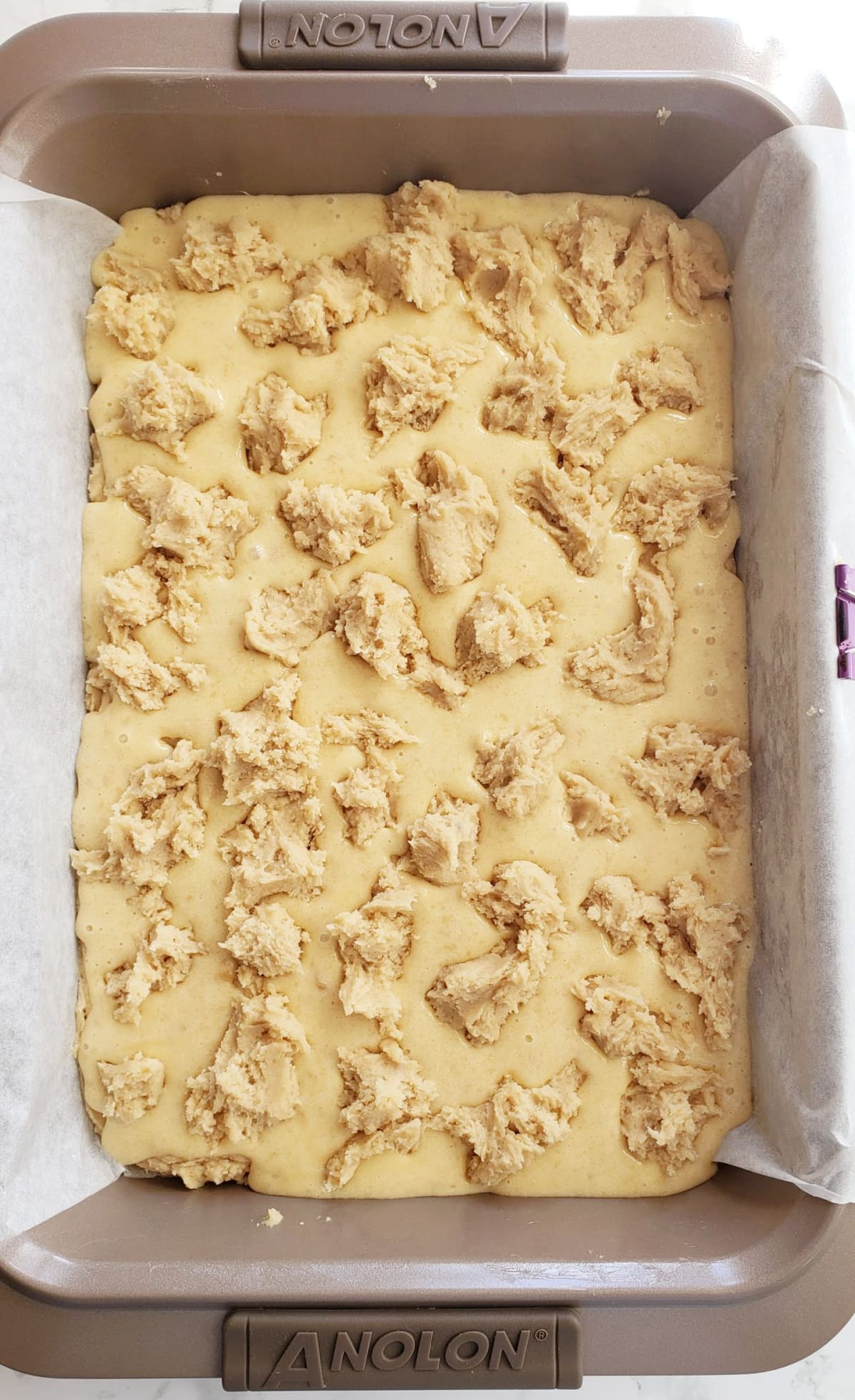 Put the small chunks of top crust evenly over the filling.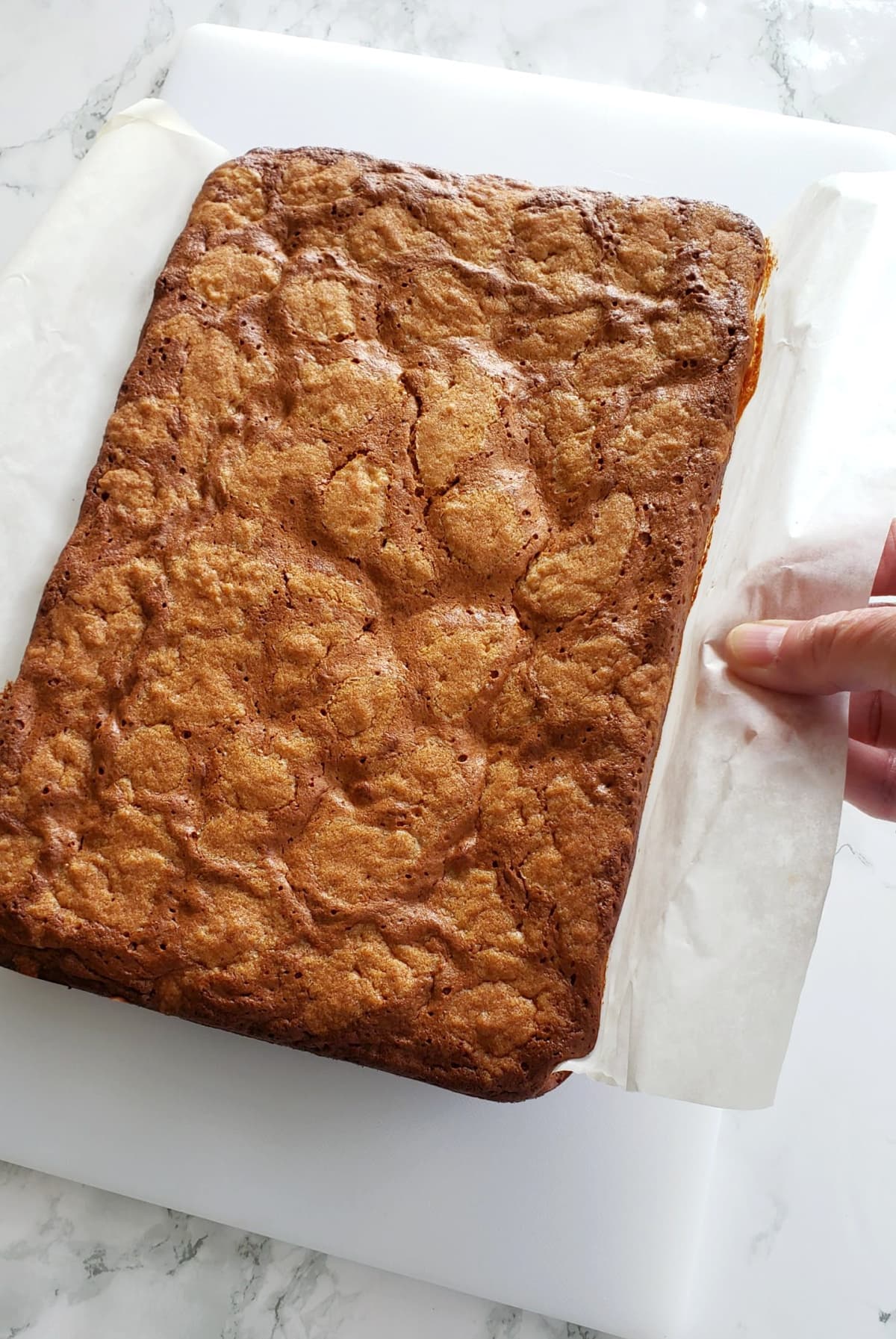 Bake that baby! When it's out of the oven and cooled for half an hour, use the parchment paper sling to remove the whole thing to a cutting board and allow to cool completely.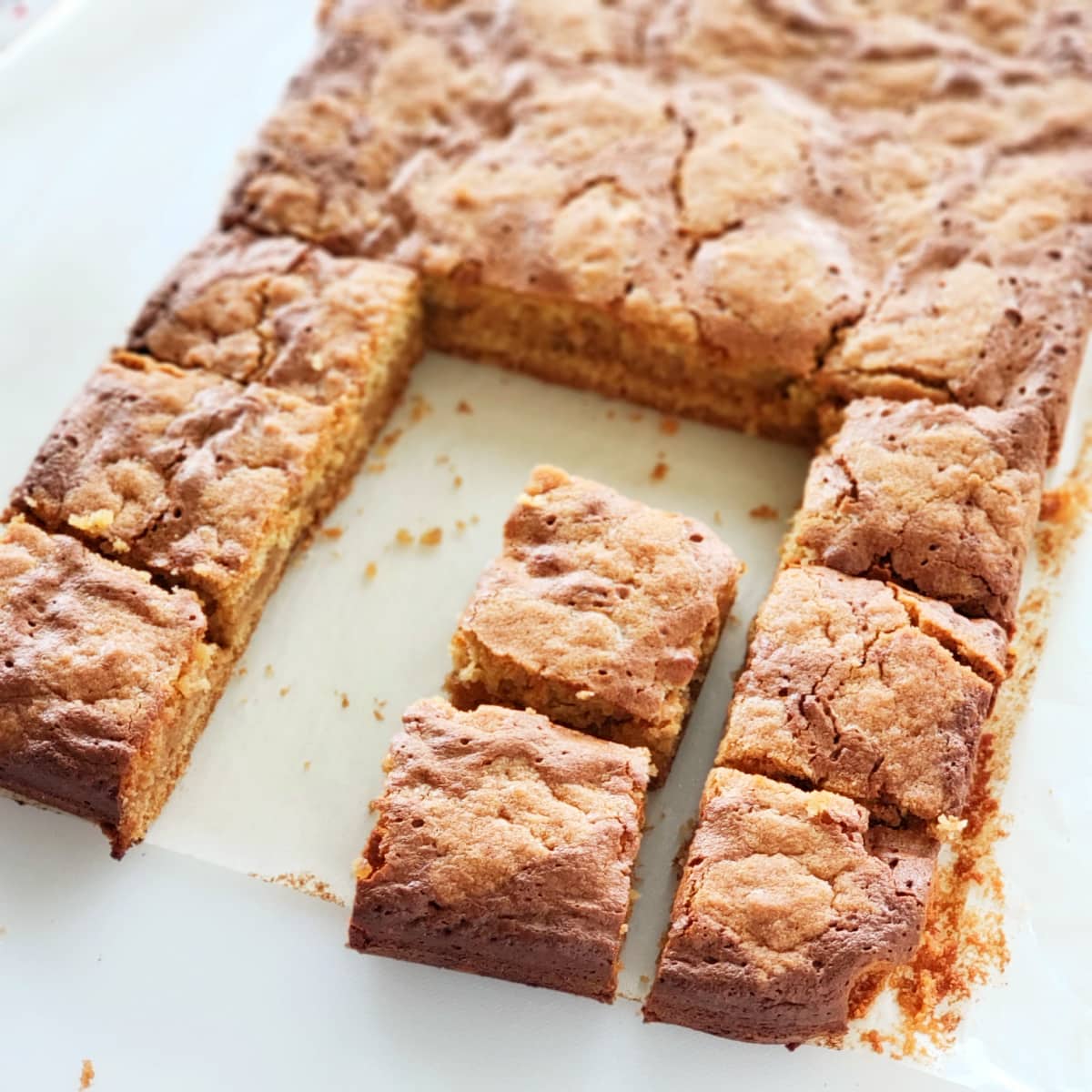 You'll cut them according to how you're going to serve them — 24 pieces if it is a stand-alone dessert to be served on a plate, or 48 pieces if the Almond Paste Squares will be part of a cookie tray or platter.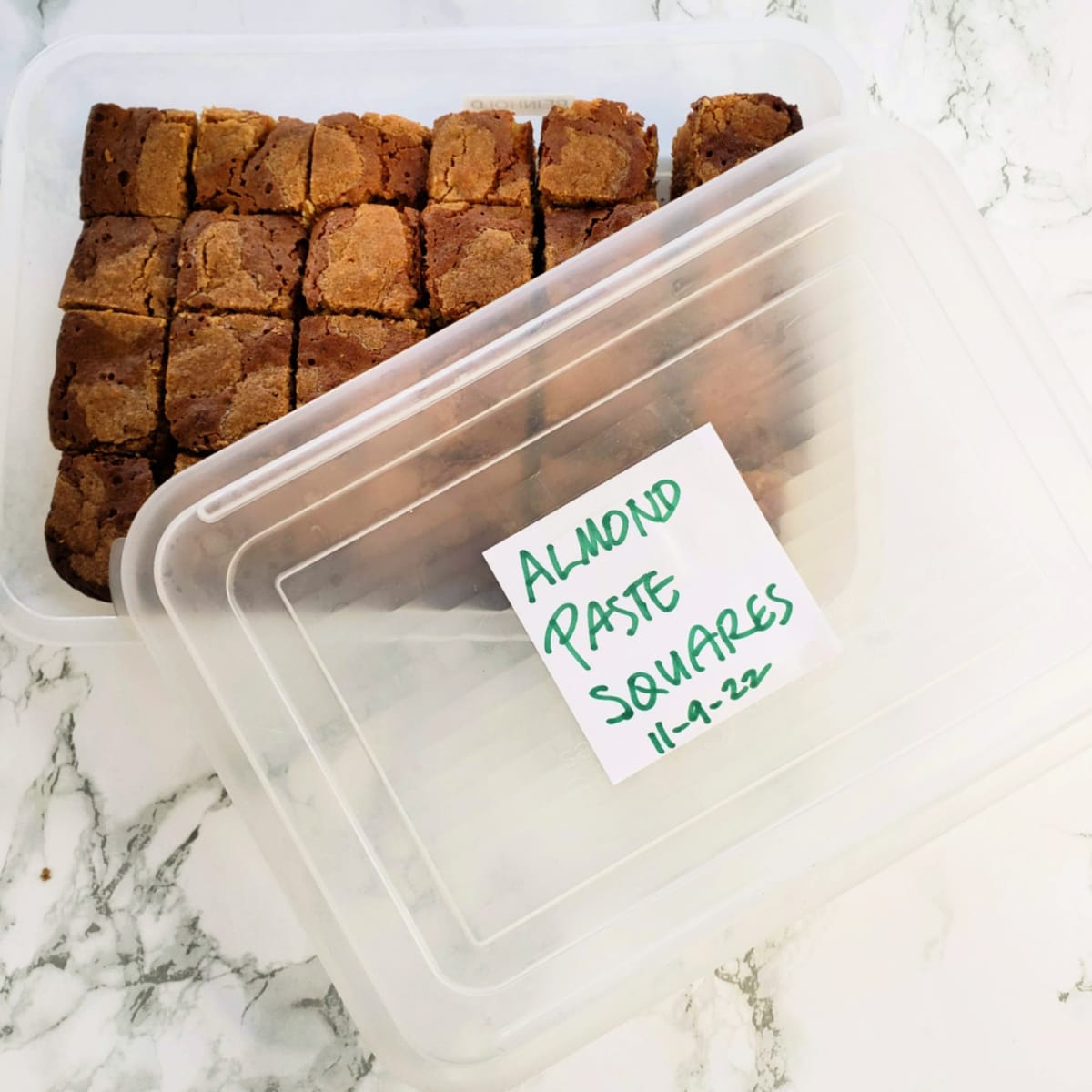 And they freeze well! Label with name of cookie and date you baked them, and freeze them once they are entirely cool. Never put hot items in the freezer.
Questions about Almond Paste
1. What's the difference between almond paste and marzipan?
Almond paste has a higher almond content, and is most often used for baking. Marzipan has a higher sugar content and is most often used to make candy.
2. Can I use almond paste and marzipan interchangeably?
No, it's best to use whichever one is called for in your recipe. In this case, almond paste.
3. Is almond paste gluten-free?
Yes. However, note that this recipe also has flour in it, and the flour is not gluten-free. I have not tested this recipe with gluten-free flour. If you do, let me know how it works out!
4. How much is in a roll of almond paste?
7 ounces, which equals about 3/4 cup or 12 tablespoons.
All right, let's make Almond Paste Squares, shall we? Look at them up close…you can see the layers, and you won't be sorry.
Almond Paste Squares are for the almond lovers in your tribe -- chewy edges, tender moist crumb, with an intoxicating almond filling. Perfect for a holiday cookie tray, or actually any time of the year!
Ingredients
Crust

1 cup (= 2 sticks or 16 tablespoons) butter (If using unsalted butter, add 1/2 teaspoon salt to recipe)
1 cup powdered sugar
1/4 cup brown sugar
1 egg
1 teaspoon vanilla extract
2 cups all purpose flour
1/2 teaspoon baking soda

Filling

3/4 pound (=12 ounces) almond paste (NOT marzipan)
1 cup sugar
3 eggs
Directions
Turn oven on to 325F degrees. Prepare a 13- by 9-inch baking dish by rubbing it with a little bit of butter or oil and lining with parchment paper. (See photo...I lined it the long way, and clipped the parchment with metal office clips to the sides.) Set pan aside.
In a bowl (I used a stand mixer), mix butter (including salt if you are using unsalted butter), powdered sugar, brown sugar, 1 egg, vanilla extract, flour and baking soda. It will become a dough.
Spread half of it in the bottom of your prepared pan. Use a small offset spatula to make it easy to spread it evenly to the corners. The dough will be sticky.
In the same (unwashed!) bowl using the same (unwashed!) beater, mix almond paste (break it into small chunks with your hands), 3 eggs and 1 cup granulated sugar. I started it on low in my stand mixer, gradually working up to a high speed to get it relatively smooth; the mixing process took 3 or so minutes. Pour this over bottom crust in the baking dish.
Dot the remaining dough over the filling. Don't use big chunks, but small bits, spaced evenly. Do the best you can because the dough is sticky.
Bake for 45-50 minutes. Top will brown a bit, but the dough is brown to start with, so to test doneness, tap the top with your finger. If it is relatively firm, you're good to go.
Cool for 30 minutes, and then use the parchment paper sling to lift the whole thing out of the pan onto a cutting board. Cool completely, and then use a long knife to slice into pieces. If you cut it while warm, it is pretty crumbly. If you wait until it is cooled, the cuts are cleaner.
The size pieces will be determined by your purpose. If you are serving as a stand-alone dessert on a plate, I would cut into 24 pieces. If you are putting the squares onto a cookie platter, I would cut into 48 pieces. This is a rich cookie!
Makes 24-48 bars.
Freezes well if you place bars into an airtight container.
Notes
Heritage recipe (circa 1970s, 1980s) from Helen Z. Reinhold.
https://www.shockinglydelicious.com/almond-paste-squares/
Copyright Dorothy Reinhold | ShockinglyDelicious.com. All rights reserved.
Pin the image for Almond Paste Squares to your Pinterest board to save it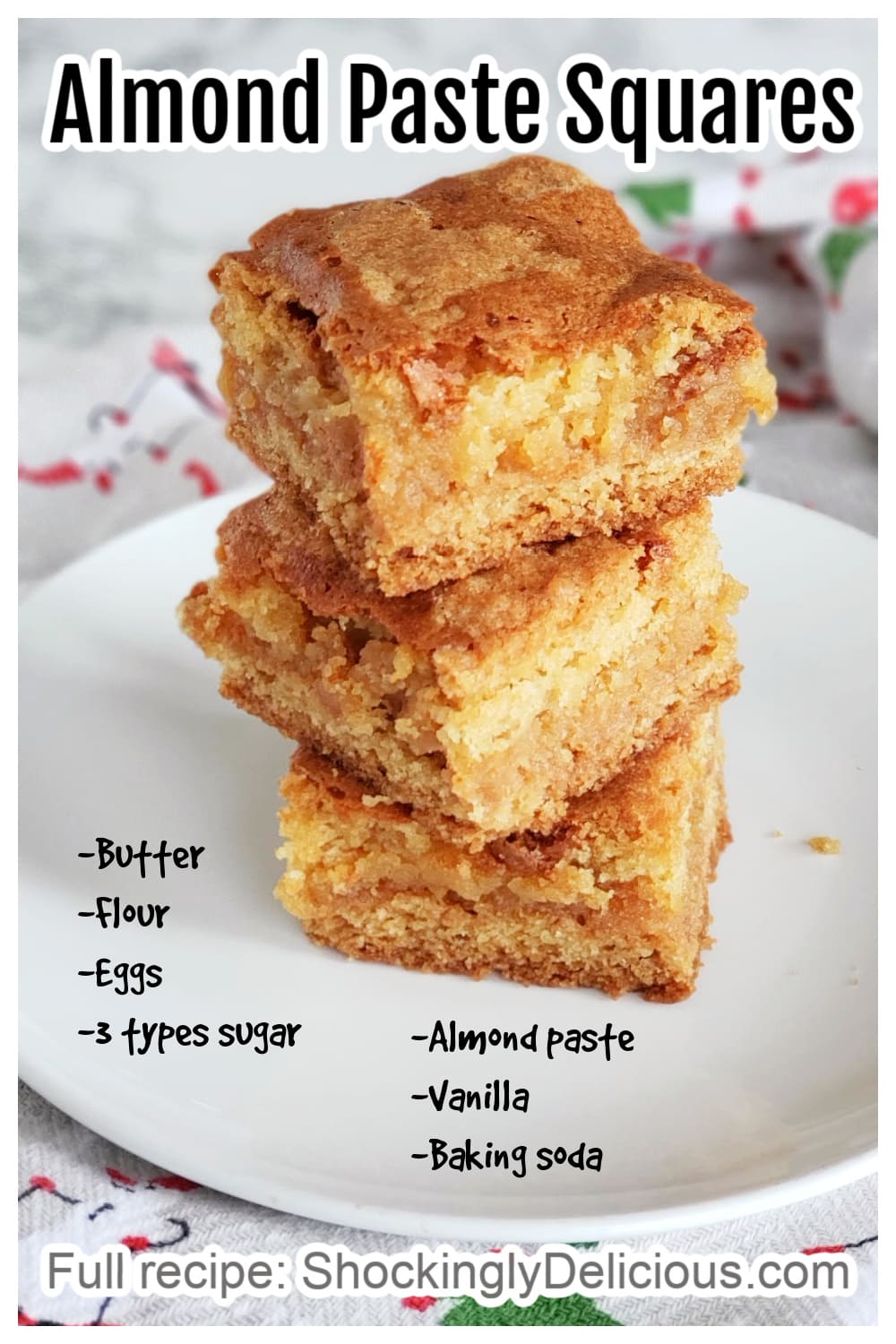 Christmas Cookies Week!
Welcome to #ChristmasCookies Week, that time when we soften the butter, fire up the oven, and make cookie trays for family, friends, and neighbors. This year more than 20 top-notch bloggers are sharing their very favorite creations for all to make and enjoy. Join us for a week's worth of Christmas cookie deliciousness.
Other Shockingly Delicious Christmas cookie recipes you might like
Thanks for visiting…are you hungry for more? Follow Shockingly Delicious on…
FACEBOOK | PINTEREST | INSTAGRAM | TWITTER
…for all the latest recipes, ideas and updates!
This post may contain affiliate/referral links. It is a way for this site to earn advertising fees (at no cost to you) by advertising or linking to certain products and/or services that I approve and prefer. Thank you for using my affiliate link to shop, so I can continue to bring you shockingly delicious recipes!