Print This Post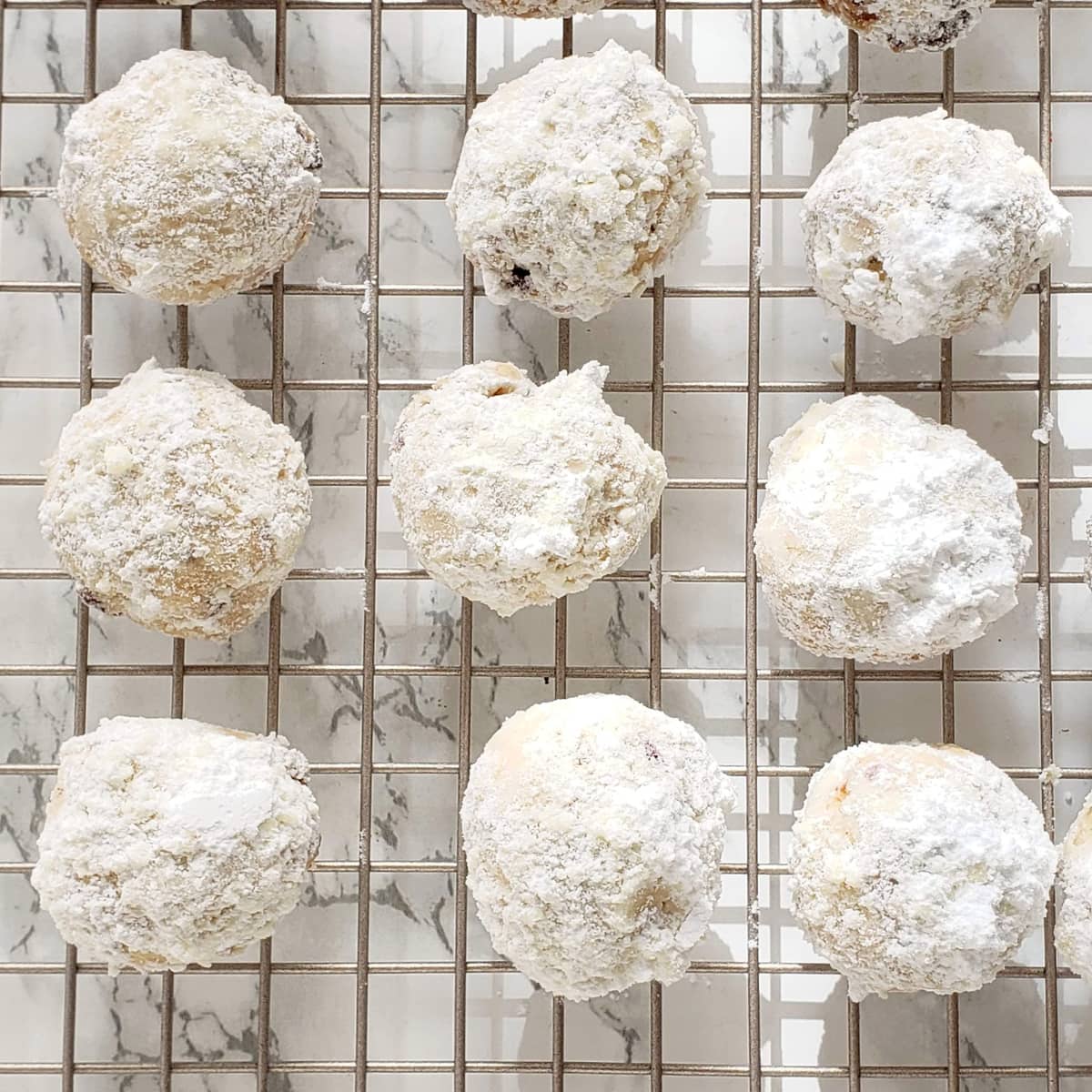 Mexican Wedding Cookies are perfectly rich, nutty, powdered sugar-covered balls that melt in your mouth. They're wonderful on a cookie platter, for the holidays, or any time of the year.
Mexican Wedding Cookies have long been a favorite not only at weddings, but as cherished holiday cookies to serve at Christmas or give away at cookie exchange parties. There's something so wintry about drifts of powdered sugar dusting buttery, nutty cookie balls. Or are they snowballs?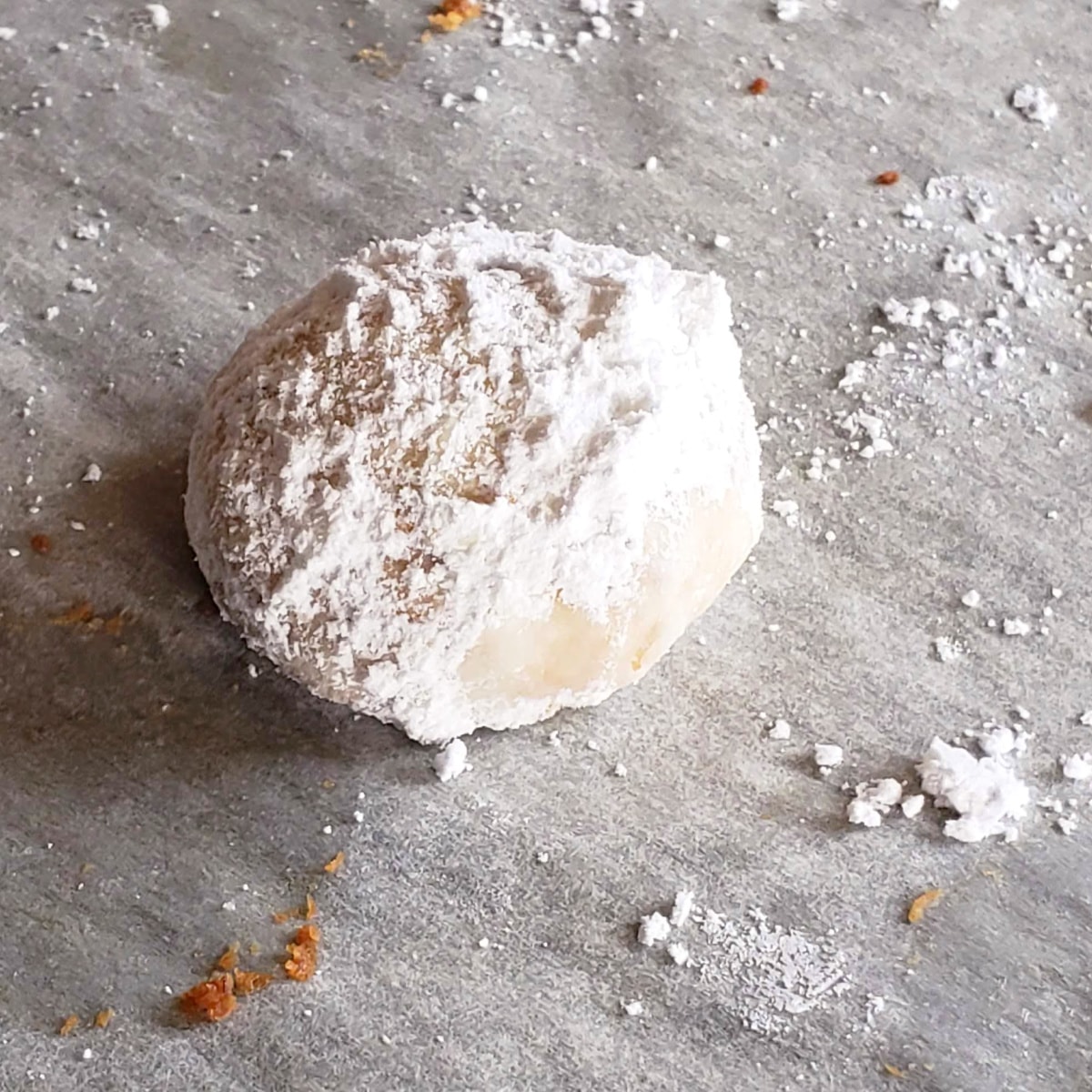 Mexican Wedding Cookies have many names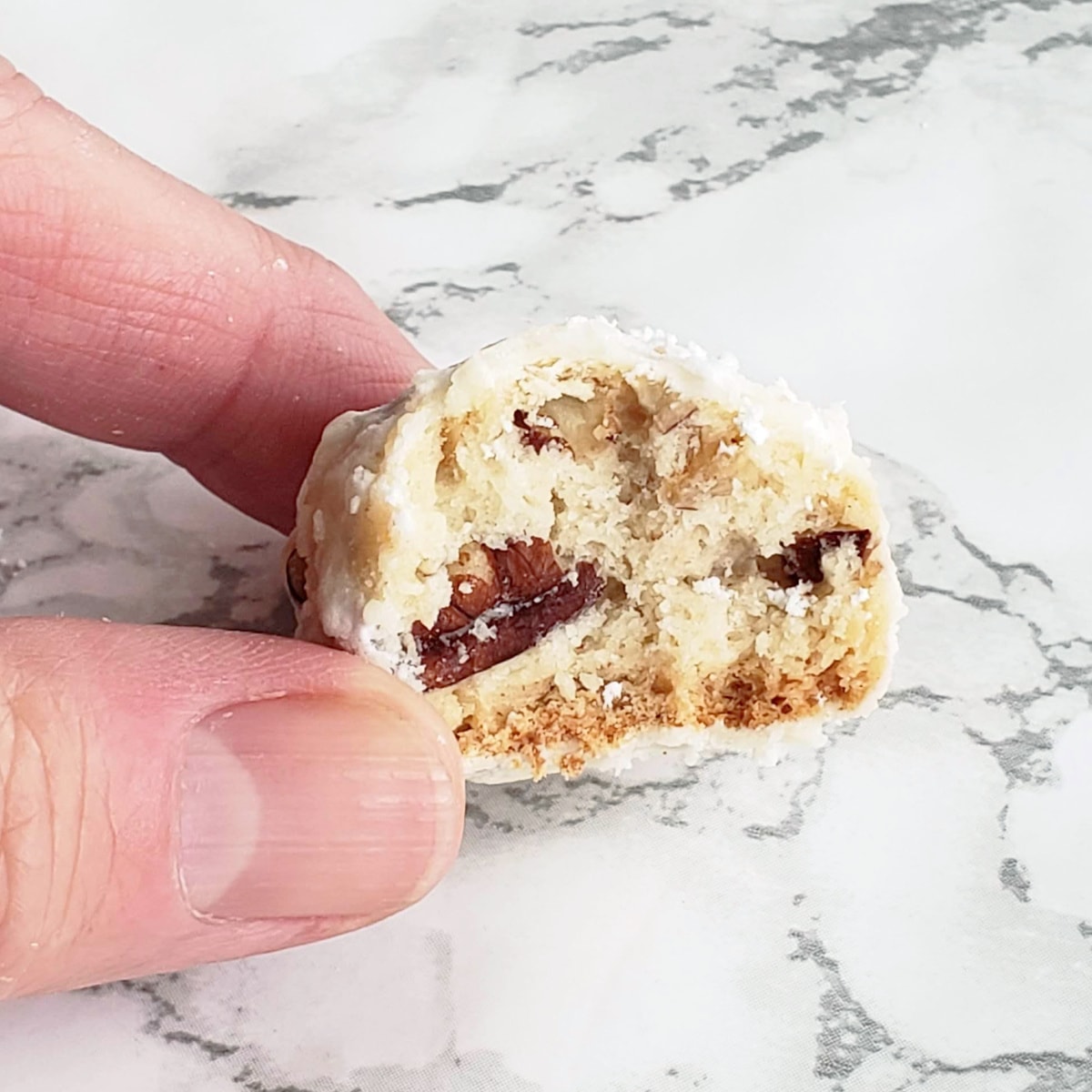 These cookies can go by many names, depending on who is baking them and where they're from! Whatever they're called, they are a very tender, crumbly, buttery (never cakey or spongy) shortbread cookie with chopped nuts — delicate and shockingly delicious!
Pecan Kisses
Besitos de Nuez
Polvorones
Bizcochitos
Snowballs
Snowdrops
Butterballs
Russian Tea Cakes
Swedish Tea Cakes
Viennese Sugar Balls
Pecan Balls
Italian Butterballs
Southern Pecan Butterball
Whatever you call them, they're a longtime favorite, and this heritage family recipe from a wonderful new cookbook that shows them off to perfection. You'll end up making these easy cookies all year long.
How to make Mexican Wedding Cookies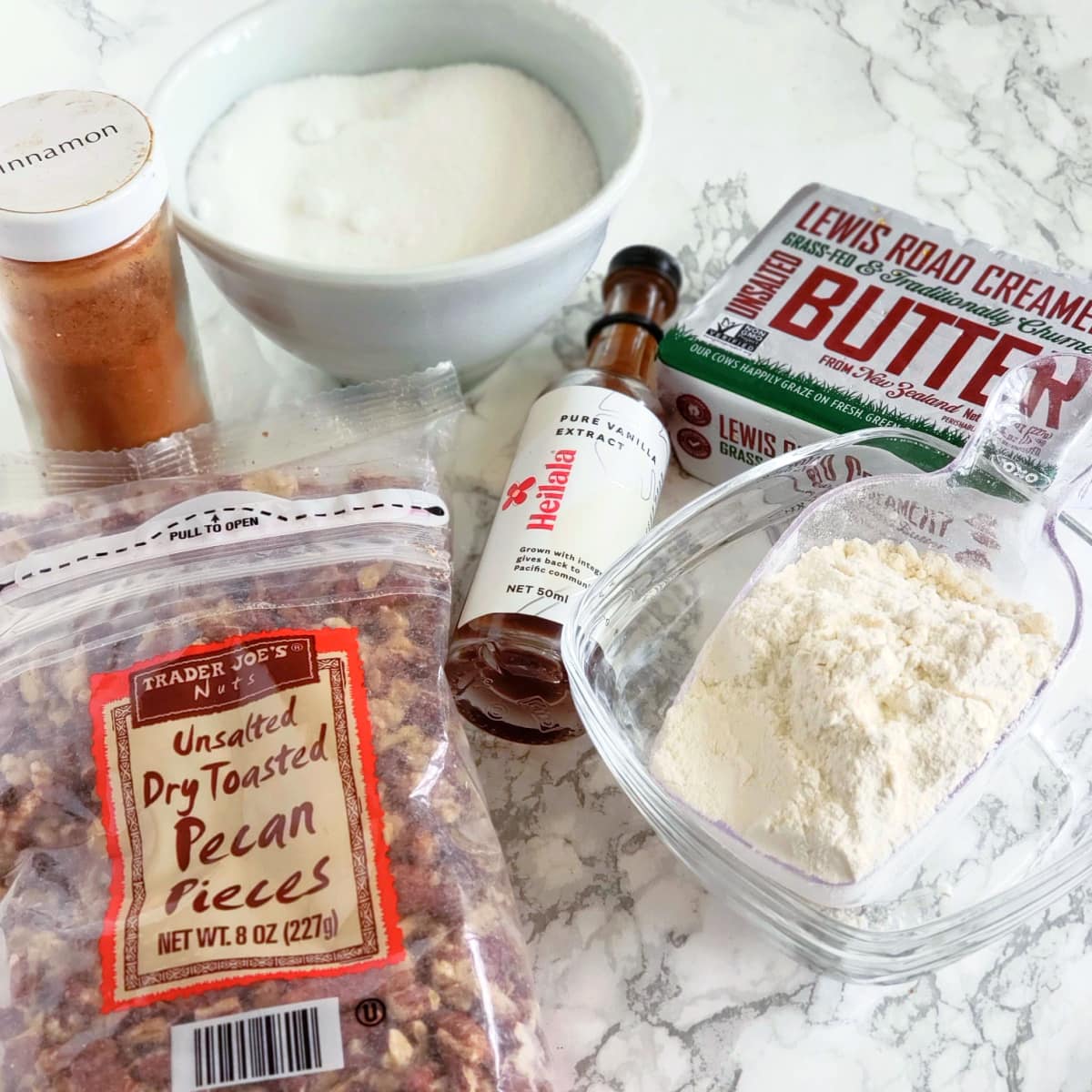 First, as always, gather your ingredients. This recipe is very simple, and calls for butter, sugar, flour, pecans, vanilla extract for the cookies, and cinnamon and powdered sugar for the dusting. As I did in the recipe for Cream Cheese Sprinkle Cookies, I'm using 2 brands you might not be familiar with, but I love them and they're both from New Zealand. Heilala Vanilla is the finest quality in the world (to my taste anyway!), and Lewis Road Butter is top-notch, as well — grass-fed cows, high quality, utterly (udderly?) delish! As always, though, use whatever brands you are comfortable with. I just want to introduce you to these 2 brands in case you see them in the store. Grab 'em!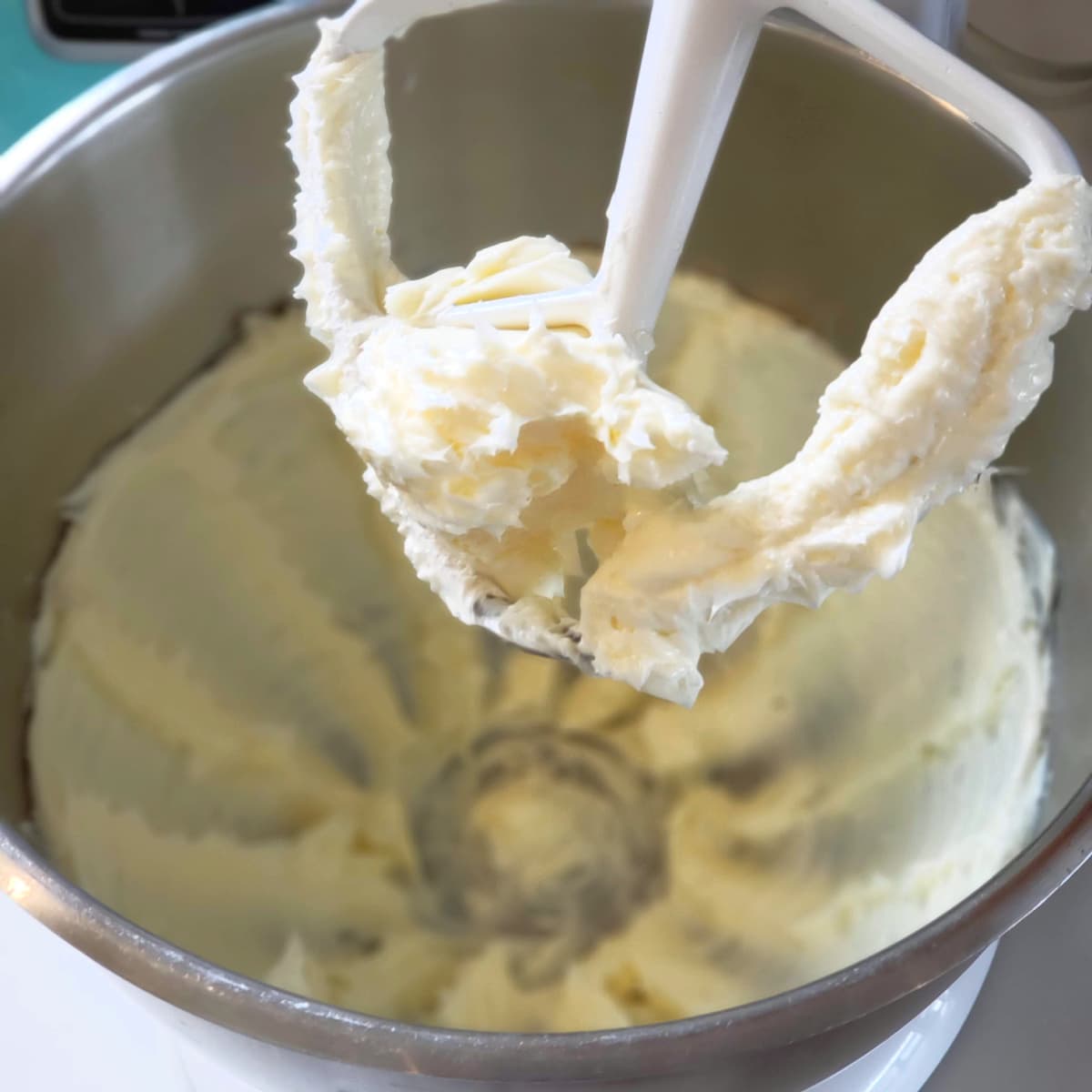 Start by creaming the butter. Whip it…whip it good. (Any Devo fans out there?) Add vanilla and sugar.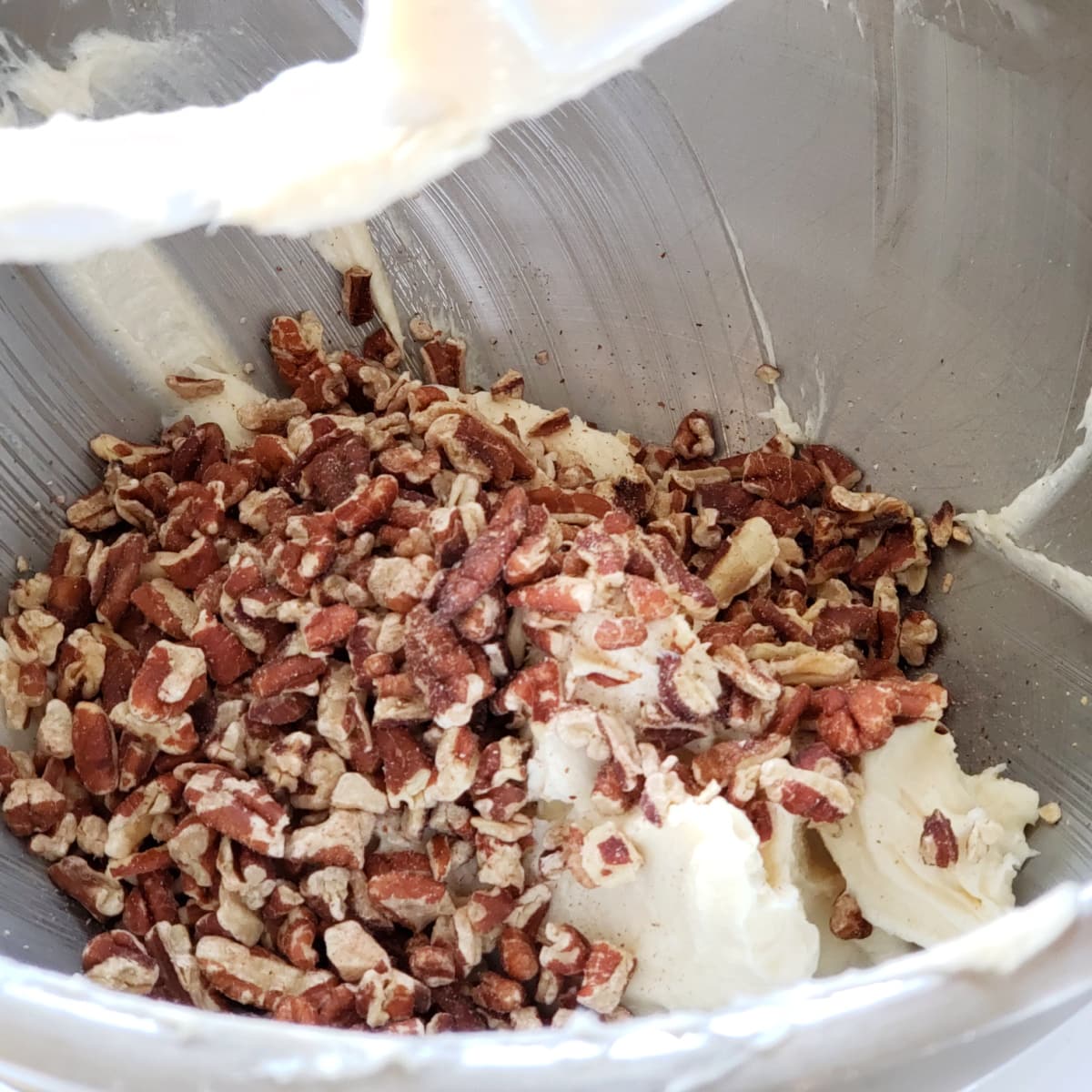 Add the pecans in. In the recipe, author Ericka Sanchez calls for them being chopped finely. I toasted the nuts first for extra nutty flavor, and stopped short of chopping them finely, choosing instead to leave them a bit bigger. Chop to your liking!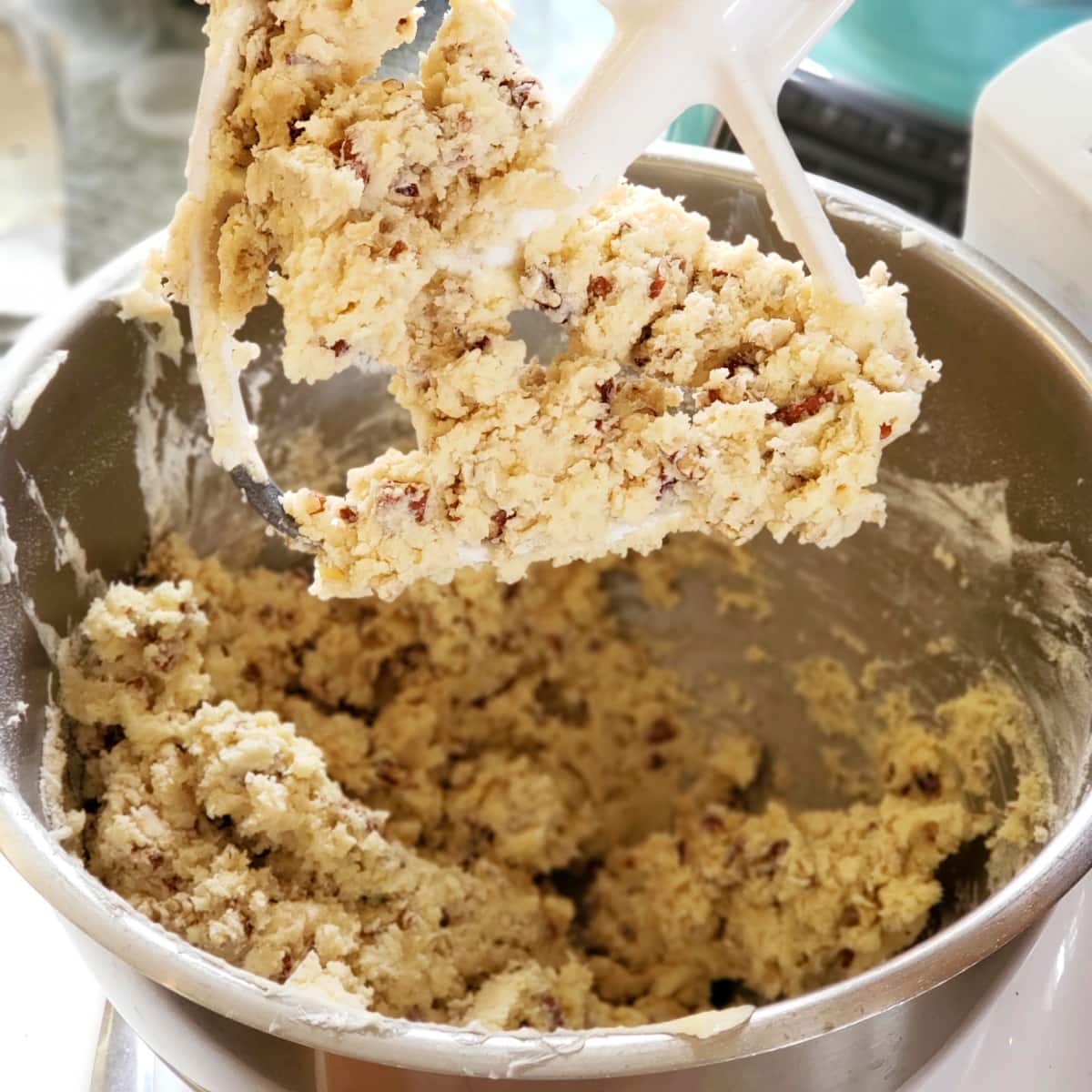 Once you mix in the flour and pecans, the dough will be thick!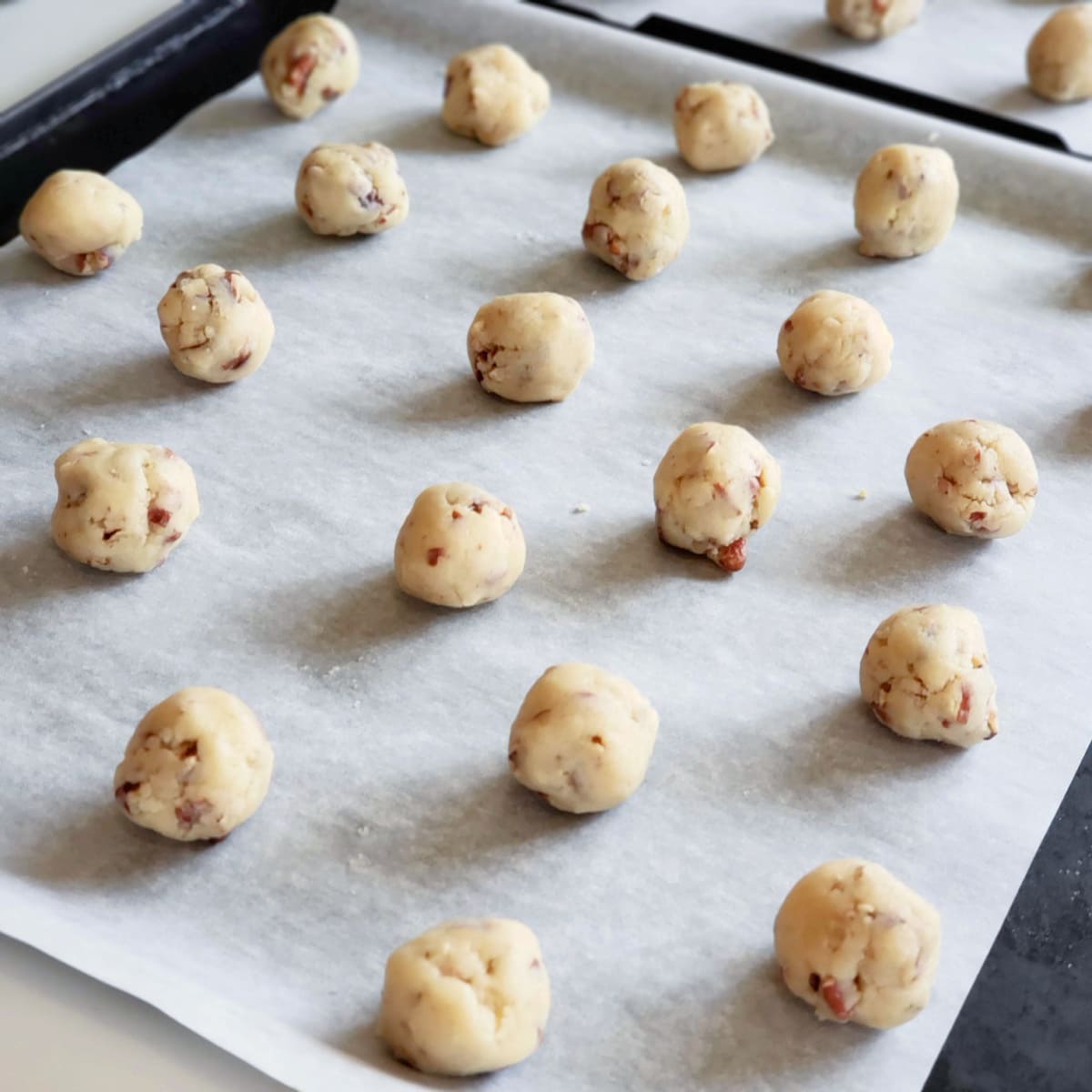 Using your hands, roll the dough into little balls, and place them on a parchment-lined baking sheet.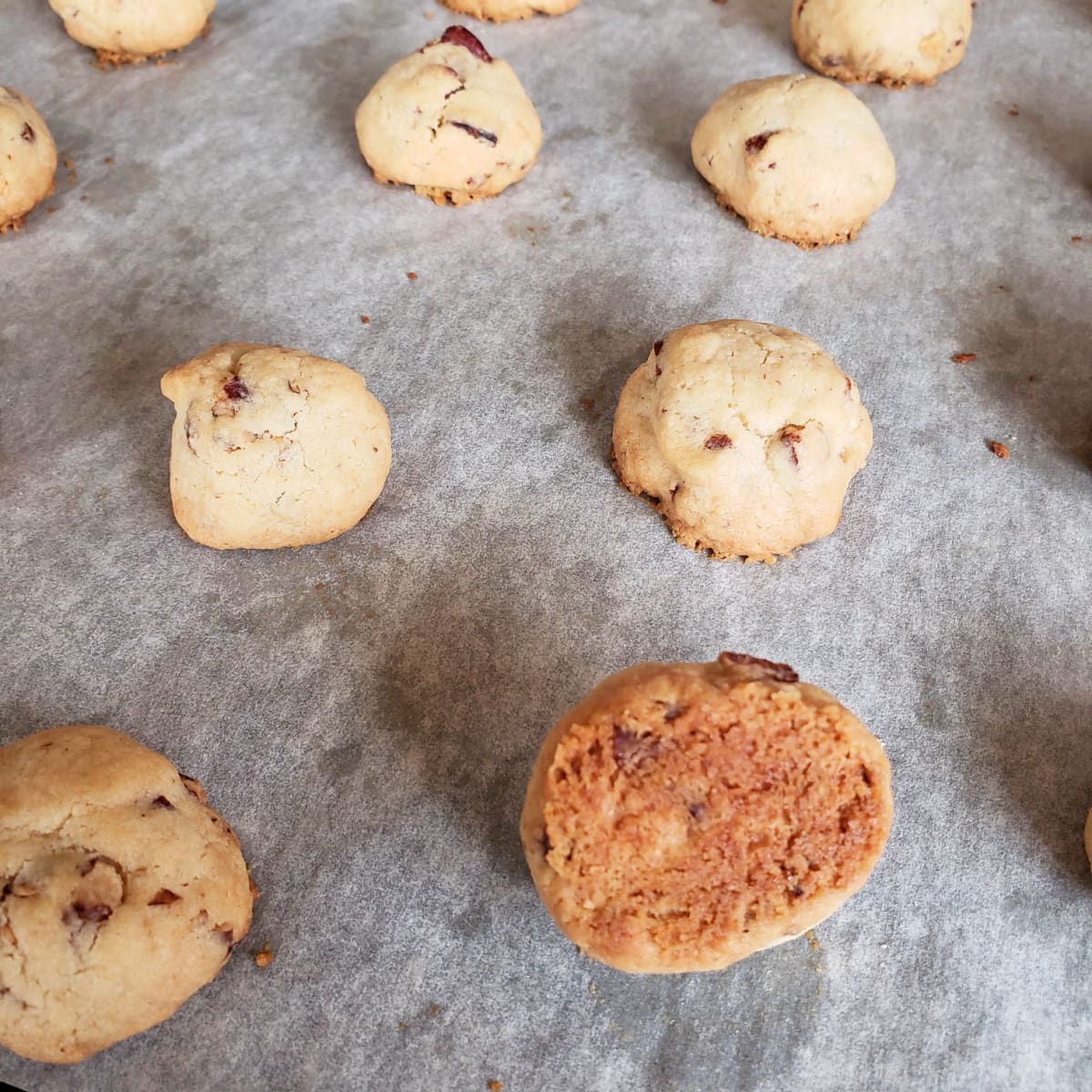 Bake for 20 minutes. The bottoms will be brown when they're done, like this.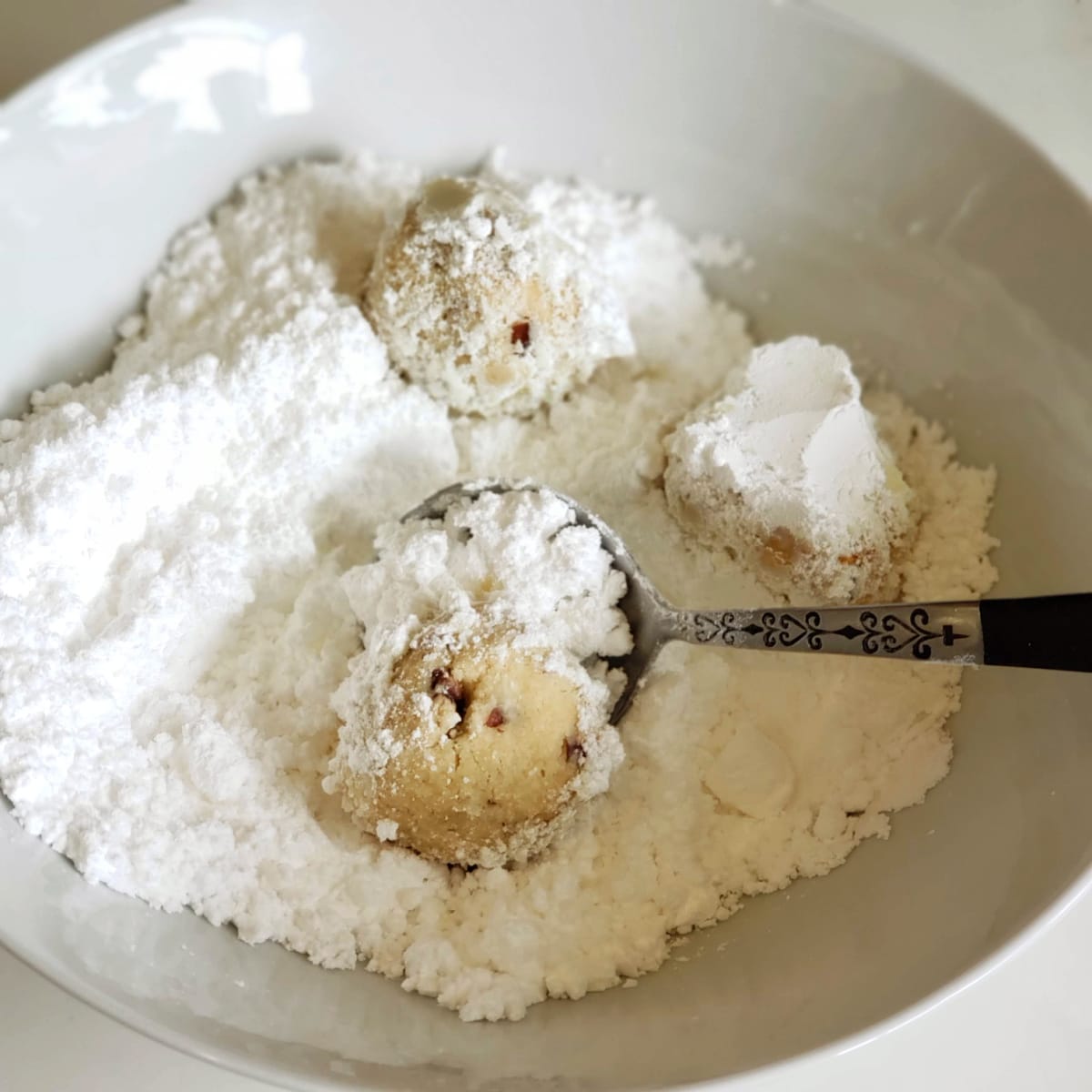 After they're out of the oven, put the hot cookies in a bowl of powdered sugar, 2 or 3 at a time. I start out using a spoon to spoon the sugar over them.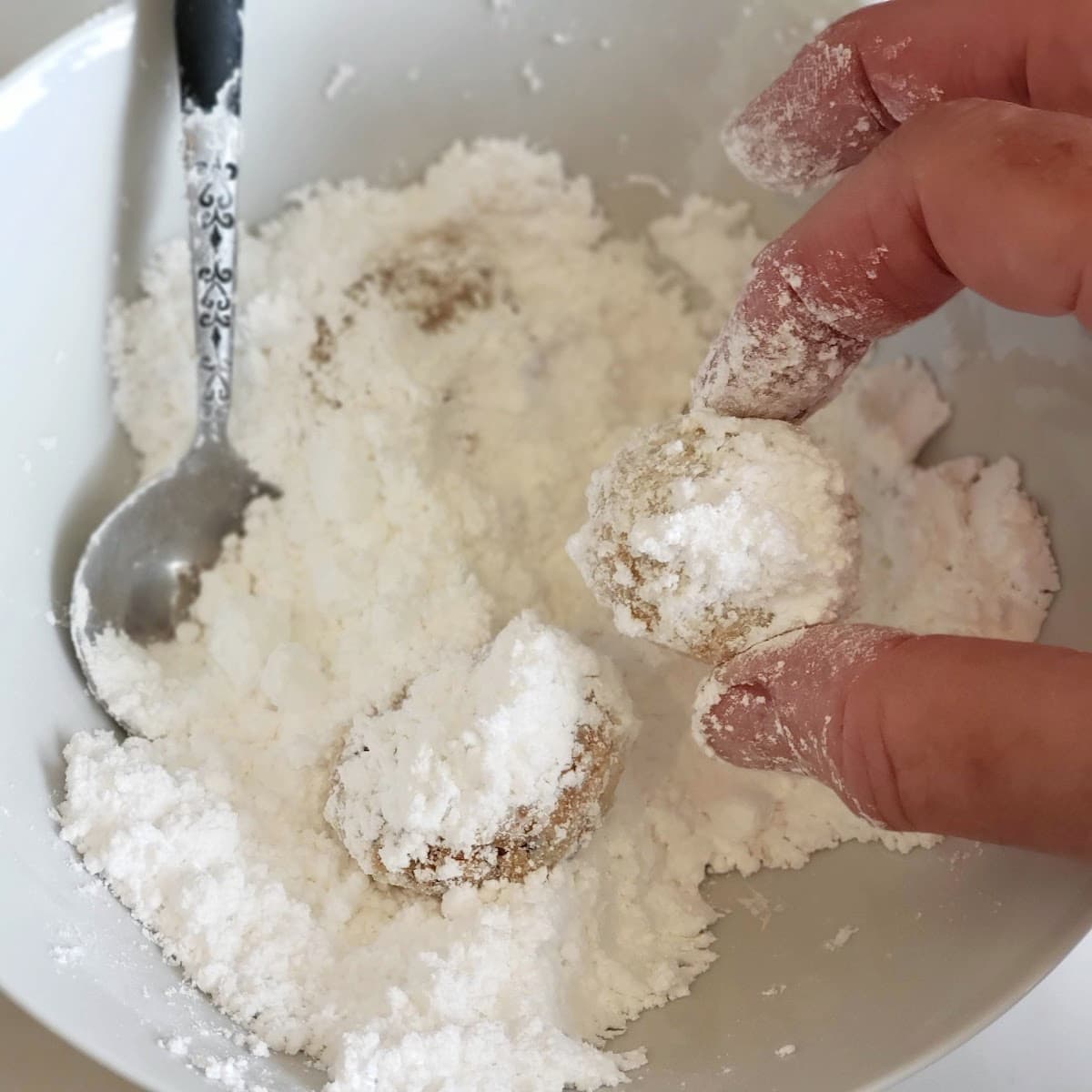 Then I use my hands to roll them completely. Don't be afraid of using too much sugar; you want a good coating of powdered sugar on them. The excess will fall off.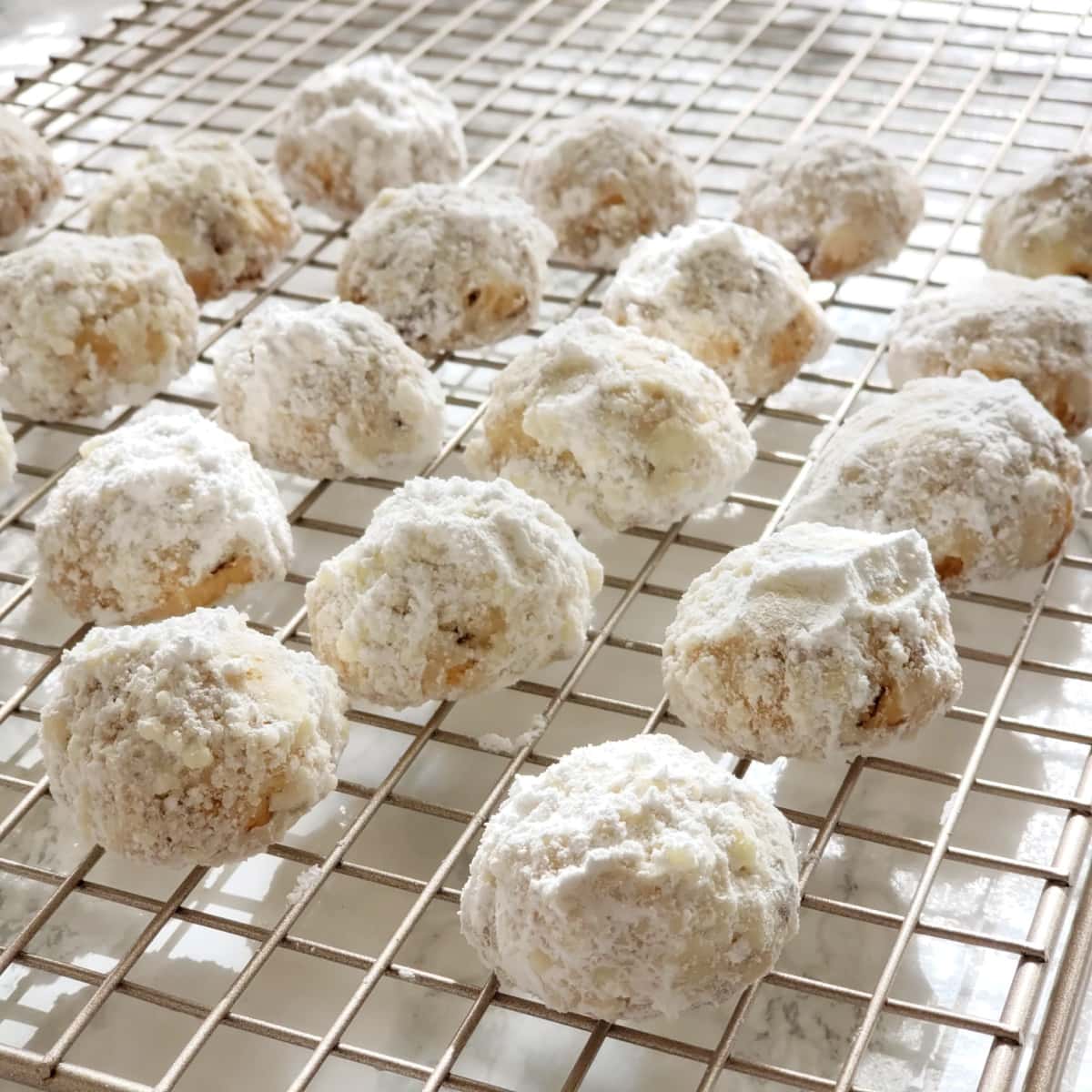 Place the dusted cookies on a cooling rack to cool completely.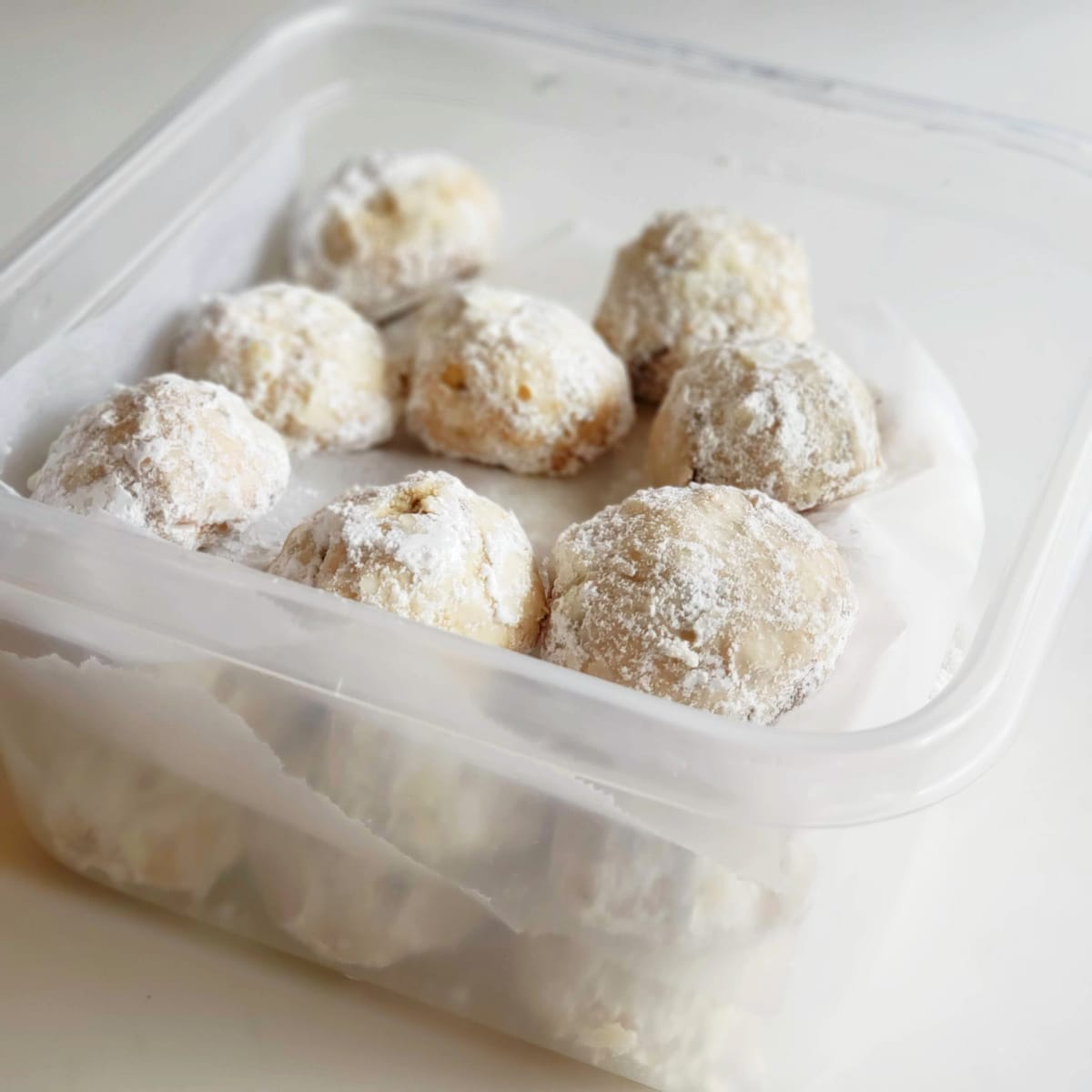 Once cool, you can pack them into airtight containers. I'm deluding myself that I will put these in the freezer and pull them out in a month. (The truth is, and ask me how I know this…they taste amazing straight from the freezer, too.)
Are you ready to bake Mexican Wedding Cookies? Let's go!
Mexican Wedding Cookies are perfectly rich, nutty, powdered sugar-covered balls that melt in your mouth. They're wonderful on a cookie platter, for the holidays, or any time of the year.
Ingredients
1 cup butter (= 2 sticks, or 8 ounces), at room temperature
2 teaspoons vanilla extract
1/4 cup granulated sugar
1 cup toasted pecans, finely chopped
2 cups all-purpose flour
.

POWDERED SUGAR TOPPING

1/2 cup powdered sugar (may need more if you aren't also using the other topping on some of the cookies)
.

CINNAMON SUGAR TOPPING

1/2 cup granulated sugar
1 teaspoon ground cinnamon
Directions
Heat oven to 350F degrees. Line two baking sheets with parchment paper, and set aside. Get toppings ready. Mix sugar and cinnamon in a bowl. Put powdered sugar into a separate bowl. Set aside.
Put butter in the bowl of a stand mixer. Mix on medium speed. When butter is creamy, gradually add vanilla and sugar. Decrease speed and add pecans and flour. Continue mixing until dough comes together. It will be thick.
Scoop out 1 tablespoon of dough. Roll dough into a ball, and place on prepared baking sheet. Repeat with remaining dough, placing balls about 2 inches apart.
Bake for 20 minutes, or until bottoms of cookies are golden brown (you can lift one to see, if you aren't sure). Remove cookies from oven and set tray on a heat-proof surface.
While cookies are very warm, roll half of them in the cinnamon sugar, and the other half in the powdered sugar, coating evenly. (Dorothy's note: Most often I roll them in powdered sugar immediately after I remove them from the oven, and I coat them thickly. The sugar will adhere to the hot cookie.)
Transfer cookies to a wire rack to cool completely. Store cooled cookies in a tightly sealed container. Hide them from yourself!
Makes 45-48 cookies.
Notes
Recipe source: "Buen Provecho! Traditional Mexican Flavors from My Cocina to Yours," by Ericka Sanchez (Familius Publishing, 2021).
https://www.shockinglydelicious.com/mexican-wedding-cookies/
Copyright Dorothy Reinhold | ShockinglyDelicious.com. All rights reserved.
Pin the image below for Mexican Wedding Cookies to your Pinterest board to save this recipe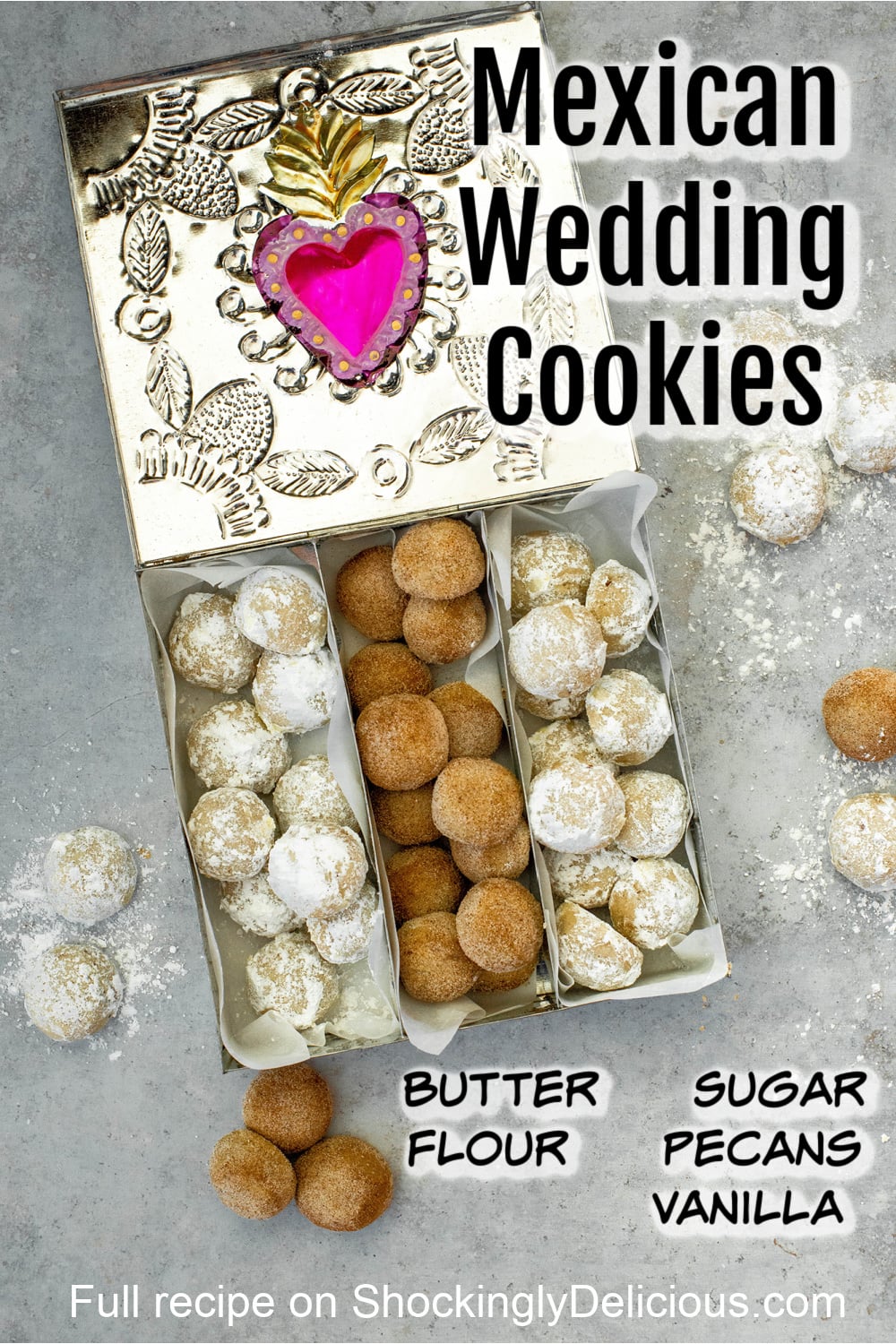 About the book: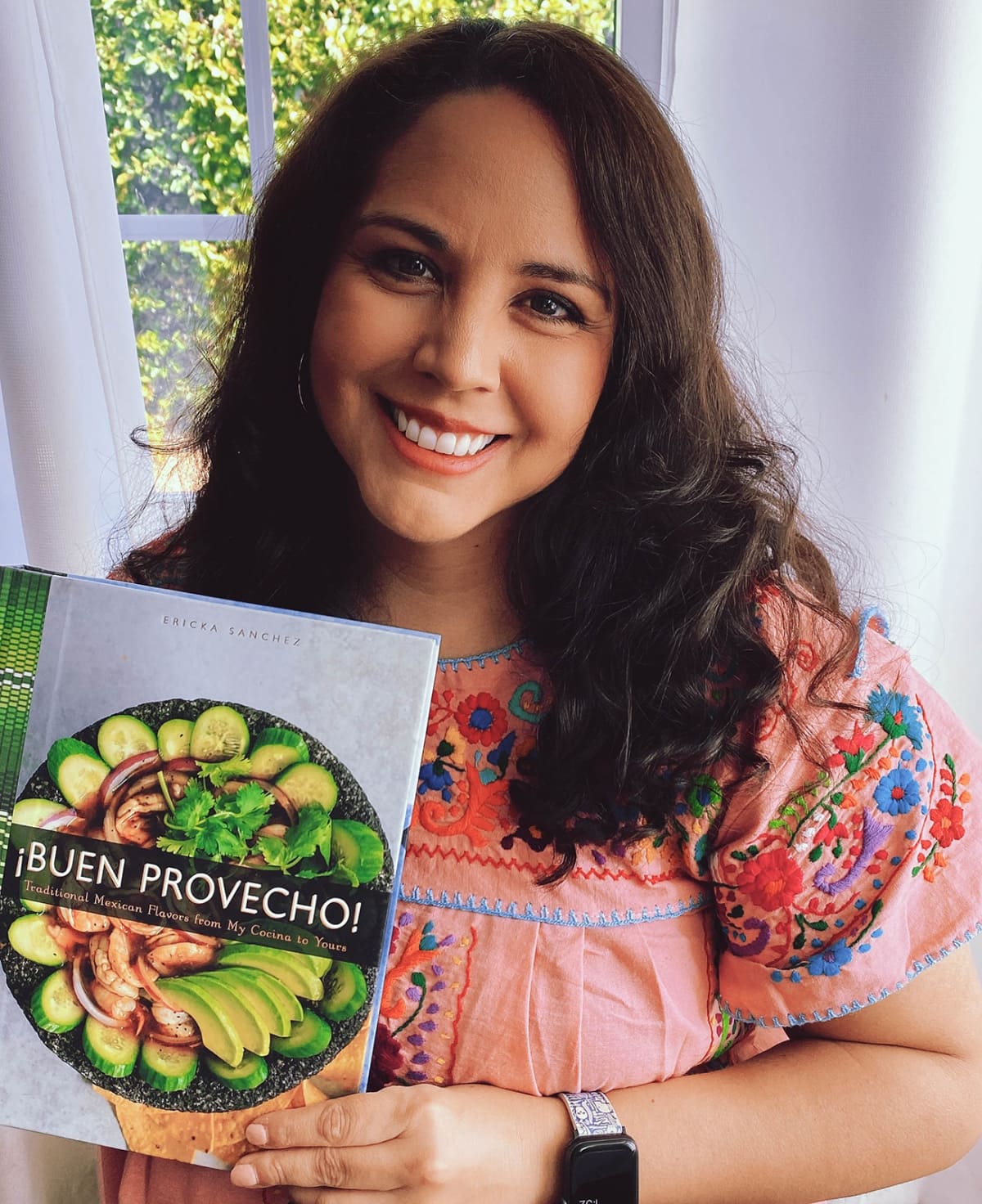 !Buen Provecho! is like saying "bon appetit." The literal translation is "good benefit" or "I hope this meal benefits you well," says author Ericka Sanchez, a Los Angeles recipe developer, food blogger and author, who grew up in Mexico and came to the U.S. in third grade. She learned to cook at the foot of her grandmother and mother, and her cookbook expresses her deep appreciation for home-cooked meals, the way she was taught to make them. Many of her recipes are traditional; others she created herself or modernized with ingredients available in California and the rest of the U.S. I know I'll turn to this cookbook many times for new recipes and inspiration. My copy is littered with Post-it notes representing the many recipes I want to try, including her Purgatory Eggs (Huevos En Purgatorio), White Corn Ceviche (Ceviche de Elote), Fideo Soup (Sopa de Fideo), Creamy Poblano Chile Strips (Rajas Poblanas con Crema), Potato, Broccoli and Carrot Patties with Cotija Cheese, and of course I want these cookies for dessert with all of it! She tells a charming story about her own wedding day, when her guests were admiring these Mexican Wedding Cookies more even than the bride! (That cannot possibly be true…just look at her gorgeousness!)
Want more Shockingly Delicious cookies?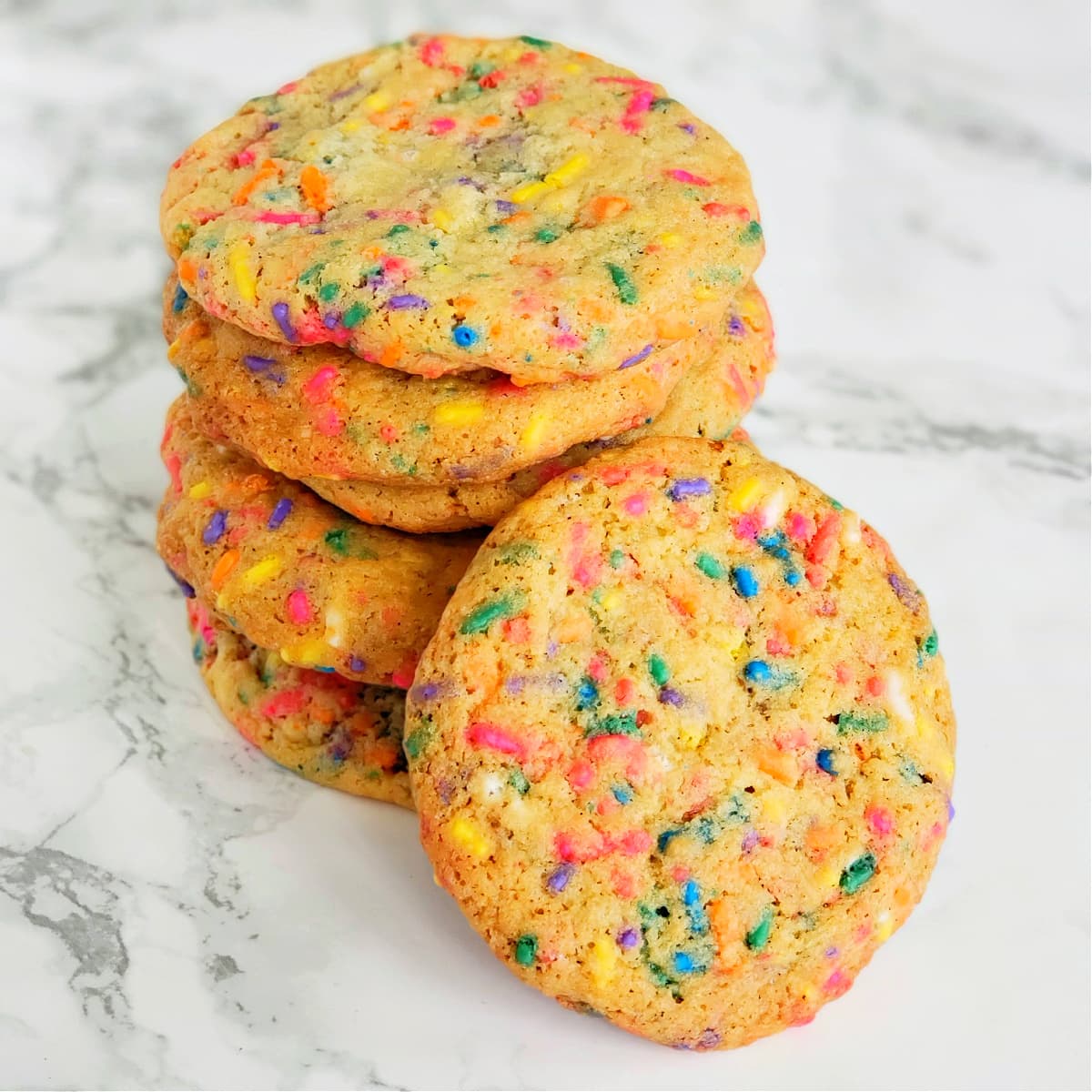 Confetti Sprinkle Cookies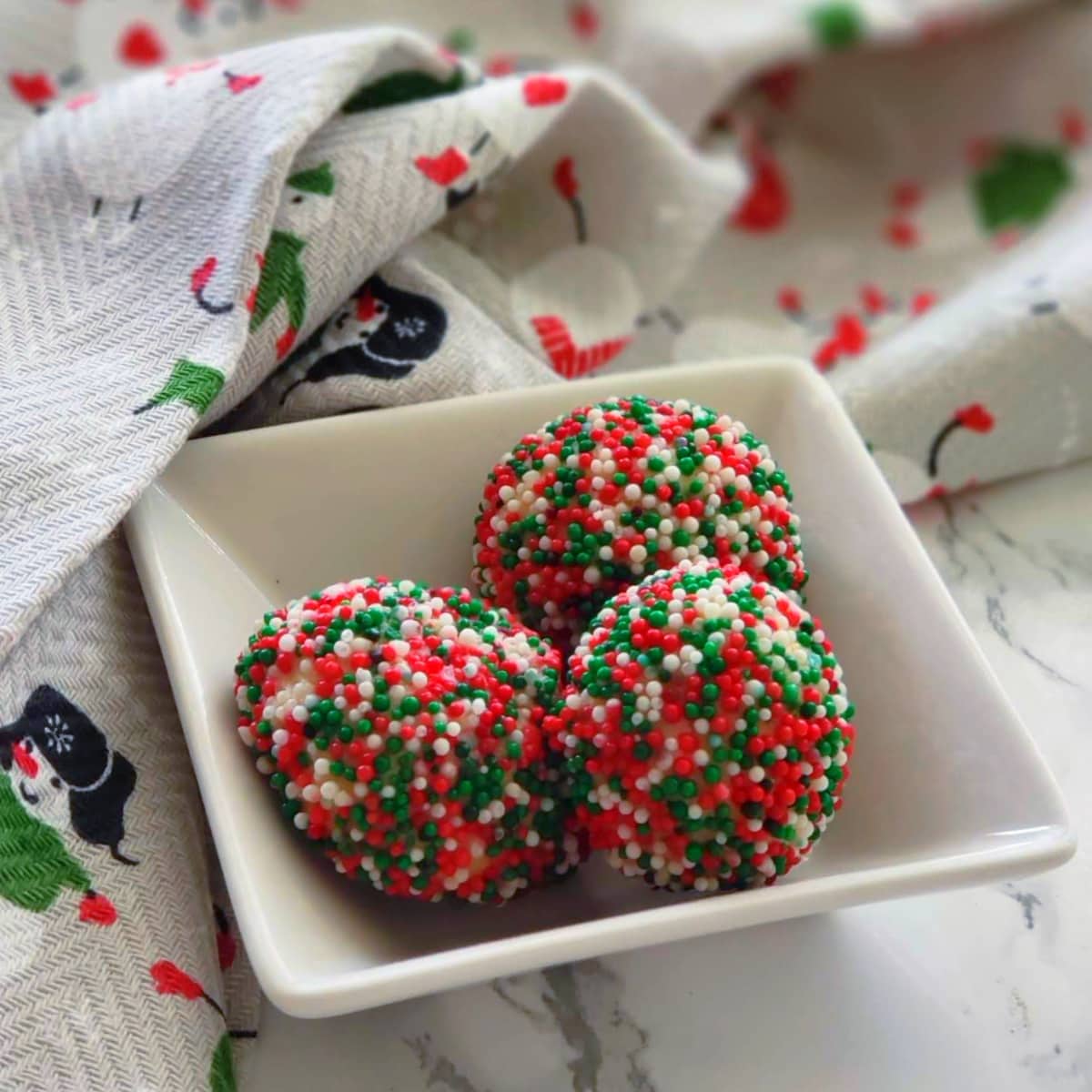 Cream Cheese Sprinkle Cookies
Thanks for visiting…are you hungry for more? Follow Shockingly Delicious on…
FACEBOOK | PINTEREST | INSTAGRAM | TWITTER
…for all the latest recipes, ideas and updates!
This post may contain affiliate/referral links. It is a way for this site to earn advertising fees (at no cost to you) by advertising or linking to certain products and/or services that I approve and prefer. Thank you for using my affiliate link to shop, so I can continue to bring you shockingly delicious recipes!