Recipe: Vegetarian Wet Burritos
Summary: A simple grains mix and beans enlivened with Mexican spices fills fork-and-knife burritos smothered in green enchilada sauce.
Ingredients
[1]2 packets Minute Multi-Grain Medley (there are 4 packets in a box)
¾ teaspoon ground cumin
½ teaspoon adobo seasoning (such as Penzey's Adobo)
½ teaspoon oregano
¼ teaspoon kosher salt
¼ teaspoon garlic powder
¼ teaspoon onion powder
1 (15-ounce) can red kidney beans
4 large burrito-size flour tortillas
1 (8-ounce) package shredded Monterey Jack cheese
1 (10-ounce) can green chile enchilada sauce
Instructions
Add grain medley, 1 3/4 cup water, cumin, adobo, oregano, salt, garlic and onion powders to a pot and cook according to package directions (bring to a boil, cover and simmer 10 minutes).
Meanwhile, place beans in a small colander, rinse them and drain. Turn oven on to 375F degrees and lightly mist a baking dish with nonstick spray.
When grains are done, remove from heat, add drained beans to the pot and stir.
Assemble burritos: Lay a tortilla out on a board, spoon on ¼ of the rice-bean mixture, sprinkle on a handful of cheese, and roll up tightly. Place rolled burrito seam side down in baking dish. Repeat with the rest of the tortillas, to make 4 burritos, saving a pinch or two of cheese to garnish the top.
Pour enchilada sauce over top, making sure to cover all of the exposed tortillas. Bake for 20-30 minutes, until hot and bubbly.
Remove from oven and serve.
Serves 4.
To go with this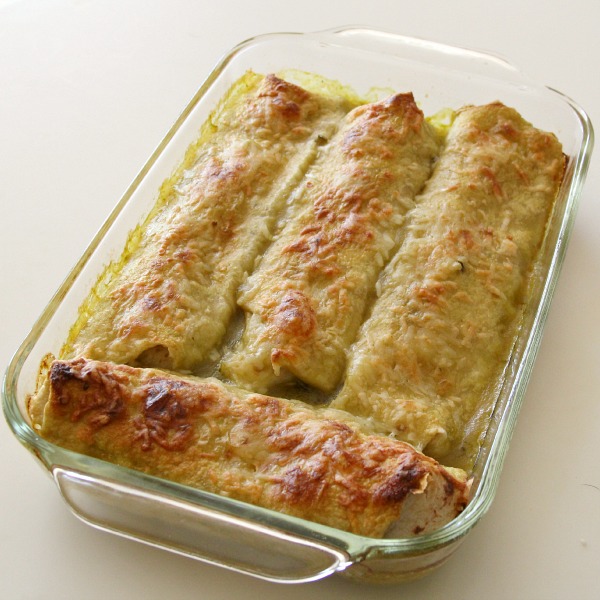 [2]Some cut fresh fruit like pineapple or mango goes well with this, along with a green salad.
Recipe source
Dorothy Reinhold | Shockingly Delicious
Preparation time: 10 minutes
Cooking time: 30 minutes
Diet type: Vegetarian
Number of servings (yield): 4
Culinary tradition: Mexican
My rating 5 stars:  ★★★★★ 
Throughout the week, you can find the #SundaySupper food blogger team also sharing
#WeekdaySupper meals
. Getting families back to the dinner table is our mission, and I hope we inspire you to try some of our delicious recipes. You can find them on our 
Pinterest Boards
[3]
, too. Please join us there and try something!
This week's easy Weekday Supper recipes are: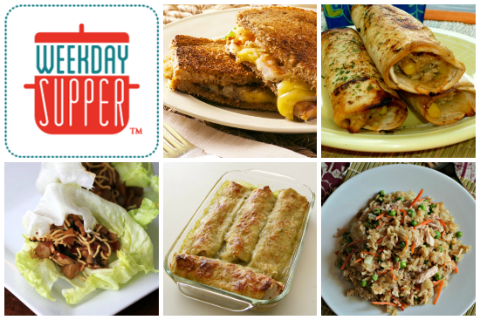 [4]