Print This Post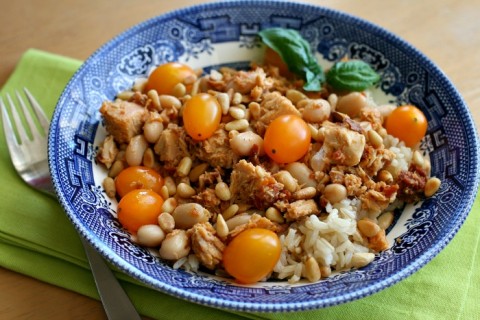 A successful weeknight cook often has a few cheats up her sleeve.
Using already seasoned canned tuna is one of my most recent discoveries. A new Italian seasoned tuna with sun-dried tomatoes made a perfect quick rice bowl last night, with its garlicky olive oil acting as a bit of a sauce for the rice. A few extra flourishes from garnishes and voila, we're ready to eat!
To make weeknight dinners extra speedy, I make a big batch of brown rice in the oven on the weekend, portion it into containers and freeze. A quick thaw on the counter or in the microwave when I'm ready to use it and we're on our way to a nice home cooked meal.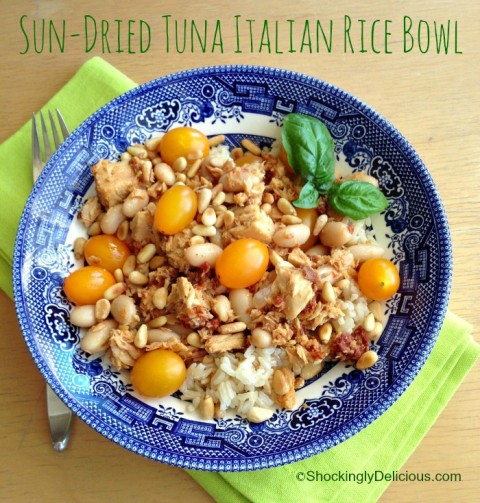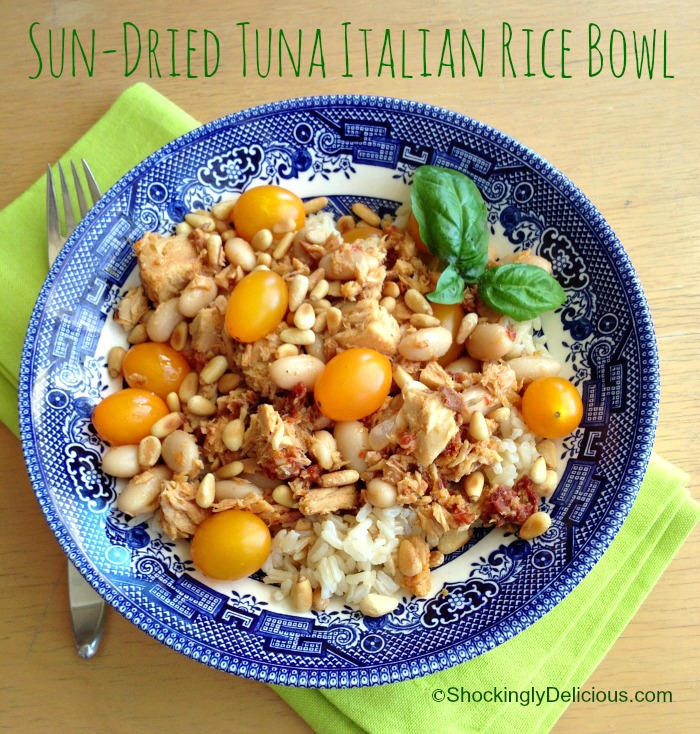 Recipe: Sun-Dried Tuna Italian Rice Bowl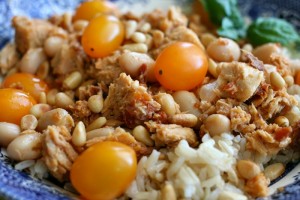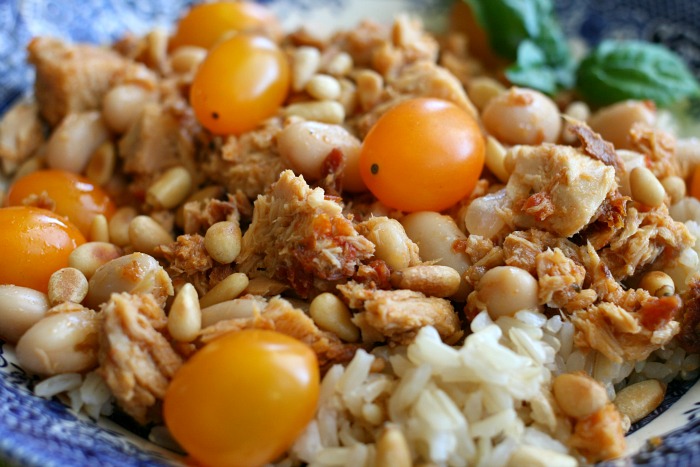 Summary: Garlicky seasoned tuna and cannellini beans over healthy brown rice makes an easy Italian rice bowl, garnished with fresh basil and pine nuts.
Instructions
Add tuna and its oil to a mixing bowl. Stir to break up the tuna chunks slightly. Add beans and stir gently (don't mash them).
Place rice in 4 shallow, wide salad bowls (or on dinner plates), and top with tuna-bean mixture. Strew cherry tomatoes and Parmesan cheese on top of each portion, and garnish with pine nuts and fresh basil.
Serves 4.
The Bee Squad
I am a member of the Bee Squad for Bumble Bee tuna. Canned tuna makes an excellent protein for quick weeknight dinners because it is already cooked and ready to deploy. Bumble Bee sent the tuna for recipe testing.
Source
Dorothy Reinhold/Shockingly Delicious
Variations
Add chopped fresh oregano
Add a few sliced Kalamata olives
Put the tuna-bean mixture over a bed of fresh arugula instead of using rice, for a lower-carb dinner
Preparation time: 10 minutes
Diet type: Pescatarian
Diet tags: High protein
Number of servings (yield): 4
Culinary tradition: Italian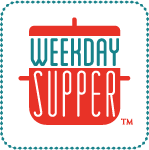 Throughout the week, you can find the #SundaySupper team sharing #WeekdaySupper meals as well. Getting families back to the dinner table is our mission, and I hope we inspire you to try some of our delicious recipes. You can find them on our Pinterest Boards as well. Please join us and try something!
This week's easy Weekday Supper recipes are: