Print This Post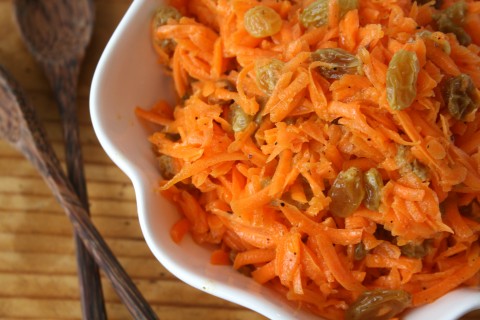 My mortgage broker shared a salad idea with me, and it is terrific! Yes, you heard that right…my mortgage broker* turns out to be a first-class foodie! Just my luck!
So in between figuring out the best rates from the right lender with the most suitable terms and getting notaries, signing on the right dotted lines and all the tedious minutiae involved, we chatted about the world's most interesting topic — food.
Turns out he uses something I had never heard of – argan oil – to make a great carrot-raisin salad. Argan is a rare and thorny evergreen tree that grows only in the southwestern part of Morocco. It dates back several million years, and is one of the rarest oils in the world due to the small and very specific growing areas. It's a gorgeous, delicate, nutty flavor, unlike other nut oils, and is used for cosmetics, seasoning, and salad dressing. You wouldn't cook with it, because it is very pricy, but use it as a finishing oil, to drizzle over stew, soup, fish, grilled vegetables, couscous or as a dipping oil for bread.
It is also mixed into a chunky paste with crushed almonds and sometimes honey or sugar, called Amlou, and spread on toast like a Moroccan peanut butter.
Its also has purported health benefits. Rich in essential fatty acids (especially linoleic acid, a precursor of vitamin E), argan is said to have strong antioxidant and skin anti-aging properties, to stimulate intracellular oxygenation and neutralize free radicals.
I don't know about all that (hey, you're welcome to neutralize my free radicals anytime you like!), but it now sits next to my prized bottle of truffle oil in a rarified little club of high-class drizzlers.
I'm hooked!
Carrot-Raisin Salad with Argan-Lime Dressing Recipe
1/2 cup golden raisins
8 ounces mini peeled carrots
2 tablespoons argan oil
1 tablespoon freshly squeezed lime juice
Pinch kosher salt
Freshly ground pepper
Put raisins in a 2-cup measuring cup, add water to cover raisins by an inch, and microwave for 1 1/2 minutes on high. When done, remove cup from microwave and set raisins aside to plump for 5 minutes.
While raisins are plumping, grate carrots in a food processor. Dump grated carrots into large salad bowl. Add oil, lime juice, a pinch of salt and pepper. When raisins are done plumping, drain them (they will be nicely wrinkled!) and add to the carrot mixture.
Toss with two spoons until well combined, and serve.
Serves 4.
Sources for argan oil: Your local foodie emporium, www.Zamourispices.com, or Amazon.com in the grocery/gourmet food area.
*Nicholas Ballard, nballard@calmtg.com. He blogs here (actually really interesting stuff about no-cost loans vs. paying no points, etc.).  I highly recommend him, if you are in need of a re-fi. Tell him I said, "Hi!