Print This Post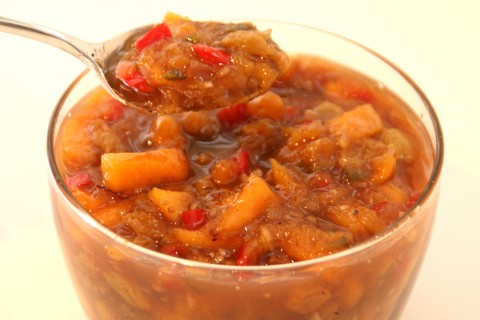 Before fresh peach season is over, grab a few from the store or farmers market, and make this easy, stovetop, sugar and spice and everything nice Fresh Peach Chutney. The flavor will rock your world — it's a little bit sweet, a little bit sour; garlic and fresh ginger are high notes, with a bit of a bite from the jalapeno. Raisins, onions and bell pepper round things out, and allspice gives it a complex aroma.
Making this is something you owe to yourself. Like many shockinglydelicious foods, it is a champion multi-tasker, as well.  Whaaa…?
Well, this interesting, complex chutney – easily made from fresh ripe peaches – is great as a relish for roasted chicken, pork chops, baked ham or grilled sausages, and will nicely dress a scoop of plain yogurt or cottage cheese for breakfast or lunch. (Don't believe those last two? Try it!)
As he was standing in front of the open door of the refrigerator, spoon in hand, my husband even asked, "Would this be good on vanilla ice cream?"
Yessss!
Spiced Fresh Peach Chutney
1/2 cup apple cider vinegar
1/2 cup brown sugar
1/4 cup granulated sugar
1/2 cup diced red pepper (or orange or yellow bell pepper, but they won't show as much since peaches are also orange)
1/2 cup diced onion
1 small Jalapeno pepper, finely minced (remove seeds if you are a wimp)
1/3 cup white raisins
1 tablespoon finely minced garlic
1 tablespoon finely minced ginger
1/2 teaspoon salt
1/4 teaspoon ground allspice
1 1/2 pounds fresh peaches, pitted, peeled and chopped
In a medium saucepan, bring the vinegar and both sugars to a boil. Add pepper, onion, Jalapeno, raisins, garlic, ginger, salt and allspice and simmer over low heat 10 minutes, uncovered.
Add peaches and simmer 5 more minutes, uncovered, stirring occasionally. With a potato masher, mash 1/3-1/2 of the peaches in the saucepan to thicken slightly (this is about 5-7 mashes; then stop!). Remove from heat and cool.
Store in airtight jars or covered containers in refrigerator. Will keep for up to 3-4 weeks.
Freeze: Portion into small jars and freeze, to give away as Christmas presents to only the most deserving friends.
Serve with:
roasted chicken
pork chops
baked ham
grilled sausages
over a block of cream cheese for an appetizer
plain yogurt for breakfast or lunch
cottage cheese for breakfast or lunch
vanilla ice cream for dessert?
Source: Adapted from Janie/Jcz04 at the Taste of Home community bulletin board.