Print This Post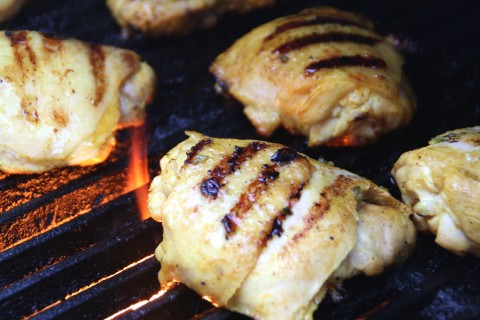 Summer may be officially over, but grilling season is year-round in Southern California. At my house, there is nothing we savor more than a fall barbecue, with drinks on the deck, squinting into the last bit of slanting sun, and dinner on the patio wearing a light sweater to ward off the chill of the cooler evening.
Chicken is our default, and this fruity marinade is our most frequent choice. I call this "Better Than Pollo Loco" because it is! And that's saying a lot, because the El Pollo Loco chain of restaurants is famous for its delicious signature menu item – flame grilled chicken marinated in a secret recipe of herbs, spices and citrus juices, following a recipe that was handed down from the founding family in Mexico.
While El Pollo Loco is a great choice for a fast food meal, we most often cook at home, so 20 years ago my husband came up with this copycat version that we like even better!
It uses a single-serving size can of pineapple juice (which I keep in the pantry for just this purpose), some other acids (lime and vinegar), some aromatics like garlic and jalapeno, and turmeric for a great yellow color. For best results, marinate overnight.
And just so we don't leave anyone out, with indoor grills as a prominent feature on many ranges, grilling can also be a 12-month season for cold climates, as well.
Better Than Pollo Loco Chicken Thighs Recipe
Chicken thighs are the absolute best part (according to moi!), and will have best flavor if you have the bone in. Leave the skin on, for goodness sakes.
Marinade
6 ounces pineapple juice
2 tablespoons lime juice
1 tablespoon white vinegar
1 tablespoon oil
2 cloves crushed garlic
1 teaspoon salt
1 teaspoon freshly ground pepper
1 teaspoon finely minced jalapeno, seeds included
1 teaspoon turmeric

*

(see note below)

2 1/2 pounds bone-in, skin-on chicken thighs (or 6-ish pieces of bone-in chicken like breasts, thighs, drumsticks in any combination you like)
Mix all marinade ingredients in a 2-cup measuring cup. Place chicken in zipper-top bag, pour marinade in and squeeze out air from bag before sealing. Massage chicken in bag to make sure all pieces of chicken are bathing in marinade. Marinate in refrigerator for half a day, or overnight; turn bag occasionally to ensure chicken is entirely covered.
When ready to grill, remove chicken from marinade (discard marinade) and grill chicken over medium heat until done, about 20-25 minutes, turning once for nice grill marks. You can add some moist mesquite chips to the grill for a smoky flavor.
Serves 4-5, depending on size of chicken pieces and appetites.
Serve with:
Salsa and chips as appetizer
Pinto beans (spiced with chile powder, cumin, onion powder, garlic powder, paprika, cinnamon)
Mexican rice
Coleslaw spiked with jalapeno
Flan for dessert (or how about coconut pudding?)
Don't forget the margaritas and cerveza!
*Note: Turmeric will stain, so try not to spill the marinade on light colored clothing or even on white grout on tile counters.
A freezer strategy: I make this all the time, and sometimes I even put the raw chicken in the marinade and then freeze the whole shebang in a zipper-top bag. When I want some, I pull it out and put in refrig to thaw, and by the time it is thawed it is marinated perfectly and ready for the grill! How's that for efficiency?