Print This Post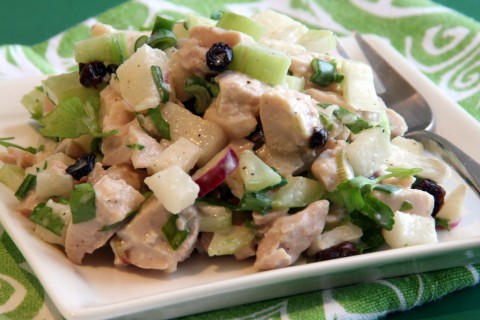 We're smack in the middle of Korean pear season (October through March), and the time is right to grab some from the market.
A beautiful box of these babies arrived for me from Melissa's Specialty Produce, which sparked a pear frenzy in my kitchen. We eat a lot of fruit, and these went over extremely well with the whole family. Very crisp, sweet and dripping with juice, these pears are perfect for eating out of hand, slicing into salads, or using in place of apples in baked goods. They have a refreshing, mild taste, and add crunch and a hint of sweetness where you need it.
As I confronted my leftover Thanksgiving turkey, I realized they would be just the ticket diced into a quick turkey salad. I'm betting you have a couple of celery ribs leftover in the veggie drawer, too.
The pears are very large – one Korean pear looks like the size of two apples – so they're easy to share…except for my kids, who want them all to themselves. Now that's a selfish streak it's hard to argue with.
Recipe: Turkey Salad with Korean Pear and Celery
Summary: A delicate turkey salad is sweetened with Korean pear and currants. Celery and onion add crunch and a mustardy dressing enlivens the whole mix. Leftover Thanksgiving turkey never had it so good!
Ingredients
1/4 cup light mayonnaise (can use regular)
2 tablespoons apple cider vinegar
1 tablespoon Dijon mustard
Pepper
2 cups cooked diced turkey
2 celery ribs, cut into small dice
A slice of red onion, cut into very small dice (or you could use several green scallions, chopped)
2-3 tablespoons chopped fresh Italian parsley
1 Korean pear, cored, peeled and cut into medium dice
1/4 cup currants (or use raisins)
Instructions
Place mayo, vinegar, Dijon and a grinding of fresh black pepper in a large bowl. Whisk to combine into a dressing.
To the bowl, add turkey, celery, onion, parsley, pear and currants. Gently stir everything together, and taste.
Adjust the seasoning as you like, adding more pepper or a pinch of salt if you think it needs it.
Refrigerate for at least several hours, and then serve.
Serves 4.
Quick notes
Saving time: If you don't have leftover turkey, you may certainly buy rotisserie chicken and chop it up for this salad. It won't be quite as delicate a taste, but it will still be good!
Preparation time: 15 minute(s)
Number of servings (yield): 4
Culinary tradition: USA (Nouveau)
My rating 5 stars:  ★★★★★ 1 review(s)