Print This Post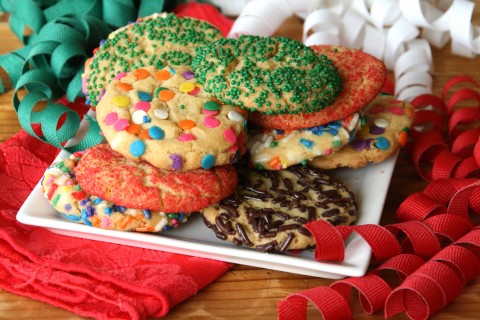 One of the pleasures of the Secret Recipe Club is that you get to meet – in our virtual world – many different people by way of their blogs. They're all good cooks, of course, but lots of them have other talents on display, as well.
Renee of Kudos Kitchen by Renee has a hand-painted custom tile and glassware business, and peppers her site with beautiful examples of her work. Think trivets, coasters, wall hangings, personalized wine glasses, etc. Or how about a tile featuring one of our own signature recipes? You can see some examples in her portfolio or her Etsy shop.
But once I was assigned to explore her blog, it was her Santa's Favorite Christmas cookies that drew me in, with a charming story about how her mom got this recipe from a neighbor. She recalls them fondly, as her favorites from her youth. When she started her own family, she knew this was a family tradition she wanted to continue, and so she made them with her own two boys. They have happy memories of snacking on these while spending Christmas at the zoo or driving around town looking at Christmas lights and decorations. Of course, these were always the cookies they left out for Santa, too.
In return, the only thing Santa ever left on the plate was crumbs.
Summary: A crispy sugar cookie rolled in colored sugar decorations makes a lovely treat for Santa.
Ingredients
1/2 cup brown sugar
1/2 cup granulated sugar
1 cup butter flavor Crisco
1 large egg
1 teaspoon baking soda
1 teaspoon cream of tartar
1 teaspoon salt

(note from Dorothy: I decreased this to ¼ teaspoon)

1 teaspoon pure vanilla extract

½ teaspoon almond extract (note from Dorothy: I added this)

2 cups all purpose flour
red and green decorating sugars
Instructions
Heat oven to 350 degrees.
Cream the sugars and shortening together in a large bowl. Add the egg and mix to combine. Add the remainder of the ingredients (except the decorating sugars) to form a soft and slightly sticky dough.
Using a teaspoon, take out and roll dough into balls about the size of a walnut.
Drop balls into colored sugars and roll them to coat entire ball with sugar. Place them on parchment-lined baking sheets and bake for 8-12 minutes.
Makes 45 cookies.
Preparation time: 10 minute(s)
Cooking time: 10 minute(s)
Number of servings (yield): 45
Culinary tradition: USA (General)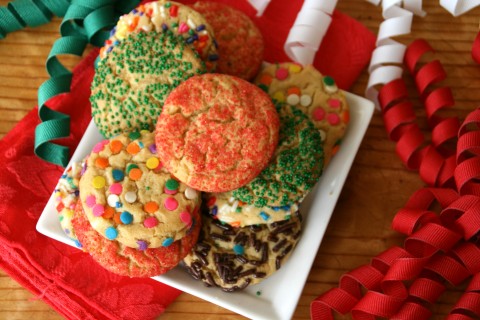 Renee, it was nice to meet you! Merry Christmas to you and yours, and Happy Holidays to all the Secret Recipe Club participants!