Print This Post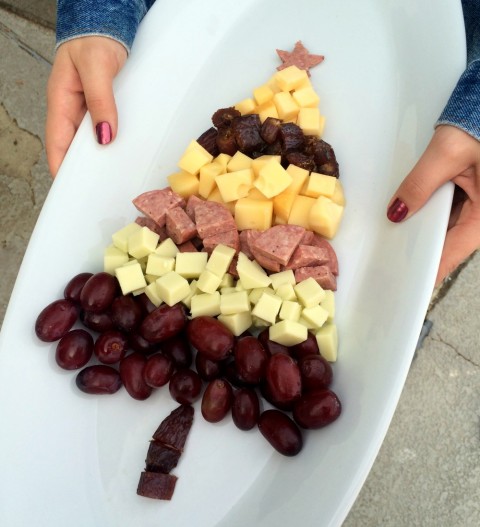 Winter is really just beginning, so we have a whole season to celebrate the tree.
We tried a Tree-Shaped Meat and Cheese Plate for our Christmas appetizer, and it was a big hit!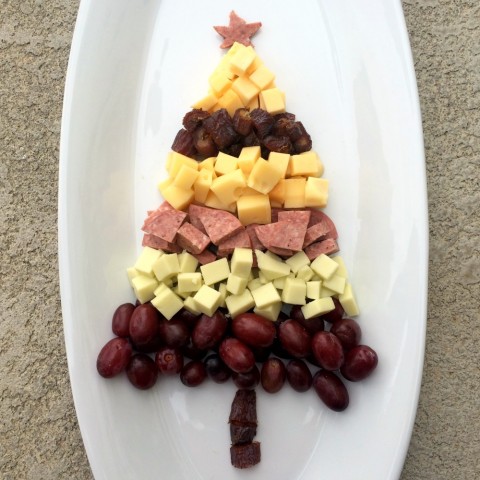 To make it, simply take your favorite meats, cheese and fruits, and arrange them in a tree shape. You could do them in stripes, as we have here, or devise your own pattern. I think diagonal would look nice, or even a mish-mash, and then use something bright (a lighter grape?) to act as the ornaments on the tree?)
There's no real "recipe" for this, but I'll share the plan, so you have a sense of what to do. (The Wasabi horseradish cheddar cheese was the surprise hit of the plate!)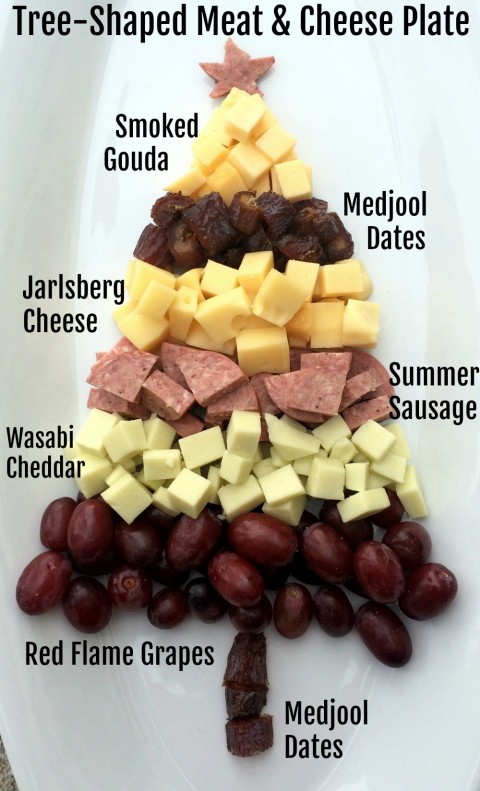 Are you ready to go? It's so fun.
Tree-Shaped Meat and Cheese Plate
A Tree-Shaped Meat and Cheese Platter is fun for holiday snacking and appetizers, or for anytime you want to spruce up your charcuterie tray. (See what I did there?)
Ingredients
Cheese assortment

Jarlsberg (a Swiss cheese)
Smoked Gouda (creamy and smoky)
Wasabi Horseradish Cheddar (a little nippy, but not too hot!)
.

Meats and Fruits

Grapes (I used Red Flame Grapes here, but any color will do)
Medjool Dates (or use dried figs)
Summer Sausage (you could use salami or pepperoni or whatever is your favorite cured meat)
.

Trunk

Medjool Dates (or use dried figs or whole skin-on almonds)
Directions
Cut up the meats and cheeses into bite-sized cubes. I err on the smaller size if this is a pre-dinner appetizer. You don't want everyone full on cheese before the main course! If it is a hearty appetizer for a cocktail party, I might make them a little bigger. Suit yourself.
You may cut the meats and cheeses and dates a day ahead and store them in tightly closed containers in the refrigerator. We were driving to our party, so we brought the containers and quickly assembled the tree there. Otherwise, we feared the pieces would roll all around in the car and escape the plate and get everywhere.
Arrange them in a tree shape. Take note of your plate shape and size and shape your tree accordingly. A long plate like I have here can handle a tall tree; a square or shorter plate gets a squattier tree. Really, though, it is all the prerogative of the assembler/artist.
Finish by snipping a piece of summer sausage into a star shape, and add some chopped dates or dried figs for the trunk.
Voila!

Variations:

SIZE: You can make this tree any size you like, to serve 2 or 22. Just take a guess at how much meat and cheese you will need...this is not science. Have fun!
COLOR: You could color coordinate the tree. All light colored cheeses, for example, or cured meats of a certain look.
OMBRE: You could ombre the tree (graduate the colors from lightest to darkest, all in a color theme so the colors shade into each other). Wouldn't that be pretty? It would also be a challenge, so perhaps is only for the OCD minded.
Notes
Recipe source: I am indebted to Carrie of the Frugal Foodie Mama blog for sparking the idea for this!
https://www.shockinglydelicious.com/tree-shaped-meat-and-cheese-plate/
Copyright Dorothy Reinhold | ShockinglyDelicious.com. All rights reserved.
Isn't that easy? I do hope you will try it yourself!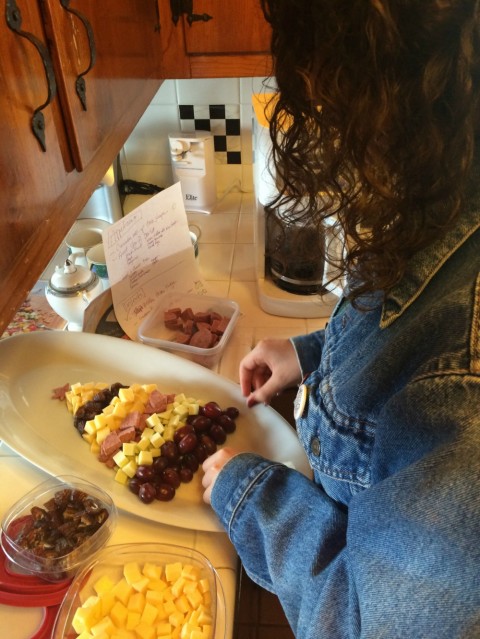 My daughter assembled it at the party site in about 10 minutes.
If you like this idea and want to save it, pin the image below to your Pinterest board.
And if you like the idea of tree-shaped food, check out my collection of Tree-Shaped Recipes, which will delight your family for any course!
Hungry for more? Follow Shockingly Delicious on…
FACEBOOK   |   PINTEREST   |   INSTAGRAM   |   TWITTER
…for all the latest recipes, ideas and updates!