Print This Post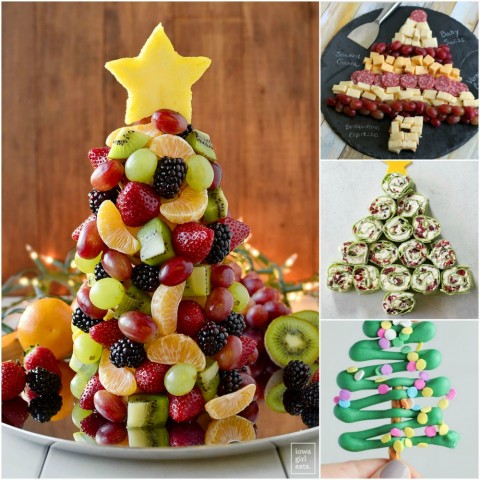 Tree-shaped food makes holiday festivities all that more special.
Let the festive forest frolicking commence, with a tree at the table!
There's no better excuse than winter time for having a bit of fun in the kitchen.
Today I suggest that a tree at the table is not only appropriate for your big holiday meal, but for any gatherings between now and then.
A shrub on Saturday, a seedling on Sunday…maple Monday, timber Tuesday, willow Wednesday, teak Thursday, fir Friday…I could go on, except I have run out of days of the week.
Join in on the splendor of saplings, no matter what holidays you celebrate this month. I have rounded up a plethora of pine, poplar and plum for you. I hope you find something here to spruce up your holidays. (See what I did there?)
There's always room for a redwood!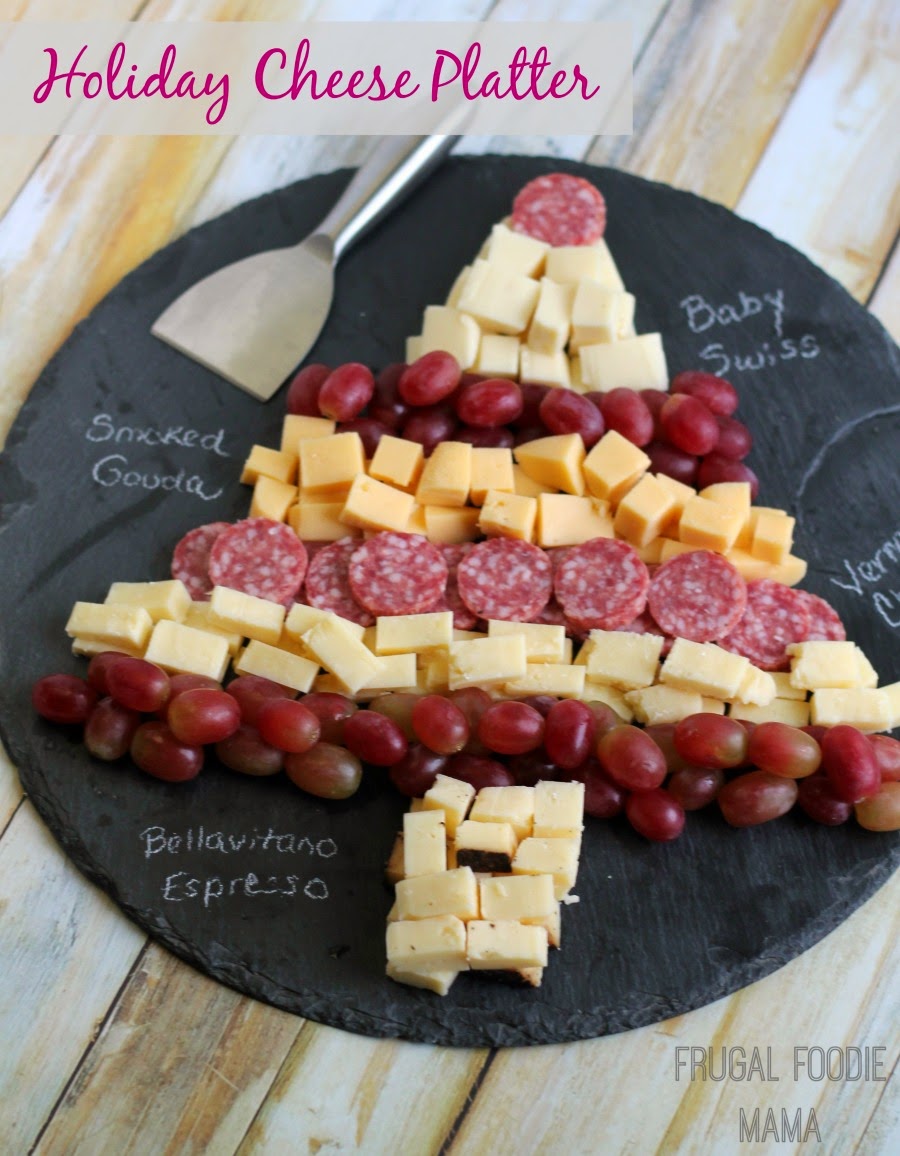 Should we start out with a Holiday Cheese Platter, like this one from The Frugal Foodie Mama? Of course we should.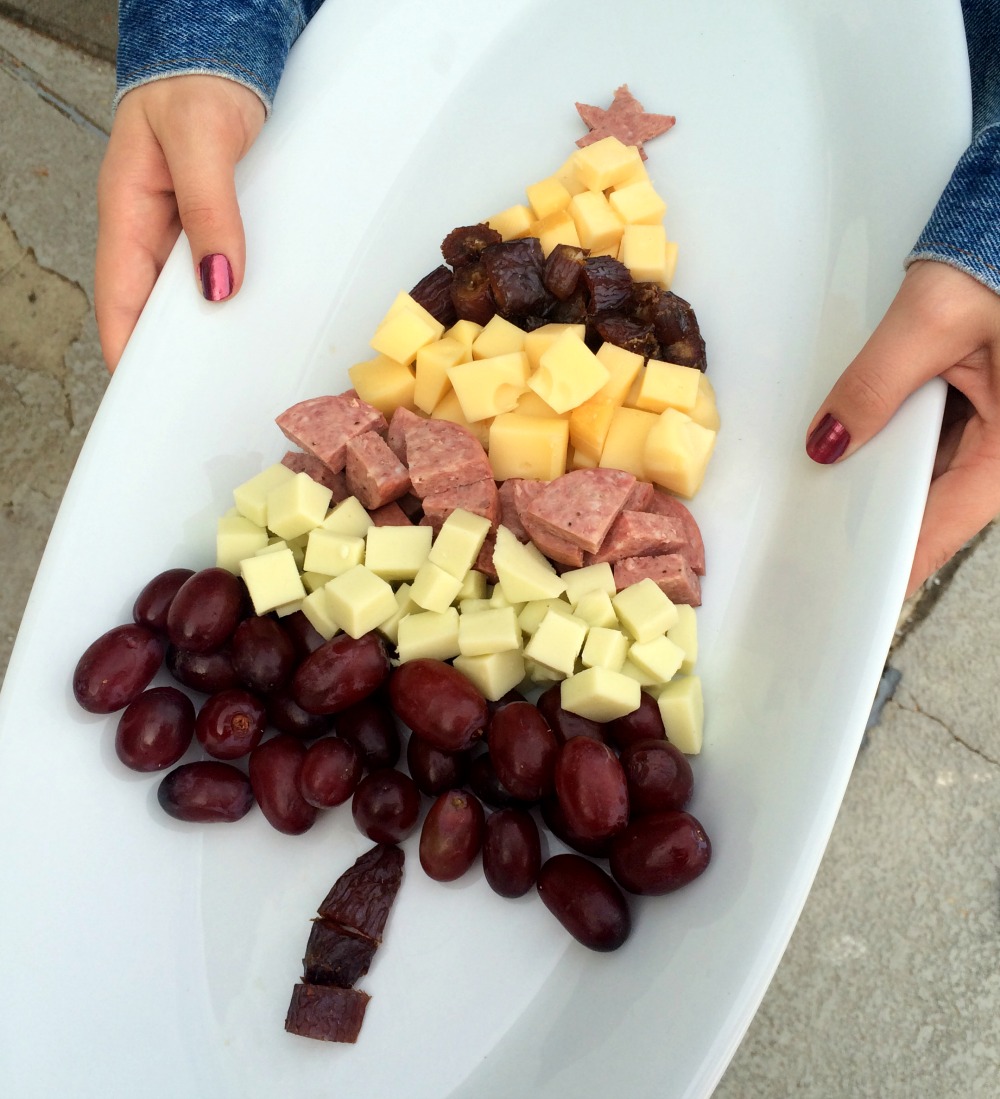 Here's my Shockingly Delicious interpretation of a Tree-Shaped Meat and Cheese Plate. It was our Christmas appetizer! Tree-shaped food rules.
Or another starter idea, a tree-shaped Easy Antipasto Platter, from Lemons for Lulu. She gives suggestions for assembly, but you can tweak these ingredients any way you like.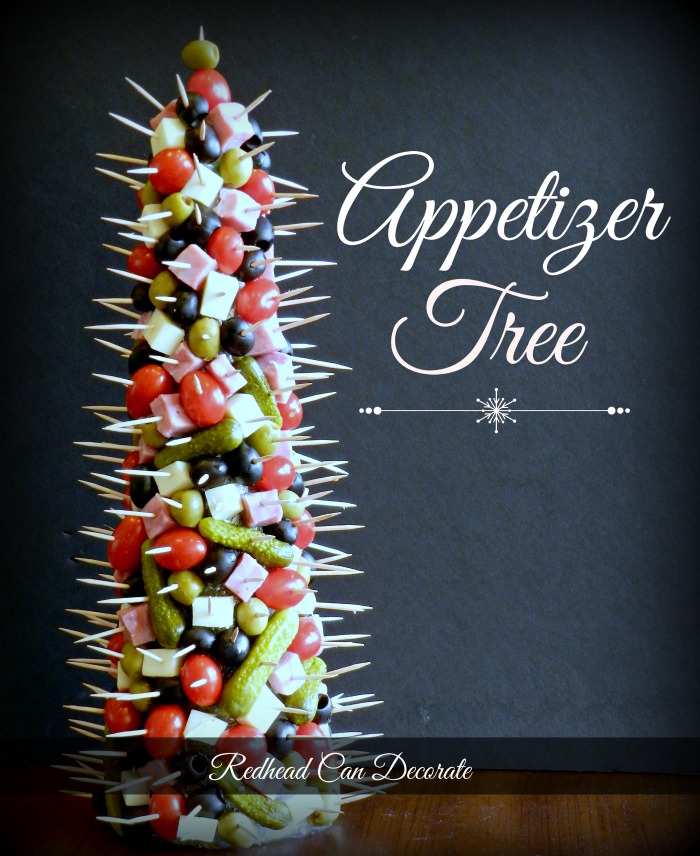 Or maybe this Appetizer Tree by Red Head Can Decorate. Yeah, get me a Styrofoam cone and let me at this project! How fun would it be to pick these off and eat them, one by one.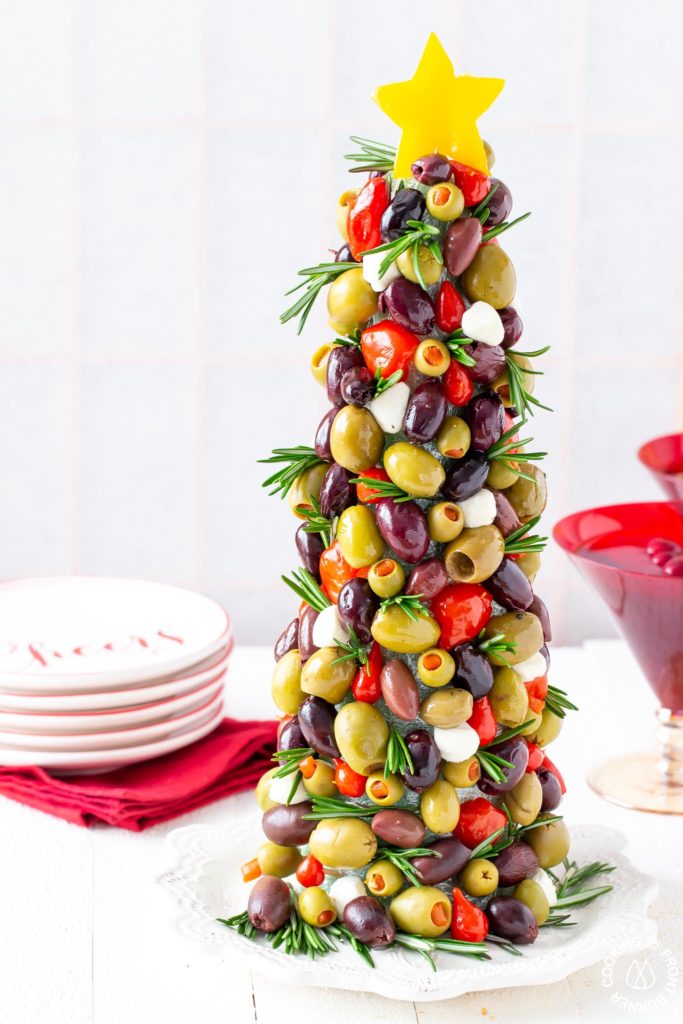 Or pick the olives off this glossy Olive Christmas Tree Appetizer by Deb from Cooking on the Front Burner. Basically, I am always in favor of any food that can be picked apart…it is so satisfying! You can make this a day ahead, cover with plastic wrap and refrigerate overnight.
I could see this Fruit Christmas Tree by Iowa Girl Eats as an appetizer during a holiday cocktail hour, or it can star as a healthy holiday dessert table centerpiece. It's a work of art, that's for sure!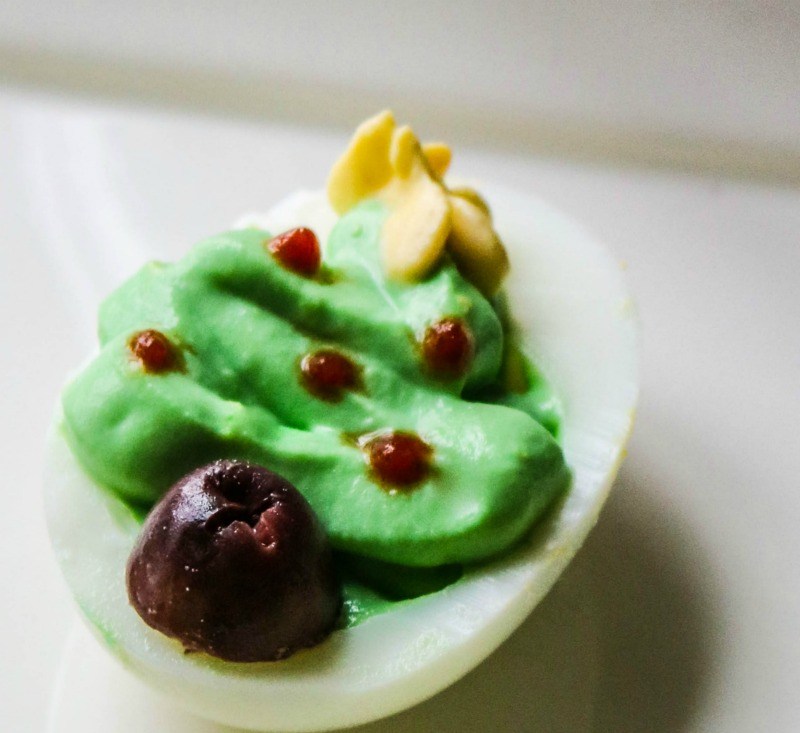 What about some Christmas Tree Deviled Eggs from A Mind Full Mom? I have never turned down a deviled egg, at a party or otherwise.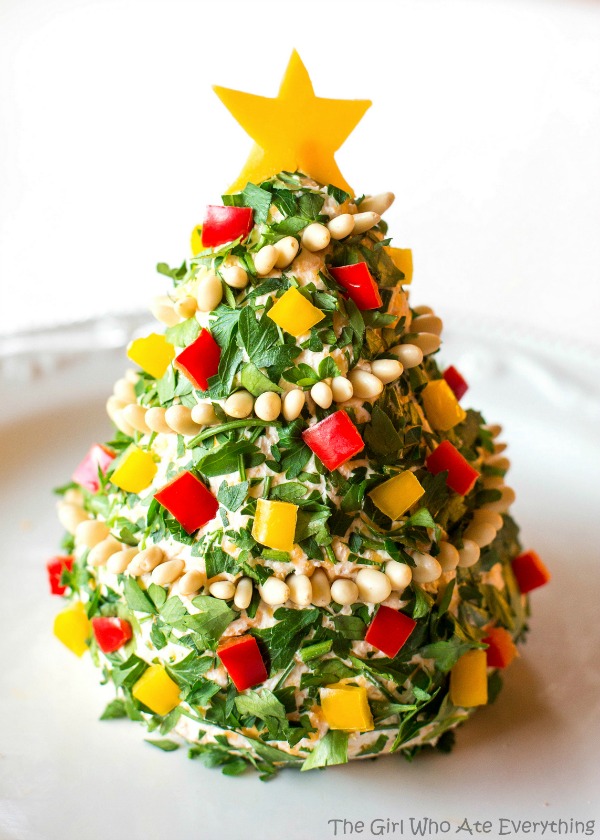 This Christmas Cheese Tree from The Girl Who Ate Everything might just be too pretty to eat. Nah, I'm digging in without remorse.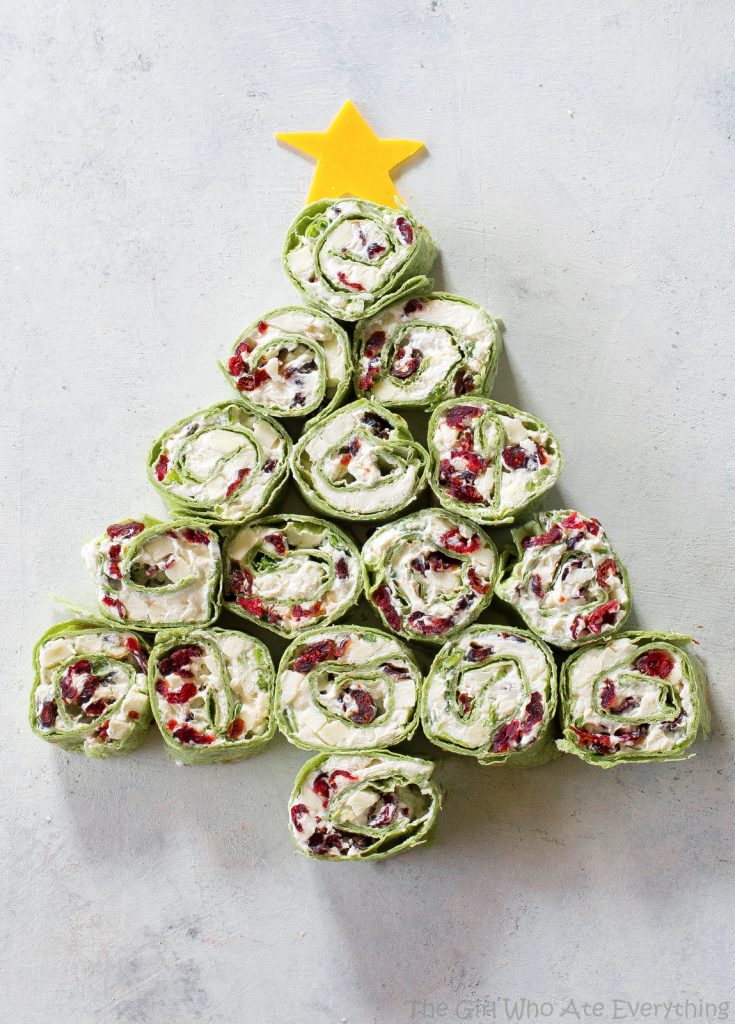 Lunch can't get any cuter than this Cranberry and Feta Pinwheel Tree, also from The Girl Who Ate Everything.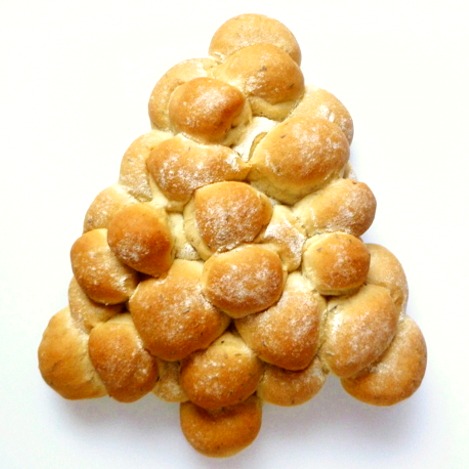 My foodie pal Donna Currie, an expert bread baker, crafted a Christmas Tree Bread for Serious Eats. This could easily stand in for rolls at the holiday table! I was thinking I might add some chopped spinach and garlic to this. Whaddya think?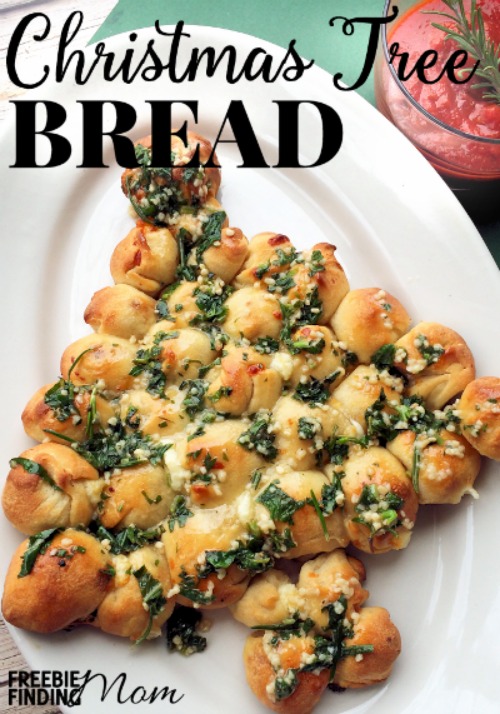 Well hey, it looks like my pal Kelli from Freebie Finding Mom had the same general idea with her Christmas Tree Bread. She used pizza dough and stuffed each ball with cheese, and then festooned the top with fresh herbs and garlic butter.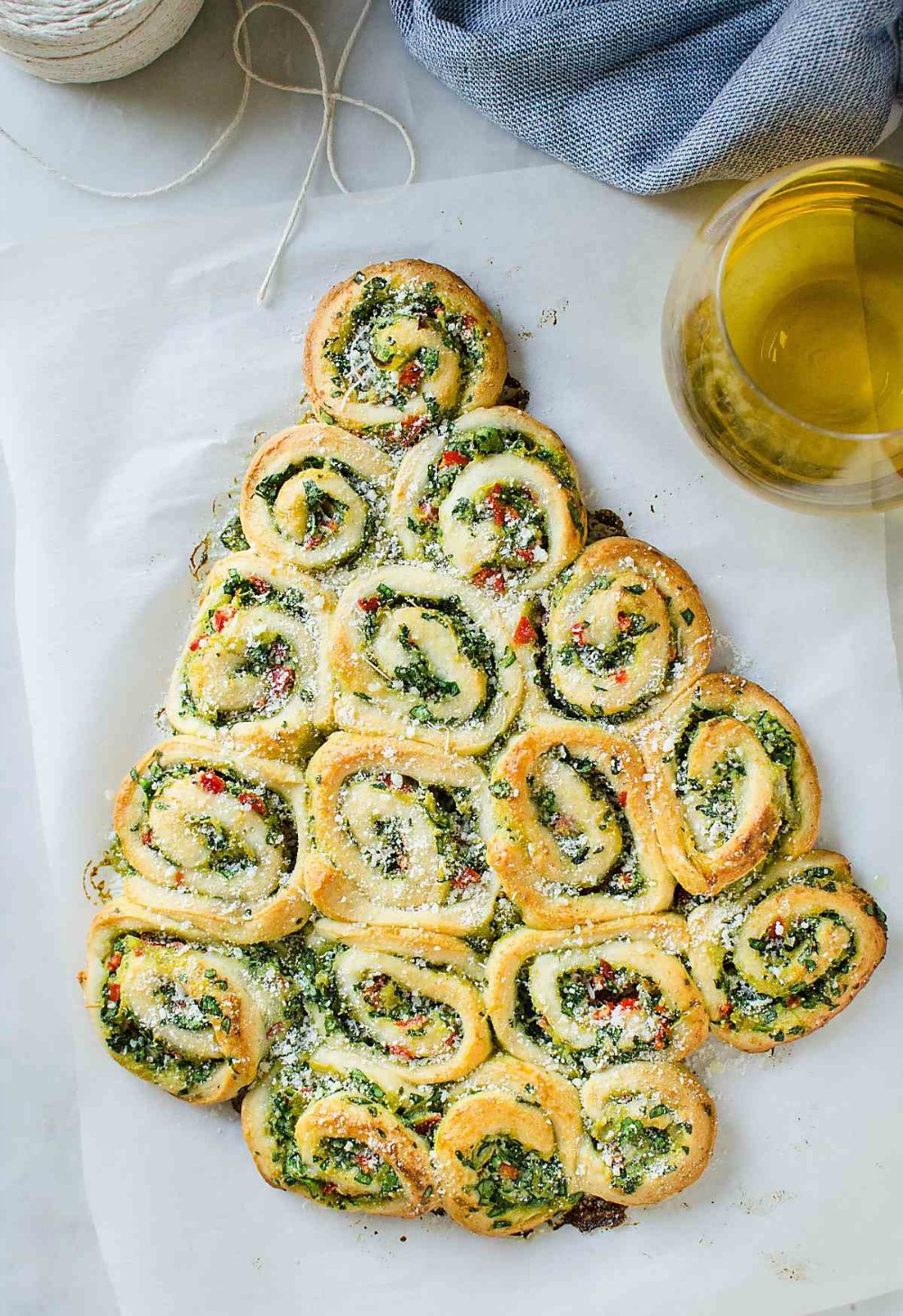 And so did Swati from Watch What U Eat. Her Artichoke Spinach Pinwheels Christmas Tree looks amazing, doesn't it?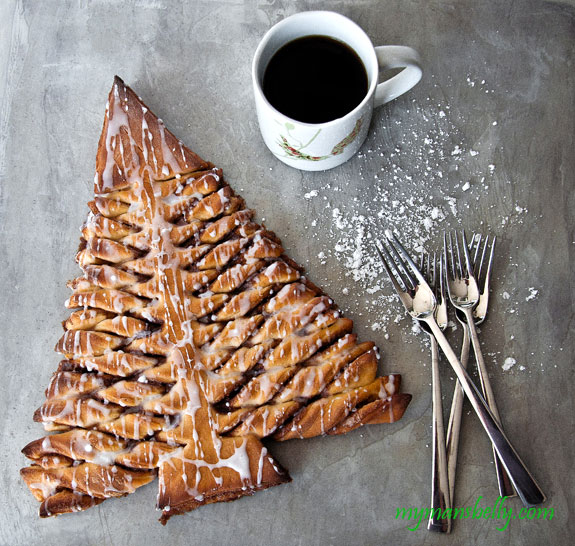 Speaking of bread, these Christmas Morning Cinnamon Rolls from Pamela over at My Man's Belly will really set the Tannenbaum tone for the day.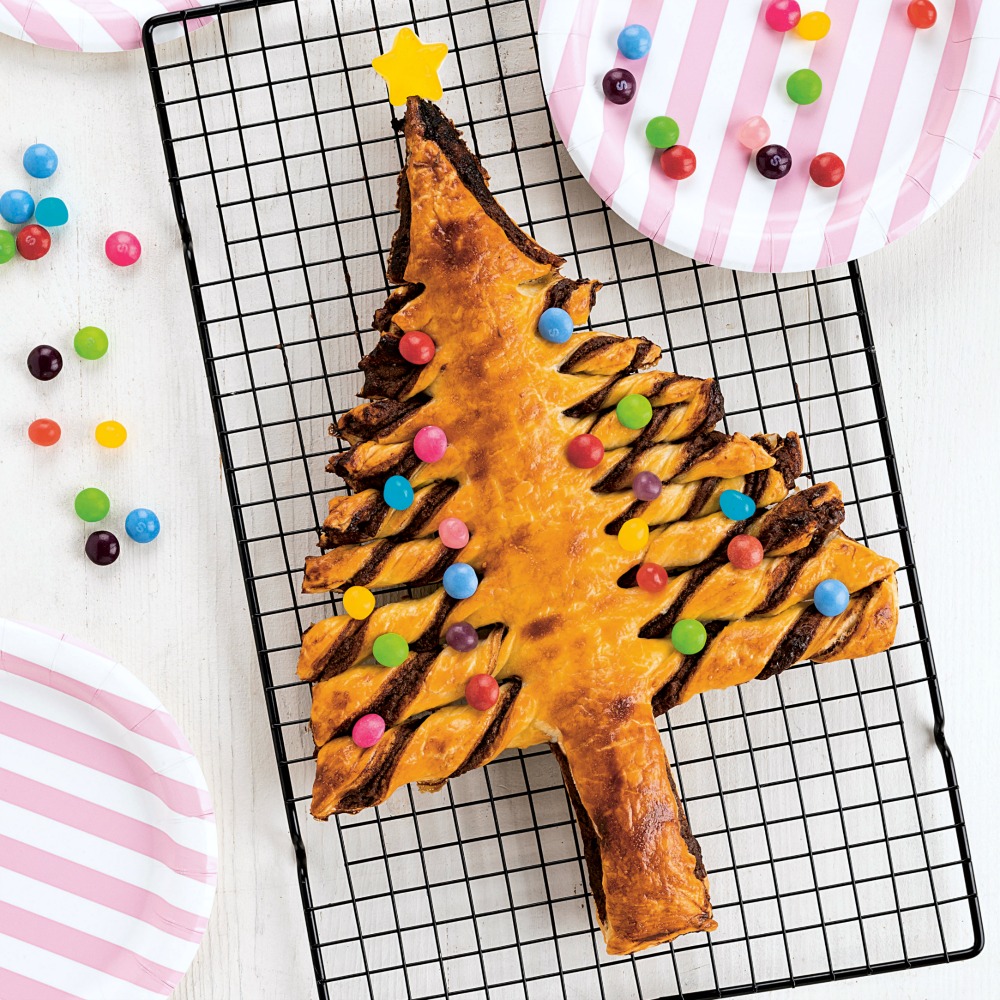 Or perhaps you'd like your breakfast or brunch sweet tree-shaped food to be filled with Nutella, as is this Shockingly Delicious Flaky Nutella Tree Pastry?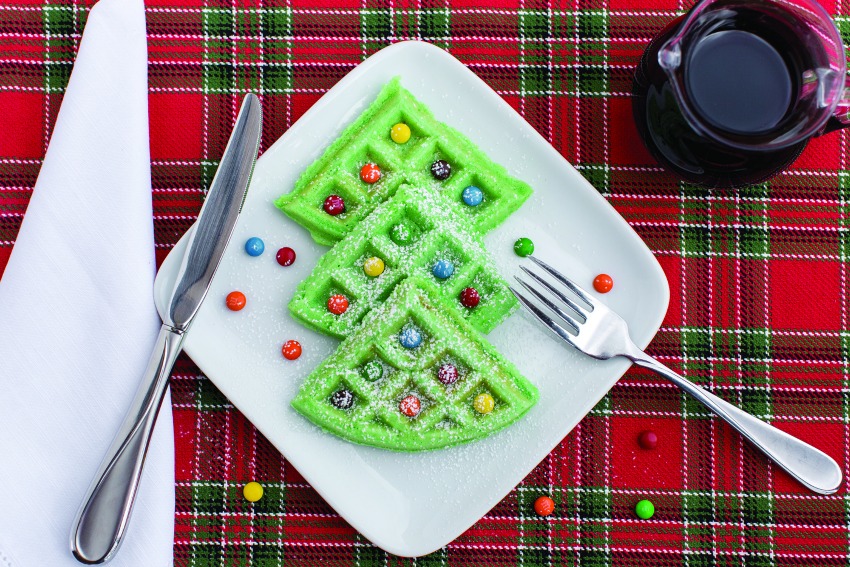 And that isn't the only breakfast offering. Christmas Tree Waffles from McCormick (the spice company) can be made with either your own waffle recipe, or start with waffle mix. The tree trick is vanilla flavoring and green food coloring.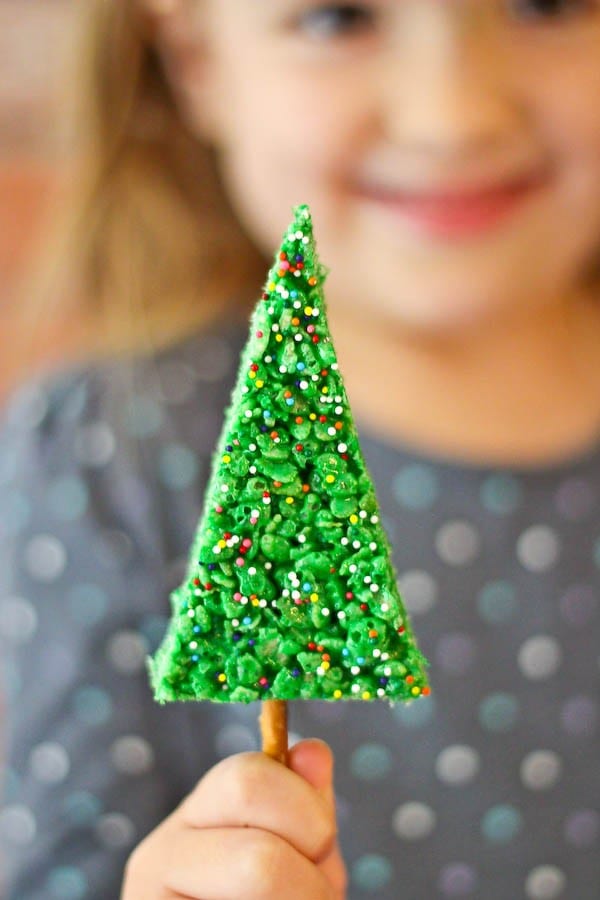 The easiest tree sweet you can make are these Christmas Tree Rice Krispie Treats from Rachel Cooks. A great last-minute dessert — dye them green, cut into long triangles, stick a pretzel in them and voila!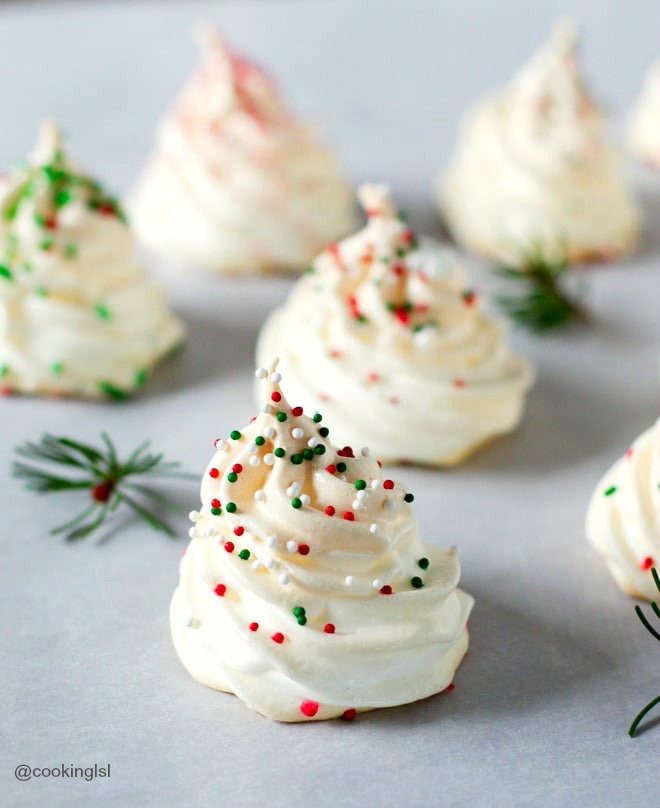 Simple piped meringue transforms into a Christmas Tree Meringue Cookie, created by Mira from CookingLSL. Meringues look fancy, but are very easy to make.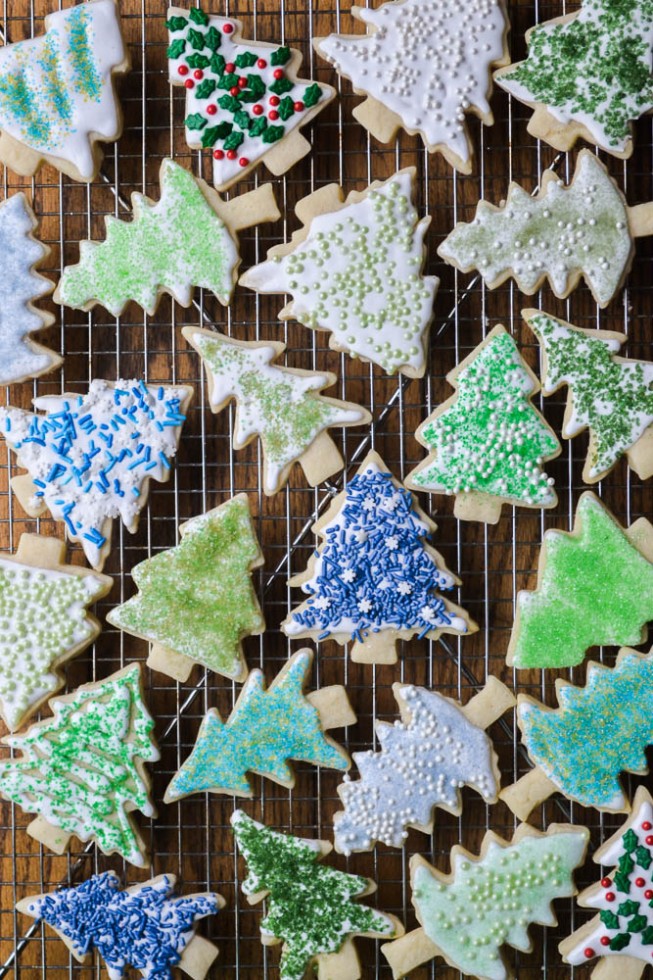 Dig your tree-shaped cookie cutters out of the cabinet, and Susan from The View From Great Island assures you these Holiday Sugar Cookies with DIY Colored Sugar are easy. You can make the colors as sophisticated as you like, and royal icing dries hard so they can be packed and given as gifts, or piled on a plate for serving.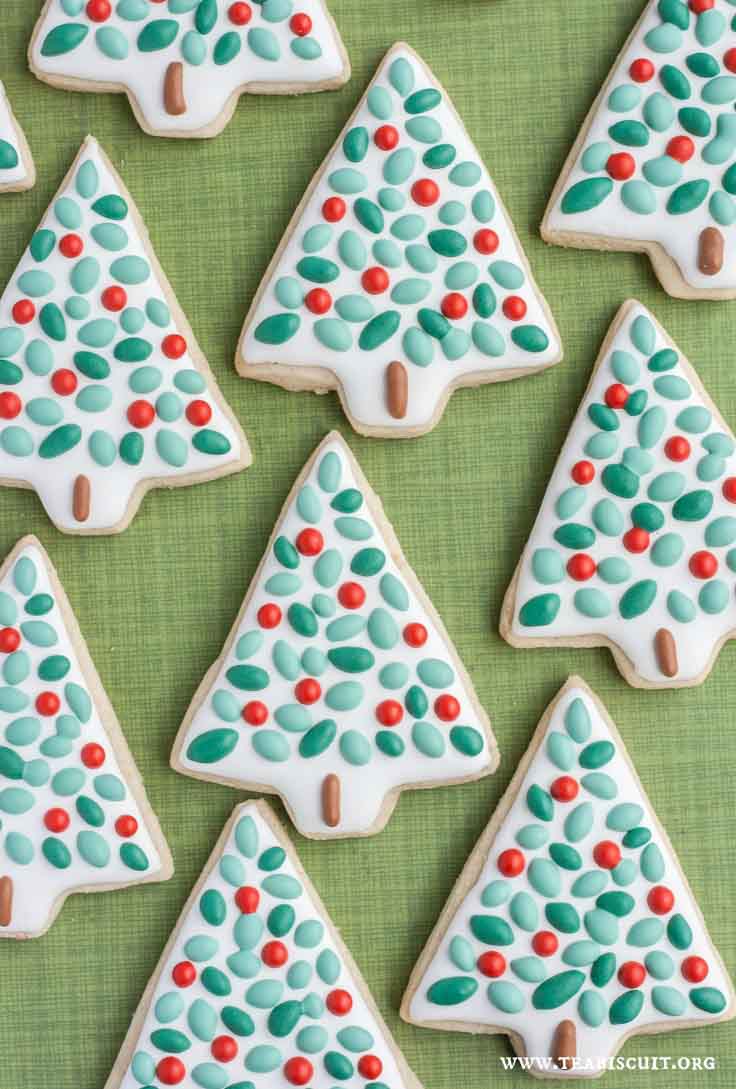 For a different way to decorate your tree cookie, Sheena from Noshtastic gives us a Christmas Tree Cookie Tutorial. This might be a 2-day process, since the royal icing needs to dry for 6 hours before you add the dots of color for balls and leaves, and then 6 hours after you do that.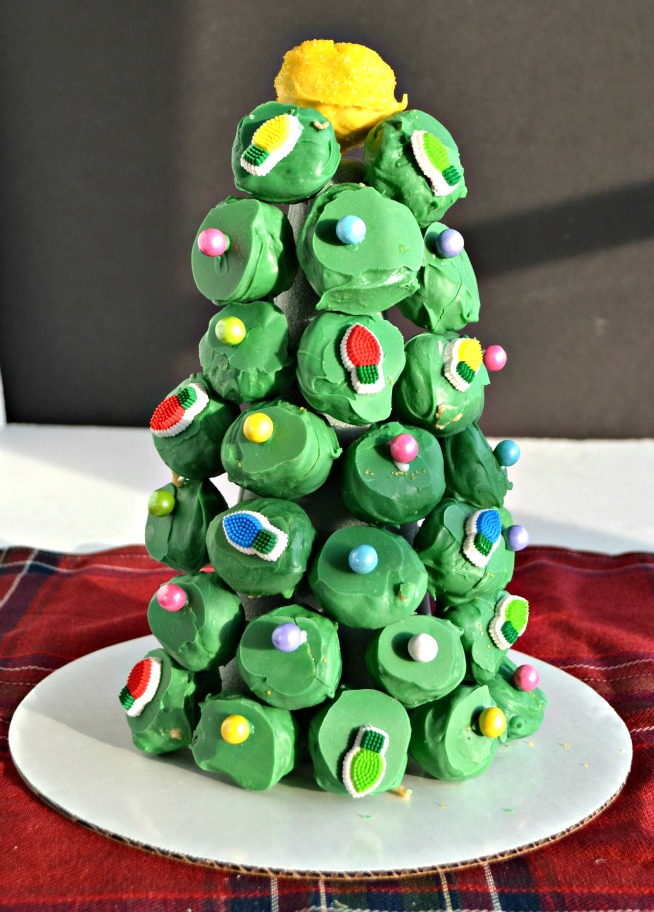 Speaking of cookies, if we take Heather's creative idea from Hezzi-D's Books and Cooks, we can make an Oreo Cookie Ball Christmas Tree edible centerpiece! She made it for their annual party and it was a huge hit! She placed it in the middle of her dining room table.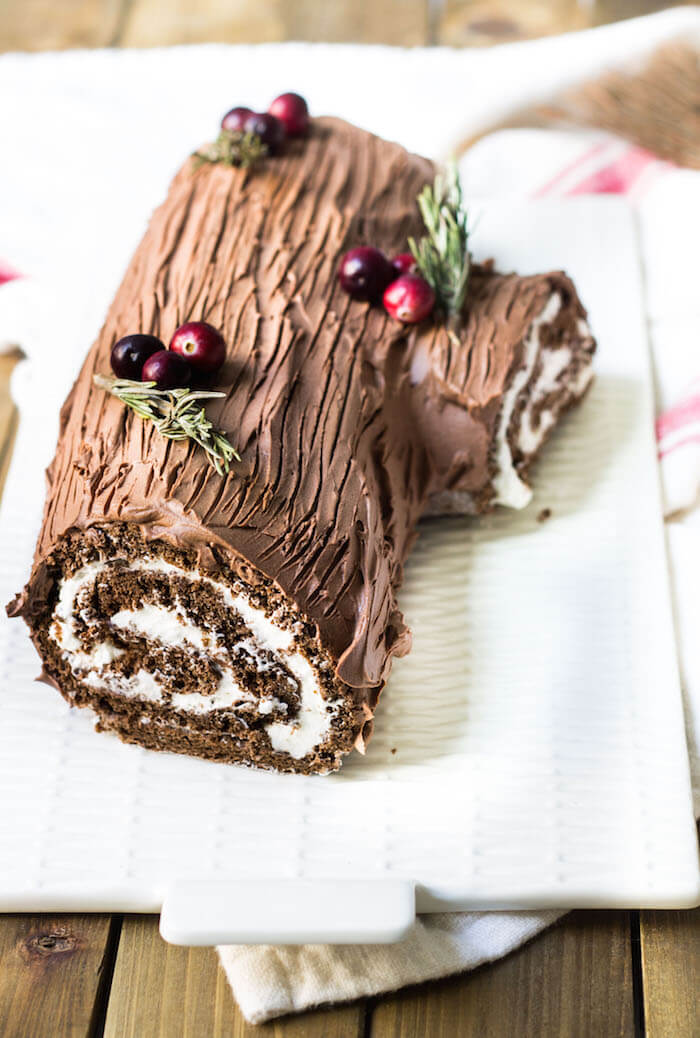 I've never made a Buche de Noel (Yule Log Cake), but I can't wait to follow the recipe from Beeta at Mon Petit Four. It is so impressive and festive, yet she assures us you don't need fancy cake decorating skills. I want to be a cake boss, too.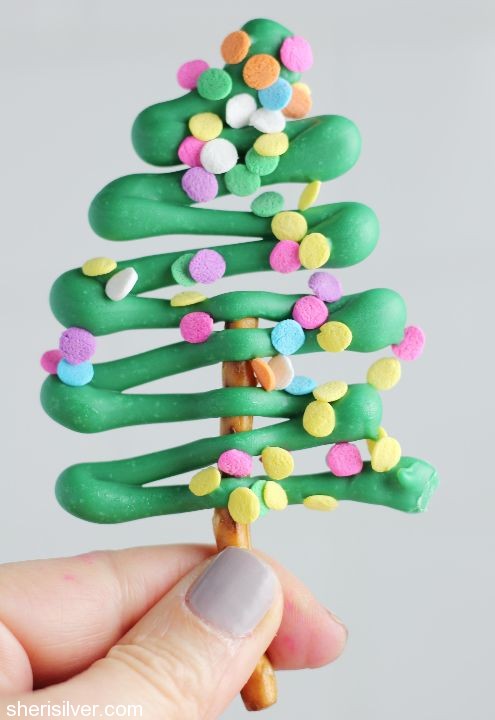 Easy, kid-friendly, no-skills-needed, last-minute Chocolate Pretzel Trees, from Donuts, Dresses and Dirt.
If you need to see someone making those in real time, here's a quick video tutorial, below, on how to form little Christmas trees with pretzels…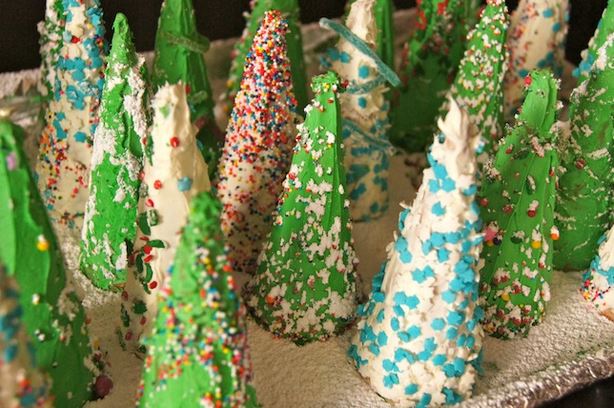 If you need a cool kid-do-able Ice Cream Cone Christmas Tree, you've come to the right place. My pal Valentina has posted this over on Momtastic. It looks so easy even I could do it.
And in case you need a video tutorial, here's one on the Christmas Tree Cupcakes using sugar cones as the start of the tree — part dessert, part table decoration…
Maybe not Tree-Shaped Food, but definitely a tree at the table ⇓
Perhaps you simply want to express your tree love with your linens? It's easy to fold your napkins into a fir tree, using this easy tutorial.
Inspired yet? I'll leave you with arguably the most famous poem about a tree, because everyone should have more poetry, art, beauty, gratitude and trees in their life.
Trees
I think that I shall never see
A poem lovely as a tree.
A tree whose hungry mouth is prest
Against the sweet earth's flowing breast;
A tree that looks at God all day,
And lifts her leafy arms to pray;
A tree that may in summer wear
A nest of robins in her hair;
Upon whose bosom snow has lain;
Who intimately lives with rain.
Poems are made by fools like me,
But only God can make a tree.
–Joyce Kilmer
Pin the image below for Tree-Shaped Food to your Pinterest board to save these ideas


This post was originally published in December 2016, and was refreshed and republished today.