Print This Post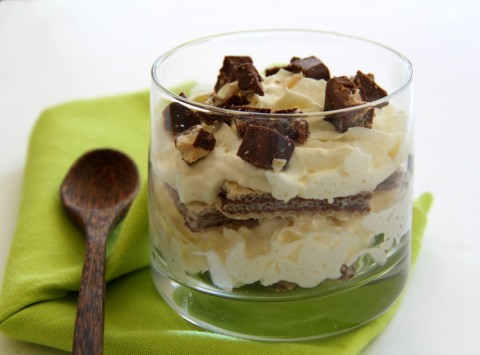 Dessert doesn't have to be complicated. It can be a simple affair, with only a couple of ingredients. As long as they are the RIGHT ingredients!
Today I'll show you how to improvise an easy parfait, which is really just layers of delicious stuff served in a glass so you can see the different strata. (Do I get points for using "strata"  in a geological way in a food blog post? I think so.) We could call it Cookies and Cream Layers, but we really want an excuse to use a French word, so parfait it is.
I'm also showing you that you can use any glass or container you have that pleases you, including a recycled jam jar! So many times I look at recipes that are presented in expensive, beautiful serving pieces, and I think, "I don't have anything like that," and I move on. No need for that today. You have my permission to (1) tweak this recipe any way you like, and (2) use any serving piece that floats your boat.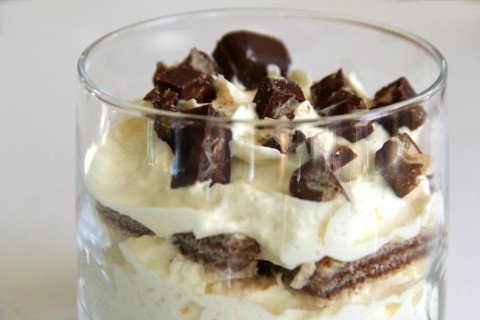 Let's get started. This Cookies and Cream Parfait can be dessert for tonight!
Here's what you need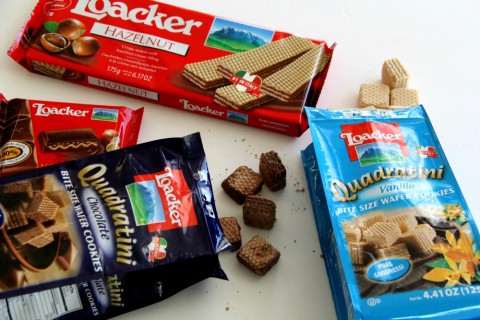 Loacker Wafers, which are high-quality crispy wafers with various fillings. They're known as "The Keebler of Italy," for their light, airy, crispy wafer cookies that are perfect with a cup o' tea or as a wonderful snack or dessert. They're indulgent, but with all-natural, better-for-you ingredients sourced from Italy — the finest Italian hazelnuts, real "Bourbon" vanilla pods, aromatic cocoa and the finest quality milk.
For today's recipes, I am using
Loacker Hazelnut wafer cookies
Loacker Napolitaner milk chocolate with hazelnut cream filling , chopped hazelnuts and crispy wafers
Loacker Quadratini Vanilla wafer cookies
Loacker Quaratini Chocolate wafer cookies
You'll also need to have some whipped cream on hand. I prefer to make my own, but I won't judge you if you want to use the kind in the squirt can. It's all legal here on Shockingly Delicious. 😉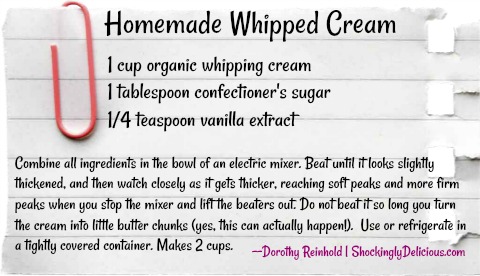 Now we're ready to assemble the parfaits. I'll show you the basic one, and then a couple of variations.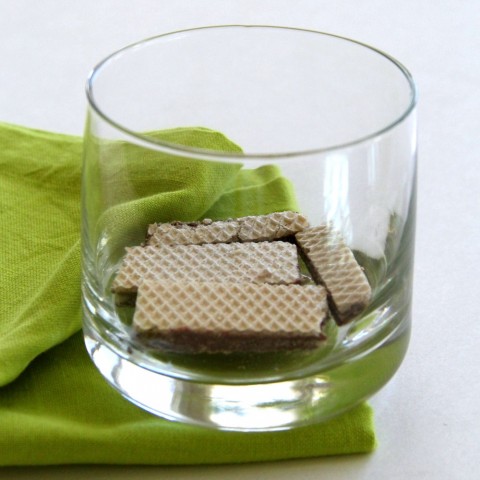 Start by building layers with your choice of cookies, then whipped cream, then even maybe something fun like fruit (or not), and then do it all over again until you have it as tall as you want.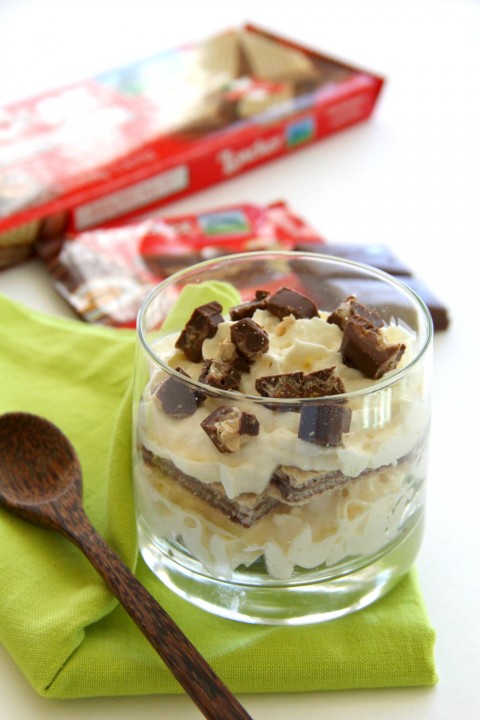 Cookies and Cream Parfaits with Hazelnut Wafers
Hazelnut wafers and homemade whipped cream make a light, airy, special dessert, topped with hazelnut chocolate.
Ingredients
Loacker Hazelnut wafer cookies
Homemade whipped cream (see recipe above)
Loacker Napolitaner chocolate
Directions
Choose a glass. Use any glass you like; this is a rocks glass or an old-fashioned glass, but you can use any size or shape you like.
Start by layering the wafer cookies, breaking or cutting to fit. Add a dollop of whipped cream, followed by another layer of water cookies, and another layer of cream. Build it as full or as high as you like. Finish with a layer of chopped Napolitaner, or simply roasted chopped hazelnuts if you would rather.
Refrigerate, covered, for at least an hour, to allow the cream to soften the wafers a bit. (I also ate one after 24 hours of refrigeration, and it was great!). Be sure to cover the desserts so the cream doesn't dry out in the refrigerator.
Notes
Recipe source: Dorothy Reinhold | Shockingly Delicious
https://www.shockinglydelicious.com/cookies-and-cream-parfait/
Copyright Dorothy Reinhold | ShockinglyDelicious.com. All rights reserved.
Chocolate Cookies and Cream with Cherries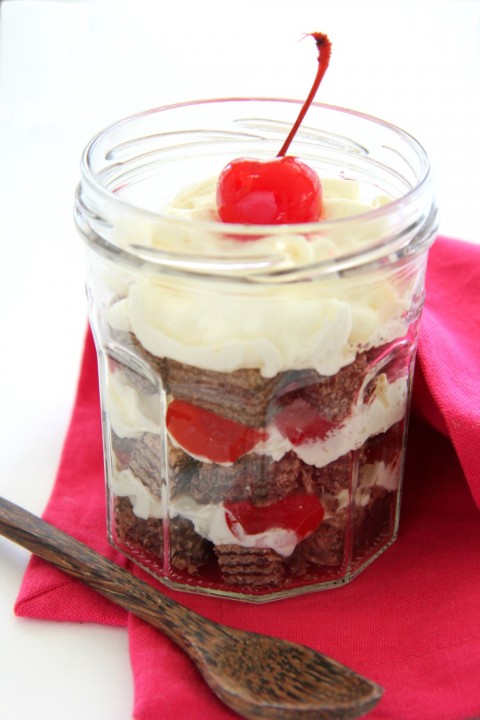 For another variation, use Chocolate Quadratini wafer cookies, homemade whipped cream, and halved maraschino cherries. Be sure to top if off with a whole cherry. Note I have used a recycled jam jar for this, and I think it looks cute in there!
Vanilla Cookies and Cream Parfait with Cranberry-Ginger Relish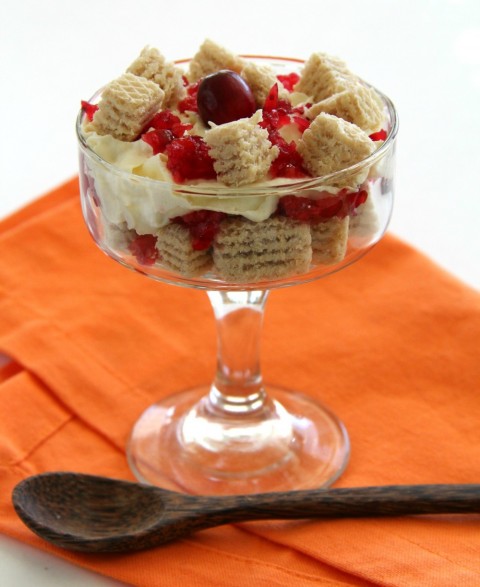 And for an even more sophisticated flavor, use Vanilla Quadratini wafer cookies, homemade whipped cream, and Fresh Cranberry-Ginger Relish. I know you have some left over from the holidays.  😀 If you don't have any left, use any fresh cut fruit that you like, such as strawberries, raspberries, even tangerine segments or sliced bananas. For this one, I used a stemmed pudding glass that I got for 50 cents from a thrift store. Elegant, eh?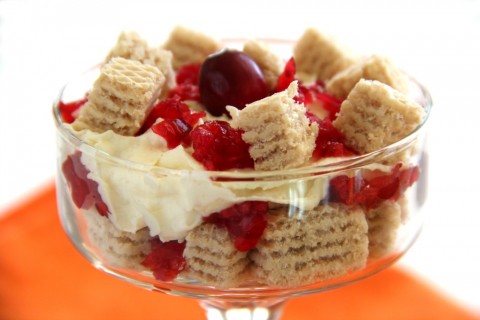 Are you ready to try it yourself? It is so easy, you could even assign the task to your kids.


If you like this recipe and want to save it, please pin the image below to your Pinterest board.

Disclosure: I participated in this event on behalf of Wendy's Bloggers. I received Loacker products to facilitate my post, but the recipe, opinions and creative content are my own. Visit #LoackerLove for other great Loacker-inspired recipes. Stay connected with LoackerUSA on Facebook, Twitter, Pinterest, and Instagram. And be sure to enroll in Loacker's Insider Loyalty Program to start earning free Loacker treats today. Thank you for supporting the brands I love, which helps me bring you new recipes on Shockingly Delicious.