Print This Post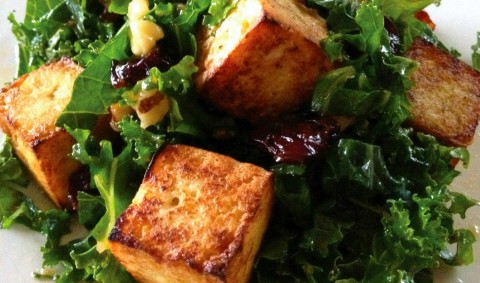 I am obsessed with creative croutons. There's just something about a crouton that adds so much to a salad, isn't there?
My latest find is Tofu Croutons in a Kale Salad with Cherries and Walnuts. It's from a new paperback cookbook called "Switch It Up: A Fresh Take on Quick and Easy Diabetes-Friendly Recipes for a Balanced Life," by Corinne Trang (2016; American Diabetes Association; $14.95).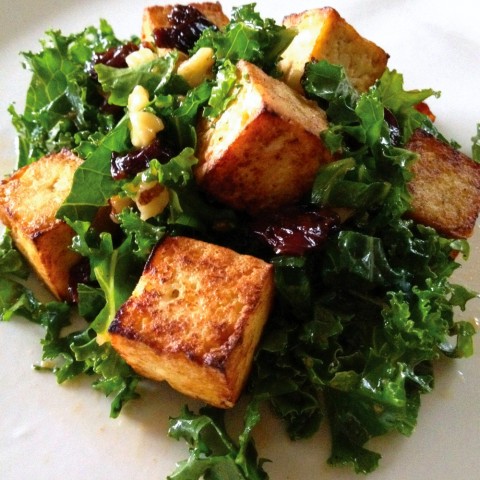 Ah…kale salad. Let me count the ways I love thee.
(This one is vegan, vegetarian, dairy-free, gluten-free, low-sodium and if you need to leave the nuts out, it will be nut-free. Tweak it to suit your own dietary issues if you need to.)
Kale Salad with Cherries, Walnuts and Tofu Croutons
Tofu croutons -- crispy on the outside and soft and tender inside -- are a perfect counterpoint to the verdant kale with its sweet cherries and crunchy walnuts. An Asian-inflected dressing completes the dish.
Ingredients
4 tablespoons grapeseed oil, divided use
1 pound firm tofu, cut into bite-sized cubes (about 3/4 inch)
2 tablespoons rice vinegar
1 tablespoon soy sauce ("lite" soy sauce)
1 tablespoon freshly grated ginger
1 teaspoon Sriracha or other hot sauce (optional)
1 tablespoon dark sesame oil
1 bunch kale, ribs removed, leaves julienned
1/3 cup dried tart cherries
1/3 cup chopped raw or dry-roasted unsalted walnuts
Directions
In a large nonstick skillet over medium heat, add 2 tablespoons grapeseed oil. Keeping the tofu cubes separated, pan-fry them until golden on all sides, about 5 minutes total. Drain on a paper towel-lined plate and set aside.
In a medium to large bowl, whisk together the vinegar, soy, ginger, and Sriracha until well combined. Whisk in the sesame oil and remaining grapeseed oil. Add the kale, toss well, and let stand for 15-20 minutes.
Serve in shallow salad bowls or on plates, garnished with dried cherries and walnuts and crispy tofu.
Serves 8.
Notes
Recipe source: "Switch It Up," ©2017 by Corinne Trang. Reprinted with permission from The American Diabetes Association. Switch It Up is available at ShopDiabetes.org, in bookstores nationwide, Food Photography: Corinne Trang
EXCHANGES / CHOICES 1/2 Carbohydrate 1 Protein, medium fat 2 Fat
Calories 190 Calories from Fat 125 Total Fat 14.0 g Saturated Fat 1.7 g Trans Fat 0.0 g Cholesterol 0 mg Sodium 90 mg Potassium 315 mg Total Carbohydrate 11 g Dietary Fiber 2 g Sugars 8 g Protein 7 g Phosphorus 160 mg
https://www.shockinglydelicious.com/tofu-croutons-on-kale-salad-with-cherries-walnuts/
Copyright Dorothy Reinhold | ShockinglyDelicious.com. All rights reserved.

If you like this recipe and want to save it, pin the image below to your Pinterest board

A note about tofu from the author
Selecting tofu can be confusing. There are two basic readily available types: "silken," which is smooth like custard, and regular, which tends to be a bit grainy in texture. Each has its use. For example, the silken type is used in the popular Japanese miso soup. The Chinese most often use the regular grainy tofu for braising or frying. Within those two categories, there are subcategories such as "soft," "medium-firm," "firm," and "extra-firm." The firmer the tofu, the higher the fat content. Tofu croutons are a great source of protein. Here I use the dense regular, grainy-textured, firm tofu to make the croutons. For a healthy version of crispy tofu, pan-fry it in a nonstick skillet, keeping the oil down to a minimum. And, if you prefer, you can skip pan-crisping the tofu and simply add it to the salad fresh from the container, after draining it thoroughly. Also, unless a recipe specifically calls for "silken" tofu, you can assume that it calls for the regular type.
Disclosure: The publisher sent a copy of the book for review. 

Save
Save
Save
Save
Save
Save
Save
Save
Save
Save
Save