Print This Post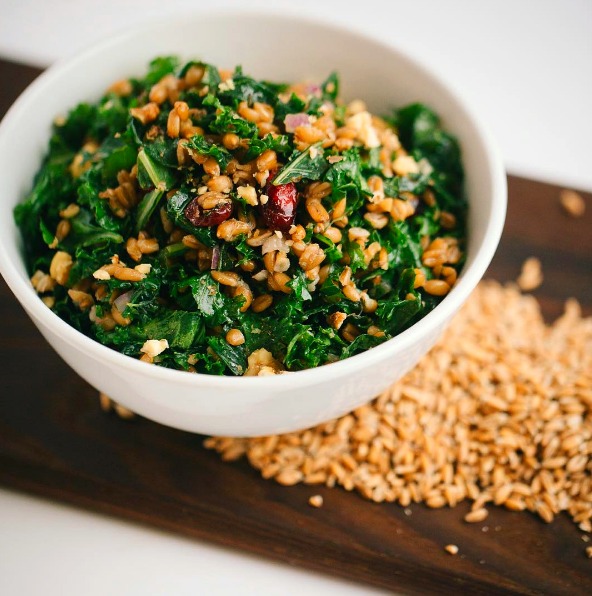 By now, you must know how much I love a good kale salad.
I have, like, a bajillion of them on ShockD, but as is anyone besotted with an idea, I am ALWAYS up for a new one!
Today's new one is the best seller at Little Eater,  a produce-inspired restaurant and grocery store in Columbus, Ohio, run by Cara Mangini.
Listen to how she describes it on her Instagram feed, from whence come the photos in this post:
"

Many of our customers have deemed this vegetable scoop their 'all-time favorite.' …It makes you feel like you didn't eat holiday cookies for two weeks straight and that you have the energy to take on the world. It helps me reset and focus."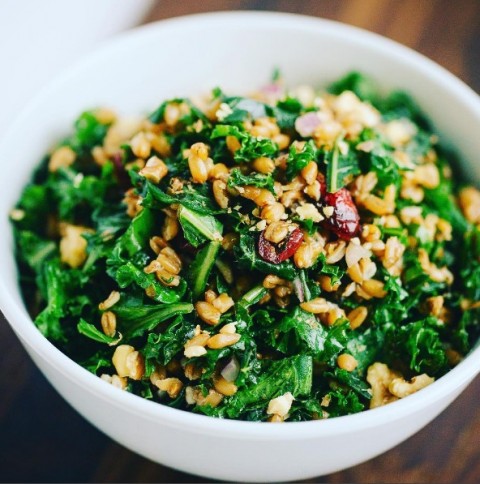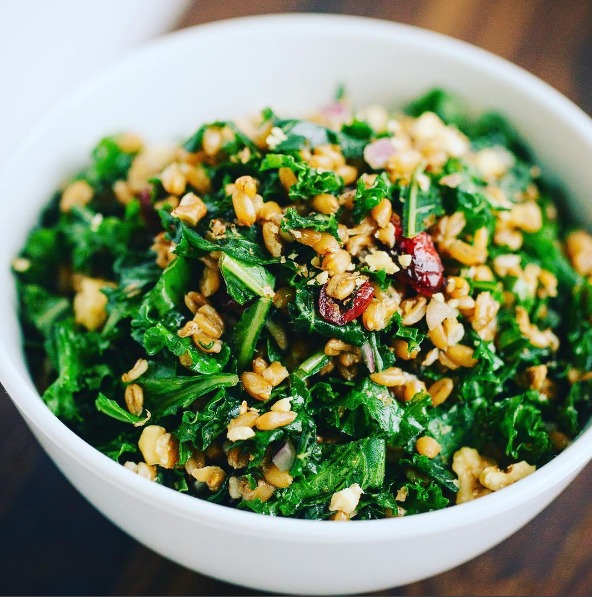 Kale and Spelt Berry Salad with Sweet Cranberries and Lemon Dressing is the all-time top-seller at a vegetable-centric grocery store and restaurant? Sign me the heck up!
She says this is the perfect combination of hearty spelt berries, nutritious kale, sweet cranberries, crunchy walnuts all balanced with thyme and lemon dressing. Kale comes packed with nutrients, but when eaten raw, it can use a few goodies to give it a boost of flavor. This salad is full of spelt berries, walnuts, cranberries, onion, and thyme, which complement the kale and harmonize to embellish every bite. This way you score all of kale's perks and enjoy a flavorful, varied, and satisfying meal at the same time. You may never return to more delicate green salads again.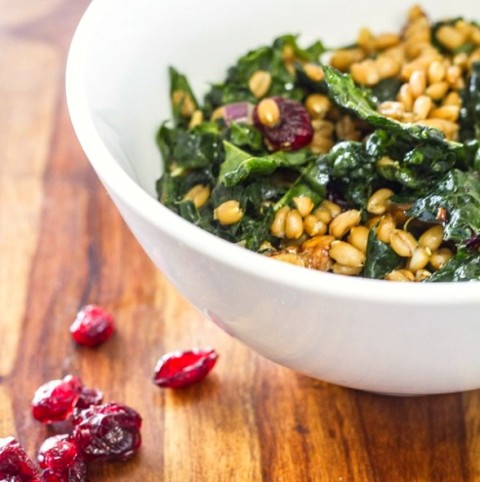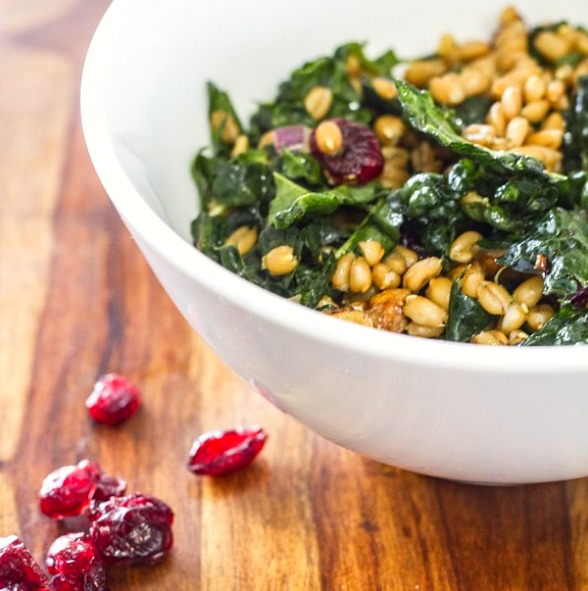 I am a goner. I'm doing a face-plant in the bowl, already.
Kale and Spelt Berry Salad
Kale and Spelt Berry Salad with Sweet Cranberries and Lemon Dressing: A masterfully balanced raw vegan kale salad with chewy spelt, sweet cranberries, crunchy walnuts harmonizing with a lemony maple dressing.
Ingredients
Salad

Fine sea salt
1 cup dry spelt berries, picked through and rinsed
1/2 cup dried cranberries
1/2 cup toasted walnuts, coarsely chopped
1/4 cup finely diced red onion (see Notes)
1 teaspoon chopped fresh thyme
1/4 teaspoon freshly ground black pepper, plus extra as needed
1 bunch curly green and/or purple kale (about 12 ounces), washed, ribs and stems removed, cut into 2-inch pieces (see Notes)
Crumbled feta or ricotta salata cheese, for topping (optional)
.

Lemon Dressing

1/4 cup freshly squeezed lemon juice
1/4 teaspoon fine sea salt
1 tablespoon pure maple syrup
1/3 cup extra-virgin olive oil
Directions
Bring a large pot of lightly salted water to a boil. Add the spelt berries and cook, partially covered, until they are tender, 50-60 minutes. Drain the spelt berries and spread them out on a rimmed baking sheet to cool.

Meanwhile, make the dressing:

Whisk together the lemon juice, salt, and maple syrup in a small bowl. Gradually stream in the olive oil while whisking quickly and constantly until the mixture emulsifies. (The dressing can be made ahead and stored, in an airtight container in the refrigerator, for up to 1 week.)

Make the salad:

Combine the spelt berries, cranberries, walnuts, onion, thyme, 1/4 teaspoon of salt, and 1/4 teaspoon of pepper in a large bowl.
Drizzle in half of the dressing and toss to combine all the ingredients. Add the kale and more dressing to taste, and toss until the kale is evenly distributed and dressed. Season with more salt and pepper to taste, and top with the feta if you wish.
Serves 4-6.
Notes
Recipe source: "The Vegetable Butcher: How to Select, Prep, Slice, Dice and Masterfully Cook Vegetables from Artichokes to Zucchini," by Cara Mangini (2016; Workman Publishing; $29.95). Photos by Cara Mangini on her Instagram feed.
Note from the author: Dice the red onion as a finely as you can -- ideally 1/8-inch dice or smaller. This salad likes a hint of onion but not big, overwhelming bites. Curly green or purple kale is the best for this salad, although red Russian will work as well. Lacinato kale, cut into ribbons, will work just fine, and it is also quite good with quinoa instead of spelt berries as the base.
https://www.shockinglydelicious.com/kale-and-spelt-berry-salad-with-sweet-cranberries-and-lemon-dressing/
Copyright Dorothy Reinhold | ShockinglyDelicious.com. All rights reserved.
Cara includes the recipe in her new cookbook, "The Vegetable Butcher: How to Select, Prep, Slice, Dice and Masterfully Cook Vegetables from Artichokes to Zucchini," by Cara Mangini (2016; Workman Publishing; $29.95). It's a masterful, bible of a book, and if vegetables are a part of your life, you want it.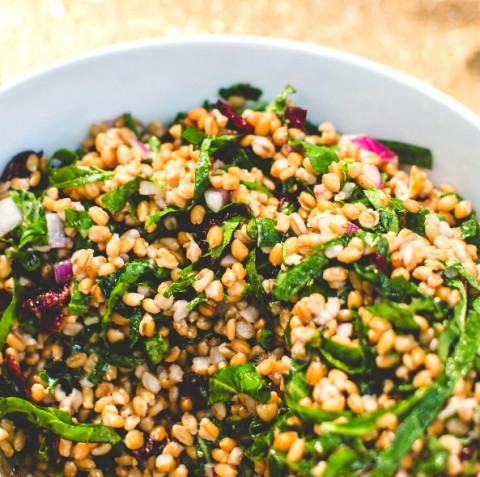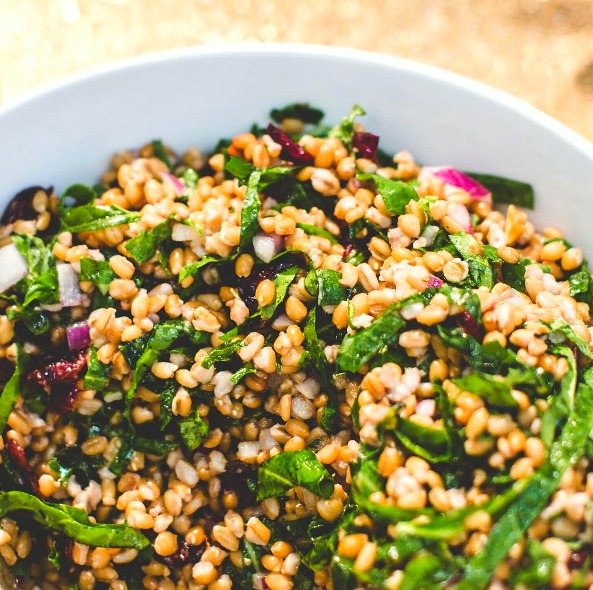 If you want to save this recipe, pin the image below to your Pinterest board.
Perhaps you saw another recipe from her book featured here on ShockD, the magnificent Parsnip-Ginger Layer Cake with Browned Buttercream Frosting. Hey, how about we have this salad for lunch, and a big ol' piece of cake afterwards?
Disclosure: The publisher sent a copy of the book for review. Photos of the salad by Cara Mangini on her Instagram feed.

Save
Save
Save
Save
Save
Save
Save
Save
Save
Save
Save
Save
Save
Save
Save