Print This Post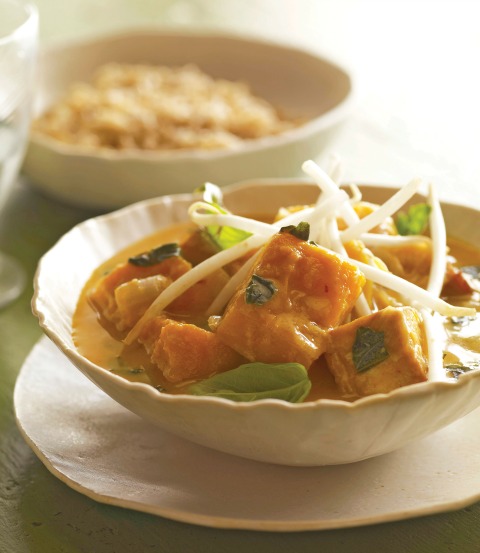 Well treated vegetables are a joy at the dinner table, but it is too easy to fall into a rut and prepare them the same way meal after meal.
Steamed broccoli, steamed green beans, baked potatoes, roasted squash. Delicious, to be sure, but what else can we do?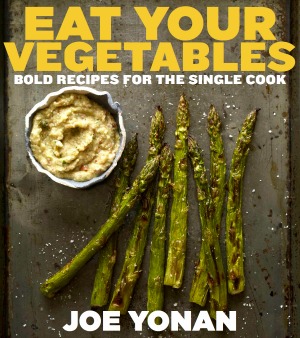 For inspiration, I turned to a new cookbook, "Eat Your Vegetables," by Joe Yonan (2013, Ten Speed Press; $24.99). Yonan, the food editor of The Washington Post, who pens the newspaper's personable "Weeknight Vegetarian" column, has gone to town in this book.
Its premise is that an increasing number of Americans are embracing plant-based diets, whether for health, moral or economic reasons, and he deliberately sizes these vegetarian, vegan and flexitarian recipes for the solo diner. Who says singletons shouldn't eat well?
And so he offers a way around the ubiquitous frozen supermarket veggie burger with mouthwatering Spinach Enchiladas, Roasted Sweet Potato with Coconut, Dates and Walnuts (I'm going to try that with purple sweet potatoes!), creative Enfrijoladas with Egg, Avocado and Onion (get it? Enfrijoladas = tortillas enrobed in beans), and one my kids are going to adore – Cold Spicy Ramen Noodles with Tofu and Kimchi.
I particularly also like the smaller recipes and ideas he has for condiments and side dishes. My bookmarks are at Cabbage Kimchi, Quick-Pickled Golden Raisins, and the genius Faux Tart with Instant Lemon Ginger Custard, in which acidy lemon juice miraculously "sets" the sweetened cream.
Those must wait, though, until we get our ya-yas out with this squash curry, fragrant with Thai red curry paste and ginger, creamy with squash cooked in coconut milk, spooned over a mound of rice to sop up the juice and topped with crunchy fresh bean sprouts.
This recipe serves 1; I quadrupled it for my family of four, which was easy since I got to use the whole squash, not just one-quarter of it.
Whether you're cooking for a family, or for yourself, whether you're already a vegetarian or an omnivore looking to incorporate more vegetables into your meals, this appealing book will open your mind and inspire you to use up all the produce from your farmer's market binge before it rots in the produce drawer. Do you recognize yourself in that last bit? I do!
A vegetable-centric meal, whether for 1 or more, is always welcome at the Shockingly Delicious dinner table. Dig in!
Recipe: Thai-Style Kabocha Squash and Tofu Curry
Summary: Kabocha absorbs the coconut curry for a creamy, hearty, soul-satisfying dinner created by Joe Yonan in "Eat Your Vegetables."
Ingredients
1 medium (2-pound) kabocha squash (I used acorn squash)
1 tablespoon extra-virgin olive oil
2 large shallot lobes, cut into 1/2-inch chunks
1 (1-inch) piece fresh ginger, peeled and grated
½-1 tablespoon Thai red curry paste
½ cup vegetable broth or water
2/3 cup light coconut milk
½ cup Marinated and Baked Tofu (recipe below)
Sea salt
4 large basil leaves, stacked, rolled, and thinly sliced
½ cup warm cooked brown rice or other grain
2 tablespoons bean sprouts (optional)
Instructions
Peel the squash, remove the stem, cut it in half, and scoop out the seeds. Cut one of the halves in half again, and use that for this dish, reserving the rest for another use.
Pour the oil into a medium saucepan over medium-high heat. When it shimmers, add the shallot, ginger, and curry paste and cook, stirring, for just a minute or so. Stir in the broth and coconut milk and bring to a boil, then lower the heat until the liquid is barely bubbling around the edges. Add the squash and tofu pieces, cover, and cook until the squash is tender, about 15 to 20 minutes. Taste and add salt as needed.
Stir in the basil leaves, spoon the mixture over rice, top with bean sprouts, and eat.
Serves 1.
Source
Joe Yonan says he recreated this beautiful winter squash curry dish from Thai Crossing in Washington's LeDroit Park neighborhood. Reprinted with permission from "Eat Your Vegetables" by Joe Yonan, copyright © 2013. Published by Ten Speed Press, a division of Random House, Inc. Food Photography credit: Matt Armendariz © 2013.  Disclosure: Ten Speed Press sent the book for review.
Preparation time: 15 minutes
Cooking time: 25 minutes
Diet type: Vegetarian, vegan
Number of servings (yield): 1
Culinary tradition: Thai
Marinated and Baked Tofu
2 pounds firm of extra-firm tofu, drained
2 tablespoons toasted sesame oil
2 tablespoons soy sauce
2 tablespoons rice wine or sherry
2 tablespoons unseasoned rice vinegar, or apple cider vinegar
2 cloves garlic, finely chopped
1 (2-inch) piece fresh ginger, peeled and grated or thinly sliced
¼ cup water
1 teaspoon Sriracha or your favorite Asian hot chile paste
2 tablespoons cornstarch
2 teaspoons sea salt
Wrap drained tofu in paper towels, place on a plate, place a second plate on top of the tofu and put a large unopened can of tomatoes or beans on top; let tofu exude liquid for 30 minutes. Unwrap tofu and pat it dry. Cut tofu into 1-inch cubes.
In a gallon-sized plastic ziplock bag, combine sesame oil, soy sauce, rice wine, vinegar, garlic, ginger, water and Sriracha. Massage the bag to combine ingredients. Add tofu cubes and gently toss to combine, then seal the bag. Refrigerate for at least 2 hours, or overnight, turning the bag over a couple of times.
Heat oven to 350F degrees. Drain tofu and transfer to a large bowl. Use a fine-mesh strainer to sprinkle the cornstarch onto the tofu a little at a time, gently turning the tofu in the bowl to coat it between each addition.
Line a baking sheet with parchment paper and transfer tofu to baking sheet. Bake tofu until it is crisp and lightly browned, turning it every 15 minutes or so, for about 45 minutes total. Serve or eat some or all of the tofu immediately either on its own or in a recipe, or cool and refrigerate in an airtight container for up to 1 week.
Makes about 4 cups.