Print This Post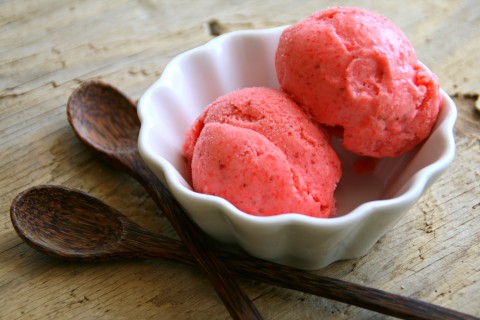 Send up a cheer, because just as summer is upon us, I won a new ice cream maker!
I entered on Educated Palate,  the wonderful food blog of Giuliano and Lael Hazan. Cookbook author Giuliano, son of venerated Italian cook/author Marcella Hazan, and his wife, Lael, an authority on Italian food history, run a cooking school near Verona, Italy and share with us their lives and recipes on the blog.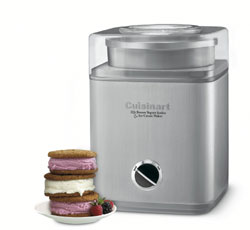 The grand prize was this 2x Cuisinart ICE-30BC Pure Indulgence 2-Quart Automatic Frozen Yogurt, Sorbet, and Ice Cream maker.
I won! How cool is that? Yeah, I just punned.
The first thing I put in it is Giuliano Hazan's own recipe for Strawberry Gelato. Simply fresh berries, sugar, water, lemon juice and a touch of cream, this is a light-tasting, refreshing treat that was a little tangy, a little dairy, a light texture, perfectly sweetened and flavored. My husband said it reminded him of what frozen Yoplait Whip yogurt might taste like (only way, way better).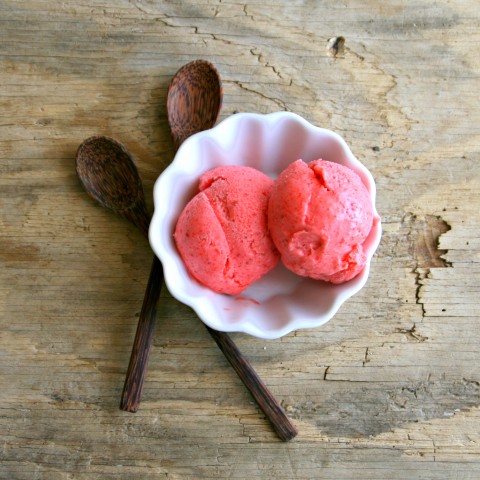 Giuliano uses an interesting technique of slightly whipping some cream before adding it to the strawberry puree mixture. It makes a very light, airy dessert.
The ice cream maker itself is falling-off-a-log easy to operate. Just freeze the bowl, add your ingredients and let the machine whirl for 20-30 minutes until the ice cream is the consistency you like. This is going to be one dangerous new appliance. Where is my treadmill? Does anyone have a personal trainer they can loan me?
His recipe is below, so you can try it yourself.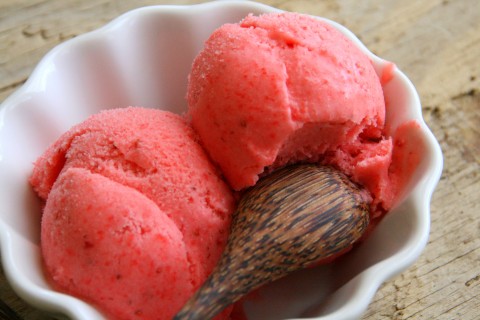 Strawberries are in season right now. What are you waiting for?
Recipe: Strawberry Gelato by Giuliano Hazan
Summary: A light, airy strawberry gelato of the Gods, from Giuliano Hazan in "Hazan Family Favorites."
Ingredients
3/4 pound fresh strawberries

(I used about 14 ounces, so anywhere from 12-14 ounces would work)

3/4 cup sugar
3/4 cup water
2 tablespoons freshly squeezed lemon juice

(I used Meyer lemon juice)

1/3 cup heavy cream
Instructions
Remove the green tops of the strawberries and rinse the berries in cold water.
Place the berries and sugar in a food processor and blend until puréed. Add the water and lemon juice and continue blending until all the ingredients are mixed together thoroughly.
Whip the cream with a whisk until it begins to thicken and acquires the consistency of thick buttermilk. Add it to the puréed strawberries and mix thoroughly.
Pour the mixture into an ice cream maker and freeze according to manufacturer's directions. Serve right away or store, tightly covered, in the freezer.
Source
"Hazan Family Favorites: Beloved Italian Recipes," by Giuliano Hazan, with a foreward by Marcella Hazan.
Marcella Hazan?
Does the name Marcella Hazan sound familiar? I featured her Tomato Sauce with Onion and Butter, which is arguably the most famous tomato sauce in the world.
Preparation time: 15 minutes
Freezing time: 30 minutes
Diet type: Vegetarian
Diet tags: Gluten free
Number of servings (yield): 6-8
Culinary tradition: Italian