Print This Post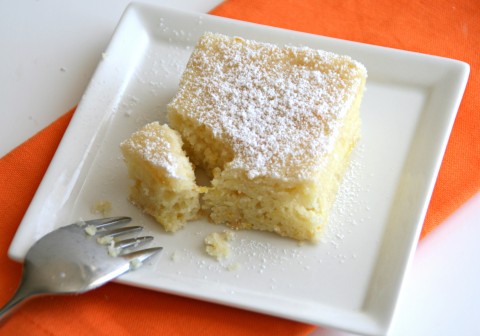 It's a pleasure to explore other food blogs and ferret out delicious recipes to share with my readers. That's the task assigned each month by the Secret Recipe Club, to which I belong. Today is the day club members reveal the blog they secretly read and cooked from, and I have a good one for you!
This month's assignment was the eponymous blog SumaRowjee, written by Suma, a self-described "hardcore foodie with an incorrigible sweet tooth," from Bangalore, India.
She has a mix of recipes and other fun posts, like this one on how to make your own dough rising bucket. In keeping with her sweet tooth, she has loads of brownies (how about Best Cocoa Brownies), desserts and sweets (Orange Rice Pudding beckons ), and snacks like Nutty Vanilla Popcorn.
Her cakes could keep your busy for a year of baking, and I chose an OrangeYogurt Cake she dubbed, "Oh so delicious." That's all I needed to hear!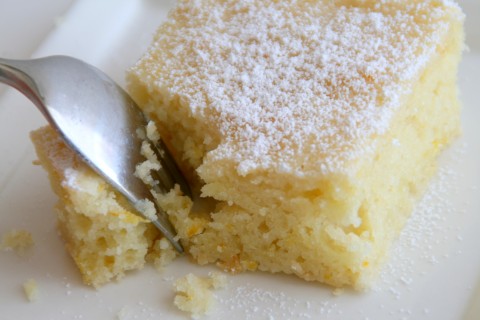 It's a dense, perfectly moist tea cake that is at home on the breakfast table served with sliced fruit, or after dinner with a simple but elegant dusting of powdered sugar. I brought it to Mother's Day brunch, topped with powdered sugar dandruff and cut into 16 slim wedges. It went over very well, with several people commenting on how fresh, light and not-too-sweet it was.
In fact, it was so good I made it again later the same day, and just for fun changing out a few things — substituting a square pan for a round one, almond extract for vanilla, granulated sugar for powdered sugar, light olive oil for vegetable oil, non-fat Greek yogurt for whole-milk yogurt. All worked beautifully.
Thanks, Suma, for a delicious and versatile addition to my repertoire! (Readers, you can see all of the other Secret Recipe Club deliciousness at the end of my post, in the array of photo icons below.)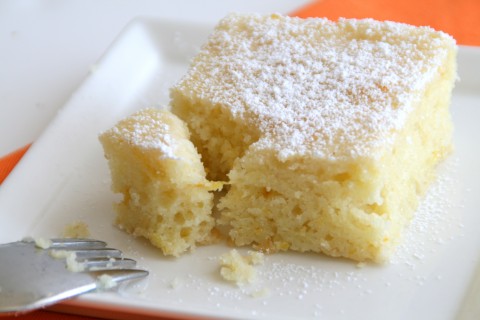 Recipe: Orange-Almond Yogurt Cake
Summary: A dense, perfectly moist, not overly sweet breakfast or dessert tea cake, perfumed by orange and almond flavors, accompanied by fresh cut fruit or dusted with powdered sugar. Or both!
Ingredients
1 cup all-purpose flour
1/2 cup plus 2 tablespoons granulated sugar
1/2 teaspoon baking powder
1/8 teaspoon baking soda
Pinch of salt
1/2 cup Greek yogurt (regular or non-fat)
1/4 cup light flavored olive oil
2 teaspoon grated orange zest
1 tablespoon orange juice
1 large egg
1/2 teaspoon almond extract
Garnish: Confectioners' sugar, for dusting, or cut fresh fruit
Instructions
Heat oven to 350F degrees. Mist an 8-inch round Springform pan or 8-inch square baking dish with nonstick spray and set aside.
In mixing bowl, stir together flour, sugar, baking powder, baking soda and salt. In a separate bowl, whisk together yogurt, oil, orange zest and juice, egg, and almond extract. Fold the wet mixture into the flour mixture, stirring just until mixed.
Pour into prepared pan. Bake until a cake tester comes out clean, about 25-30 minutes. Let cool on a wire rack. If using a Springform, remove ring and bottom and place cake on a pretty plate. If using a square pan, you will likely serve it straight from the pan.
For serving, dust top lightly with confectioner's sugar (optional), or spoon fresh cut fruit alongside.
Quick notes
You may use:
–either an 8-inch round or square pan.
–granulated or powdered sugar for the cake.
–either Greek or regular plain yogurt.
–either almond extract or vanilla extract.
–light flavored olive oil, or another type of vegetable oil.
–nonstick spray or butter to grease the pan.
Preparation time: 10 minutes
Cooking time: 30 minutes
Diet type: Vegetarian
Number of servings (yield): 9-12
Culinary tradition: USA (General)