Print This Post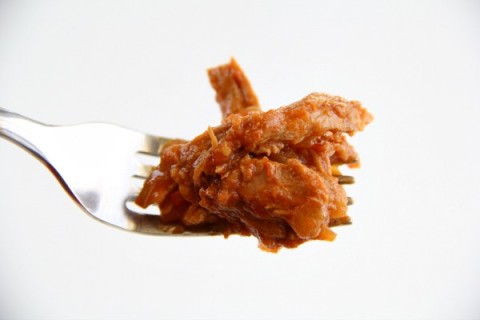 Authentic Chicken Tinga: A quick, slightly spicy chicken stew perfect as a filling for tacos, tostadas or burritos, or to cut some carbs, eat it on its own wrapped in a lettuce leaf.
Food inspiration is everywhere, especially when you get invited to other people's houses.
Look around…they do things differently than you, they have different stuff in the pantry, the refrigerator, on the buffet at their parties. Take note and ask questions!
Case in point: A visit to the home of my husband's colleague for a So Cal summer party gave me my latest favorite chicken recipe – Chicken Tinga, which is a kind of stewed chicken that is spicy from chipotle, tangy from onion and garlic, and sweet from tomatoes. I fell in love with it and spooned in onto tortillas for a little taco. I might have had 3 or 4, but the hostess was kind enough not to be counting.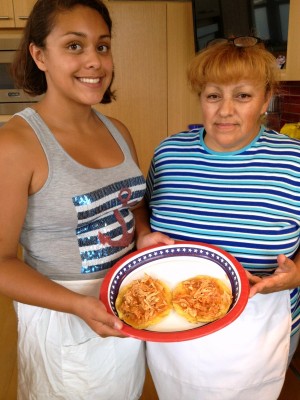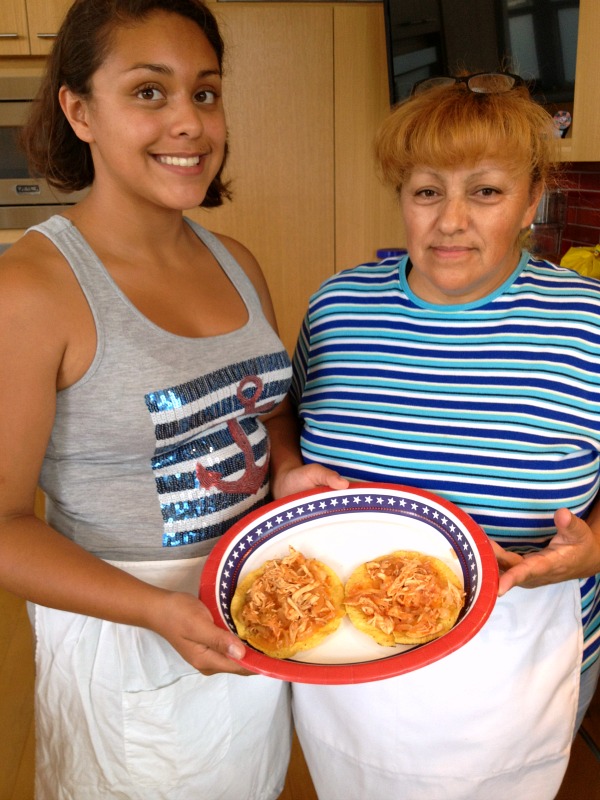 I sampled all of the various offerings made by local Oxnard, Calif. mom-and-daughter caterers Adela Morales and Jennifer Vazquez, and found an immediate favorite among all the delicious dishes.
Chicken Tinga, where have you been all my life?
I asked for the recipe and they were kind enough to share their method with me. I took a few liberties in adapting their method to my own, making it with my beloved chicken thighs instead of chicken breast, and adding a few other tweaks.
One of the best things about Chicken Tinga, besides the flavor, is it's made simply, with real, unprocessed ingredients. It's versatile and healthy, and fits right in to lots of eating plans. For example, if you are cutting carbs, spoon some into a romaine spear or a Little Gem lettuce leaf instead of using a tortilla. Still good, either way.

Pin the image below to your Pinterest board to save this recipe.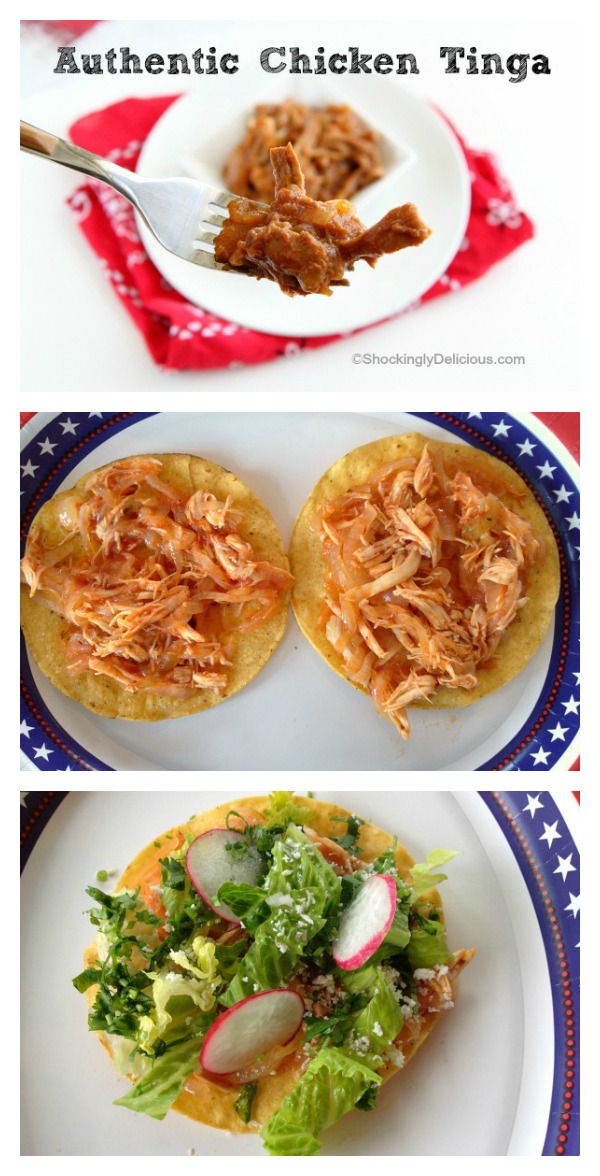 Fire up the stove! You know what's for supper!
A quick, slightly spicy chicken stew perfect as a filling for tacos, tostadas or burritos, or eat it on its own.
Ingredients
1 1/4 pounds boneless chicken thighs
4 peeled garlic cloves, divided use
2 tablespoons olive oil
2 onions, chopped
3/4 teaspoon ground cumin
2 large tomatoes
1/2 teaspoon ground chipotle powder
Directions
Place chicken thighs and 2 garlic cloves in a pot, cover with water, bring to a boil and turn the heat down to lowest. Cover and simmer 20 minutes.
While chicken is cooking, heat oil in large skillet and add onions and cumin. Sauté for about 10 minutes, until soft and starting to brown, stirring occasionally.
While onions are cooking, cut tomatoes in half and scoop out seeds with your fingers (discard seeds). Chop and put tomato in a blender, along with remaining 2 garlic cloves and chipotle powder. Whirl until it is a sauce.
When onions are done, add tomato sauce to skillet. When chicken is done, remove from pot (leave broth in pot), shred chicken with 2 forks (or chop, if that is easier for you) and add to the skillet. Stir, cover and simmer on lowest heat for 5-10 minutes, until everything is bubbly and combined. Add some of the reserved chicken cooking water if it seems too dry to you.
Serve as the filling for tacos, tostadas or burritos, over rice or eat it simply on its own.
Serves 4.
Notes
Speed it up: If the chicken thighs are already cooked, this dish can be ready very quickly for a weeknight supper!
Recipe source: Adapted from a recipe by Adela Morales of Oxnard.
https://www.shockinglydelicious.com/authentic-chicken-tinga/
Copyright Dorothy Reinhold | ShockinglyDelicious.com. All rights reserved.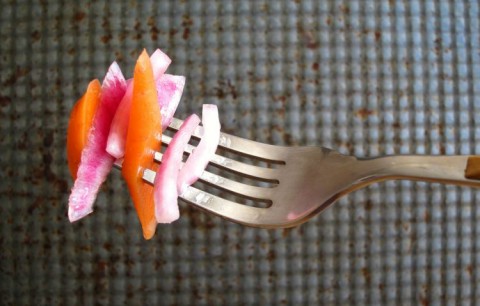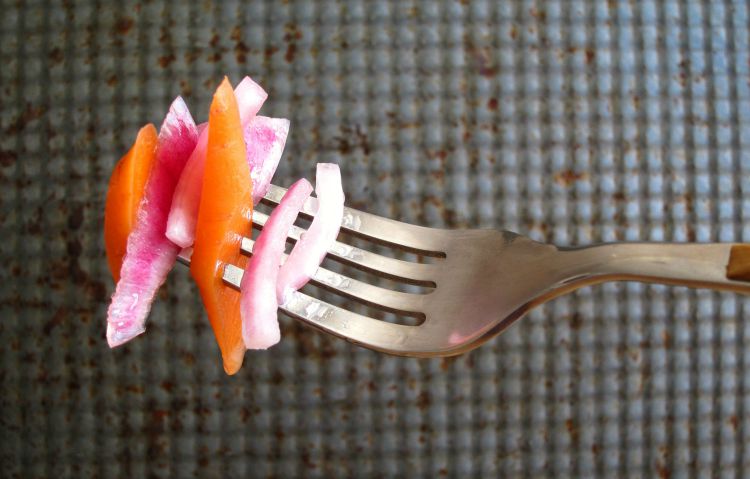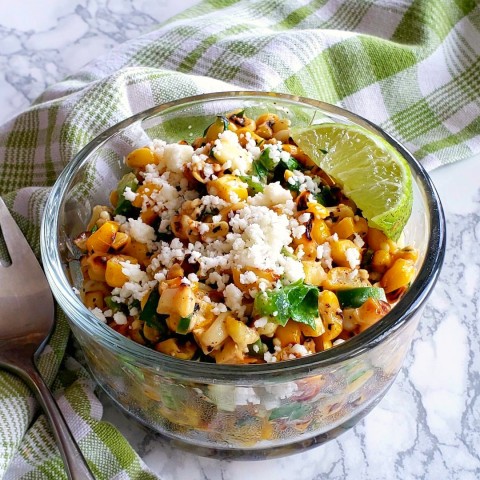 This post was originally published Oct. 5, 2014 and has been refreshed and republished today.
Thanks for visiting…are you hungry for more? Follow Shockingly Delicious on…
FACEBOOK | PINTEREST | INSTAGRAM | TWITTER
…for all the latest recipes, ideas and updates!
This post may contain affiliate/referral links. It is a way for this site to earn advertising fees (at no cost to you) by advertising or linking to certain products and/or services that I approve and prefer.