Print This Post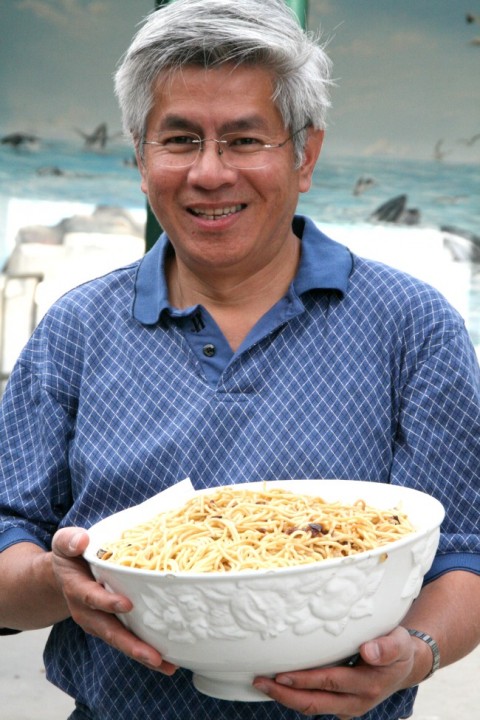 In our town, Pepperdine University Registrar Hung Le is pretty famous as a potluck guest.
Whenever he is invited, he is expected to bring his Fried Spaghetti, which all the kids call…wait for it…
"Hung's Famous Noodles."
It's an unassuming dish, fairly plain looking, but those who pass it by on the first go-around do so at their peril.
Trust me, it won't be there when you come back looking.
Today the secret is out of the bag, because he is sharing his recipe so we all can be as famous in our own potluck circles as he is in his.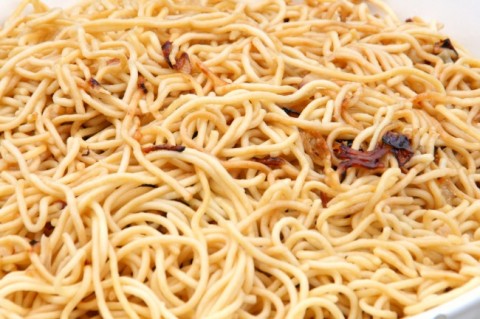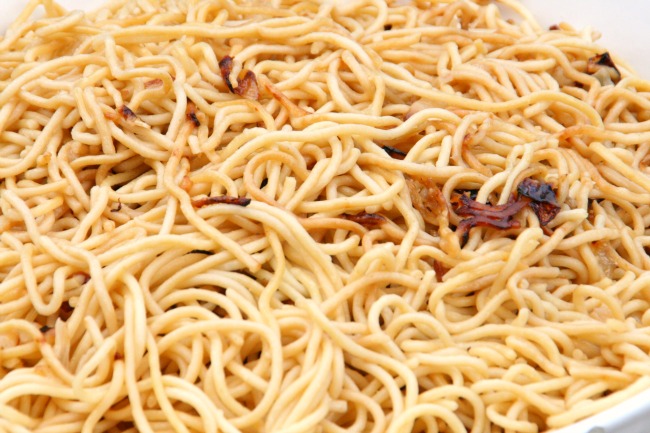 He's sharing the recipe, below, but I also want you to go read the feature article I wrote about him when I was writing for Malibu Patch. He's QUITE the fascinating guy!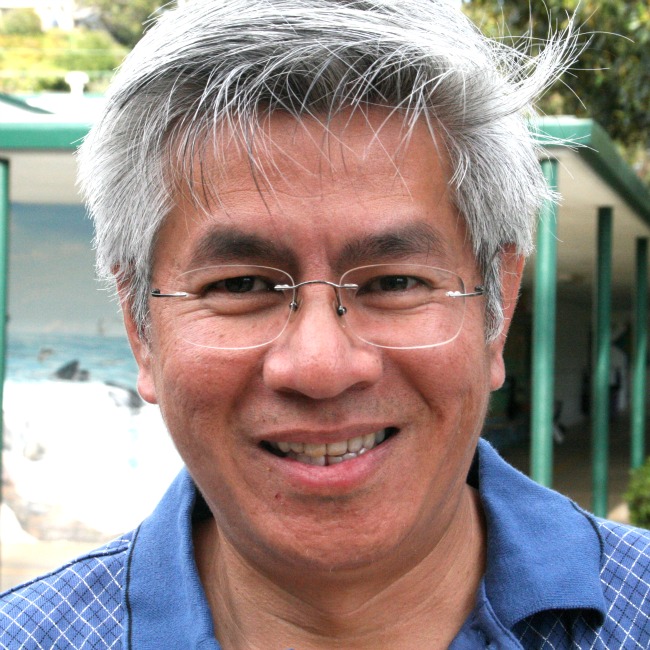 Done reading his backstory? Then let's get a pot of water boiling on the stove, and get this going.
This one's a keeper for all of you who need a kid-pleasing potluck dish that will gain you entry into any party.
Thanks, Hung!
Fried Spaghetti for Potlucks -- Hung Le's Famous Noodles
Simple Asian-seasoned fried spaghetti is the most popular potluck dish in Malibu, California! Hung Le brings it everywhere, to great acclaim.
Ingredients
1 pound spaghetti, cooked and drained
2-3 tablespoons canola oil
1/2 medium brown onion, chopped
Seasoning sauce (Golden Mountain or Maggi), to taste (try 3 tablespoons of sauce first and add more if you like)
Directions
Cook spaghetti in a large pot of boiling water, and when done, drain it well.

While spaghetti is cooking:

Heat canola oil in a non-stick skillet. Sauté chopped onion for several minutes, until almost translucent; stir frequently to avoid burning.
Add well-drained spaghetti to the skillet and stir-fry. Season with seasoning sauce to taste. Stir-fry until spaghetti is thoroughly heated and well saturated (but not swimming) with sauce.
Notes
Hung Le's optional additions: (1) Minced garlic (2) Small amount of sesame oil (3) Garnish with thinly sliced scallions and/or chopped cilantro (4) toasted sesame seeds.
Recipe source: Hung Le of Malibu, Calif.
https://www.shockinglydelicious.com/famous-noodles-fried-spaghetti-for-potlucks/
Copyright Dorothy Reinhold | ShockinglyDelicious.com. All rights reserved.


Hung says the secret ingredient is in the sauce.
His advice on how to make it:
He has made it so many times he never measures the sauce while adding it. Like many good cooks, he adds it until it looks right—when the color of the spaghetti is a light café au lait color.
There are several optional ingredients listed, but he rarely uses them. "The kids like it with just the onions and the sauce. Sometimes, I will make one for the adults and add garlic and sesame oil and garnish with toasted sesame seeds and chopped cilantro to make it fancy. For the kids, I will just make it plain. When I have two different kinds, the plain one is always the first to go."
He uses the Golden Mountain sauce, which he gets at a Vietnamese market. Maggi Seasoning Sauce can be purchased at Asian markets or most grocery stores.