Print This Post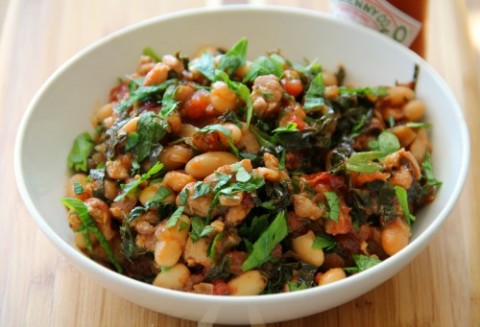 Most home cooks can never get enough easy chicken recipes. Let's face it, we could make 52 new-to-us chicken dishes a year and it still might not answer our family's craving for out-of-the-ordinary bird.
Today's easy chicken stew, with the addition of healthy kale, beans for fiber and Tabasco for a kick, sprints towards that goal. Oh yes, and it has bacon; did I mention that smoky masterpiece?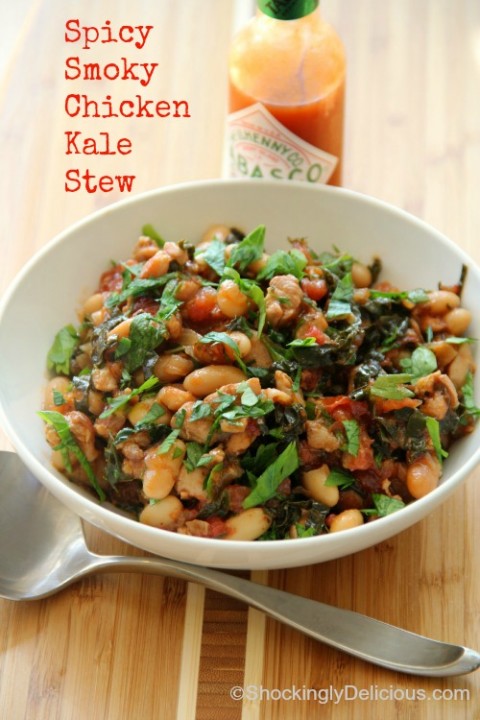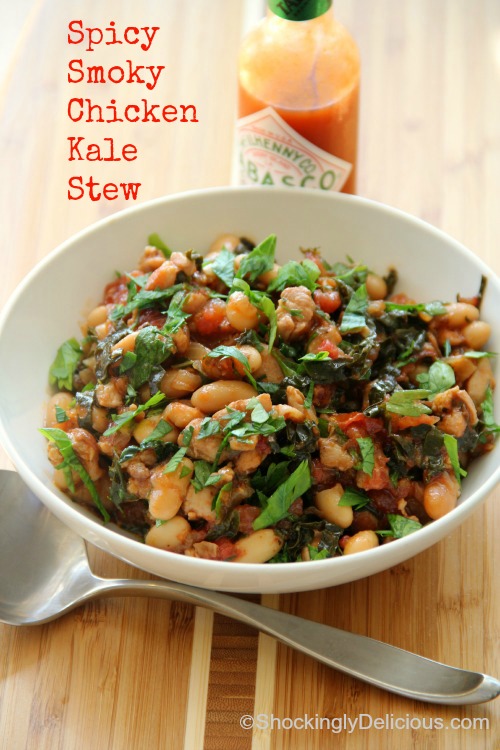 The inspiration sprang from this being Day 5 of the Tabasco Challenge, in which the folks who make Tabasco hot sauce proposed that 10 bloggers (including me) do a 10-ingredient challenge.
Let's recap: Thursday I made Frico — Italian cheese crisps amped up by Tabasco. Friday I made a Tomato Tabasco Chutney that puts ketchup to shame on your burger, and Saturday I created a main-dish farro grain salad that can take the heat from a Tabasco dressing. Sunday we returned to our Italian roots with frugal spicy arrabbiata sauce, and today we breeze home with a spicy chicken kale stew.
The Tabasco challenge: Using the 10-ingredient shopping list developed by Tabasco, make 5 recipes in 5 days. The limits were my imagination and the ingredients, which could be used in any combination, as long as Tabasco® Original Red Sauce was used in each recipe.
Easy peasy? I thought so, until I saw the list: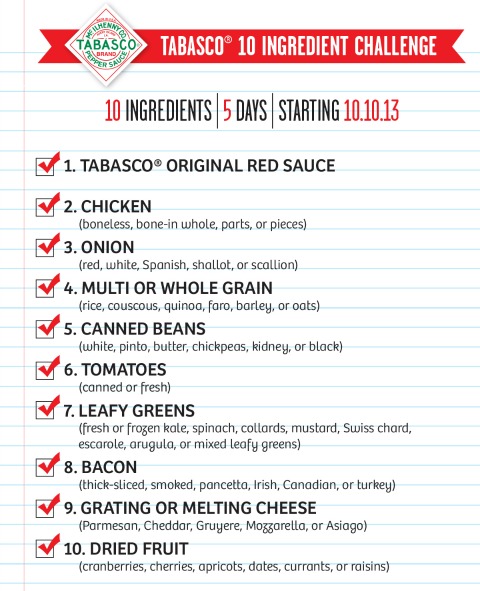 Freebies: salt, pepper and oil
Now that's a lot of wonderful ingredients, but where are the eggs, the dairy, the flour, the vinegar or lemon juice or acid of some kind, the fresh fruit, the…ah, well, this WAS a challenge!
After cooking for 5 days from this list, my final take-home message from this challenge is that a simple pantry doesn't have to result in a boring dish. Paring down to the essence can be liberating! I made some memorable dishes out of just a few ingredients, and had a light bulb moment, courtesy of Shaker Elder Joseph and his lyrics: " 'tis the gift to be simple."
Here's a recap of what I made for our Tabasco Challenge:
Day 1: Fiery Frico Cheese Crisps
Day 2: Sweet Hot Smoky Tomato Tabasco Chutney
Day 3: Farro Chicken Cranberry Arugula Grain Salad
Day 4: Quinoa with Angry Chicken Sauce (Arrabbiata Sauce)
Day 5: Spicy Smoky Chicken Kale Stew
Thanks for coming along on this spicy ride with me!
Recipe: Spicy Smoky Chicken Kale Stew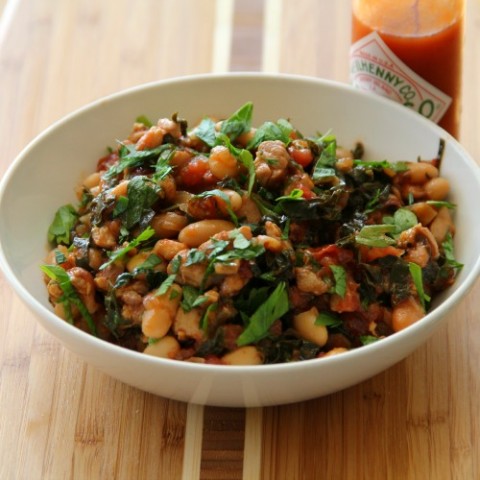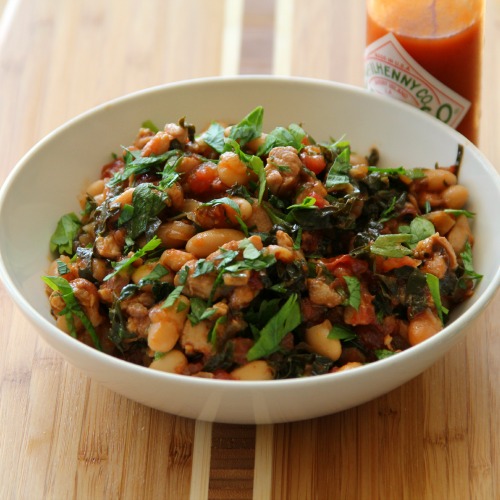 Summary: A simple, hearty, satisfying bowl of chicken stew enlivened with shredded kale, flavored tomatoes, smoky bacon and Tabasco.
Ingredients
3 slices uncured bacon (no nitrates, no nitrites), diced
1 onion, chopped
1 pound boneless, skinless chicken thighs, diced
1 (14.5-ounce) can diced tomatoes with onions and roasted garlic in juice
1/2 teaspoon Tabasco® Original Red Sauce
3/4 cup water
5 leaves Tuscan kale, stem removed and cut into ribbons (chiffonade cut)
1 (15- or 16-ounce) can cannellini beans, rinsed and drained
1/4 cup minced fresh Italian parsley

Garnish

: Grated Parmigiano-Reggiano (optional)
Instructions
In a large pot over medium heat, cook bacon and onions for 5-7 minutes, stirring occasionally. Bacon fat will render out and the onions will begin to color. Add chicken and cook, stirring occasionally, for another 10 minutes.
Add tomatoes, Tabasco, water and kale and stir to combine. Cover pot, turn heat down to low, and simmer for about 10 minutes.
Gently stir in beans, cover pot and continue to simmer for 10 minutes.
Remove pot from heat, stir in Italian parsley, and serve into bowls, passing the cheese at the table for garnish.
Note: If you want to make this even more filling for heartier eaters (teenage boys!), serve it over cooked farro, pasta, rice, quinoa or your favorite whole grain.
Serves 4.
Source
Dorothy Reinhold | Shockingly Delicious
Tabasco notes
This sauce is meant to be lightly spicy. If you like even more heat, bring the Tabasco bottle to the table and squirt more on your own dish! Tabasco® Original Red Sauce has a Scoville Unit Rating of 2,500-5,000 (Tabasco Habanero has a Scoville of 7,000.) Scoville units are a standardized way of measuring the capsaicin in peppers.
Preparation time: 10 minutes
Cooking time: 35 minutes
Number of servings (yield): 4
Culinary tradition: Italian
Disclosure: I was compensated for this post by the McIlhenny Co., the makers of Tabasco. All opinions are my own, and this recipe is a Shockingly Delicious original.