Print This Post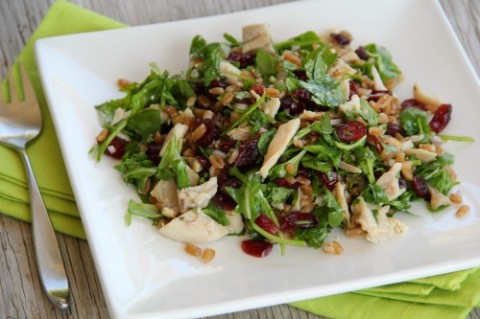 By now surely you know of my love for farro, the Italian wheat whole grain that is nutty and chewy when you cook it, a bit like barley.
It's great for breakfast stirred into yogurt, thrown in a lunch salad to give it some heft, and as a side dish for dinner. I like to keep a container of cooked farro in the refrigerator for meal inspiration!
I was determined to use farro for Day 3 of the Tabasco Challenge, in which the folks who make Tabasco hot sauce proposed that 10 bloggers (including me) do a 10-ingredient challenge.
You'll recall that Thursday I made Frico, the Italian cheese crisps that are crunchy, cheesy goodness, amped up by Tabasco and calmed down by Italian parsley. Friday I made a Tomato Tabasco Chutney that puts ketchup to shame on your burger, and today I've created a main-dish farro grain salad that can take the heat from a Tabasco dressing.
The Tabasco challenge: Using the 10-ingredient shopping list developed by Tabasco, make 5 recipes in 5 days. The limits were my imagination and the ingredients, which could be used in any combination, as long as Tabasco® Original Red Sauce was used in each recipe.
Easy peasy? I thought so, until I saw the list: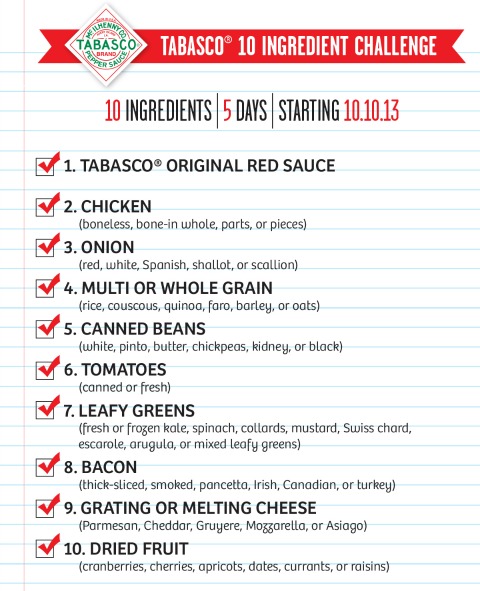 Freebies: salt, pepper and oil
Now that's a lot of wonderful ingredients, but where are the eggs, the dairy, the flour, the vinegar or lemon juice or acid of some kind, the fresh fruit, the…ah, well, this WAS a challenge!
While I whined a bit about the seeming lack of ingredients, it turned out that simplifying my pantry helped me to create one of my tastiest lunch salads ever! My daughter, the discerning teenage foodie, declared it one of my best efforts, and said, "I think you make some of your best dishes when you use fewer ingredients." Out of the mouths of babes.
For this salad, I took the easy way out by buying a rotisserie chicken (although you can easily roast your own if you are inclined), and paired it with cooked farro, peppery arugula, sharp shallots and sweet dried cranberries. My dressing, which I imagined would suffer from a lack of lemon juice, red wine vinegar and mustard and the other usual additions, was simply olive oil and Tabasco® Original Red Sauce. Did we miss those other things? Not for a minute. In fact, Tabasco, with its own three ingredients – vinegar, red peppers and salt — fills in nicely.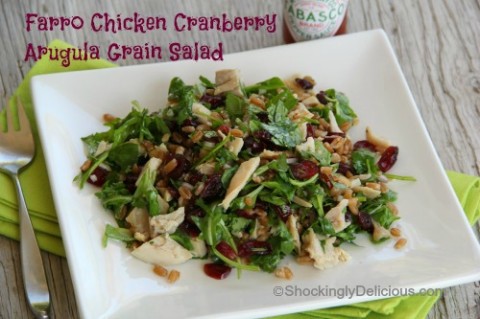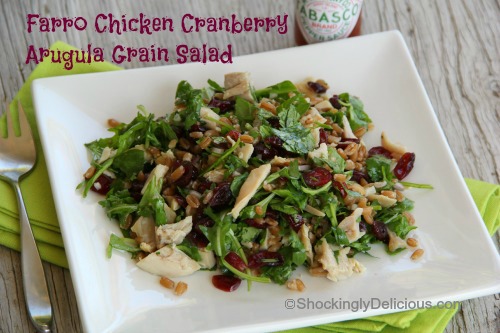 My daughter and I scarfed this for lunch minutes after I shot the photo, and then we quickly made another batch so she and my husband could take it to school and work for lunch the next day. It held up perfectly overnight in the refrigerator.
Here's what I made so far in our Tabasco Challenge:
Day 1: Fiery Frico Cheese Crisps
Day 2: Sweet Hot Smoky Tomato Tabasco Chutney
Day 3: Farro Chicken Cranberry Arugula Grain Salad
Day 4:  ? (hint: angry!)
Day 5:  ? (hint: bawk, bawk!)
Come back tomorrow for another Tabasco-inspired recipe!
Recipe: Farro Chicken Cranberry Arugula Grain Salad
Summary: Chewy, nutty farro marries rotisserie chicken, peppery arugula and sweet dried cranberries in a simple Tabasco dressing.
Ingredients
2/3 cup dried sweetened cranberries (such as Craisins)
1 cup cooked farro (follow package directions to cook, or see note below)
1 cup diced roasted chicken
1 cup baby arugula, packed into cup and then chopped
1 1/2-2 tablespoons finely minced shallot
Dressing
2 tablespoons extra-virgin olive oil
3/8 teaspoon Tabasco® Original Red Sauce
Instructions
Place the cranberries into a glass measuring cup, cover with water by 1 inch, and microwave on high for about 60 seconds. Remove from microwave and allow to stand for 5-10 minutes to hydrate the cranberries.
Assemble the salad: Drain cranberries and add them to a large mixing or salad bowl. Add farro, chicken, arugula and shallot and stir to mix well.
Make dressing: In a small glass jar, add olive oil and Tabasco. Shake well to combine, and pour dressing over salad. Stir and toss so everything is nicely dressed. It might seem like a small amount of dressing, but it will be fine, trust me.
Portion onto plates or wide, flat bowls, and serve. Serves 2 as a main-dish salad.
Source
Dorothy Reinhold | Shockingly Delicious
Tabasco note
This salad has a hot undercurrent but will not blow the top of your head off. If you like more heat, bring the Tabasco bottle to the table and squirt more on your own salad! Tabasco® Original Red Sauce has a Scoville Unit Rating of 2,500-5,000 (Tabasco Habanero has a Scoville of 7,000.) Scoville units are a standardized way of measuring the capsaicin in peppers.
Farro tip
To cut down on the time for cooking farro, soak it in water overnight. Place farro in a bowl and cover with water by at least 1 inch. Farro will expand slightly as it soaks. When ready to cook, drain farro, add it to the pot, cover with fresh water by an inch, and simmer until done. I have found that farro I soak overnight cooks in about 10-12 minutes, as opposed to unsoaked farro, which cooks in 30 or 30+ minutes.
Preparation time: 10 minutes
Number of servings (yield): 2
Culinary tradition: USA (Nouveau)
My rating 5 stars:  ★★★★★ 
Disclosure: I was compensated for this post by the McIlhenny Co., the makers of Tabasco. All opinions are my own, and this recipe is a Shockingly Delicious original.