Print This Post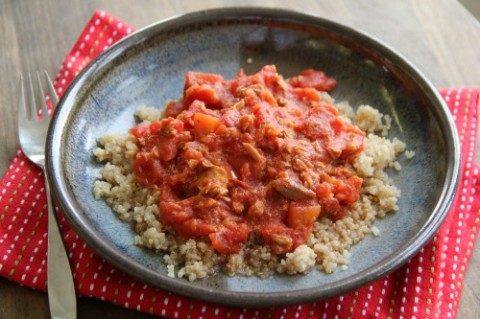 We like chicken, sure, but angry chicken? Are we afraid or are we intrigued?
We're hungry, because angry chicken has had its fuse lit by a sauce of tomatoes, onions, garlic and red chili peppers.
It's arrabbiata, a spicy Italian "angry" sauce normally ladled over pasta, but today we're putting it over protein-packed, whole grain quinoa. We might never go back to noodles.
It's Day 4 of the Tabasco Challenge, in which the folks who make Tabasco hot sauce proposed that 10 bloggers (including me) do a 10-ingredient challenge.
You'll recall that Thursday I made Frico — Italian cheese crisps amped up by Tabasco. Friday I made a Tomato Tabasco Chutney that puts ketchup to shame on your burger, and Saturday I created a main-dish farro grain salad that can take the heat from a Tabasco dressing. Today we go back to our Italian roots with frugal arrabbiata sauce, with the red chili amply supplied by Tabasco.
The Tabasco challenge: Using the 10-ingredient shopping list developed by Tabasco, make 5 recipes in 5 days. The limits were my imagination and the ingredients, which could be used in any combination, as long as Tabasco® Original Red Sauce was used in each recipe.
Easy peasy? I thought so, until I saw the list: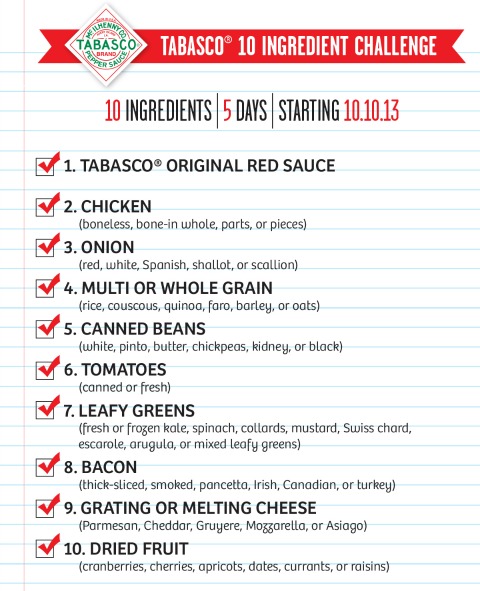 Freebies: salt, pepper and oil
Now that's a lot of wonderful ingredients, but where are the eggs, the dairy, the flour, the vinegar or lemon juice or acid of some kind, the fresh fruit, the…ah, well, this WAS a challenge!
But one of the things I have learned so far in this challenge is that a simple pantry doesn't have to result in a boring dish. Paring down to the essence can be liberating!
So I stocked up on canned diced tomatoes with onions and roasted garlic, a rotisserie chicken to make it even easier, and a bag of that good grain quinoa.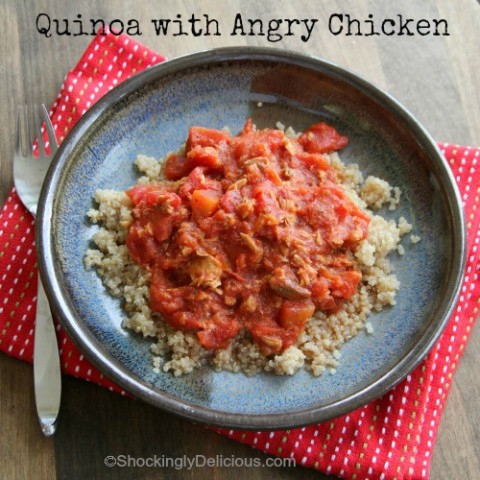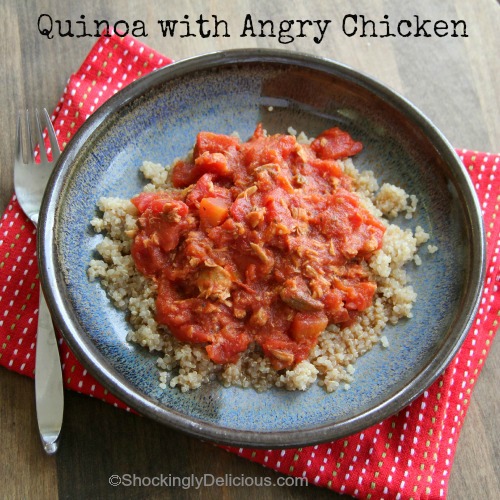 From the stove emerged a simple, hearty, satisfying Sunday dinner that revved up our taste buds and had us fighting over the leftovers for Monday lunch boxes.
Here's what I made so far in our Tabasco Challenge:
Day 1: Fiery Frico Cheese Crisps
Day 2: Sweet Hot Smoky Tomato Tabasco Chutney
Day 3: Farro Chicken Cranberry Arugula Grain Salad
Day 4: Quinoa with Angry Chicken Sauce (Arrabbiata Sauce)
Day 5:  ? (hint: bawk, bawk!)
Come back tomorrow for my final Tabasco-inspired recipe!
Recipe: Quinoa with Angry Chicken Sauce (Arrabbiata Sauce)
Summary: A simple, hearty, satisfying Sunday dinner that revs up your taste buds with a Tabasco-spiced tomato sauce, and will have you fighting over leftovers.
Ingredients
1 (6-ounce) bag quinoa
2 (14.5-ounce) cans diced tomatoes with onions and roasted garlic in juice
1/2-1 teaspoon Tabasco® Original Red Sauce
2 cups chopped roasted chicken (such as rotisserie chicken)

Garnish

: Grated Parmigiano-Reggiano (optional)
Instructions
Rinse quinoa well, drain, and cook according to package directions (it will range from about 15-25 minutes, depending on the type of quinoa).
While quinoa is cooking, pour tomatoes and Tabasco into a medium sauce pot, add chicken and simmer on lowest heat, covered. Use the smaller amount of Tabasco to start, then taste and add more if you can take the heat. This is meant to be a spicy dish!
When quinoa is done, remove from heat and portion it into 4 bowls. Top with arrabbiata sauce and serve. Pass grated Parmesan at the table for individuals to garnish their own bowl.
Serves 4.
Source
Dorothy Reinhold | Shockingly Delicious
Tabasco note
This sauce is meant to be spicy. Start with the smaller amount and add more once you determine you can take the heat. And if you like even more heat, bring the Tabasco bottle to the table and squirt more on your own dish! Tabasco® Original Red Sauce has a Scoville Unit Rating of 2,500-5,000 (Tabasco Habanero has a Scoville of 7,000.) Scoville units are a standardized way of measuring the capsaicin in peppers.
Preparation time: 5 minutes
Cooking time: 25 minutes
Diet tags: Gluten free
Number of servings (yield): 4
Culinary tradition: Italian
My rating 5 stars:  ★★★★★ 
Disclosure: I was compensated for this post by the McIlhenny Co., the makers of Tabasco. All opinions are my own, and this recipe is a Shockingly Delicious original.