Recipe: Spicy Smoky Chicken Kale Stew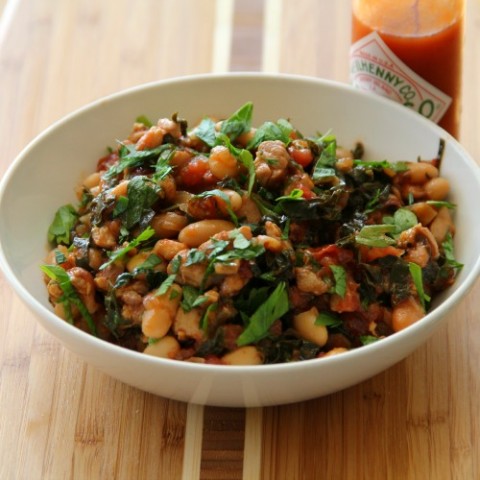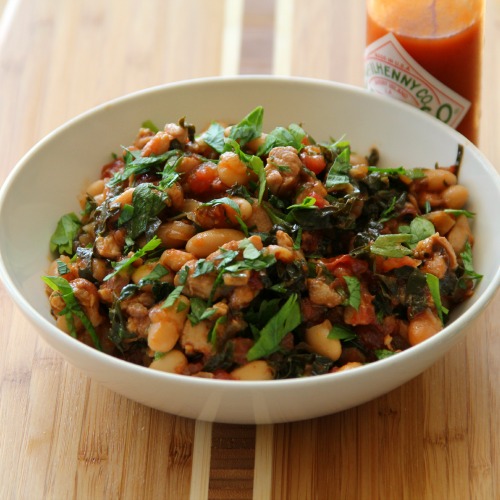 [1]Summary: A simple, hearty, satisfying bowl of chicken stew enlivened with shredded kale, flavored tomatoes, smoky bacon and Tabasco.
Ingredients
3 slices uncured bacon (no nitrates, no nitrites), diced
1 onion, chopped
1 pound boneless, skinless chicken thighs, diced
1 (14.5-ounce) can diced tomatoes with onions and roasted garlic in juice
1/2 teaspoon Tabasco® Original Red Sauce
3/4 cup water
5 leaves Tuscan kale, stem removed and cut into ribbons (chiffonade cut)
1 (15- or 16-ounce) can cannellini beans, rinsed and drained
1/4 cup minced fresh Italian parsley

Garnish

: Grated Parmigiano-Reggiano (optional)
Instructions [2]
In a large pot over medium heat, cook bacon and onions for 5-7 minutes, stirring occasionally. Bacon fat will render out and the onions will begin to color. Add chicken and cook, stirring occasionally, for another 10 minutes. [3]
Add tomatoes, Tabasco, water and kale and stir to combine. Cover pot, turn heat down to low, and simmer for about 10 minutes.
Gently stir in beans, cover pot and continue to simmer for 10 minutes.
Remove pot from heat, stir in Italian parsley, and serve into bowls, passing the cheese at the table for garnish. [4]
Note: If you want to make this even more filling for heartier eaters (teenage boys!), serve it over cooked farro, pasta, rice, quinoa or your favorite whole grain.
Serves 4.
Source
Dorothy Reinhold | Shockingly Delicious
[5]Tabasco notes
This sauce is meant to be lightly spicy. If you like even more heat, bring the Tabasco bottle to the table and squirt more on your own dish! Tabasco® Original Red Sauce has a Scoville Unit Rating of 2,500-5,000 (Tabasco Habanero has a Scoville of 7,000.) Scoville units are a standardized way of measuring the capsaicin in peppers.
Preparation time: 10 minutes
Cooking time: 35 minutes
Number of servings (yield): 4
Culinary tradition: Italian
Disclosure: I was compensated for this post by the McIlhenny Co., the makers of Tabasco. All opinions are my own, and this recipe is a Shockingly Delicious original.