Print This Post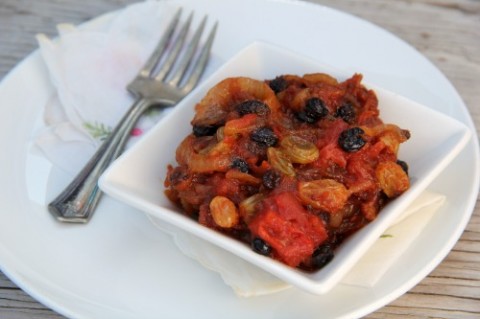 Welcome back for Day 2 of the Tabasco Challenge, in which the folks who make Tabasco hot sauce proposed that 10 bloggers (including me) do a 10-ingredient challenge.
Remember yesterday we made Frico, the Italian cheese crisps that are crunchy, cheesy goodness, amped up by Tabasco and calmed down by Italian parsley. It took all of three ingredients to make an addictive little snack. They went well as a garnish on salad or soup, or as an appetizer with a drink.
The Tabasco challenge: Using the 10-ingredient shopping list developed by Tabasco, make 5 recipes in 5 days. The limits were my imagination and the ingredients, which could be used in any combination, as long as Tabasco® Original Red Sauce was used in each recipe.
Easy peasy? I thought so, until I saw the list: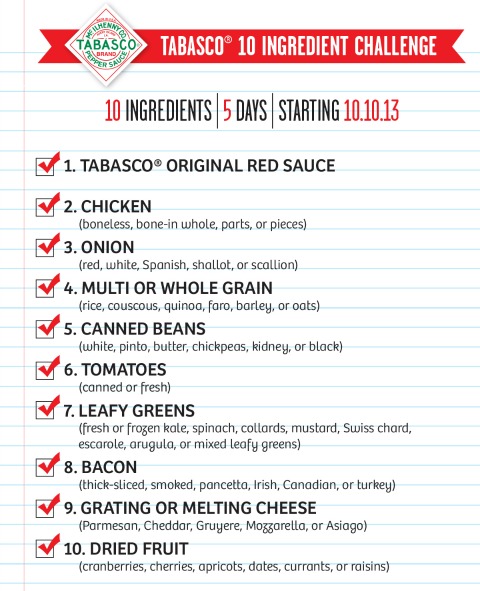 Freebies: salt, pepper and oil
Now that's a lot of wonderful ingredients, but where are the eggs, the dairy, the flour, the vinegar or lemon juice or acid of some kind, the fresh fruit, the…ah, well, this WAS a challenge!
So I began to imagine what Tabasco complemented, and my mind turned to tomatoes. Since I had no other spice on the list, I chose a canned tomato product that was already enhanced with garlic, oregano and basil. Yes! Tabasco, with its own three ingredients – vinegar, red peppers and salt — would be right at home here.
Some bacon for a smoky undertone (and its fat, which would cook the onions nicely), some raisins, currants and dates for sweetness, and some time bubbling on the stove were all it took to make a sweet, savory, smoky, jammy tomato-Tabasco chutney.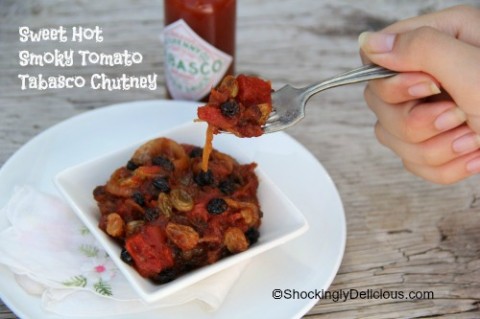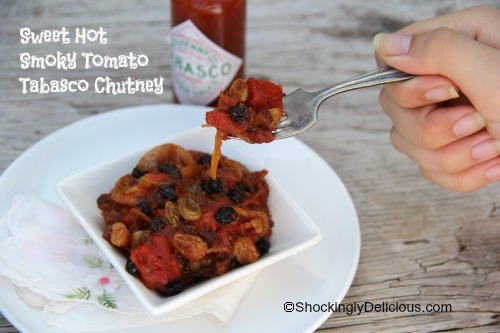 We're eating this instead of ketchup on a burger, as a dollop on top of baguette slice covered in chevre, as a condiment for grilled sausage or roast chicken or meat. It's good every which way, including spooned onto a fried egg in the morning.
Here's what I made so far in our Tabasco Challenge:
Day 1: Fiery Frico Cheese Crisps
Day 2: Sweet Hot Smoky Tomato Tabasco Chutney
Day 3:  ? (hint: salad!)
Day 4:  ? (hint: angry!)
Day 5:  ? (hint: bawk, bawk!)
Come back tomorrow for another Tabasco-inspired recipe!
Recipe: Sweet Hot Smoky Tomato Tabasco Chutney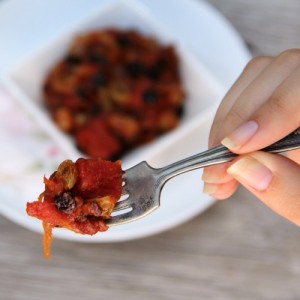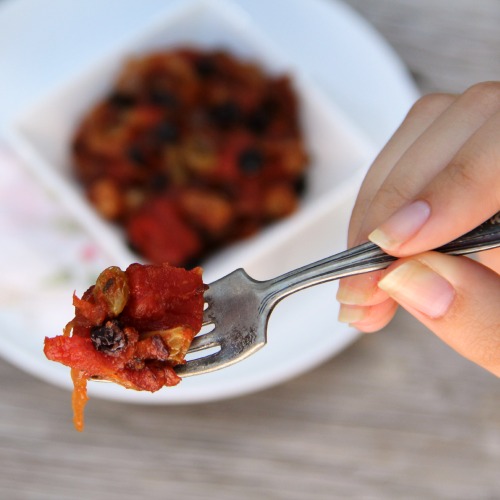 Summary: Sweet and savory tomato chutney is amped up with Tabasco in a sweet-smoky condiment for a burger or baguette slice, or to use with grilled sausages or roast meat.
Ingredients
3 slices uncured bacon (no nitrates or nitrites), chopped
1 onion, peeled and sliced thinly into half moons
1 (14.5-ounce can Italian diced tomatoes in garlic, oregano and basil
½ cup mixture of golden raisins and currants
2 Medjool dates, pitted and finely minced
1/4-1/2 teaspoon Tabasco® Original Red Sauce
Instructions
In a heavy lidded saucepan over medium heat, cook the bacon until the fat renders. Add the onion, stir to coat onion with fat, put the lid on, and continue to cook/sweat the onion for about 10-12 minutes, stirring occasionally. The onion will brown somewhat, but won't get deeply caramelized because of the condensation dripping back down into the pan from the inside of the lid.
Add tomatoes and their juice, raisin-currant mixture, dates and Tabasco. Use the smaller amount if you have sensitive mouths and the larger amount if you are used to hot sauce at your house. (Or start with the smaller amount, and you can always add more later.)
Stir, turn the heat down to a low simmer, and put the lid back on. Cook for another 15 minutes, stirring once at the halfway point.
Remove from heat, allow to cool, and spoon into a clean lidded jar to refrigerate until ready for use.
Makes about 1 ½ cups.
Source
Dorothy Reinhold | Shockingly Delicious
Tabasco note
This has an underlying but not unbearable heat. Feel free to add more hot sauce either before cooking, or after you taste the finished product, to suit yourself. Tabasco® Original Red Sauce has a Scoville Unit Rating of 2,500-5,000 (Tabasco Habanero has a Scoville of 7,000.) Scoville units are a standardized way of measuring the capsaicin in peppers.
Preparation time: 10 minutes
Cooking time: 30 minutes
Diet tags: Gluten free
Number of servings (yield): 6
Culinary tradition: USA (General)
My rating 5 stars:  ★★★★★ 
Disclosure: I was compensated for this post by the McIlhenny Co., the makers of Tabasco. All opinions are my own, and this recipe is a Shockingly Delicious original.