Print This Post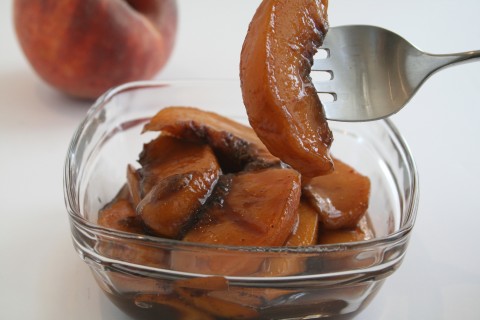 My favorite recipes are the ones that feel at home for any meal, whether it is breakfast, lunch or dinner – the utility players of the kitchen.
This easy recipe for Spiced Peaches is a good example of that. It can be spooned atop pancakes, waffles or cottage cheese for breakfast, eaten as a sort of light sweet-sour condiment with a sandwich for lunch, or served alongside grilled pork chops or chicken or even sausage for dinner. My daughter wants these peaches as a sauce for vanilla ice cream for dessert.
How is it possible for these peaches to be so perfectly suited to so many things? The slight tang from the vinegar offers a counterpoint to any rich meat, and the spices enliven the plain canvas of a waffle or pancake.
That just about qualifies it as the perfect food. Oh, and did I mention is has no fat?
Since we are still in peach season, I used fresh ripe peaches, simply peeled and sliced. They don't need any cooking. In the off season, you can use canned peach slices. But of course, fresh is better, so strike now while you have the goods.
Spiced Peaches
During the off season, use canned, drained, sliced peaches. 
About 1 pound sliced peaches (pit and peel discarded)
1 cup brown sugar
2/3 cup cider vinegar
1/2 teaspoon ground cinnamon
1/4 teaspoon ground cloves
1/4 teaspoon ground allspice
Fit sliced peaches into a large canning jar or lidded container. Fill the jar tightly, but do not compress or squish the peach slices. Set aside.
In a medium saucepan, combine sugar, vinegar and spices. Bring to a boil and simmer 2-3 minutes. Remove from heat and pour spiced liquid carefully into jar with peaches, making sure liquid fills in all spaces. Put the lid on and allow to cool for half an hour or so. Place in refrigerator for a day or two, and turn the jar upside down every once in awhile, when you open the fridge, just to distribute any spicy sediment. The longer they sit, the better they taste! They will be ready in 24 hours, and better in 48 hours. They will darken slightly from the spicy liquid.
Serve warm or cold as a meat accompaniment, side salad, dessert sauce or even for breakfast over waffles or spooned atop cottage cheese.
Serves 4.
Note: These are not canned, so they must be stored in the refrigerator, and they will not last forever like jam does. Eat them within a week or so.
Neat trick: Sometimes, when I have peaches ripening serially, I will make a big jar of this, and once I eat some, I'll replace the eaten peach slices with fresh slices, tucking them under the older peaches, and thereby lengthening the lifespan of the spiced peaches by using the same liquid. Of course, this can't be done forever, for food safety reasons, but you can get away with it a time or two!
What to serve them with:
roasted or grilled chicken, pork, turkey, duck
grilled sausages
over waffles or pancakes
alongside sandwiches
vanilla ice cream