Print This Post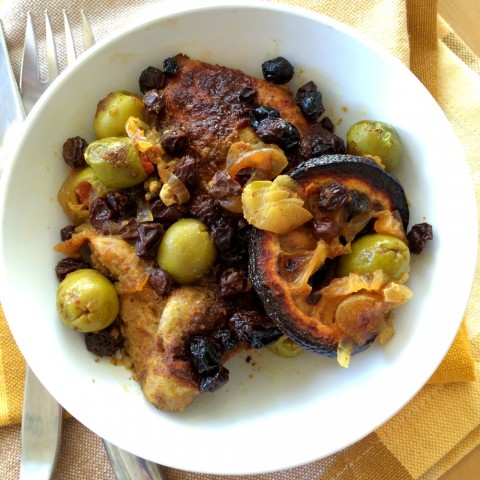 I tried this recipe for Moroccan Chicken the other night, and it was so good, and so loved by all at the table, I had to share it right away.
It has nine different spices in it, so your spice cabinet will get a workout. You know how you buy a spice for a certain recipe, and then it can languish in the cabinet, unnoticed, for a good long while? This takes care of shining a light on the spices that need attention.
There is no one predominant flavor here, but rather a mingling of many — the briny olives, the tangy lemon, the succulent chicken, the sweet pop from the currants. It's a Moroccan Chicken flavor mosaic!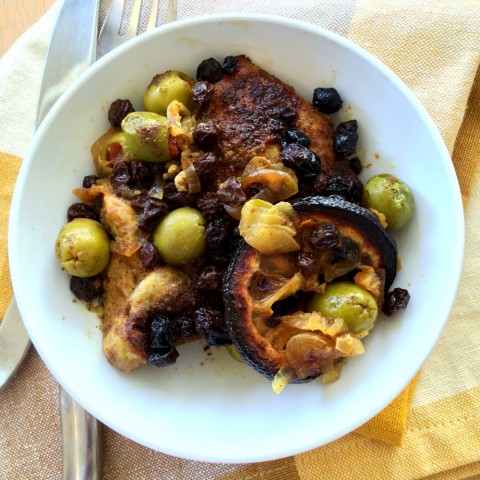 I made it in the oven, but you could also make it in the slow cooker if you like. It's versatile. (And I ate the leftovers for breakfast, but that might just be me.)
Put this on your menu tonight.
Spice Cabinet Moroccan Chicken
Briny olives, tangy lemon, sweet currants and succulent chicken are dressed in 9 spices for Spice Cabinet Moroccan Chicken.
Ingredients
1 tablespoon olive oil
1 big onion (yellow, white or red), peeled, cut in half vertically and sliced
1 teaspoon paprika
1 teaspoon ground ginger
1 teaspoon ground cumin
1 teaspoon ground coriander
1 teaspoon turmeric
1/2 teaspoon ground cinnamon
1/2 teaspoon ground allspice
1/4 teaspoon crushed fennel seeds
1/8 teaspoon nutmeg
2-2 1/2 pounds boneless, skinless chicken thighs
1/4 teaspoon kosher salt
3 fat cloves garlic, minced or pressed (about 1 tablespoon)
1 (12-ounce) jar pitted green olives (can be with pimentos or not)
1/2 cup currants or raisins (can be brown or golden)
1 fresh lemon, thinly sliced (I used seedless lemon from Melissa's Produce)

Garnish:

Chopped green onions, or chopped fresh cilantro or parsley
Directions
Heat oven to 425F degrees. Add olive oil to a large baking dish (9x13, 10x12; something like that) and brush it to cover the bottom and slightly up the sides. Lay onion slices in prepared baking dish.

Make spice mix:

In a small bowl, measure all spices (paprika, ginger, cumin, coriander, turmeric, cinnamon, allspice, fennel, nutmeg) and stir to mix.

Prepare chicken:

Using a knife or kitchen shears, trim the largest globules of fat off the chicken thighs. You don't have to be fastidious about it, just get the most obvious ones. As you lay each piece of chicken into the dish, sprinkle it lightly with kosher salt, and generously on both sides with the spice mix. You should use all the spice mix; if you haven't by the time you lay all chicken pieces in the dish, sprinkle the rest over top.
Sprinkle on the garlic, the olives and currants. Lay lemon slices over top. Bake for about 40-45 minutes, until chicken is tender (poke it with a fork to see). The chicken will release some juices, and the lemons will char slightly.
Serve over wilted greens, or over cooked rice or another grain like cous cous. As you are eating it, you may cut the lemon slices up and eat them skin and all, or push them to the side. They are tangy and a bit bitter, and I like the interplay of flavors, but everyone might not, so instruct them to eat it if they like it or not if they don't; no harm, no foul.
Serves 6.
Notes
Recipe source: Adapted from Slow Cooker Moroccan Chicken by Elise Bauer
Slow cooking: If you don't want to bake this, you may also throw it all in the slow cooker for about 5-6 hours on low. Either way, you'll be happy with dinner!
All those spices: Don't fret if you don't have one of the less popular spices, like ground coriander or fennel seeds. Just omit and carry on with your life. HOWEVER, if you don't have cumin, turmeric, paprika, cinnamon or ginger, go and get them, or don't come crying to me if this doesn't taste as awesome as you think it should. 🙂 (Did I totally sound like my mom there..."don't come crying to me"...?
Speaking of turmeric: It is aggressively dark yellow, so if you spill it, it will likely stain the counter or your clothing. So just work slowly with turmeric and all will be well.
https://www.shockinglydelicious.com/spice-cabinet-moroccan-chicken/
Copyright Dorothy Reinhold | ShockinglyDelicious.com. All rights reserved.
If you like this recipe and want to save it, pin it to your Pinterest board using the image below.