Print This Post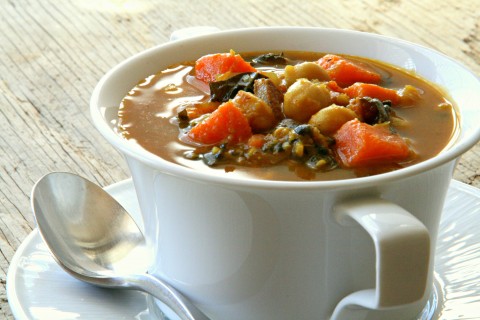 Everywhere you turn, kale is starring in soups, stews, sautés and even chips. So I don't have to proselytize about its high-fiber, nutritional health benefits because you already know.
But have you tried sweet smoked paprika yet? Not regular paprika…smoked paprika. Called pimenton and made in Spain from smoked, ground pimiento peppers, it's one of those magical spices that can be used to impart a smoky, rich flavor to anything it touches. It comes in varying intensities from sweet and mild (dulce), to bittersweet medium hot (agridulce) and hot (picante).
Buy some. You won't regret it.
I've used it as a simple sprinkle on broiled chicken thighs, to give a smoked aura to baby back ribs that I actually did in the Crock-Pot, and in this soup.
The smoked paprika recalls the smoky flavor of the pork found in traditional Portuguese kale soup, and combines with the curry powder for an amazingly rich and deep flavor. You won't miss the meat.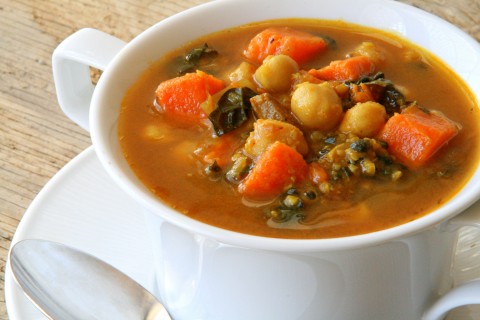 This is a wowser flavorful soup; not for the timid. We ate it with garlic bread, but cornbread would also be good to accompany.
And, like many soups, this one is even better the next day, so don't be afraid of making it a day or two ahead of time!
Recipe: Smoky Curried Kale and Garbanzo Soup
Summary: A combo of smoked paprika and curry powder give this healthy, gluten-free, vegetarian soup big flavor, while garbanzos add protein and kale adds fiber. This is a nutritious bowl o' rainbow colors! 
Ingredients
1 tablespoon olive oil
1 onion, chopped
3 garlic cloves, finely minced
3-4 cups thinly sliced kale, rib removed first (I used Tuscan kale, but you can use another variety of kale if you wish)
1 garnet yam (sweet potato), peeled and diced
1 tablespoon smoked sweet paprika
1 tablespoon curry powder
2 bay leaves
4 cups low-sodium vegetable broth
4 cups cooked garbanzo beans (divided use) (or use 2 15-ounce cans garbanzo beans, drained and rinsed)
2 tablespoons red wine vinegar
Instructions
Heat the oil in a large soup pot over medium heat. Add the onion and cook 8-10 minutes, or until lightly caramelized, stirring often. Add garlic and cook/stir another minute.
Add kale, and cook 4-5 minutes or until wilted. Stir in the yam, paprika, curry powder, and bay leaves. Cook 1 minute more or until spices are fragrant.
Add the broth and bring to a simmer. Reduce heat to medium-low and cook, covered, 20 minutes or until kale and yam are tender. Purée half the garbanzos with 1 cup water in a blender or food processor. Add the purée and the remaining whole garbanzos to the soup. (The puree will thicken the soup and the whole garbanzos will add a nice texture.)
Simmer another 10-15 minutes, then stir in the vinegar. Taste and season with salt (if needed; may not be needed depending on saltiness of broth used) and a grinding of fresh pepper.
Serves 6.
Quick notes
Source: Slightly adapted from this recipe by Amanda Mauser, age 14, from Vegetarian Times, March 2008.
Variation: I have also made this and added a chopped, cooked sausage or two that I had left over. It was great!
Preparation time: 15 minutes
Cooking time: 35 minutes
Diet tags: Gluten free
Number of servings (yield): 6
My rating 5 stars:  ★★★★★