Recipe: Smoky Curried Kale and Garbanzo Soup
Summary: A combo of smoked paprika and curry powder give this healthy, gluten-free, vegetarian soup big flavor, while garbanzos add protein and kale adds fiber. This is a nutritious bowl o' rainbow colors! 
[1]Ingredients
1 tablespoon olive oil
1 onion, chopped
3 garlic cloves, finely minced
3-4 cups thinly sliced kale, rib removed first (I used Tuscan kale, but you can use another variety of kale if you wish)
1 garnet yam (sweet potato), peeled and diced
1 tablespoon smoked sweet paprika
1 tablespoon curry powder
2 bay leaves
4 cups low-sodium vegetable broth
4 cups cooked garbanzo beans (divided use) (or use 2 15-ounce cans garbanzo beans, drained and rinsed)
2 tablespoons red wine vinegar
Instructions
Heat the oil in a large soup pot over medium heat. Add the onion and cook 8-10 minutes, or until lightly caramelized, stirring often. Add garlic and cook/stir another minute.
Add kale, and cook 4-5 minutes or until wilted. Stir in the yam, paprika, curry powder, and bay leaves. Cook 1 minute more or until spices are fragrant.
Add the broth and bring to a simmer. Reduce heat to medium-low and cook, covered, 20 minutes or until kale and yam are tender. Purée half the garbanzos with 1 cup water in a blender or food processor. Add the purée and the remaining whole garbanzos to the soup. (The puree will thicken the soup and the whole garbanzos will add a nice texture.)
Simmer another 10-15 minutes, then stir in the vinegar. Taste and season with salt (if needed; may not be needed depending on saltiness of broth used) and a grinding of fresh pepper.
Serves 6.
Quick notes
Source: Slightly adapted from this recipe [2] by Amanda Mauser, age 14, from Vegetarian Times, March 2008.
Variation: I have also made this and added a chopped, cooked sausage or two that I had left over. It was great!
Preparation time: 15 minutes
Cooking time: 35 minutes
Diet tags: Gluten free
Number of servings (yield): 6
My rating 5 stars:  ★★★★★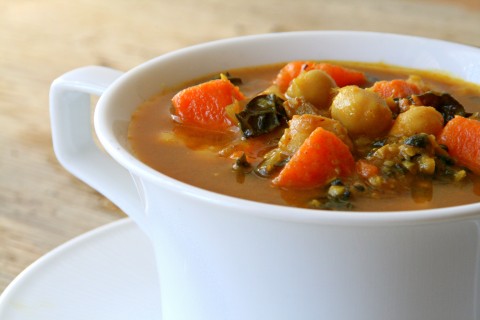 [3]