Summary: A crispy sugar cookie rolled in colored sugar decorations makes a lovely treat for Santa.
Ingredients
[2]1/2 cup brown sugar
1/2 cup granulated sugar
1 cup butter flavor Crisco
1 large egg
1 teaspoon baking soda
1 teaspoon cream of tartar
1 teaspoon salt

(note from Dorothy: I decreased this to ¼ teaspoon)

1 teaspoon pure vanilla extract

½ teaspoon almond extract (note from Dorothy: I added this)

2 cups all purpose flour
red and green decorating sugars
Instructions
Heat oven to 350 degrees.
Cream the sugars and shortening together in a large bowl. Add the egg and mix to combine. Add the remainder of the ingredients (except the decorating sugars) to form a soft and slightly sticky dough.
Using a teaspoon, take out and roll dough into balls about the size of a walnut.
Drop balls into colored sugars and roll them to coat entire ball with sugar. Place them on parchment-lined baking sheets and bake for 8-12 minutes.
Makes 45 cookies.
Preparation time: 10 minute(s)
Cooking time: 10 minute(s)
Number of servings (yield): 45
Culinary tradition: USA (General)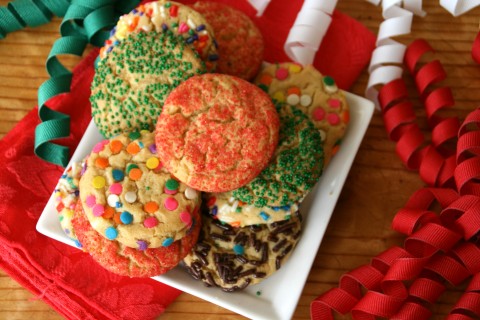 [3]
Renee, it was nice to meet you! Merry Christmas to you and yours, and Happy Holidays to all the Secret Recipe Club participants!