Print This Post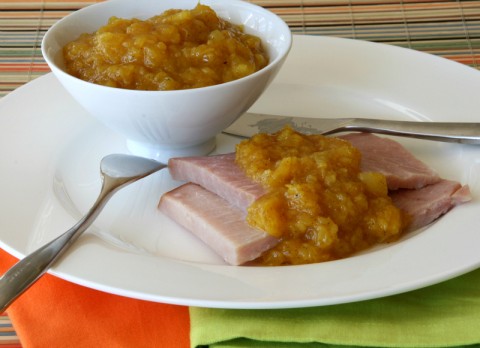 When talk of turkey gets tedious, let's switch to ham, the other special meat. When there's a ham in the oven, you know a feast is about to happen.
The folks at Farmer John asked me to come up with a locally inspired recipe that will take us through this upcoming holiday season, and my first thought was what entranced me as a child — rings of pineapple and cloves studding the outside of a fragrant ham, baking away the afternoon.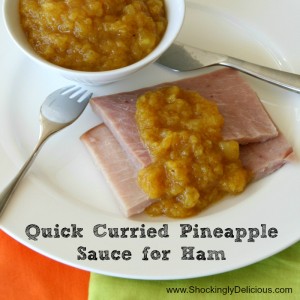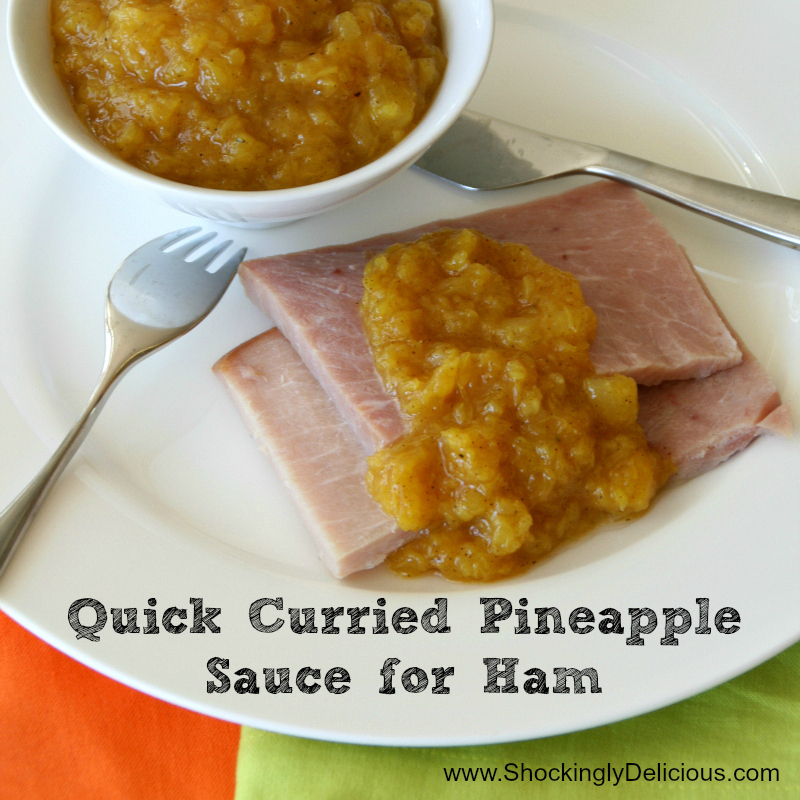 I don't always have that kind of time, though. So I make a fast, hurry-curry pineapple sauce spiced with cloves, cinnamon, allspice and curry, thickened quickly on the stove. Once the ham is sliced and heated, dinner is ready!
Check out the recipe, which should take you clear through your Christmas ham and onto your Easter ham, and then read below for a chance to win one of five hams I am giving away! Free ham…yahoo!
Recipe: Quick Curried Pineapple Sauce for Ham
Summary: A hurry-curry stovetop sauce, fragrant with spices, will make your ham sing! Perfect for any holiday ham dinner, or even on roasted poultry.
Ingredients
1 (20-ounce) can crushed pineapple in juice
1/4 teaspoon curry powder
1/4 teaspoon ground cinnamon
1/8 teaspoon allspice
1/16 teaspoon ground cloves
2 tablespoons brown sugar
1 teaspoon vanilla extract
A few grinds of black pepper
1 tablespoon corn starch, dissolved in 2 tablespoons water
Instructions
Add all ingredients to a saucepan and stir to combine. Heat on medium, stirring occasionally, until it boils and thickens. Boil 1 minute and remove from heat.
Spoon warm sauce over and alongside ham slices. This sauce tastes even better if you make it a day ahead and keep it refrigerated. Remove and rewarm or serve at room temperature if you like.
Serves 4-6.
Measurements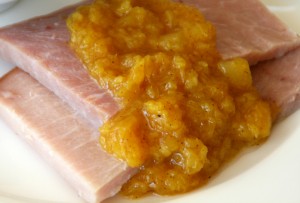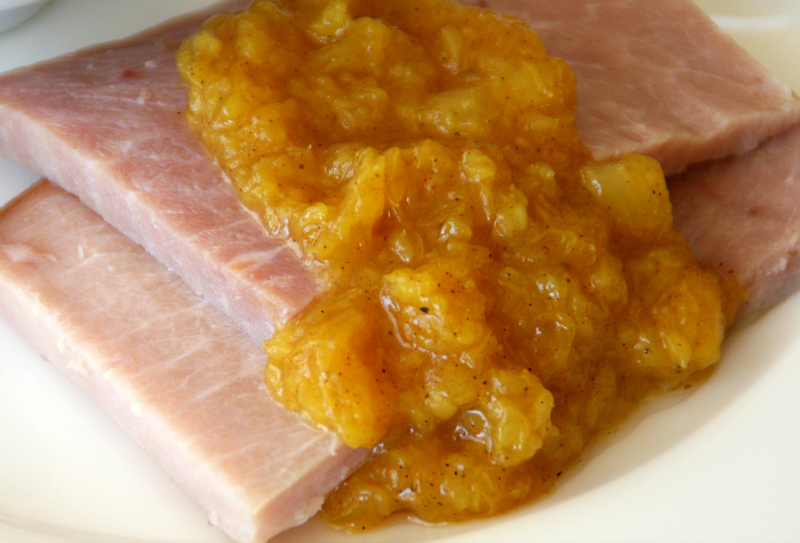 How do you measure 1/8 or 1/16 of a teaspoon if you don't have a specific measuring spoon in that size? Use your smallest measuring spoon in the set — usually 1/4 teaspoon. A 1/8 teaspoon measure is half of that, and a 1/16 teaspoon measure is one-quarter of the 1/4 teaspoon. Easy.
Variations
Like many Shockingly Delicious recipes, this one is adaptable. If you don't like curry, leave that ingredient out and you'll end up with a sauce that can go on ham OR ice cream! If you want to zip it up even more, add a clove of crushed garlic and/or a few shakes of crushed red pepper.
What to do with a half ham
Next time you buy (or win!) a big half ham, "decant" it into smaller-size portions just right for your needs. For my family of four, an 11-pound half ham yielded 6 zipper-top freezer bags of ham slices, portioned for one dinner each, and a bag containing 2 cups of ham chunks that will likely go into a soup. That's plenty of dinners at the ready.
Preparation time: 5 minutes
Cooking time: 5 minutes
Diet type: Vegetarian
Number of servings (yield): 4-6
My rating 5 stars:  ★★★★★ 
Ham Sweepstakes (Giveaway)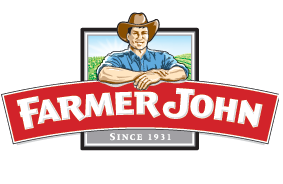 Los Angeles-based Farmer John is a homegrown 81-year-old local institution, offering packaged meats such as bacon, breakfast sausage, fresh pork, ham, hot dogs, lunch meat and smoked sausage (products available  in California, Nevada, Arizona and Hawaii). The company pretty much has a lock on sports food, providing the world-famous Dodger Dogs hot dogs for Dodger Stadium. They also partner with the Los Angeles Angels, L.A. Kings, Anaheim Ducks, L.A. Galaxy and Staples Center, Home Depot Center, L.A. Memorial Coliseum, Rose Bowl, Honda Center and Citizen's Bank Arena. Basically, if you're at a sporting event in Los Angeles and eating meat, it's likely to be a Farmer John product.
Farmer John has given me five coupons for a free Farmer John Bone-in Ham (value up to $25 each) to give to my readers, so there will be five lucky winners! (Please note, Farmer John products are sold only in California, Nevada, Arizona and Hawaii.)
*  *  *  *  *
This giveaway is now closed. Congratulations to winners Cheryl, CarolSue, Lana, Kelli and Betsy! Thanks, everyone, for participating!
*  *  *  *  *
Here's how to enter:
Mandatory entry:
1. Leave a comment on this post telling me how you like to prepare or eat ham. You can even link up a recipe if you like.
For additional entries: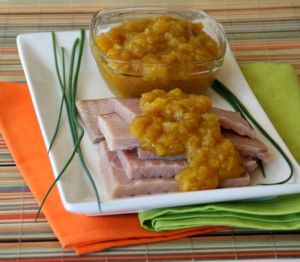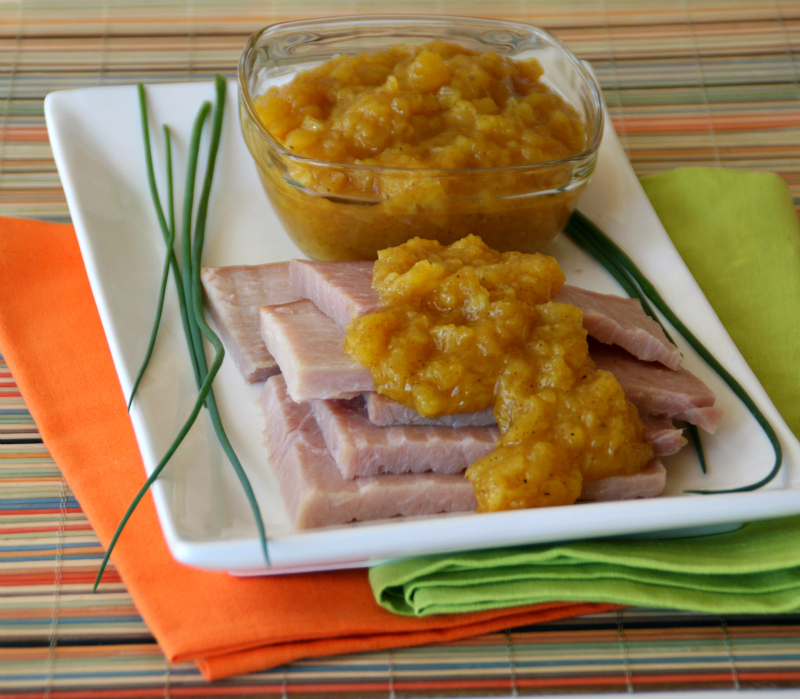 2. "Like" Shockingly Delicious on Facebook, leave a comment for me there, and then come back and leave a separate comment here telling me you did that. (If you already "like" Shockingly Delicious on Facebook, then just say hi there and come back here and leave a comment telling me that.)
3. "Follow" Shockingly Delicious on Twitter @shockinglydlish (if you don't already), and Tweet this:  Enter to win a @farmerjohnLA ham from @shockinglydlish http://ow.ly/fejBJ #giveaway
4. "Like" Farmer John on Facebook, and then come back and leave a separate comment here telling me you did that.
5. "Follow" Farmer John on Twitter @FarmerJohnLA, and then come back and leave a separate comment here telling me you did that.
Q: Why the need to come back here and leave separate comments?
A: I will be using Random.org to pick the winners from all the comments, so I need a separate comment for each entry.
Good luck everyone! This sweepstakes is open from Nov. 13-21, 2012 and is open to U.S. residents age 18 and older. Winners will be selected via random draw, and will be notified by e-mail. You have 72 hours to get back to me, otherwise a new winner will be selected. [Nov. 22: Winners have been chosen. See names in green type above.]
Farmer John provided a ham for recipe testing. All opinions are firmly my own.