Print This Post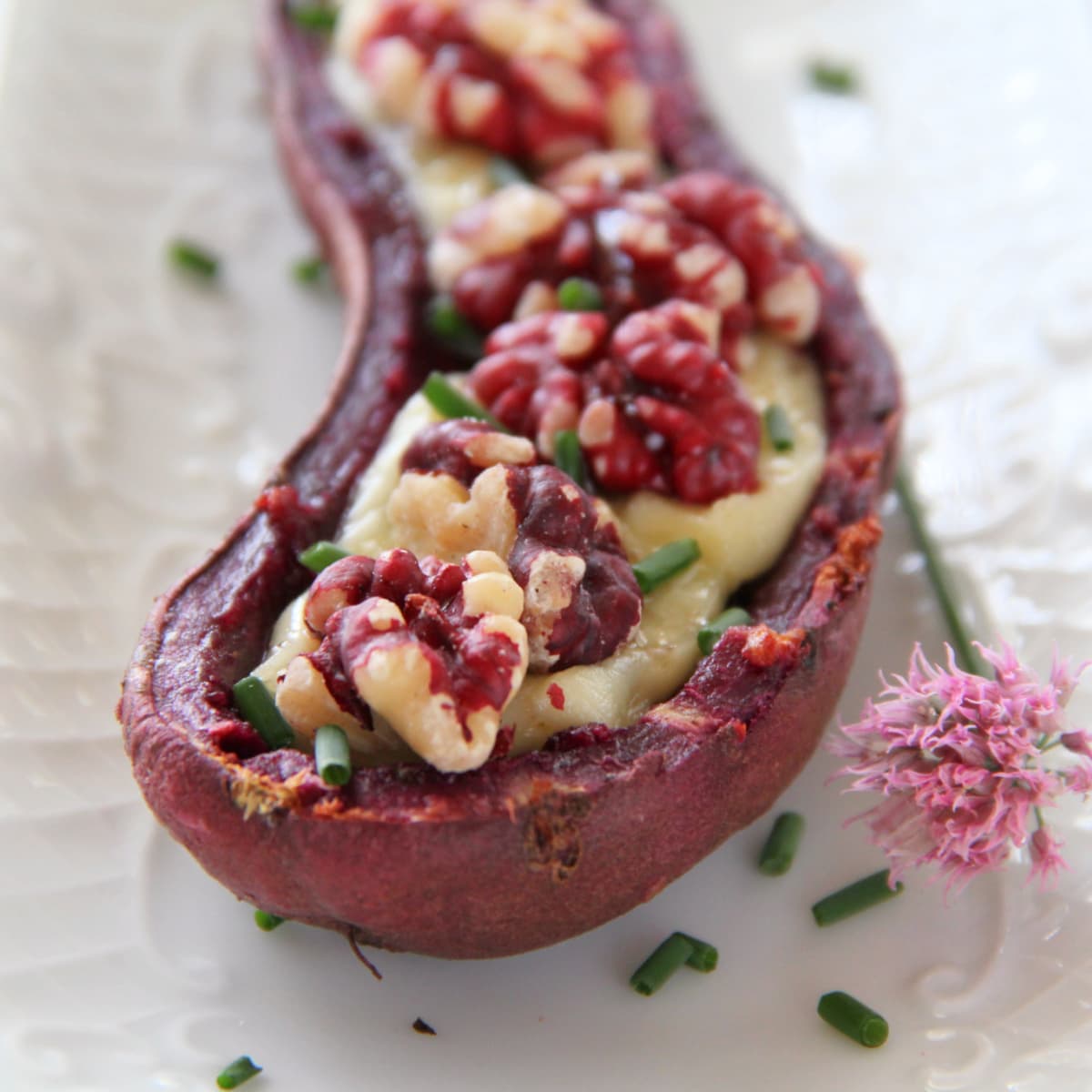 Purple Sweet Potato Skins with Brie and Sweet Walnuts is an elegant appetizer, side dish for poultry or roasted meet, or even a main dish. Sweet potato meets crunchy, tangy and sweet for a perfect mélange.
Sweet potatoes are like chicken. You can NEVER have too many recipes for them!
We sweet potato lovers comb cookbooks and the electronic airwaves in search of the next best thing. Sure, we have our fall-back favorite recipes, but we're like sharks, always moving forward, seeking new prey.
And so when I stumbled upon this elegant formula for a baked sweet potato skin, I knew it was going to have a starring role in my upcoming holiday dinners.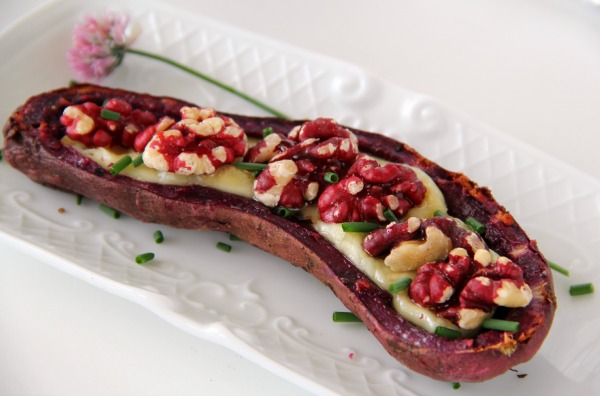 How do you serve Purple Sweet Potato Skins?
Beside slices of turkey for Thanksgiving dinner or on the day after Thanksgiving when the relatives are still there and you want to serve something new and nice
With a roast chicken dinner
With pork chops or pork tenderloin
On the plate with roast beef for Christmas
As a substantial appetizer
As a meatless vegetarian main dish, perhaps with a green salad on the plate, and some cut fruit for dessert.
How to make Purple Sweet Potato Skins with Brie and Sweet Walnuts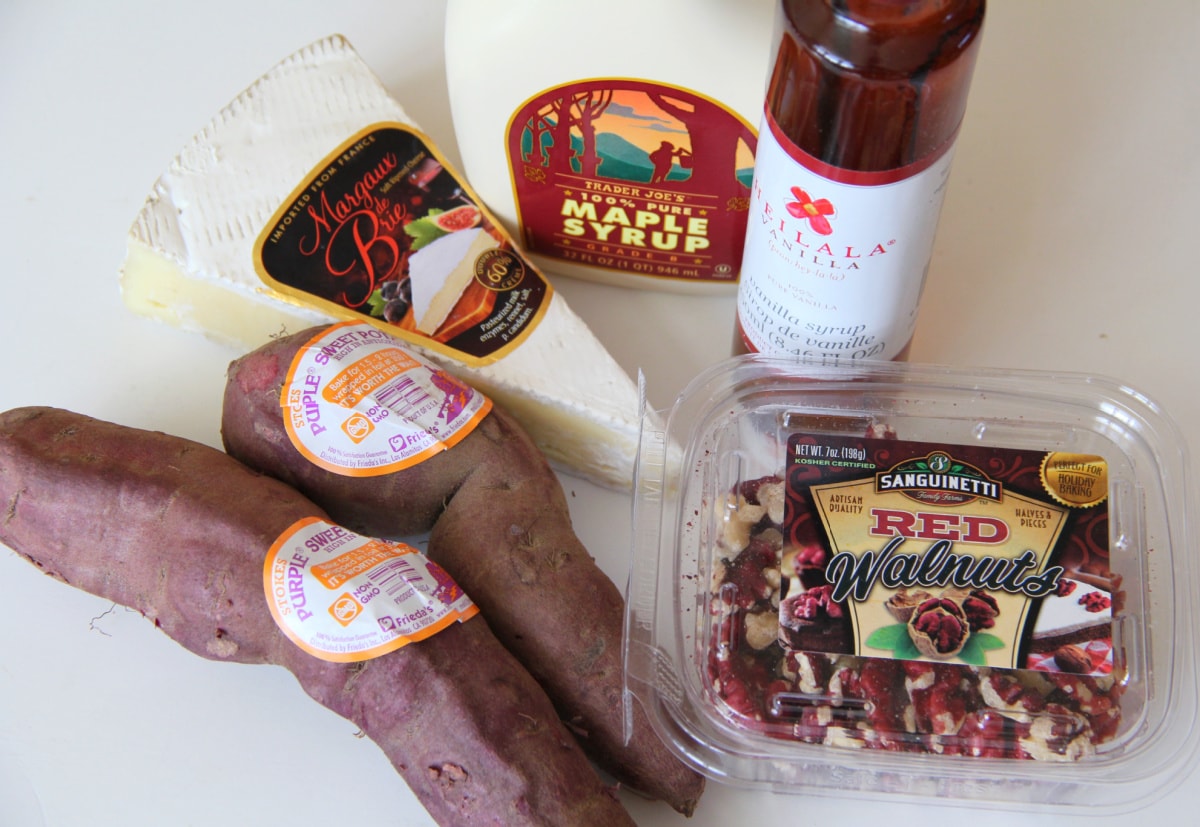 First, as always, gather your ingredients so you know you have everything on hand. For these potatoes, I am using…
Stokes Purple® Sweet Potatoes, which are a non-GMO, U.S.-grown version whose flesh stays bright, deep purple after you cook them. They're mildly sweet, are a good source of Vitamin C, and are chock full of anthocyanins — the antioxidant that contributes the purple hue to this potato and to blueberries. (Don't confuse these with Japanese Sweet Potatoes (aka Murasaki) which have a purple skin but white flesh. Or the Okinawan sweet potato, which is white skin with a more mottled purple flesh. Or with Ube, purple yams that are a staple in Filipino desserts; it's difficult to find ube fresh so you'll see it in jam, powder, extract or frozen.)
Butter
Brie
Red walnuts (or use regular walnuts; I thought the red ones were pretty!). Red walnuts are a relatively a new variety grown in California that is slightly less bitter than regular walnuts (to my taste buds anyway). They're gorgeous, too, so score!
Vanilla syrup (Heilala vanilla syrup is my absolute favorite brand if you can find it, but if you cannot, make your own by simmering 1/3-1/2 cup sugar with 1/2 cup water until sugar is dissolved, then take it off the heat and add 1/2 tsp. vanilla extract. Voila, you have just made Vanilla syrup!). OR USE real maple syrup for this recipe.
Chives for a garnish (or chopped parsley…just something to add a green spark of interest).

Bake the purple sweet potatoes until they're just tender but not mushy. Cut in half vertically.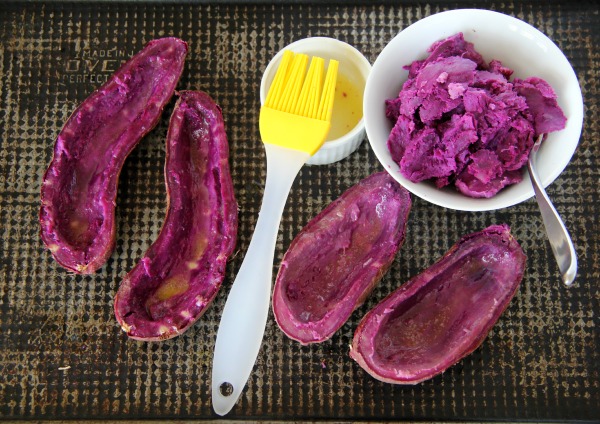 Use a small spoon to scoop out some of the flesh to make room for the brie. (Use the scooped flesh in waffles, pancakes, quick bread or make mashed sweet potatoes out of it by adding a splash of half and half, some butter and some chives, dill, garlic or whatever else you like in your mashed spuds.) Drizzle or brush with melted butter, then bake more to crisp them up a bit.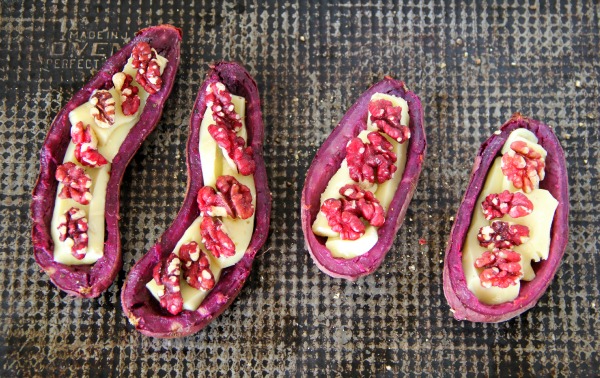 Top with sliced brie and walnuts, and bake to melt the cheese.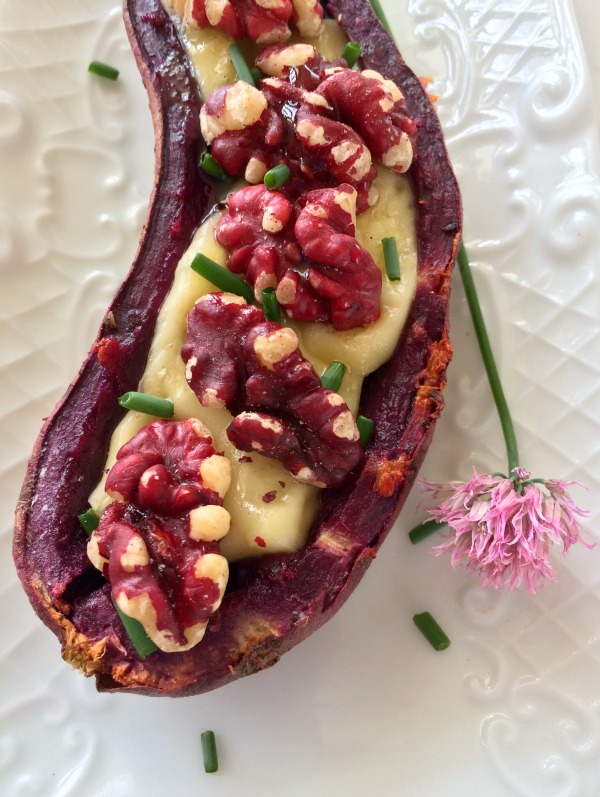 Drizzle lightly with syrup, fling a few chopped chives on for color (or chopped parsley). My chive plant was flowering, so I clipped the flower and placed it alongside for decoration.
Purple Sweet Potato Skins with Brie and Sweet Walnuts
Elegant appetizer, side dish for poultry or roasted meet, or even a main dish. Sweet potato meets crunchy, tangy and sweet for a perfect mélange.
Ingredients
2 Stokes purple sweet potatoes
Freshly ground black pepper
1 tablespoon melted butter (Kerrygold preferred)
4 ounces brie with rind removed
1/2 cup Red Walnuts
Heilala Vanilla Syrup or real maple syrup (see note below)
Garnish: fresh chives
Directions
Preheat the oven to 400 degrees F.
Scrub the outside of the potatoes and dry them. Poke a small hole in the skin (so it doesn't explode in the oven) and bake in the oven for 35-45 minutes, or until just tender but not mushy. Remove from the oven and let cool.
Cut the potatoes in half. Scoop out some of the flesh of the potatoes and reserve it for another use (I suggest pancakes or waffles or quick bread). Season halves with freshly ground black pepper, and drizzle with melted butter.
Place the skins on a baking sheet and return to the oven to bake for about 10 minutes, or until crisp.
Top each skin with 1 ounce of brie. Place the skins on a baking sheet and broil until the cheese is bubbly; about 5 minutes. Place walnuts on top, drizzle with your choice of syrup, and garnish with chopped chives.
Serves 2-4, depending on whether it is an appetizer or side dish, or the main course.
Notes
Advice and wisdom from those who have made these before, gleaned from the Food Network website:
1. Plan on only 1 potato half per person as an appetizer or side; these are rich!
2. Don't overcook the potatoes in the first bake or they will become too soft to hold the toppings.
3. The original recipe called for "1 cup Walnuts in syrup," which is apparently an ice cream topping in the aisle with the hot fudge and maraschino cherries. It doesn't seem to be a California thing (I couldn't find it), so I used pretty red walnuts drizzled with vanilla syrup (or with maple syrup) as a substitute.
BACKSTORY FOR THIS RECIPE: I found and adapted this wonderful recipe through the blog "A Kitchen Hoor's Adventures," written by Christie Campbell. We were part of a blog appreciation group where we cooked recipes from each other's food blogs. She had posted her recipe for Sweet Potato Skins, and then eventually submitted it to the "Emeril Live" TV show for a potato contest. She won, and they called it Elegant Sweet Potato Skins!
https://www.shockinglydelicious.com/purple-sweet-potato-skins-with-brie-and-sweet-walnuts/
Copyright Dorothy Reinhold | ShockinglyDelicious.com. All rights reserved.
Pin the image below for Purple Sweet Potato Skins with Brie and Walnuts to your Pinterest board to save this recipe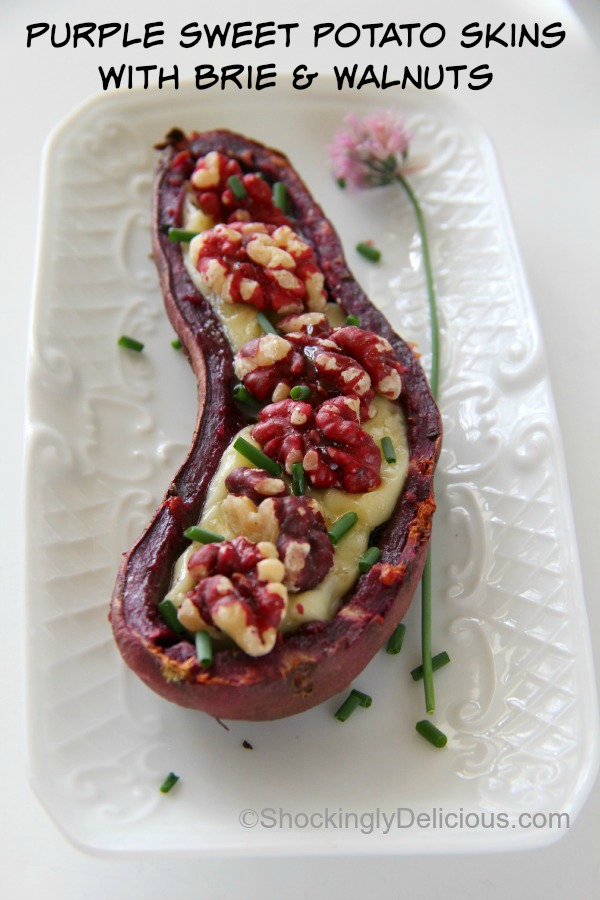 Want more purple potato recipes?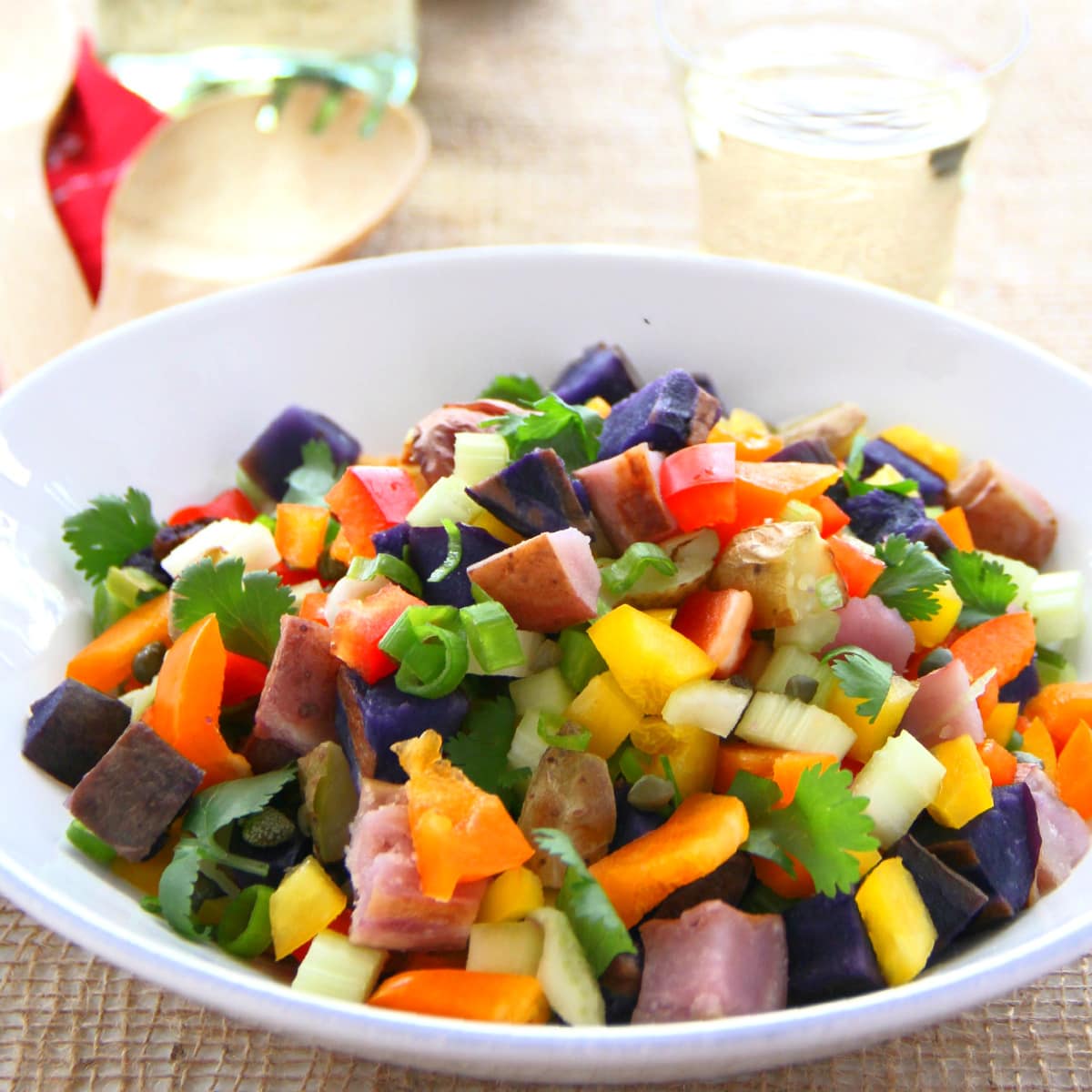 Grilled Rainbow Potato Salad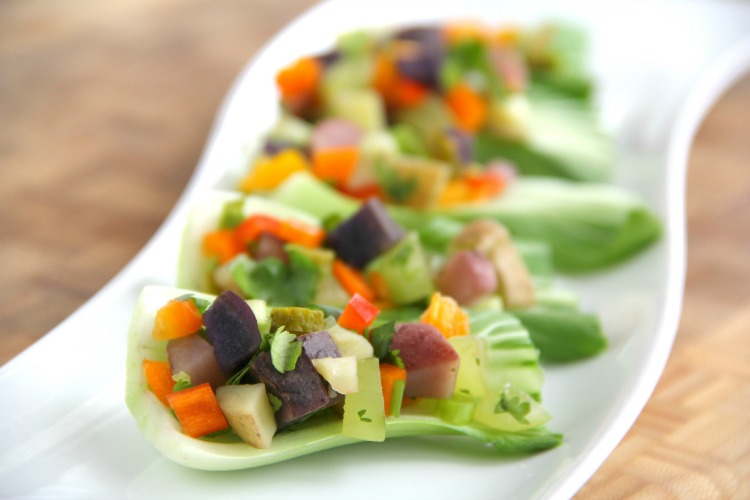 Two-Bite Potato Salad Cups
Thanks for visiting…are you hungry for more? Follow Shockingly Delicious on…
FACEBOOK | PINTEREST | INSTAGRAM | TWITTER
…for all the latest recipes, ideas and updates!
This post may contain affiliate/referral links. It is a way for this site to earn advertising fees (at no cost to you) by advertising or linking to certain products and/or services that I approve and prefer. Thank you for using my affiliate link to shop, so I can continue to bring you shockingly delicious recipes!