Sweet potatoes are like chicken. You can NEVER have too many recipes for them!
We sweet potato lovers comb cookbooks and the electronic airwaves in search of the next best thing. Sure, we have our fall-back favorite recipes, but we're like sharks, always moving forward, seeking new prey.
And so when I stumbled upon this elegant formula for a baked sweet potato skin, I knew it was going to have a starring role in my upcoming holiday dinners.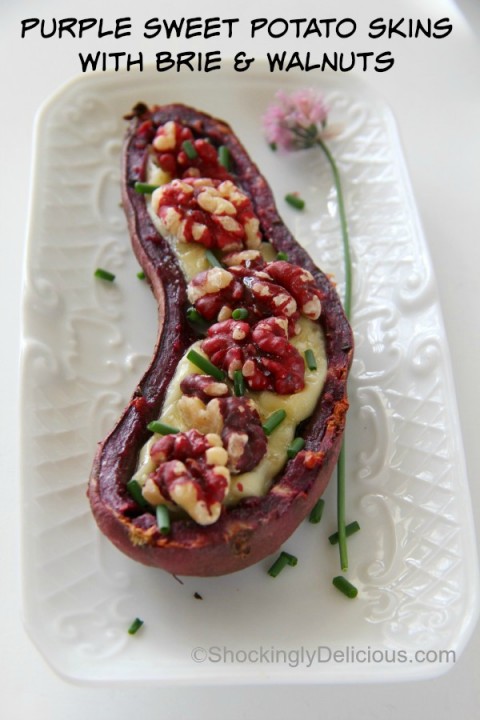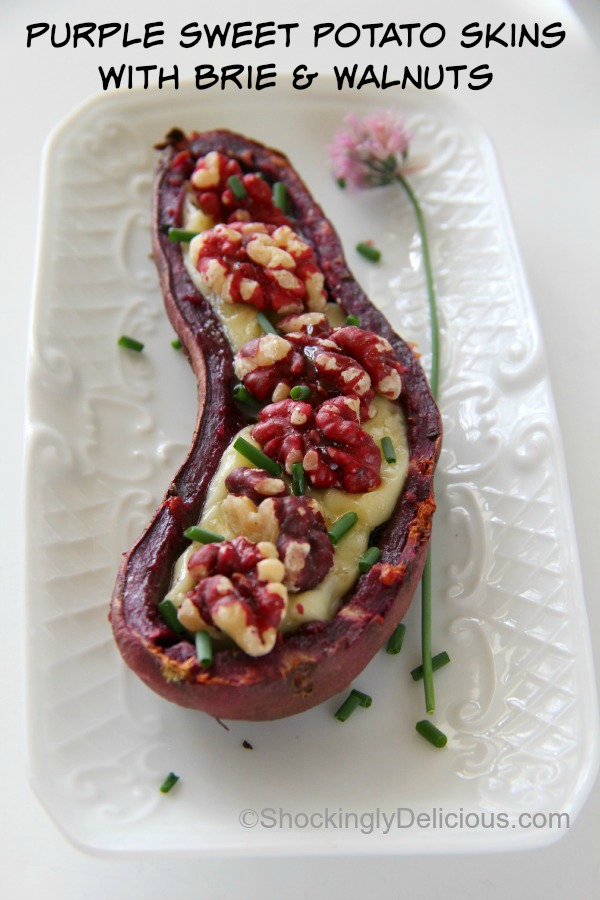 How wonderful would these be beside slices of turkey for Thanksgiving dinner or the day after bird-day, or with a roast chicken dinner, or pork chops? Can you see them on the plate with roast beef for Christmas? I can!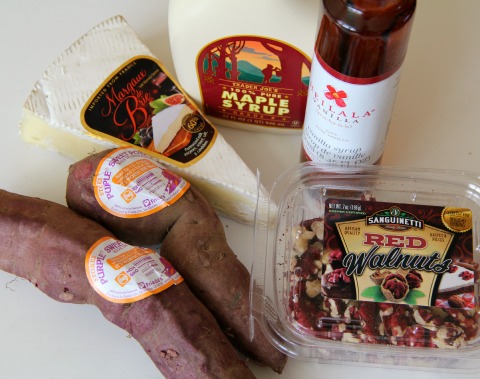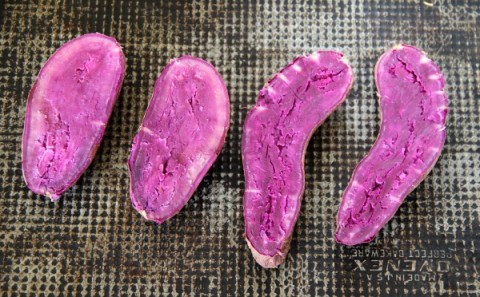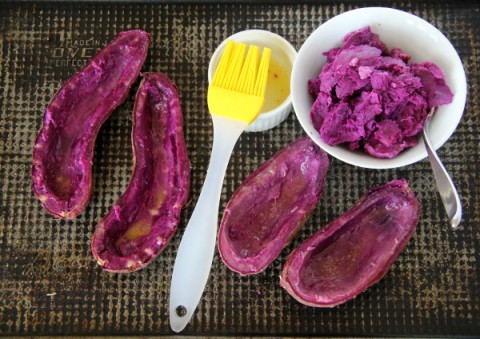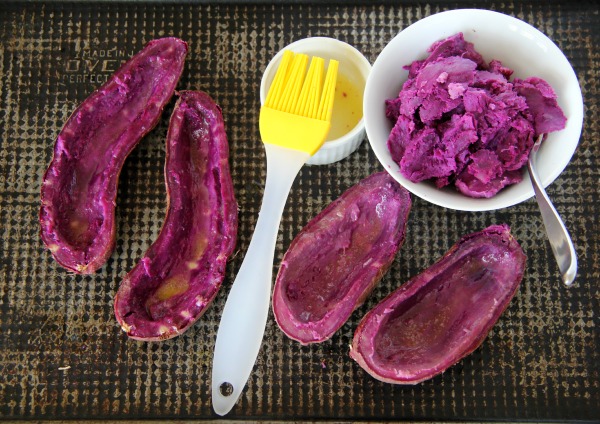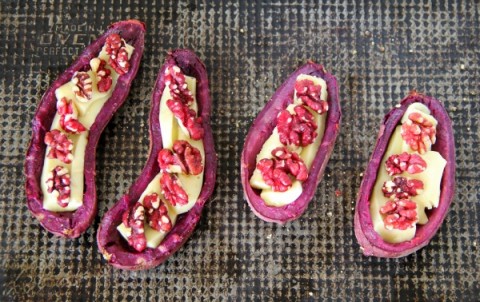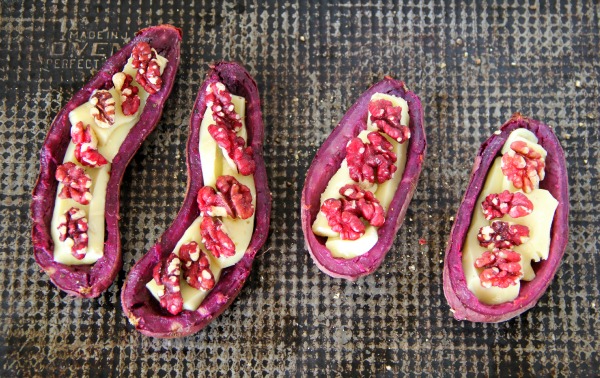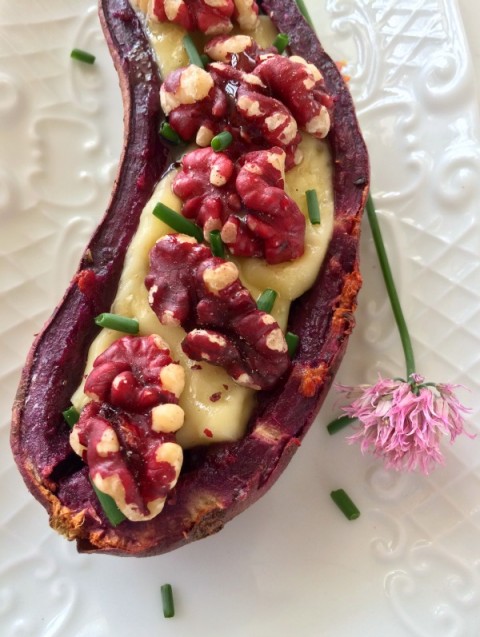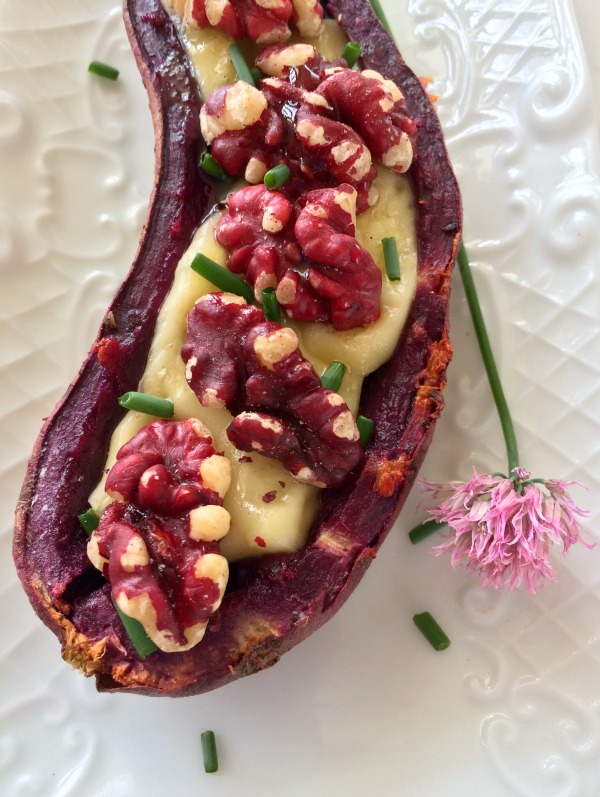 Purple Sweet Potato Skins with Brie and Sweet Walnuts
Elegant appetizer, side dish for poultry or roasted meet, or even a main dish. Sweet potato meets crunchy, tangy and sweet for a perfect mélange.
Ingredients
2 Stokes purple sweet potatoes
Freshly ground black pepper
1 tablespoon melted butter (Kerrygold preferred)
4 ounces brie with rind removed
½ cup Red Walnuts
Heilala Vanilla Syrup or real maple syrup (see note below)
Garnish: fresh chives
Directions
Preheat the oven to 400 degrees F.
Scrub the outside of the potatoes and dry them. Poke a small hole in the skin (so it doesn't explode in the oven) and bake in the oven for 35-45 minutes, or until just tender but not mushy. Remove from the oven and let cool.
Cut the potatoes in half. Scoop out some of the flesh of the potatoes and reserve it for another use (I suggest pancakes or waffles or quick bread). Season halves with freshly ground black pepper, and drizzle with melted butter.
Place the skins on a baking sheet and return to the oven to bake for about 10 minutes, or until crisp.
Top each skin with 1 ounce of brie. Place the skins on a baking sheet and broil until the cheese is bubbly; about 5 minutes. Place walnuts on top, drizzle with your choice of syrup, and garnish with chopped chives.
Serves 2-4, depending on whether it is an appetizer or side dish, or the main course.
Notes
Advice and wisdom from those who have made these before, gleaned from the Food Network website:
1. Plan on only 1 potato half per person as an appetizer or side; these are rich!
2. Don't overcook the potatoes in the first bake or they will become too soft to hold the toppings.
3. The original recipe called for "1 cup Walnuts in syrup," which is apparently an ice cream topping in the aisle with the hot fudge and maraschino cherries. It doesn't seem to be a California thing (I couldn't find it), so I used pretty red walnuts drizzled with vanilla syrup and with maple syrup as a substitute.
Recipe source: Slightly adapted from Christie Campbell's original recipe submitted to Emeril's Potato Contest for "Emeril Live" [2].
https://www.shockinglydelicious.com/purple-sweet-potato-skins-with-brie-and-sweet-walnuts/
[3]
Copyright Dorothy Reinhold | ShockinglyDelicious.com. All rights reserved.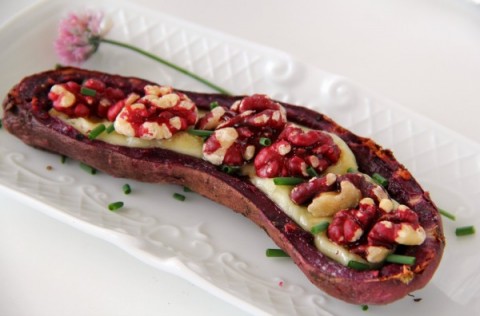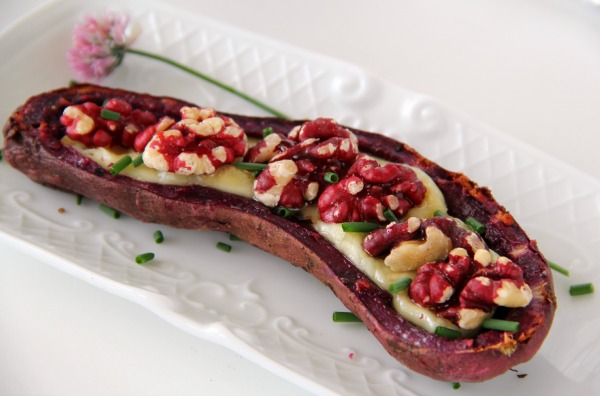 I found this wonderful recipe through the blog "A Kitchen Hoor's Adventures [4]," written by Christie Campbell. I was assigned her blog this month for Secret Recipe Club [5], the group I belong to in which participants are secretly assigned to explore someone's blog and quietly cook from it for a month. We all share our secret projects on the same day, and today is Reveal Day!
On Christie's "about" page, she says she appeared on "Emeril Live," which hooked me immediately. Turns out she had seen a contest for potato recipes while watching the show one day, and had forgotten she even entered it when they called her to say she won and wanted her to appear on the show. Love that story! I immediately made plans to make that recipe.
I almost made her Spinach and Mushroom Quiche with Spaghetti Squash Crust [6], since I have a newfound love for that squash. And her Key Lime Cheesecake Bars [7] look to-die-for, but in the end those potatoes were whispering in my ear. So glad I answered the call, Christie!
The fact that it was a sweet potato recipe was all the better, since I adore sweet pots, as I call them. I decided to push the envelope here and used a new-to-me sweet potato called Stokes Purple® Sweet Potatoes, a non-GMO version whose flesh stays bright purple after you cook them.
And since I was pushing things, I used Red Walnuts, a new variety grown in California that is slightly less bitter than regular walnuts (to my taste buds anyway). They're pretty, too! Score!
We ate the potatoes for a vegetarian dinner, and I wished I had made more. They're already on my menu plan for Thanksgiving.
Thanks, Christie, for a fun month exploring your blog. Everyone skedaddle over there and take a look!
Disclosure: Frieda's Produce sent the Stokes Purple Sweet Potatoes [8], Heilala Vanilla sent the vanilla syrup [9], and Red Walnuts [10] sent the nuts, for recipe development.
Meanwhile, browse the photo array below to see what else the Secret Recipe Club cooked up this month!