Print This Post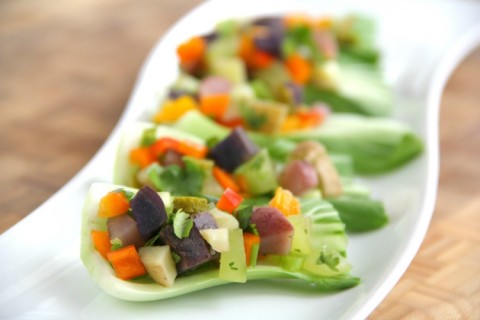 The first thing I check out at a party or potluck is the appetizers. If they look delectable, I'm golden, and a good time will be had. And nothing's better than appetizers that are self-contained, that don't need any utensils, that don't even really need a plate. Grab, munch and go mingle; that's my speed. While chips and nuts and crunchies have their place and satisfy all of the above conditions, it's not hard to imagine an even better appetizer that has a tad more oomph. And that would be one with Idaho® potatoes. Really, is there any more comforting food than spuds?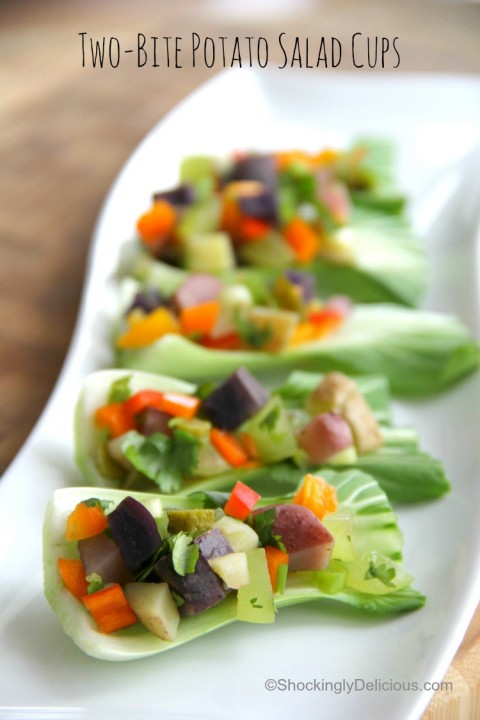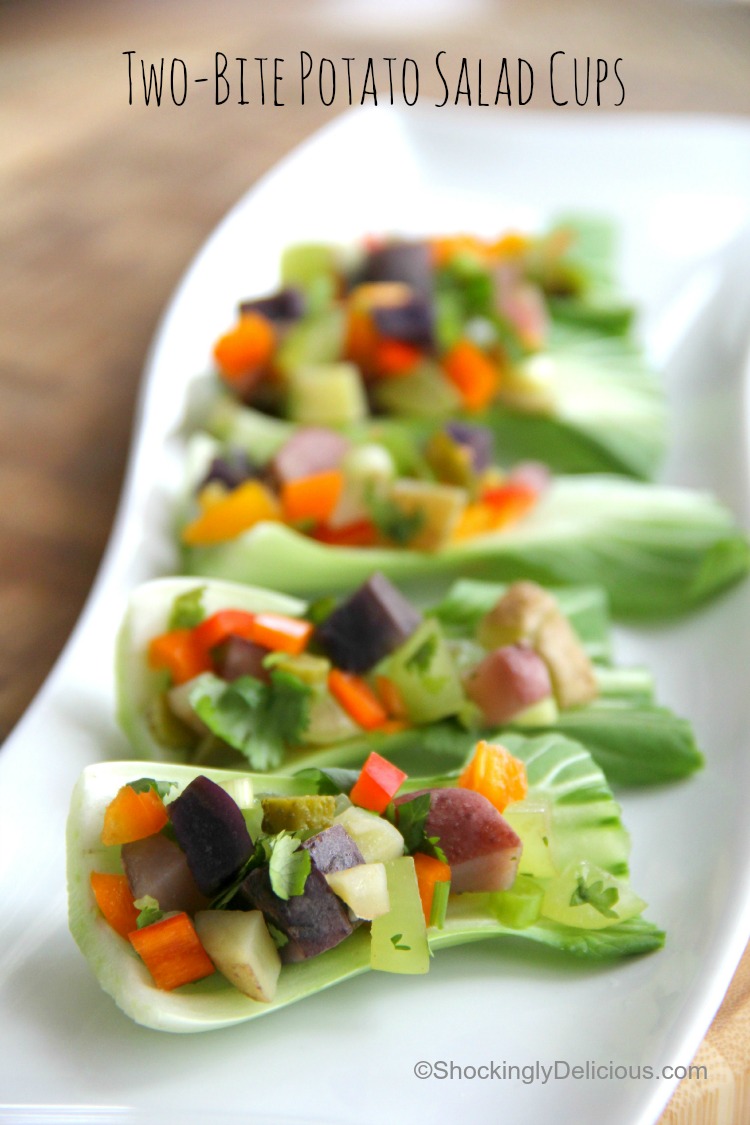 So I made you the first appetizer you'll grab at the party — a bite of light, lively potato salad in a green cup, a two-bite chomp. You have my permission to have three. Or four.
Two-Bite Potato Salad Cups
A light, lively potato salad with a secret ingredient (grapes!) is served in baby bok choy cups.
Ingredients
1 pound multicolor Idaho® potato fingerlings
6 mini multicolored bell peppers (2 red, 2 orange, 2 yellow)
2 green scallions, sliced
10-12 tiny cornichons, chopped
1-1 1/4 cups green grapes, quartered or chopped
1/3 cup chopped fresh cilantro
.

Dressing

2 tablespoons extra-virgin olive oil
1 tablespoon rice vinegar
1/2 teaspoon Dijon mustard
2 pinches kosher or sea salt
A few grinds of black pepper
.
4-6 heads baby bok choy (or use endive spears, or tiny lettuce like Bibb for cups)
Directions
Make spud salad:

Wash, do not peel and cut the fingerlings into a small dice. Place in a microwave-safe covered container, and microcook for 3 minutes on high. Remove from oven and keep lid on to allow potatoes to steam for a couple of minutes while you work on the rest of the salad.
Remove caps from peppers, flick out the seeds with your finger, and cut peppers into a small dice. Add to a large salad bowl. Add onions, pickles, grapes and cilantro to the bowl.

Make dressing:

Add olive oil, vinegar, mustard, salt and pepper to a small jar. Put the lid on and shake vigorously, until well mixed.
When potatoes are cool enough to handle, add them to the salad bowl, along with the dressing, and gently mix to combine all ingredients.

Prepare cups:

If using baby bok choy, slice bottom of stem end off, and separate leaves. Wash leaves well and dry (there will be grit at bottom). Slice off leaf end and reserve leaves for a salad. Fill cup end with as much potato salad as will fit, and place spud cups on a serving platter. You may substitute endive spears for the cups, or small lettuce leaves such as from Bibb lettuce, if you prefer.
Serves 6 as a side dish if serving with a meal, or serves 15-20 if using as an appetizer.
Notes
Note: Of course you may simply make the potato salad and use it as a side dish. Simply put it in a serving bowl and offer along with the other dishes on your picnic table or buffet.
Recipe source: Dorothy Reinhold | Shockingly Delicious
https://www.shockinglydelicious.com/two-bite-potato-salad-cups/
Copyright Dorothy Reinhold | ShockinglyDelicious.com. All rights reserved.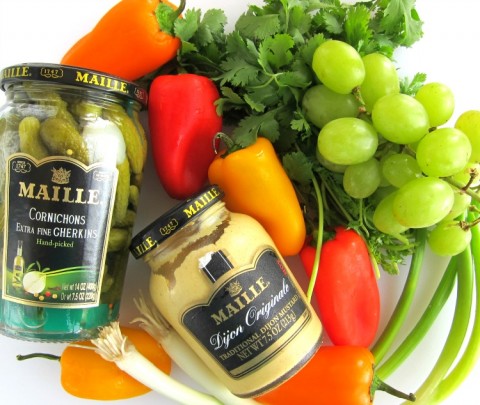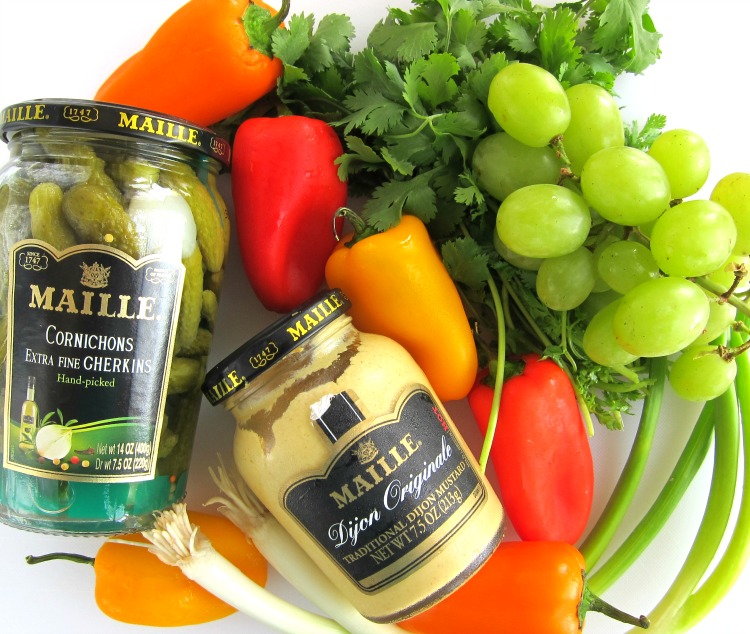 The potato salad has a sort of secret ingredient. Can you spot the item above that is not normally in potato salad? It really makes this one!
(Hint: grapes.)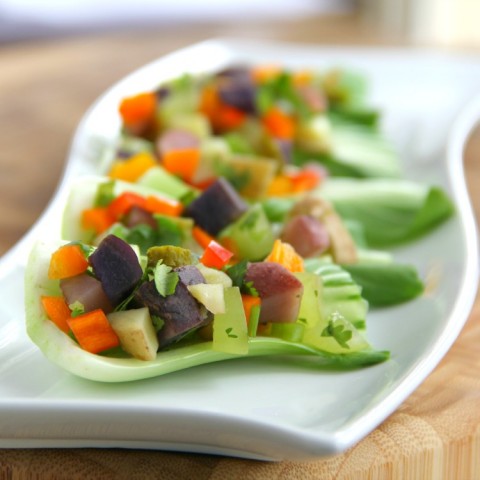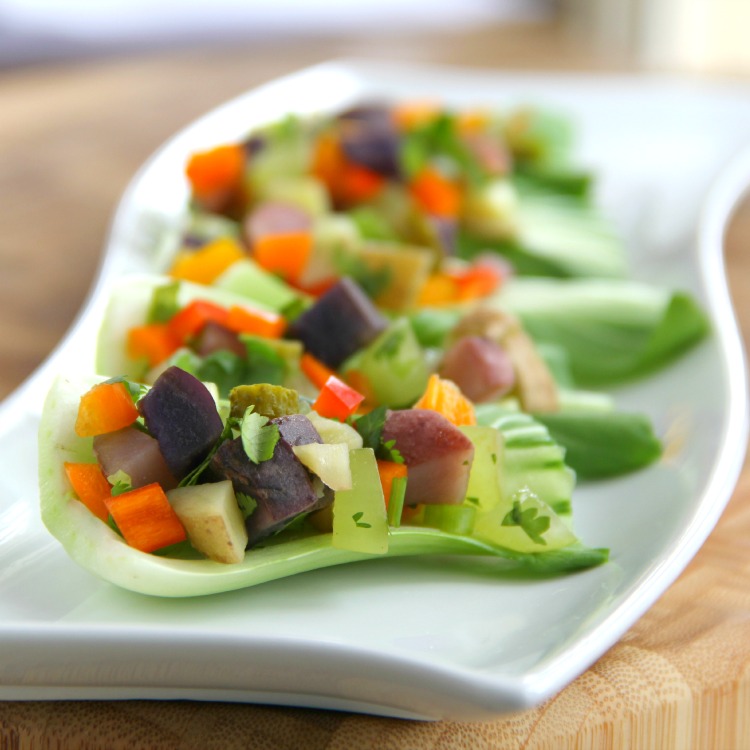 It's bright, tasty and full of various vegetables so it won't fill you up before dinner.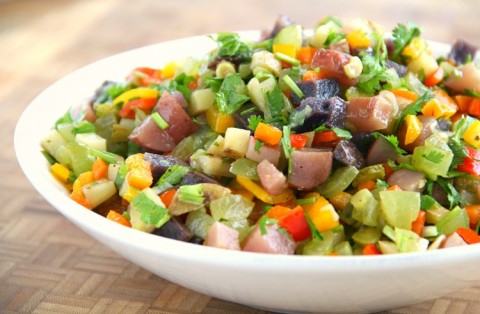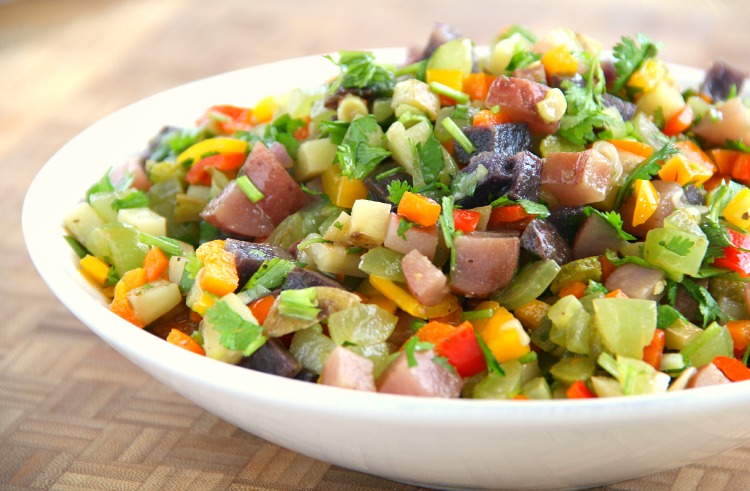 And of course you may skip the bok choy aspect and simply serve the spud salad in a bowl if that suits you better.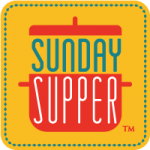 Today our Sunday Supper tastemakers have taken up a challenge from the Idaho Potato Commission to present a buffet table of
appetizers featuring
Idaho® potatoes
. Let's call them
spud starters suitable for summer
.
(Say that fast, three times.)
And there are even more recipes on the
Potato Pinterest Board
, so browse around for something spudtastic. You know that Idaho® potatoes have a few choice characteristics going for them that results in high quality spuds: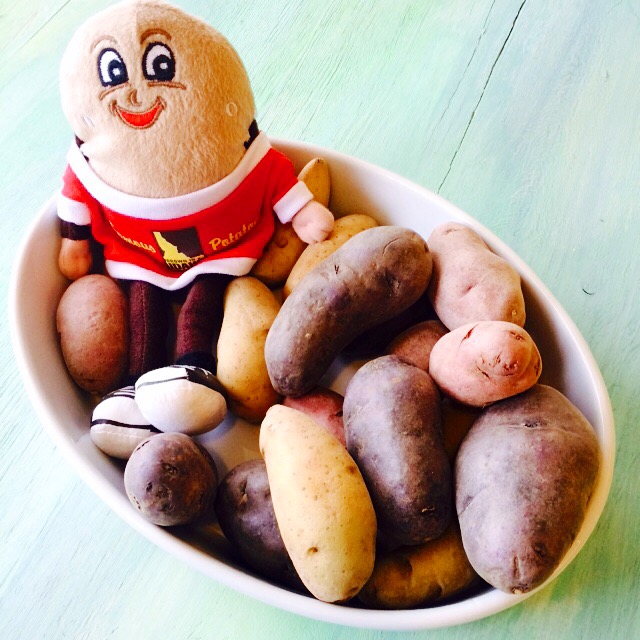 Growing seasons of warm days and cool nights
Mountain-fed irrigation
Rich volcanic soil
Available year-round
Take a look at our 20 easy, tempting recipes that will take you all the way through a spudlicious summer of pool parties and potlucks, barbecues and beach bashes, family dinners and good old fun.
This week's Sunday Supper recipes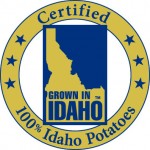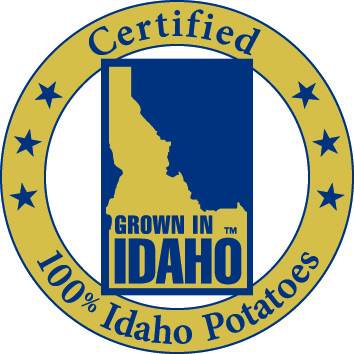 Disclosure: This post is sponsored by the Idaho Potato Commission in conjunction with a social media campaign through Sunday Supper LLC. Please join me and connect with them on social media: website / Twitter / Facebook / Pinterest / Instagram. All writing, photography and opinions are my own.