Print This Post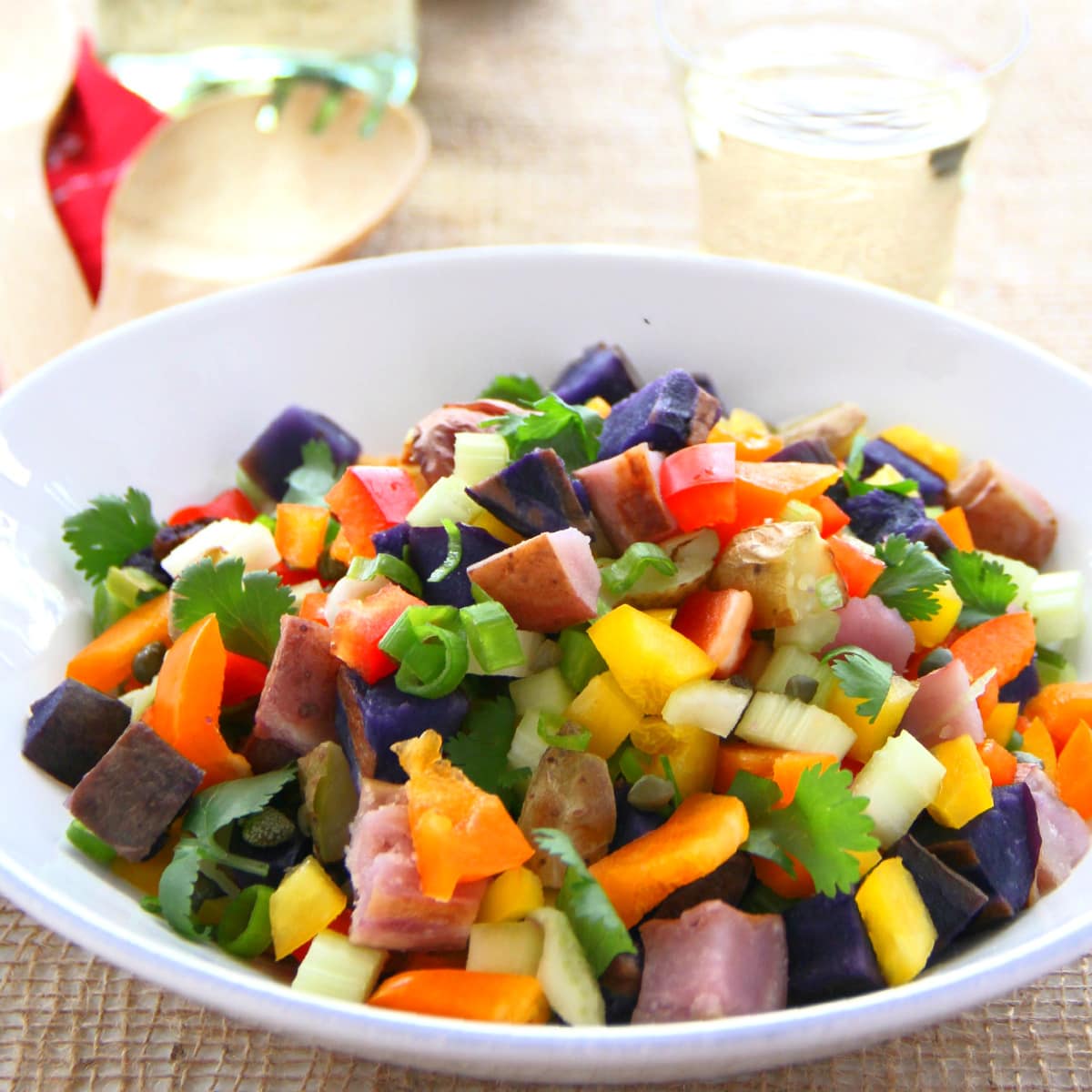 Grilled Rainbow Potato Salad is a no-mayo, potluck-friendly potato salad chock full of colorful spuds and vegetables, for the best side dish at the BBQ.
We love to eat outside, whether it's for any old weeknight or weekend meal, or a full-on party such as Memorial Day, July 4 or any of the spring, summer and fall celebrations. There's just something extra fun and festive when eating outside, isn't there?
Here in Southern California, we can generally grill all year long, but as BBQ and grilling months heat up for the rest of the country, what should you make on your grill to inaugurate the season?
I'll let everyone else worry about the main dish. I'm in the camp that can make a meal out of all the BBQ side dishes. Let me pile on my plate the salads, the grains, the vegetables and dips, the bite-sized appetizers and a forkful of dessert of course, and call it dinner. Sure, I like a burger as much as anyone, but given my druthers, I might skip it and go to town on everything else. Are you like this, too? I cannot be alone in this obsession with side dishes.
And nothing is more welcome, more appropriate, more desired, at a BBQ than some kind of potato salad. So today I'll give you a recipe that will take you through the summer and beyond. It will be perfect alongside nearly anything else you want to serve as a main course — burgers, grilled chicken, steaks, brats — but it can stand in as a main dish for those who are vegetarian or vegan.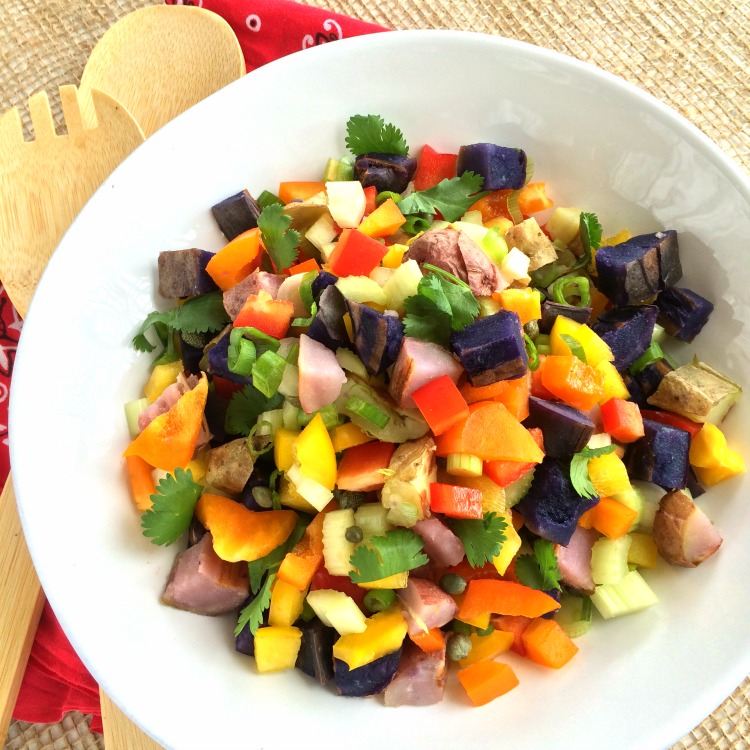 I'm calling it Grilled Rainbow Potato Salad because when I created the recipe, I found myself adding Roy G. Biv foods (red, orange, yellow, green, blue, indigo and violet). Isn't that some fun inspiration for cooking?
How to make Grilled Rainbow Potato Salad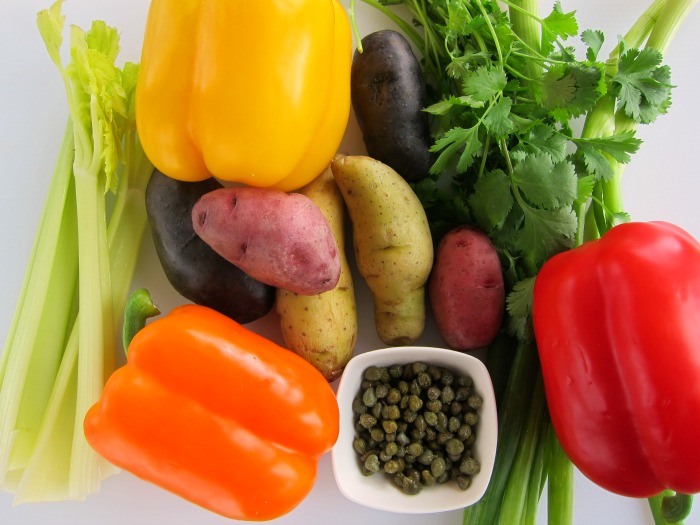 First, assemble your ingredients. For this salad, I'm using lots of veggies:
Tri-colored Idaho fingerling potatoes
Capers
Celery
Green onions
Red bell pepper
Yellow bell pepper
Orange bell pepper
Cilantro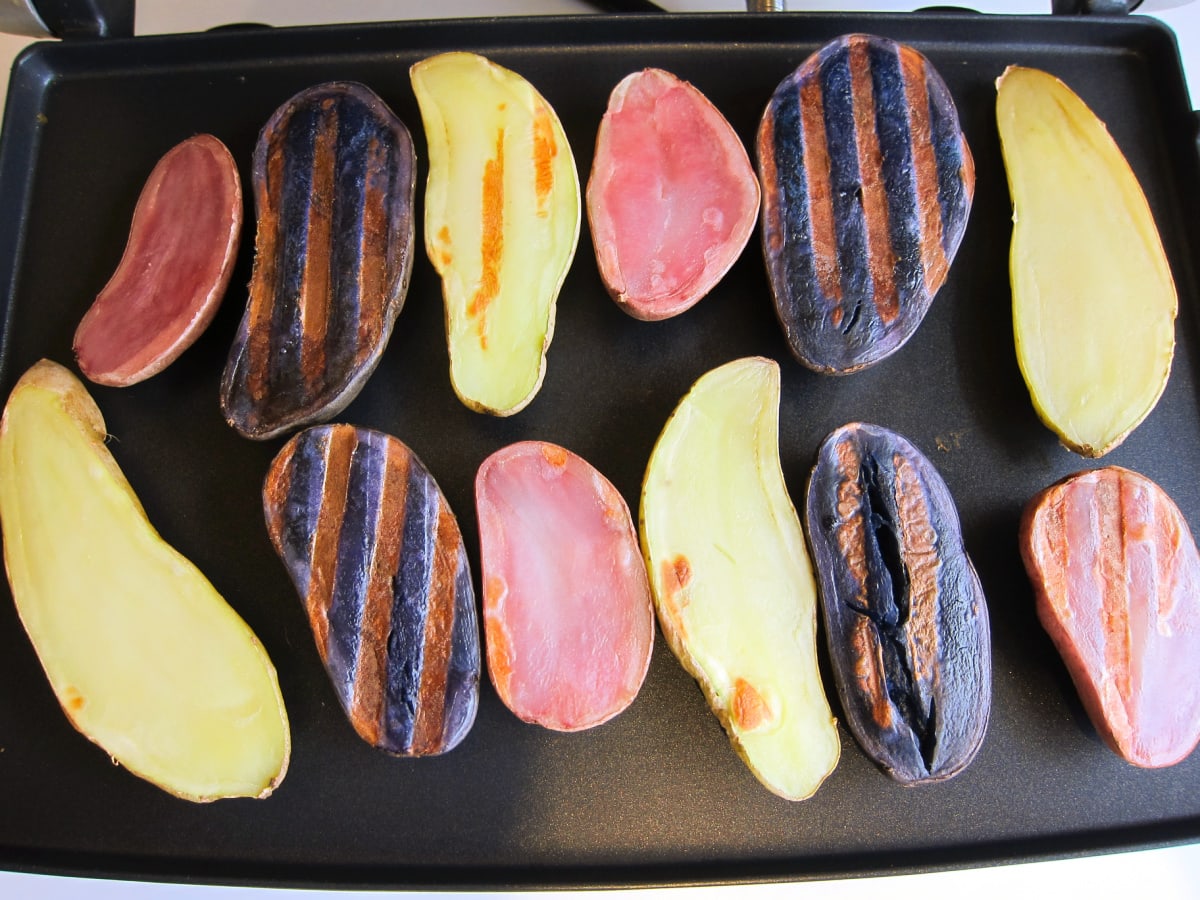 Microwave the potatoes to get them mostly cooked through. Then slap them on your panini grill to give them some nice grill marks. If all the potato halves didn't get grill marks, remove those that did, and continue to cook the rest for another minute or so until they get nice grill marks.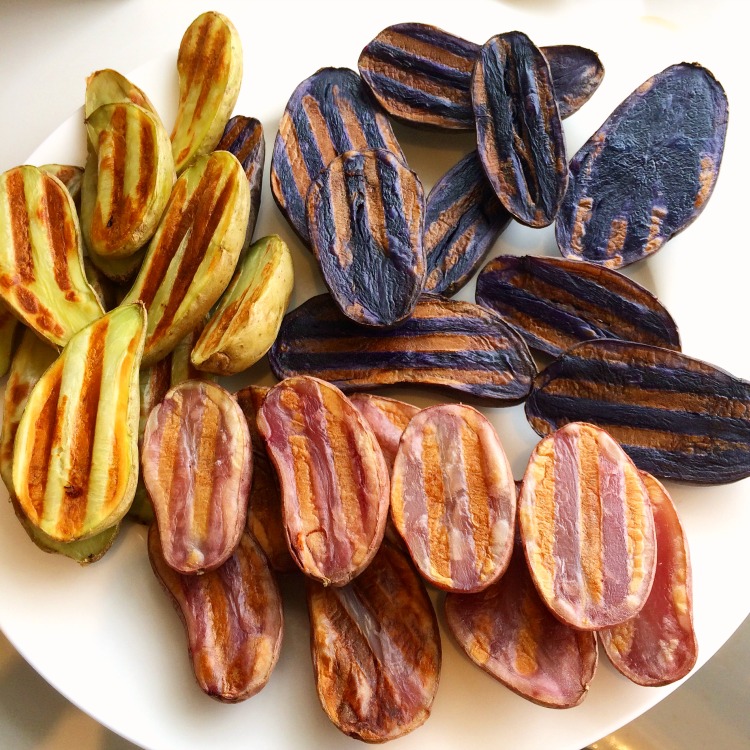 Voila! The potatoes look gorgeous! You might be tempted to eat them like this. But you'll dice them and add them to a large salad bowl, along with the rest of the chopped vegetables (celery, onion, colored bell peppers, cilantro and capers).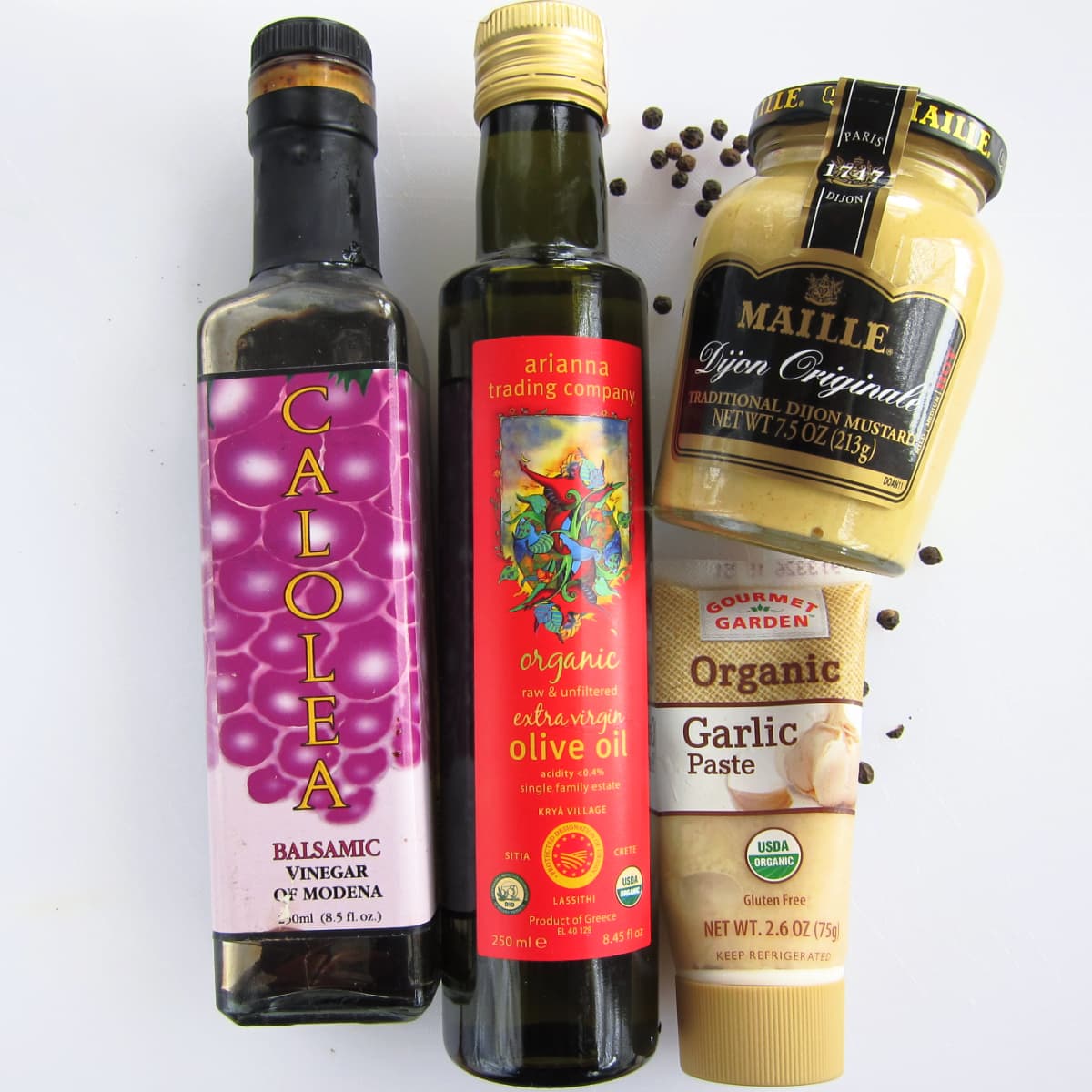 Meanwhile, stir together your salad dressing. You'll need:
Good quality extra-virgin olive oil
Balsamic vinegar
Dijon mustard
Crushed garlic
Ground black pepper
Dress your salad, put it in a nice serving bowl, and walk it proudly to the buffet table!
Tips for making Grilled Rainbow Potato Salad
Go ahead and add some bacon to it if you want; I won't judge. (Just don't label it vegetarian or vegan then.)
If you don't like an ingredient, leave it out or sub something else. Don't like red peppers? Substitute red radish slices. If you hate cilantro, substitute Italian parsley. You have my permission to tweak this recipe any way you like.
This salad can be made ahead, so it isn't one of the last-minute things that will clog your mind the day of your shindig.
And if you have any leftovers (you won't, but I'm just sayin'), you could heat it up for breakfast or lunch and top it with a fried or poached egg.
The point is, you can make it your own by putting your own stamp on it.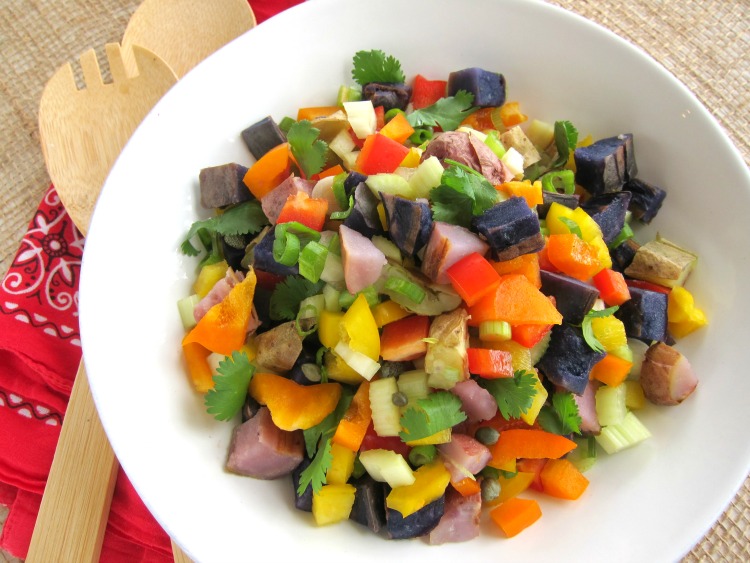 Just make it!
Grilled Rainbow Potato Salad
A no-mayo, potluck-friendly potato salad chock full of colorful spuds and vegetables, for the best side dish at the BBQ.
Ingredients
1 3/4 pounds tri-colored Idaho fingerling potatoes (skin on), cut in half lengthwise
4 tablespoons drained small capers
3-4 ribs celery, thinly sliced
2-3 green onions, thinly sliced
1/2 red bell pepper, cut into small dice
1/2 yellow bell pepper, cut into small dice
1/2 orange bell pepper, cut into small dice
1/4 cup chopped fresh cilantro

Dressing

1/4 cup extra-virgin olive oil
2 tablespoon balsamic vinegar
1 tablespoon Dijon mustard
1 teaspoon crushed garlic
Grinding of fresh pepper
Directions
Make salad:

Place potatoes in a microwave-safe container with a lid, and microwave them for 5 minutes on full power. Remove, drain any water that has accumulated, remove lid, and set aside.
Heat panini press, and when hot, add potato halves, cut side up. Close lid and cook for 5 minutes. Remove to a plate, when done, and allow to cool while you work on the rest of the recipe. (If all potato halves didn't get grill marks, remove those that did, and continue to cook the rest for another minute or so until they get nice grill marks.)
To a large bowl, add capers, celery, onion, bell peppers and cilantro. Dice potatoes and add to salad. Stir gently to combine.

Make dressing:

In a separate bowl, whisk oil, vinegar, mustard and garlic until well mixed and slightly thick (the mustard will emulsify the dressing). Pour over potato salad and mix gently. Grind some fresh pepper over top, mix again. (You might not use all of the dressing for this salad. If so, save remainder in the refrigerator for a tossed green salad later.)
Place in a nice serving bowl.
Serves 6.
Notes
Recipe source: Dorothy Reinhold | Shockingly Delicious
https://www.shockinglydelicious.com/grilled-rainbow-potato-salad/
Copyright Dorothy Reinhold | ShockinglyDelicious.com. All rights reserved.
Pin the image below for Grilled Rainbow Potato Salad to your Pinterest board to save this recipe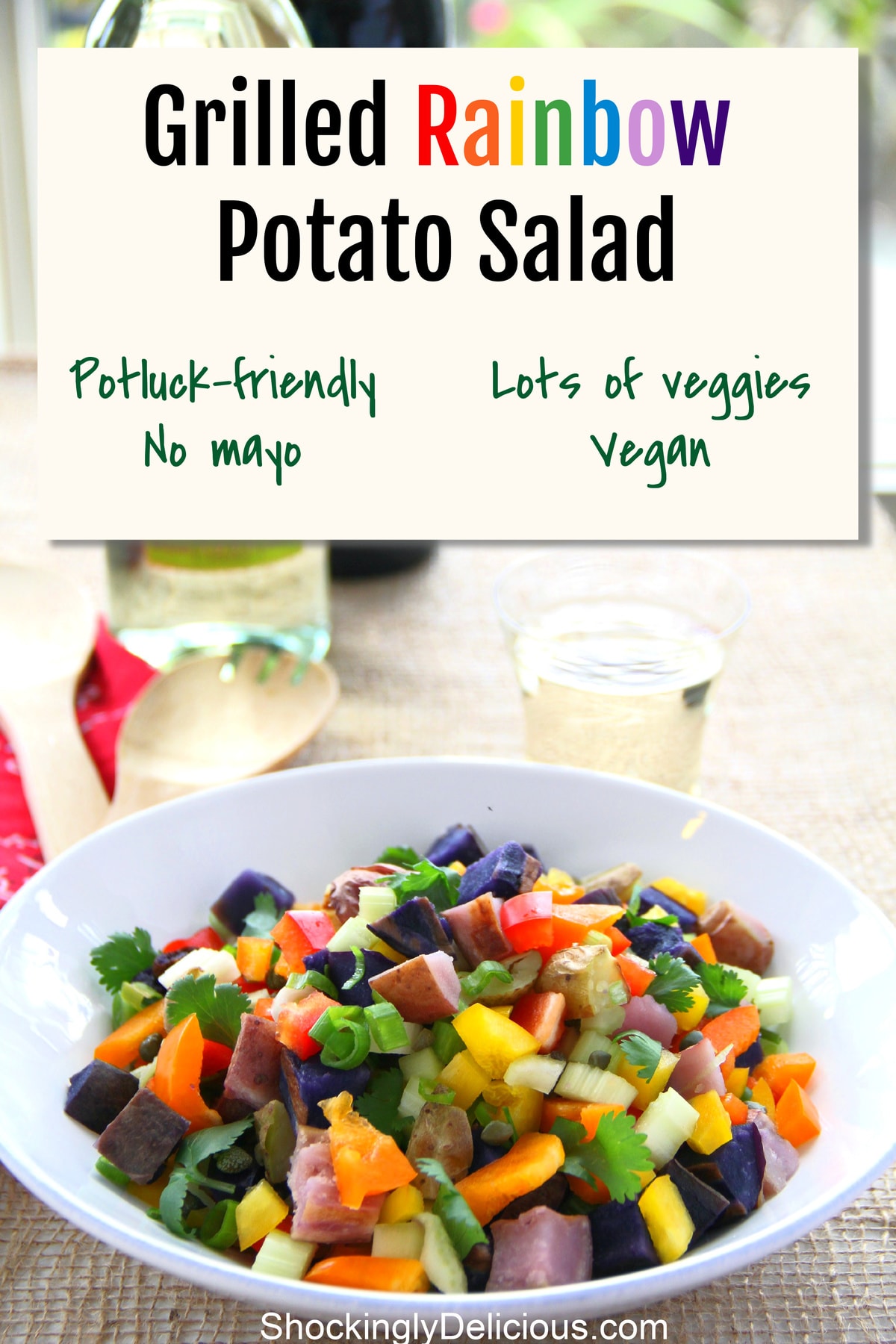 Want more potato salad recipes?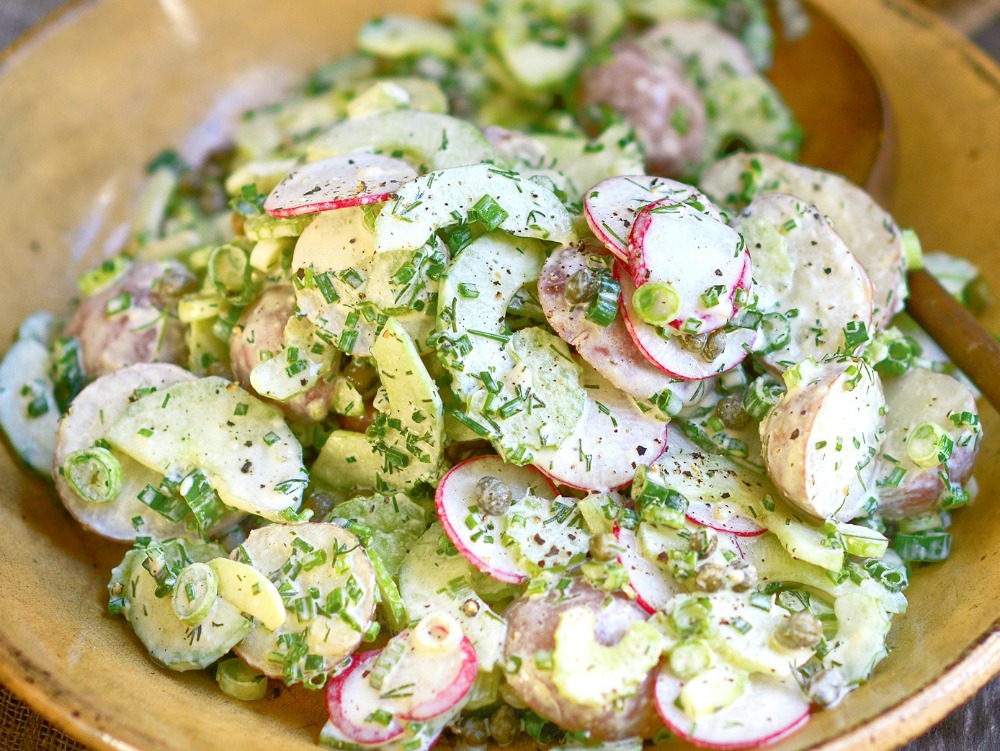 Russian Potato Salad with Anchovy, Garlic and Lemon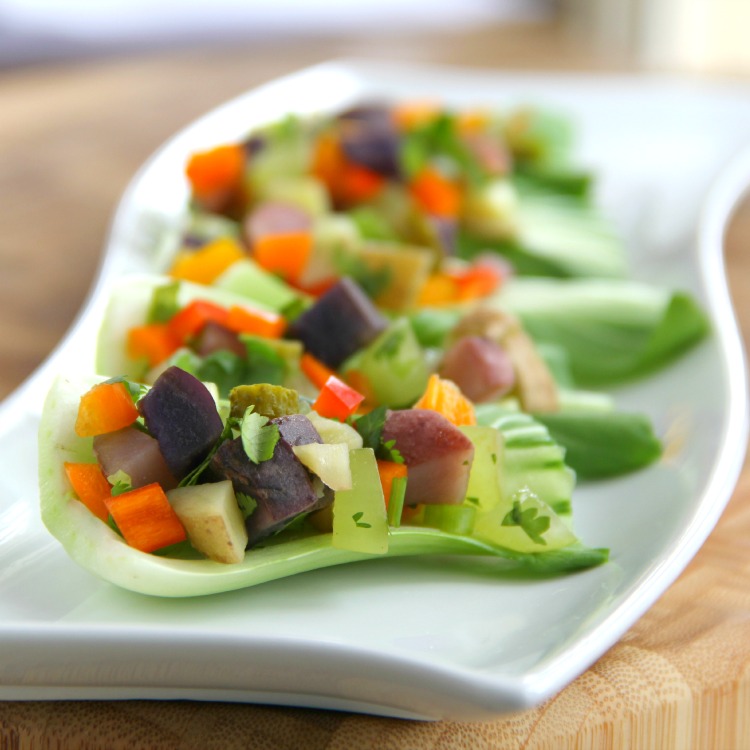 Two-Bite Potato Salad Cups
This post for Rainbow Grilled Potato Salad was originally published June 14, 2015 and has been refreshed and republished today.
Thanks for visiting…are you hungry for more? Follow Shockingly Delicious on…
FACEBOOK | PINTEREST | INSTAGRAM | TWITTER
…for all the latest recipes, ideas and updates!
This post may contain affiliate/referral links. It is a way for this site to earn advertising fees (at no cost to you) by advertising or linking to certain products and/or services that I approve and prefer. Thank you for using my affiliate link to shop, so I can continue to bring you shockingly delicious recipes!