Print This Post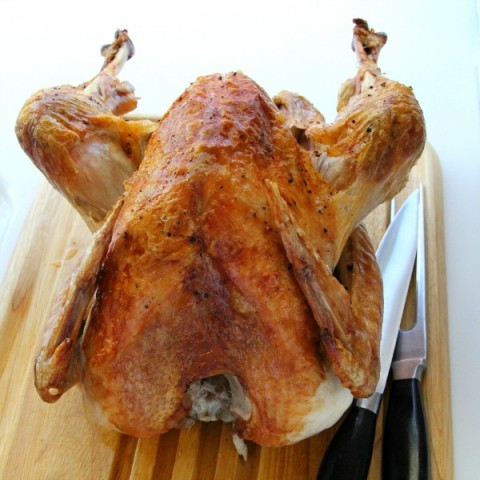 I think of a turkey as basically a big, ol' honkin' chicken. So I have always wondered why we fuss over its preparation. It's probably because we treasure Thanksgiving so much that we must fuss or we think we haven't worked hard enough to merit the feast.
But a few years ago I noticed that my grocery store, Vons, was touting a flier for a 2-hour turkey. Intrigued, I snatched it and tried it; it was a recipe developed by the Sunset magazine test kitchen, for the supermarket. Basically, they thought as I did…if you don't stuff the turkey, and you roast it in a hot oven, you can carve the cooking time down to a reasonable chunk that is actually do-able by mere mortals.
One of the beautiful things about roasting at a high temperature is the turkey skin gets incredibly golden and crispy, just the way I like it. I have been known to fill up on turkey skin and eschew the actual meat. Don't tell anyone.
So I did a practice run earlier this month to make sure it worked as I remembered, using a package of helpful Thanksgiving culinary tools sent by OXO, the kitchen gadget people. Here's what they sent:
Poultry Lifter     Twine Dispenser
Angled Baster with Cleaning Brush     2 Cup Fat Separator
Stainless Steel Butter Dish
I found the Poultry Lifter extremely handy – a turkey is quite cumbersome, and a piping hot, dripping turkey is an accident waiting to happen unless you have a good way of lifting it from the roasting pan. The Fat Separator made the gravy process super easy – it separates the fat, which rises, from the flavorful drippings, effortlessly.
You'll have a chance to win your own turkey tools prize pack in the giveaway below, but first, let's cook that bird. I'm suggesting a small turkey, which brings the cooking time way down, thus making this not only perfect for a small family, but more like a 1-hour turkey instead of a 2-hour turkey. Use the extra time to walk around the block and make room for dinner.
Let's roast a turkey!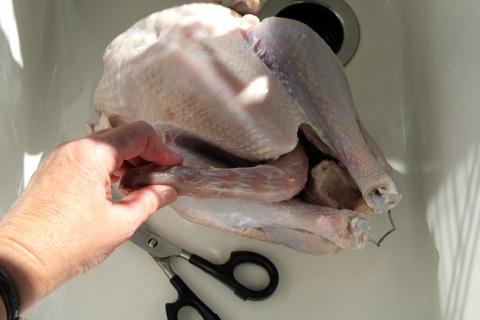 Remove neck and organ packet from the cavity.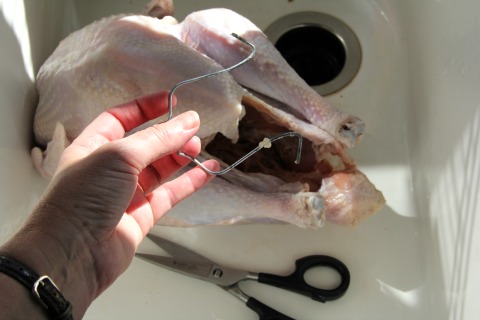 Remove metal truss and discard.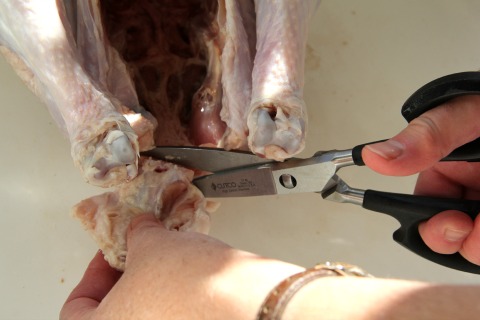 Snip off tail nub.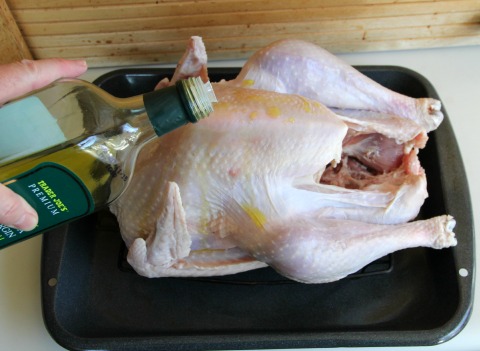 Rub with olive oil. Sprinkle with salt and pepper.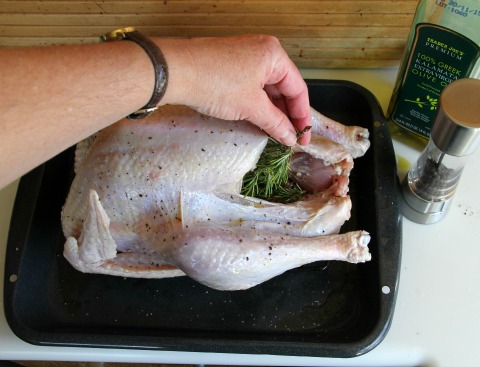 Stuff with fresh rosemary from your back yard.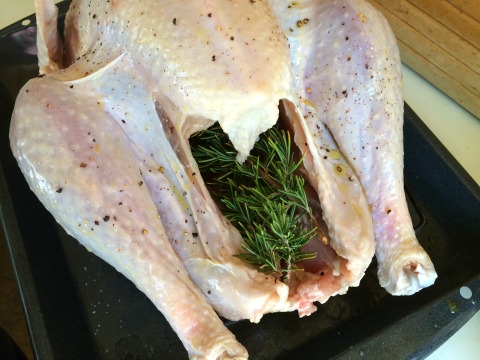 Don't be shy. Use as much as you want!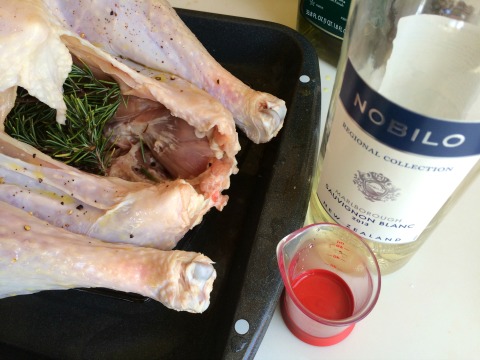 Add a little wine and a little water to the pan.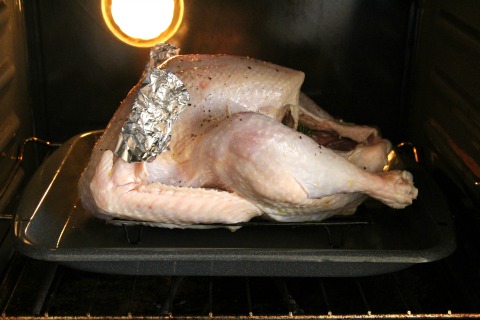 Cover tips with foil and roast.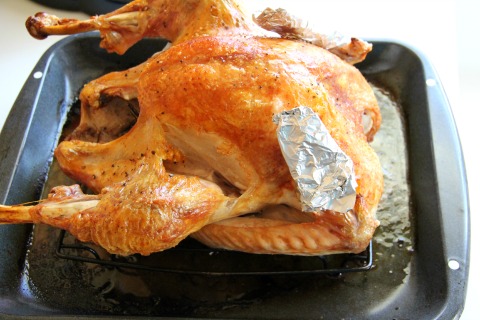 Remove…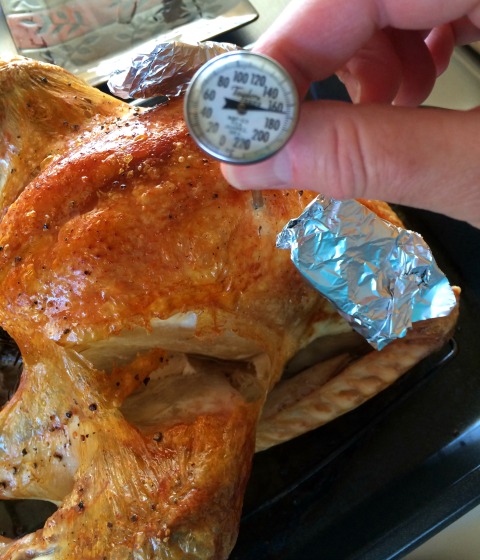 Check temperature.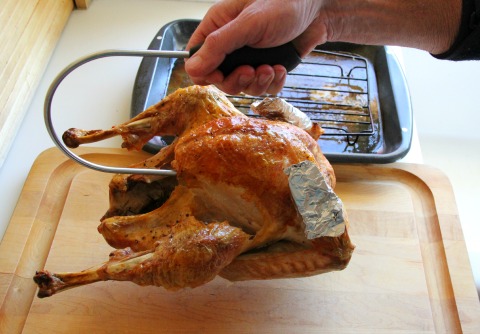 Use the OXO Turkey Lifter to move the bird from the roasting pan to the carving board.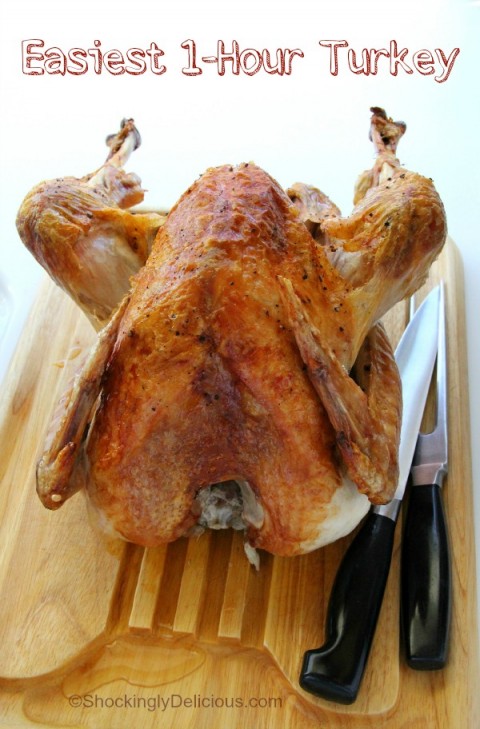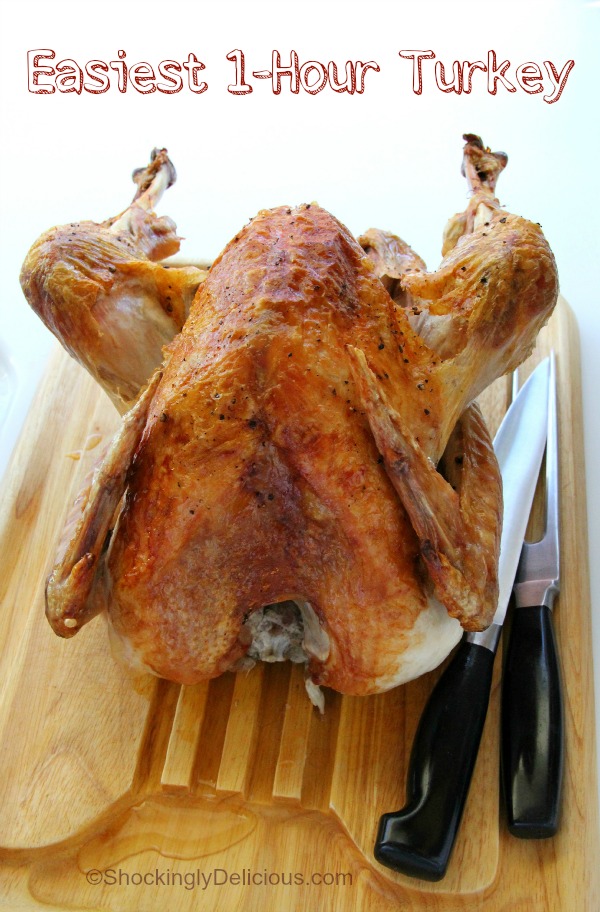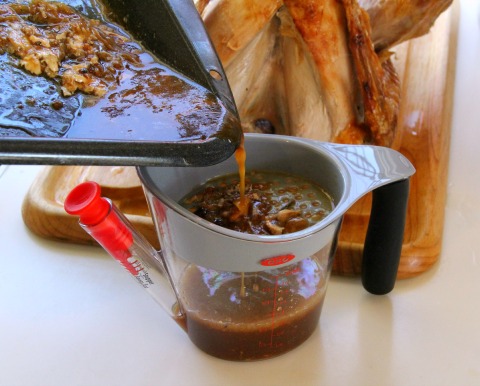 Pour off the pan drippings into the OXO Fat Separator. Allow to rest for 5 minutes to separate, and proceed with gravy-making!
You can do it!
Quickly roast a turkey for a small family Thanksgiving, for crispy skin and perfectly done meat.
Ingredients
1 (10-pound) turkey, thawed (follow package directions to thaw)
Olive oil
Salt (I used kosher salt)
Pepper
Rosemary sprigs (optional)
1/4 cup water
1/4 cup white wine (or use water instead)

For stock

Carrots
Fresh Italian parsley
Directions
Get turkey out of refrigerator and set on counter.
Scrub kitchen sink. Turn oven on to 475F degrees. Get roasting pan and v-shaped rack from cabinet and set on counter. Get out olive oil, salt, pepper grinder and foil. If you have a rosemary bush in the yard, go snip a few large sprigs.
Cut away plastic wrapping from turkey and discard it. Remove and discard metal or plastic truss that holds turkey legs together. Reach inside bird and remove turkey neck and put the neck into a medium saucepan; remove bag with turkey organs from inside the turkey and save for another use or discard. Rinse turkey inside and outside with water, and pat it dry with paper towels. Using a kitchen shears, snip off fat globules and tail nubbin and add to pot with turkey neck. Add a carrot or 2 to the pot, along with a handful of parsley stems, add water to cover everything by 1-1 ½ inches, put lid on pot and heat to boiling. When it boils, turn heat to lowest and simmer, covered, while turkey is roasting.

Prepare turkey:

Rub outside of turkey with olive oil. Sprinkle outside lightly with kosher salt. Put turkey on rack in roasting pan, breast side up. Grind a bit of black pepper over the top. Stuff rosemary sprigs in cavity. Add water and wine to the roasting pan (this will keep the drippings from burning). With aluminum foil, form caps over the tips of the wings and each drumstick. (I forgot to do the drumsticks in the photos here. Oops!). Do NOT tie legs together or stuff this turkey or close the body cavity. Place turkey in oven. Set timer for 35 minutes.
At 35 minutes, pull turkey from oven, set pan on stove and check internal temp by inserting a meat thermometer into the center of the breast through the thickest part. If you feel it hit bone, pull back a tad, and read the temperature. If it is 155F degrees, your turkey is done. If it is less, remove thermometer and roast another 5-10 minutes, until thermometer reads 155F degrees. (I checked mine at 45 minutes and it was already at 165F degrees, which is too high, so I recommend checking at 35 minutes.)
Remove turkey from oven and set pan on a counter where it won't be disturbed. Let turkey rest 30 minutes; meat will still be hot.
Meanwhile, your turkey stock is still simmering on lowest heat on the stove. Check it and add more water if it seems to be drying out.
After 30 minutes, use your OXO Poultry Lifter to lift bird from roasting pan onto a carving board. As you do this, catch any juice from the cavity in the roasting pan. Let turkey sit on carving board while you make gravy.

Gravy:

Pour pan drippings into an OXO 2-Cup Fat Separator, leaving any browned bits in the bottom of the pan. Set drippings aside for 5 minutes to fully separate; turn off heat from turkey stock on the stove. Make gravy using turkey fat, pan drippings and turkey stock, following your favorite recipe or this one for Best Turkey Gravy from Thanksgiving expert/cookbook author Rick Rodgers. He advises making the gravy right in the roasting pan, and I followed his advice and it was brilliant! (For this size turkey, simply halve his proportions, so you will use 2 cups stock and 3 tablespoons flour/3 tablespoons fat.)
When ready to eat, carve turkey and serve with hot gravy. Say thanks that you are at the top of the food chain, and enjoy!

(Save the crispy turkey skin for ME!)

Serve 6 or more, depending on appetites.
Notes
Recipe source: Dorothy Reinhold | Shockingly Delicious, with inspiration from the Vons 2-Hour Turkey.
https://www.shockinglydelicious.com/easiest-1-hour-turkey/
Copyright Dorothy Reinhold | ShockinglyDelicious.com. All rights reserved.
 

Giveaway! Win your own turkey tools!
Disclosure: OXO sent the turkey tool pack for recipe testing, and is supplying and shipping the giveaway prize.