Recipe: Prosciutto Goat Cheese Rolls with Fig Preserves and Arugula
Summary: This appetizer is a party in your mouth, with salty prosciutto, tangy goat cheese, sweet fig, peppery arugula and aromatic lemon and garlic.
Ingredients
2 tablespoons extra-virgin olive oil
2 teaspoons grated lemon zest
1 tablespoon fresh lemon juice
6 ounces soft goat cheese, at room temperature
2-3 cloves garlic, peeled and minced
12 slices (not paper-thin) prosciutto, halved crosswise
1⁄2 cup fig preserves (I used Just Jan's Kadota Fig Fruit Spread [1])
1⁄2 bunch arugula, trimmed
Freshly ground black pepper
Instructions
Whisk oil, lemon zest, and lemon juice together in a small bowl and set aside. Mix goat cheese and garlic together in another small bowl and set aside. [2]
Spread a thin layer of the goat cheese mixture on each piece of prosciutto, spread a thin layer of fig preserves over cheese, and top with 1–2 arugula leaves. Drizzle with some of the lemon vinaigrette and season to taste with pepper. Roll prosciutto up around filling and arrange on serving platter, seam side down. Garnish platter with parsley, if you like.
Makes 24.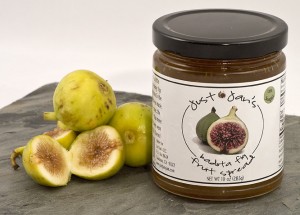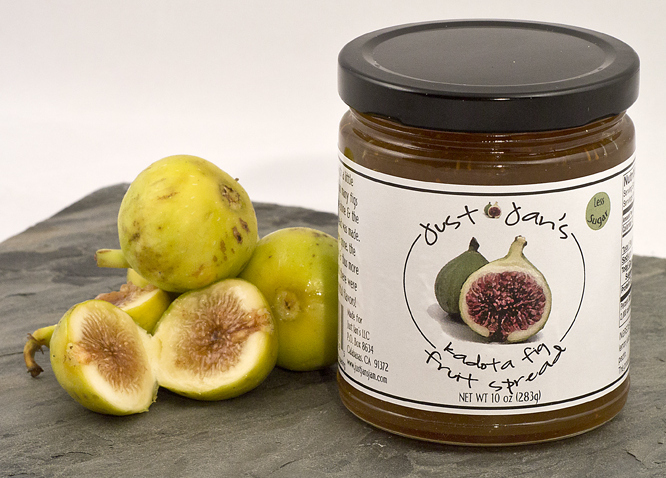 [5]This is a premium local preservers maker who uses local fruit, a minimum of sugar, a splash of lemon juice and some pectin. That's it! Jan can't call it jam because the sugar content is too low to be classified as jam, so it gets labeled "spread." That works for me, because less sugar means more fig flavor. She has other spreads, including raspberry, pomegranate, a zippy mango chipotle and apricot, for example. They are the truest, purest flavors you can imagine! I recommend them highly. Just Jan's sent a sample of the Kadota Fig Fruit Spread for recipe testing. 
Preparation time: 30 minutes
Number of servings (yield): 12
Culinary tradition: USA (Nouveau)
My rating 5 stars:  ★★★★★
Here's a list of all the recipes [7] I have brought to our #SundaySupper [6] virtual meals so far. Browse through them…lots of good ideas in here!