Print This Post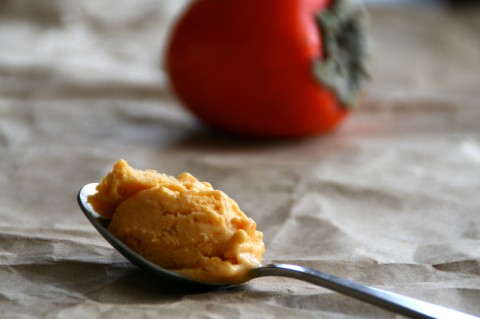 Persimmon Ice Cream is a gorgeous holiday dessert with a lovely orange color and a beguiling, sweet, sophisticated flavor perfumed with vanilla.
If you have been very, very good in December, life might hand you lots of persimmons. And so blessed, you had best make ice cream!
My persimmons came from my friends at Melissa's Produce, but they are widely available in the grocery store, or perhaps your neighbors even have a tree. Go make friends, right now.
Let those gorgeous, gemstone-like Hachiya persimmons get so ripe they seem ready to burst – like a bag of jelly when you pick them up – and you'll be rewarded with the prettiest, sweetest, most elegant December holiday ice cream ever. (If you need a reminder about the different varieties of persimmons, you can get one here.)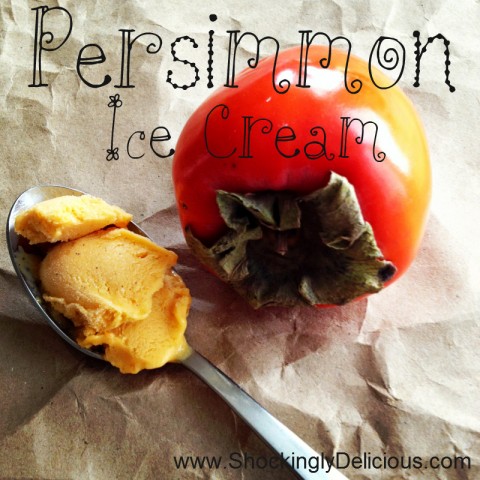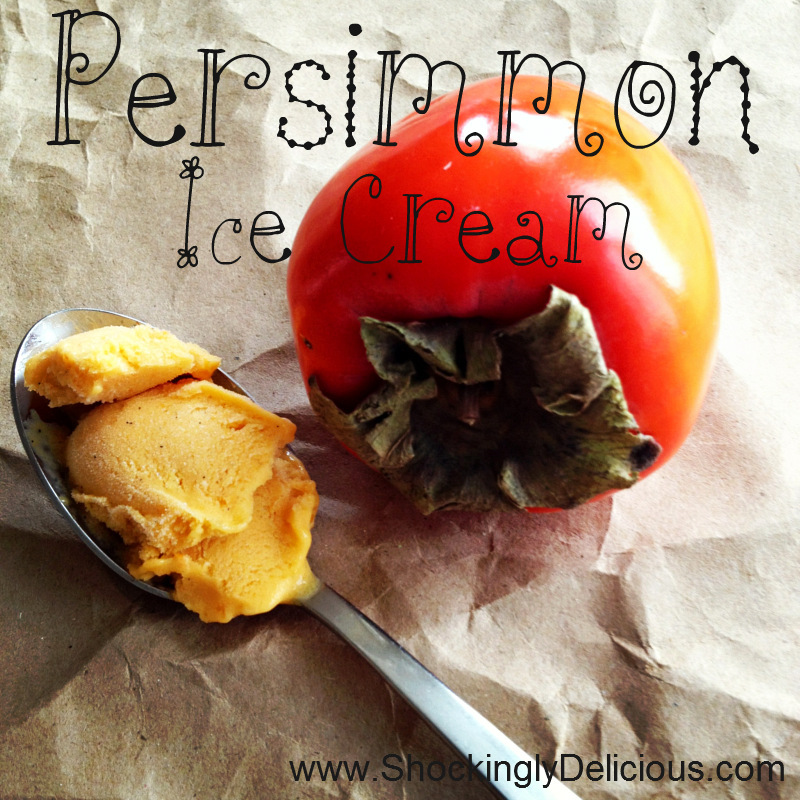 To this seasonal frozen treat I have also added the perfumed flavor of a very special vanilla – Heilala Vanilla Paste, the secret ingredient of many a chef. This is wickedly good stuff, and includes both the extract and the seeds. I love vanilla seeds speckling my ice cream. Heilala is worth seeking out.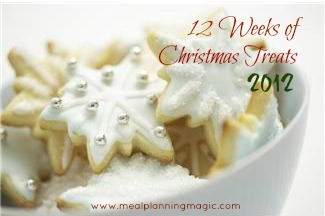 My special ice cream is part of the "12 Weeks of Christmas Treats" cyber party hosted by Brenda of Meal Planning Magic. Below my recipe, take a look at what everyone brought to the party, and choose something you want to make for your family!
Happy holidays to all of you!
Recipe: Persimmon Ice Cream
Summary: Persimmon Ice Cream is a lovely orange color and a beguiling, sweet, sophisticated flavor perfumed with vanilla — a gorgeous holiday dessert.
Ingredients
1 ¼ cup persimmon puree (from 3 Hachiya persimmons) * (see note about ripeness below)
½ teaspoon Heilala Vanilla Paste (or use vanilla extract)
3 tablespoons honey
¼ cup organic milk
¼ cup organic heavy cream
Pinch of salt
Instructions
To get the persimmon puree, peel 3 Hachiya persimmons and scoop the goopy flesh into a small food processor. Whirl for 10-15 seconds until it make puree. Three persimmons will yield about 1 ¼ cups puree. If you have a little more or a little less, that's fine.
Stir all ingredients together in a bowl, and pour into an ice cream maker. Process according to manufacturer's instructions. My ice cream took about 20-25 minutes to freeze. Pack into a pint container and store in the freezer.
Makes 1 pint (or perhaps slightly more, if your ice cream maker adds more air to it).
Hachiya persimmons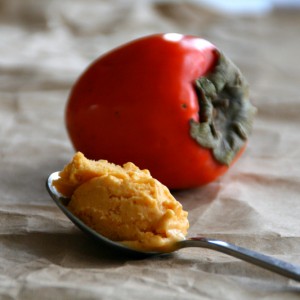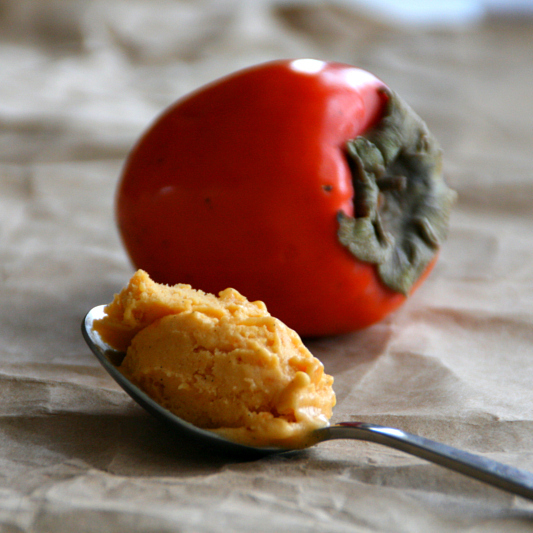 We must wait patiently for prized Hachiya persimmons to ripen – the flesh will be gelatinous and jelly-like when truly ripe. Unripe and firm, it is so astringent it will cause pain when you eat it! People who try to eat a firm Hachiya invariably say they hate persimmons. Read more about it in my prior article. If it is nearly, oh-so-close-but-not-there-yet ripe, you may also freeze the persimmon, then thaw, and that should do the trick.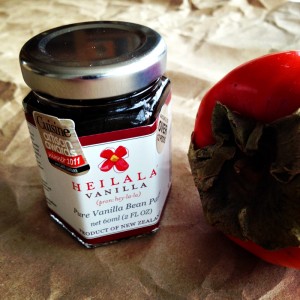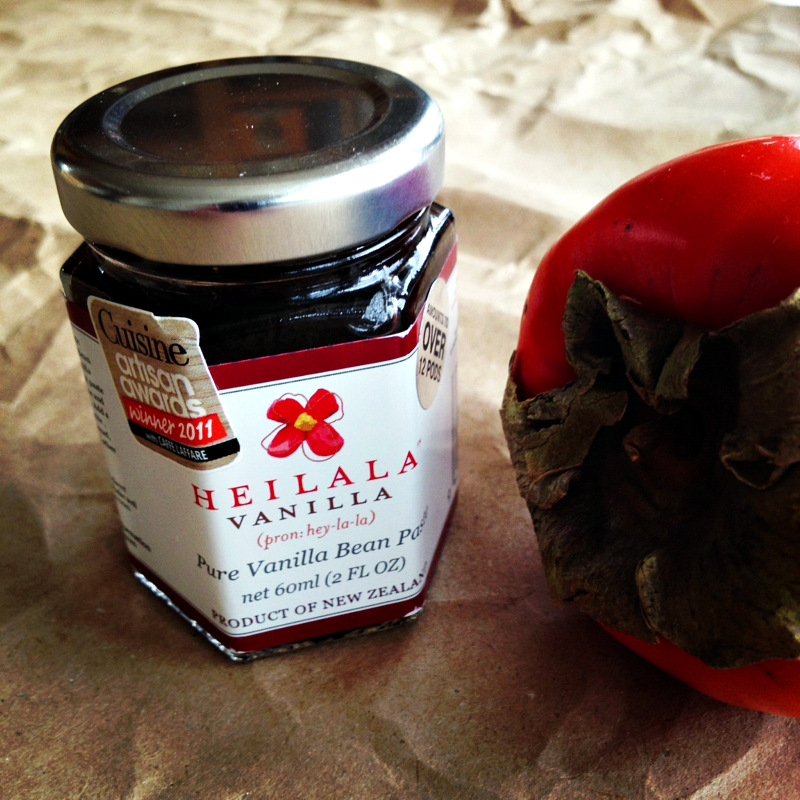 The king of the world of vanilla, Heilala Vanilla Paste, from New Zealand, is a super premium, wonderful flavor made by combining vanilla seeds and vanilla extract to get the best of both worlds. It is slightly thickened by a natural seaweed thickener, to yield nothing short of vanilla magic. Heilala Vanilla paste has recently won – deservedly! — several highly coveted foodie awards, and the company is one to watch.
Preparation time: 5 minutes
Freezing time: 25 minutes
Number of servings (yield): 4-6
Culinary tradition: USA (Nouveau)
My rating 5 stars: ★★★★★
Melissa's Produce sent the persimmons for recipe testing. Heilala Vanilla sent a trial sample.