Print This Post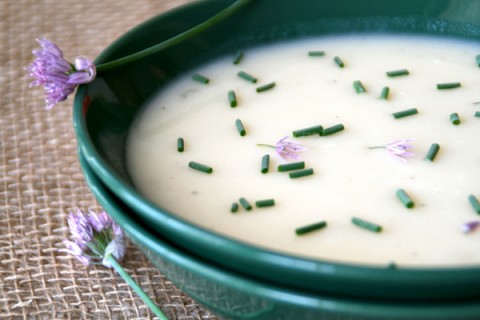 Not to get all Julie Powell on you, but since seeing "Julie & Julia," a couple of years ago (loved it!), I have been inspired to try some Julia Child recipes.
I am neither as obsessed nor as wacky as Julie Powell, the young woman who created a sensation by setting a goal of cooking all 536 recipes in Julia Child's tome "Mastering the Art of French Cooking." She gave herself exactly a year to do it, and blogged about her progress. As happens these days, a book and a movie followed.
As Aug. 15 — the 100th anniversary of Julia Child's birthday — approaches, now is the perfect time to showcase Potage Parmentier (Potato and Onion Soup), my favorite Julia Child recipe.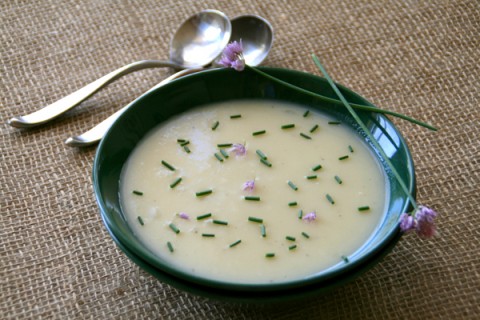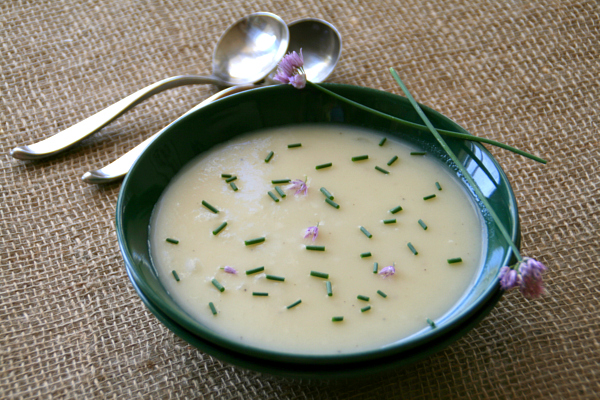 My family has been very happy to eat this repeatedly, as I tinkered with it to streamline and adapt it to today's tools and tastes. For example, Julia Child didn't have an immersion blender and favored a food mill, but I like the ease of sticking my immersion blender into the pot, so I recommend that. And I use a little less salt, I prefer easygoing onions over Julia's fussier leeks, I add garlic and I add a bacon flourish at the end. (Everything potato is better with bacon.)
'If You're Afraid of Butter, Use Cream'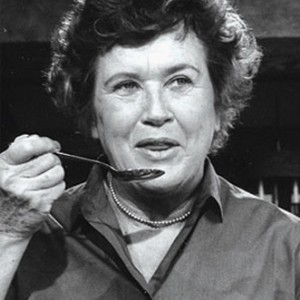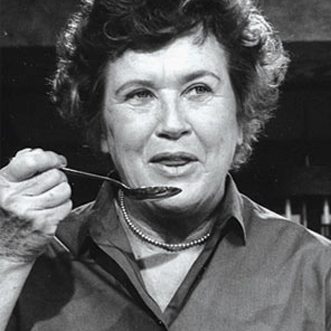 Julia Child famously said, "If you're afraid of butter, use cream." She called for either/or in her original recipe, and I decided since I am afraid of neither, I would use both. Employing the pair makes a lush, suave soup that is not the least bit unctuous. (Go ahead; I'll wait while you look up that useful word!)
Julia also advises that this makes a great soup base, and once you have it made, you may add any manner of leftover cooked vegetables that are calling your name from the fridge. Think string beans, cauliflower or broccoli for starters. Let your imagination loose on your own leftovers. Hmmm…I might throw in some grilled diced chicken or steak if I need it to be more substantial some time, or even some fresh chopped tomatoes from the garden in the summer.
But first, make it just like this. Close your eyes and slurp. Thank you, Julia, for the memories and the meals.
Is it cheeky for me to tweak a Julia Child recipe? I think she would approve.
Recipe: Potato and Onion Soup (Potage Parmentier)
Summary: A perfectly simple potato soup that will have you rolling your eyes back in your head with its pure flavor. Thank you for the inspiration, Julia Child!
Ingredients
1 pound Idaho Russet potatoes (about 3-4 cups), peeled and quartered
1 pound onions (about 3 cups), peeled and quartered
2-3 garlic cloves, crushed or minced
8 cups water
1 1/2 teaspoons sea salt
3 tablespoons unsalted butter
4-6 tablespoons heavy cream
Freshly ground pepper
Garnishes: 6 pieces cooked bacon, diced, AND 2-4 tablespoons minced chives and parsley
Instructions
Place potatoes, onions, garlic, water and salt in a 3- to 4-quart saucepan, and bring to a boil. Turn heat down to a low simmer, and cook, uncovered, for 50 minutes.
Remove pot from heat, and, using an immersion blender, purée the vegetables (and water) until smooth. Cut the butter into pieces and add it, stirring until it dissolves. Stir in cream.
Taste and adjust seasonings, adding more salt if needed (careful with salt if you are adding bacon as a garnish).
Ladle into soup bowls, top with a grinding of fresh black pepper, some chopped bacon and a shower of herbs (bacon and herbs optional but advised).
Makes about 7-8 cups. Serves 4-6.
Variation
Once you make it with Idaho russet potatoes, try it sometime with sweet potatoes, for a completely different take on this soup. All other ingredients remain the same; just sub 1 pound of sweet potatoes (garnet yams) for the pound of russets.
Source
Adapted from "Mastering the Art of French Cooking" by Julia Child, Louisette Bertholle and Simone Beck (Alfred A. Knopf, 1961).
Julia says…
"Learn how to cook — try new recipes, learn from your mistakes, be fearless, and above all have fun!" 
Preparation time: 15 minutes
Cooking time: 1 hour
Number of servings (yield): 4-6
Culinary tradition: French
My rating 5 stars:  ★★★★★
The Sunday Supper Group has enjoyed creating Julia's recipes in honor of her 100th birthday.  Come join us live on Twitter today at 4 p.m. PST where we will chat about all things Julia (using hashtag #SundaySupper)! Also check out our #sundaysupper pinterest board for more recipes.
Please enjoy our Julia Child menu, and cook something from here yourself! Bon appetit!
#CookForJulia Breakfast
Râpée Morvandelle by Cindy's Recipes and Writings
Croissants by Cookistry
Cheese and Bacon Quiche by Tora's Real Food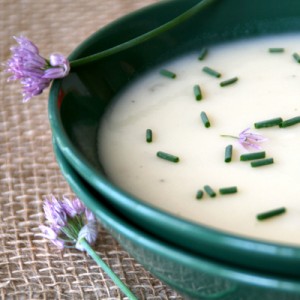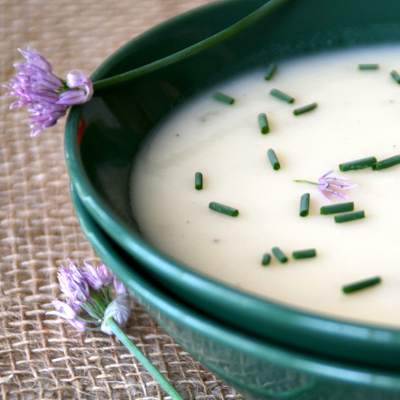 #CookForJulia Lunch
Potato and Onion Soup (Potage Parmentier) by Shockingly Delicious
Tuna Salad Nicoise by Magnolia Days
Blood Orange, Walnut, and Rocket Salad by Granny's Down Home Southern Cooking
Croque Monsieur by Webicurean
Spinach and Cream Cheese Pancakes by Happy Baking Days
Julia's Chicken Salad by My Trials in the Kitchen
Pissaladière Niçoise (Onion Tart with Anchovies and Black Olives) by The Wimpy Vegetarian
Provencal Tomato Quiche by Are you hungry?
Quiche Lorraine  Spoon and Saucer 
#CookForJulia Dinner
Bouillabaisse by The Girl in the Little Red Kitchen
Boeuf Bourguignon by Chelsea's Culinary Indulgence
Orecchiette Con Broccoli Di Rape and Sausages by Doggie at the Dinner Table
Boeuf Bourguignon by Hezzi D's Books and Cooks
Veal Stew with Onions and Mushrooms with Baked Cucumbers and Boiled Potatoes (Blanquette de veau a l'ancienne with concombres au buerre) by Kimchi Mom
Salmon en Papillote by Girlichef
Poached salmon with cucumber sauce by Katherine Martinelli
Lobster Souffle and Deviled Chicken- Crispy Bits & Burnt Ends
Roasted Chicken with Julia's Mustard Marinade by The Meltaways
Wild Mushroom and Herb Stuffed Chicken- Mama Mommy Mom
Puree of White Beans with Garlic and Herbs (Brandade á la Soissonaise) Avocado Pesto
Poulet au Porto by Family Foodie 
#CookForJulia Sides
Hollondaise over Blanched Asparagus by The Little Ferraro Kitchen
Scalloped Potatoes with Milk, Cheese, and Garlic (Gratin Dauphinois) by Home Cooking Memories
Ratatouille by Basic N Delicious
French-style country pate by There and Back Again
White Bean Dip with Homemade Tortilla Chips Momma's Meals
Oeufs à la Diable by What Smells So Good?
Soubise by The Weekend Gourmet
Ratatouille by Cupcakes and Kale Chips
#CookForJulia Desserts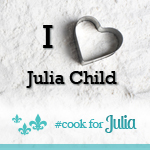 Frozen Chocolate Mousse by Big Bear's Wife
Cream Cheese and Lemon Flan by Juanita's Cocina
Strawberry Sherbert in Cooky Cups by Cravings of a Lunatic
Creme Brulee by Wine Everyday
Mousseline Au Chocolat by Small Wallet Big Appetite
Peach Tarte Tatin by That Skinny Chick Can Bake
Cinnamon Toast Flan by Vintage Kitchen Notes
Dark Chocolate Crepes by Family Spice
Crepes Fines Sucrees by Mangoes and Chutney
Pommes Rosemarie:Apples Rosie  The Daily Dish Recipes
Espresso Soufflé by Chocolate Moosey
Best Ever Brownies by In the Kitchen with Audrey
Orange-Almond Jelly Roll Cake by Mrs. Mama Hen
Orange Spongecake Cupcakes by Mama's Blissful Bites
Orange Mousse with Greek Yogurt by Sue's Nutrition Buzz
Wine Pairings: Relishing Food and Wine; Thanks to Julia Child! by ENOFYLZ