Print This Post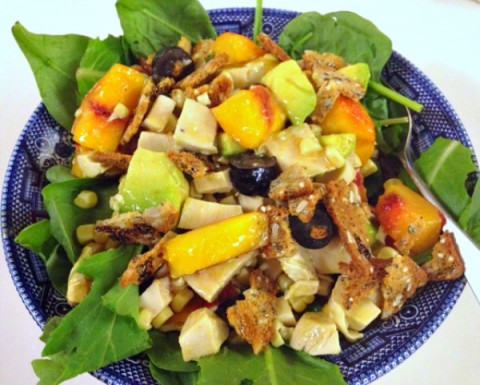 When the nectarines are ripe, you must use them in every meal!
Super ripe, bursting with flavor and juice, the fantastic LeGrande nectarines I picked from the legendary Masumoto Family Farm were calling my name from the fruit bowl yesterday afternoon.
In the heat of my unairconditioned kitchen this summer, ripe fruit has a short life. Every second matters, so they were destined for dinner. Use it or lose it applies here.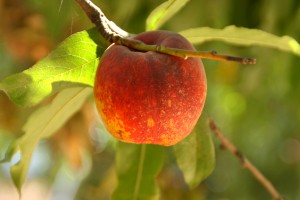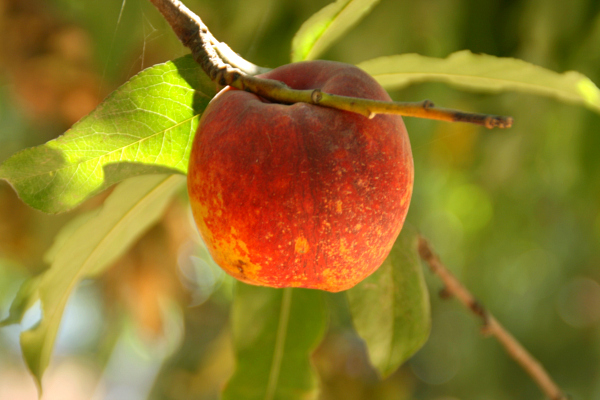 I picked them at the peak of their ripeness straight from the tree last weekend, with a handful of food writers lucky enough to be invited by Melissa's Produce on a farm tour of grape, plum and peach farms in California's Central Valley south of Fresno. I'll tell you more about that life-changing trip later, but first, the nectarines…they were calling my name.
For this free-form salad, please use whatever leftovers you have. I had poached chicken breasts, but you could use steak if you had some left from a prior dinner. Two lonely ears of grilled corn on the cob stared out at me, so I stripped the kernels off with a sharp knife and into the bowl they went.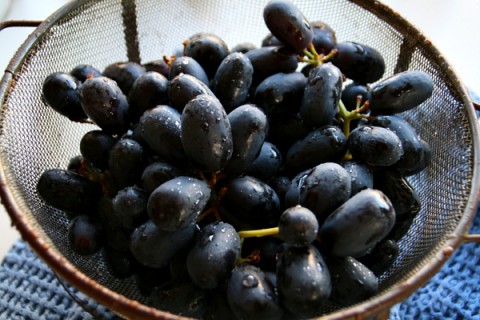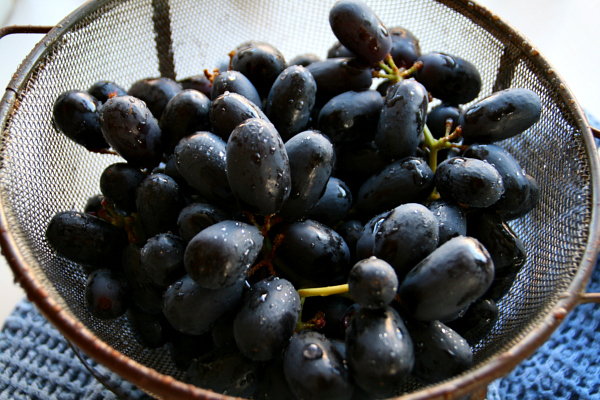 I also had Black Muscato seedless grapes from the same region — terrifically juicy and with a well balanced flavor and a good bite to the skin. You can find them in your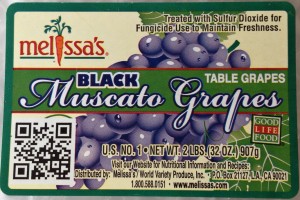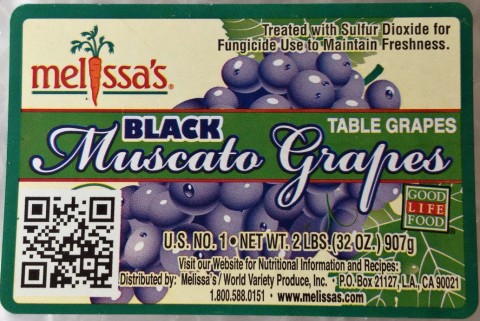 market in a clamshell package with the Melissa's label.
Let the abundant juices of the nectarine be your inspiration for a salad like this, and allow your own creative juices to flow. You might be surprised at what a surprisingly delicious summer meal you can make from humble leftover ingredients. Consider all of these a mere suggestion to get you started. Substitute at your whim!
Recipe: Summer Nectarine Chicken Salad
Summary: Sweetened by luscious Masumoto Farms nectarines and juicy Black Muscato grapes, this is summer's perfect impromptu chicken salad for a sweltering evening.
Ingredients
Poached, roasted or grilled chicken, chopped
Avocado, diced
Ripe LeGrande nectarines, peeled, pitted and diced
Black Muscato grapes, halved
Grilled corn on the cob, kernels sliced off
1 rib celery, chopped
Lettuce (include arugula if possible, for bite)
Kale leaf, rib removed and cut into a chiffonade
Croutons: Trader Joe's Raisin Rosemary Crisps or other leftover crackers (or Marcona almonds)
Dressing: bottled Asian Sesame dressing (I used Girard's Chinese Chicken Salad Dressing, but use your favorite)
Instructions
Combine all salad ingredients in a bowl and toss gently to combine. You will use amounts that seem right to you, depending on how many people you are serving. This salad is an exercise in creativity, so try not to obsess over exact amounts. If you want 10 grapes, then use 10!
Dress lightly with your favorite bottled Asian sesame-type dressing (or you can try this homemade version if you have time).
Sprinkle with broken crackers or croutons, or my new love, roasted Marcona almonds.
The crackers
My new favorite cracker is Trader Joe's Raisin Rosemary Crisps, a savory, nutty crunchy, thin little toast with just a hint of raisiny sweetness. It is perfect with cheese, or used here broken up as a crouton, or just for a snack. Try them, and don't hate me if you get addicted. This is not junk food!
Preparation time: 10 minutes
Number of servings (yield): Your choice!
Culinary tradition: USA (General)
My rating 5 stars:  ★★★★★ 
The Black Muscato Grapes were sent by Melissa's Produce.